Back to Articles
From Comic Book to Coin. A quick fly-by how a coin is made.
Oct 05, 2018
Learn
3 minutes read


BAM!

The idea.
It was 2012, and the 75th anniversary of the first Action Comics #1 featuring Superman was coming up the following year. Jamie Desrochers, an avid comic book collector in his own right, jumped at the enviable task of creating Superman commemorative coins.
"Our job as Product Managers is to research themes that celebrate the Canadian experience, and turn them into commemorative coins," says Desrochers, "Superman has well-known Canadian roots—a fact that made the 75-year milestone a collector-worthy theme for the Mint. I'm so proud of this Canadian connection, and the opportunity to pay tribute to my favourite Super Hero was a dream come true!"
TICK-TOCK!

Our

kryptonite

is the clock.
"Time is constantly challenging and pushing us. We generally have just over a year to produce a collector coin from the moment it's an idea on paper to a polished coin in the collector's hands—not a lot of time considering the number of aspects that have to be decided upon and produced, and brought together in perfect timing.
"Dozens of people get involved. We have to decide what the overall look will be, work with an artist(s) to create the design, submit for expert vetting, get the artwork engraved so the die can be made, the packaging. If there are any special effects, R&D and engineering need time to do their part, and then, there's the approval from the Ministry of Finance (fact is, collector coins are legal tender, but who would ever want to part with them?).
"Licensed products, like the Superman coins, are even more involved. Despite all the back and forth, we've got the process down to a science, and are able to deliver within the standard one-year timeframe. Pretty impressive."
WOW!

Designs to die for.
Collector coins feature original art that was commissioned specifically for that coin—unless the theme is about an existing piece of art.
"In that case," says Desrochers, "we have to reproduce the original with pinpoint accuracy—a huge challenge considering how much we have to shrink it down, and reformat it so it still has a strong visual impact on a round coin."
Collector reaction to the 75th anniversary Superman coins was so strong that more series followed.
"The Iconic Superman Covers series is the perfect example of the challenges we face in working with existing art. We knew each cover had to be instantly recognizable, that every aspect of the famous design had to be bang on. Collectors would not stand for anything less.
"But in doing so, we still wanted to add something special to make each coin unique—without compromising the integrity of the original."
The answer: a series of concentric rings to frame the outer edge of each design. Desrochers explains how the rings provided a unifying element that tied all the coins together, and added a sense of depth that created the impression Superman was bursting off the coin.
OMG!

In league with Canada's famous comic book artists!
"We did enjoy one very rare, and totally amazing exception," remembers Desrochers fondly, "For the Justice League series, DC Comics was awesome and brought in Canadian comic book artists to create original designs specifically for these coins. Imagine working with Jason Fabok and Brad Anderson. What an opportunity for me as a comic book fan—I was thrilled and honoured!"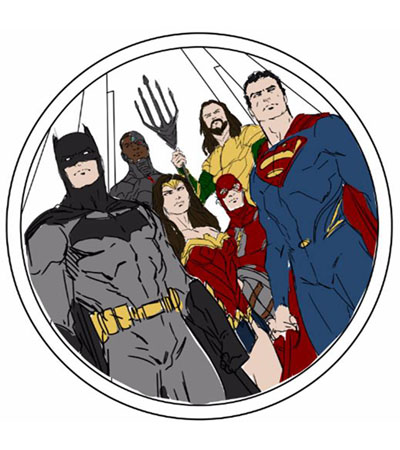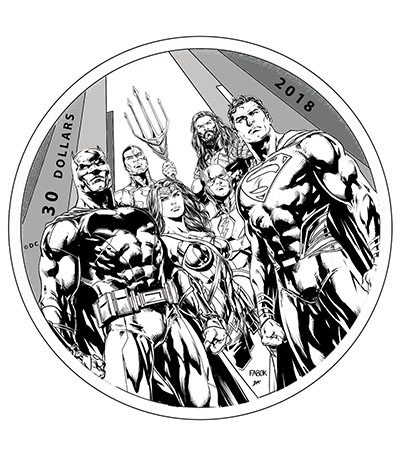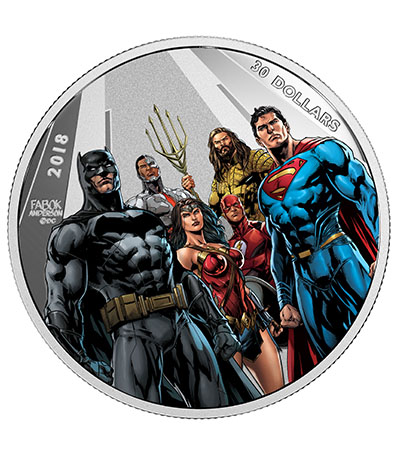 BLING!

Eye candy engineered for coins.
"We never add special effects just for the sake of having them on a coin," says Desrochers, "Like a painter who carefully considers adding a different colour, or using a different brush stroke, every special effect we use has to make sense and enhance the design."
"But, unlike the painter who's creating alone in their studio, we're not working in isolation. Sometimes, an idea for a new effect will only come up once we've seen the design as it develops. The tiniest detail can ripple out and affect everyone else. And, if that idea comes up halfway through the process, the coin still has to be produced within that one-year window.
"For every Superman coin, we had to decide which parts of the design would be coloured, what would be engraved, what finishes to use. Frosting is that critical final touch that really enhances the design and makes it pop. But as we apply it, we still have to remain true to the original artwork."
WHAM!

The FIRST

Superman

S-Shield-shaped coin.
Special effects are nothing without a solid design to apply them to.
"A good design can stand on its own without the bling," says Desrochers holding up the 10oz Superman S-Shield coin, "Striking a coin in this shape was a huge feat of engineering in and of itself. It could have stood on its own just with the Superman symbol, but we felt that adding red transparent enamel would take it to the next level, make it even more impressive.
"And then, we had yet another idea—turn the enamel into a canvas and engrave it with scenes from Superman's storied past. Now, THAT'S a showpiece!" Desrochers knows this for sure; this ultimate Superman collectible is a treasured highlight in his personal collection.
POP!

In the packaging.
Comic books tell a story. So does a coin's packaging.
"It's part of the narrative," says Desrochers, "And like special effects, it has to have meaning."
Custom packaging is a world onto itself, "You're essentially working on two complex projects (the coin and the package) that have to come together as one."
If the coin features a vintage theme, Desrochers might work with package designers to create a display case that looks like an old, tattered comic book. Or, if the theme is a more serious interpretation of the characters in a movie, the packaging might be dark and foreboding to reflect the setting.
"When the story flows from the coin onto the packaging, it creates a much richer experience for anyone who looks at it. Collectors love that. It makes them extra proud to share their precious collectibles with others."
TM/MC & © DC Comics. (s18).