Back to Articles
A Moment Immortalized, A Mystery Solved
Jan 31, 2019
History
5 MINUTES READ
A nervous Canadian soldier glances over his shoulder, acknowledging a friendly pat on the back as he prepares to step off the landing craft onto Juno Beach. This fleeting moment, captured in rare footage taken during the D-Day invasion of June 6, 1944, served as the inspiration behind the Royal Canadian Mint's 2019 proof silver dollar.


A nervous Canadian soldier glances over his shoulder, acknowledging a friendly pat on the back as he prepares to step off the landing craft onto Juno Beach. This fleeting moment, captured in rare footage taken during the D-Day invasion of June 6, 1944, served as the inspiration behind the Royal Canadian Mint's 2019 proof silver dollar.
To mark the 75th anniversary of D-Day, the Mint set out to create a coin that would pay tribute to all of the Canadians who stormed the beaches of Normandy, France — and helped change the course of the Second World War. Upon re-watching the D-Day footage and seeing the mix of courage, fear and determination on the face of the soldier, Cook Sapene and Desrochers knew right away it was the perfect scene to feature on this year's proof silver dollar.
"It's an incredibly powerful image because it gives us the human perspective on D-Day," says Cook Sapene. "Here's this young man, reluctant to step out of the landing craft, getting the support he needs to continue."
Drawing inspiration from that footage as well as the logo of the Juno Beach Centre Association (JBCA), Mint artist Tony Bianco designed a coin that re-creates the scene, featuring a soldier loosely based on the one seen in the film — one who would be emblematic of all Canadian soldiers and could be used across a series of coins commemorating the Normandy campaign.
But just a few weeks before the proof silver coin's launch, Cook Sapene received something that would forever change the way she and Desrochers looked at their coin: a soldier's name.
THE OBSESSION BEGINS
Unexpectedly, the JBCA forwarded an article to the Mint that identified the soldier in the footage — and the inspiration for the coin — as Private Baker from A Company of New Brunswick's North Shore Regiment. Even with the coin's launch fast approaching, the team knew they couldn't let this story pass them by. There were so many questions that needed to be answered. Did Pte. Baker survive the war? Was he still alive? Did he have a family?
"Once we found out about the name, it became a mission for us internally at the Mint," says Cook Sapene. "We were all quietly obsessed with this story, wanting to learn more."
With just a last name to work from as her starting point, Cook Sapene reached out to as many of the Mint's contacts as possible, including experts at the JBCA, the Department of National Defence, Veterans Affairs Canada and others.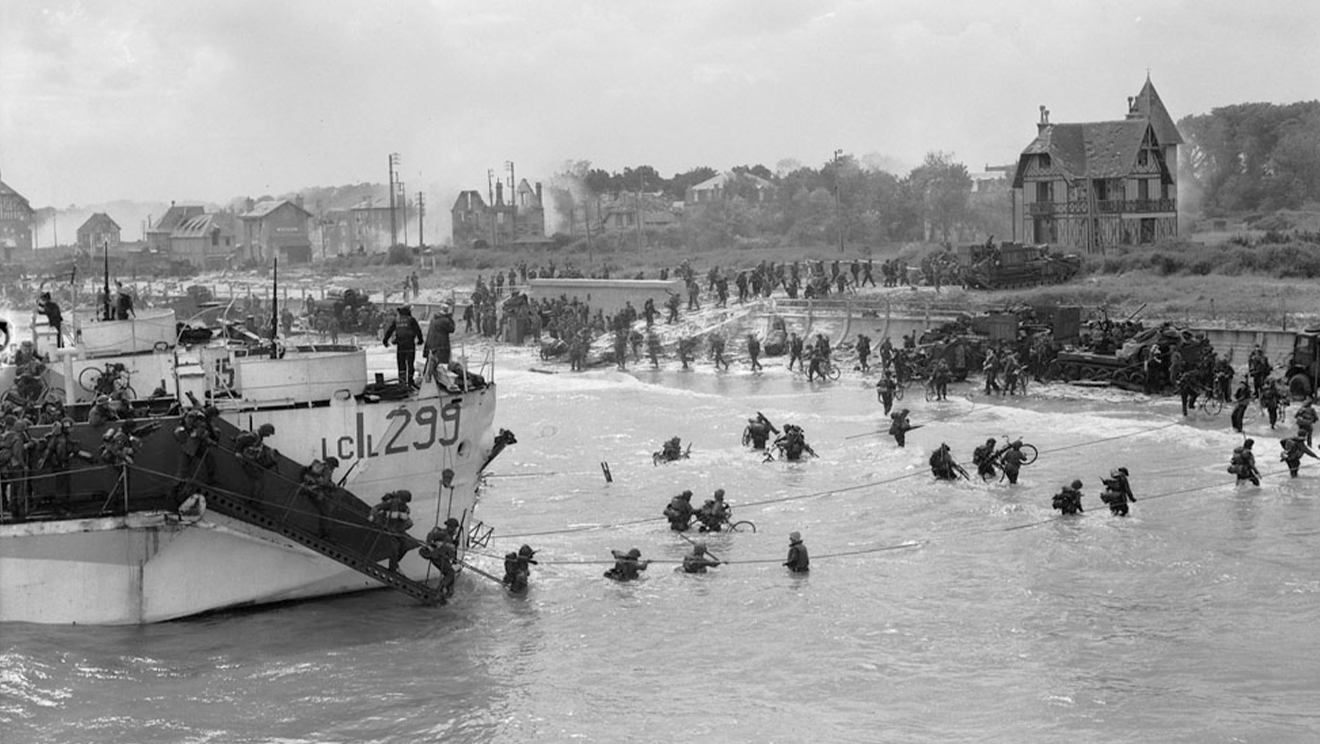 PUTTING THE PIECES TOGETHER
First, the Mint contacted Dr. Stephen Harris from the Canadian Armed Force's Directorate of History and Heritage as well as Dr. Mike Bechthold, Executive Director of the JCBA. They quickly spread word that the Mint was looking for more information about the young man featured in the D-Day footage. Canadian military and navy historian Dr. Marc Milner of the University of New Brunswick; Canadian Armed Forces veteran Gary Silliker; amateur military historian Bruce Morton from Barrie, Ontario; and Brandon Savage, a teacher at Miramichi Valley High School, New Brunswick, all stepped up to the plate to fill in the gaps in Pte. Baker's story.
A major breakthrough came when Dr. Milner's search of military records revealed a pair of initials to go along with Pte. Baker's last name — G.H. — as well as a service number, F56627. And because service numbers had letters before them to identify where the soldier had enlisted, Silliker was able to confirm that the "F" meant Pte. G.H. Baker had enlisted in either Nova Scotia or Prince Edward Island, allowing the team to concentrate its efforts on those two provinces.
With this information in hand, Dr. Milner went through Veterans Affairs Canada data to discover both a birth and death date for Pte. G.H. Baker. He had been born in Nova Scotia on August 31, 1923, and died on July 23, 2003, in South Brookfield, Nova Scotia. So he survived not only through the D-Day invasion but the rest of the war as well — and lived a long life well after.
Building on the research of Dr. Milner and Silliker, Morton was then able to confirm that there was only one soldier of the North Shore Regiment with the surname Baker to land on Juno Beach, a positive indicator that they had indeed found the Pte. Baker who appears in the film footage.
"It was like a puzzle, all the pieces came together very slowly," recalls Desrochers. "But this story was so contagious. Everyone went the extra mile to help us find out just who Pte. Baker was."
Finally, Savage searched through Nova Scotia burial databases, eventually coming across a tombstone for a George Herman Baker. And by looking though a database of obituaries, he was able to find something more: the names of Pte. Baker's family.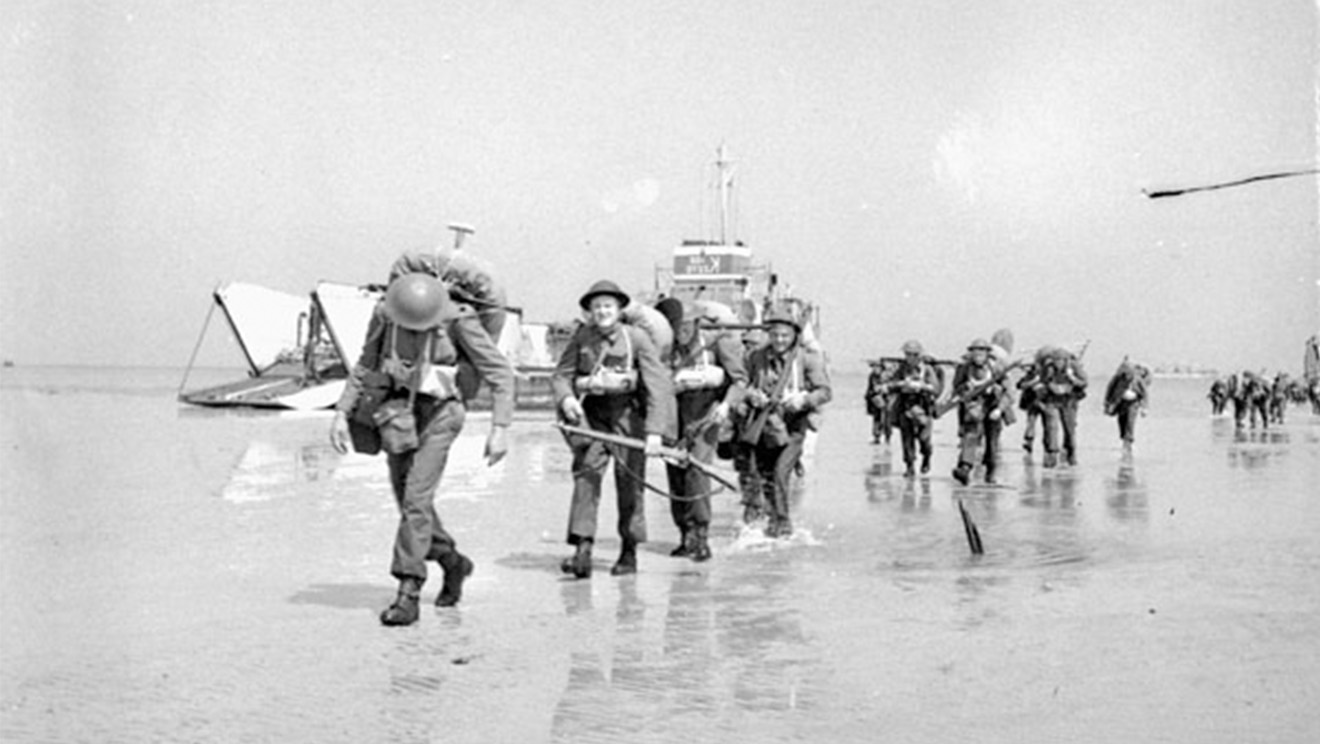 CONNECTING PAST AND PRESENT
Savage reached out to Pte. Baker's daughter, Karen McLeod, in Liverpool, Nova Scotia. Surprisingly, she had never seen the footage taken during the landings at Juno Beach. Pte. Baker never really spoke about the war — so the film showed McLeod a whole side of her father she had never seen before.
"It's remarkable, really," says McLeod, recalling the first time she watched the D-Day footage. "All of a sudden you see your father, at the age of 20, but from 75 years ago, sitting in front of you. It's amazing."
McLeod says the silver proof dollar is an overwhelming tribute to her father and to all who fought during the war. She's also grateful the Mint is telling the story behind that iconic moment.
"It's important to me as my father's daughter," she says. "But I also want everybody to know how important the Second World War was. People went to it and gave their lives — and those who came back home, often didn't come back to a normal life."
After viewing the film and comparing it to photos of her father as a young man, McLeod was able to officially confirm that the soldier receiving the pat on the back and glancing back at the camera was indeed her father. Soon after, McLeod's son contacted the Mint to share a few more pieces of the puzzle. He had hung onto photos taken of his grandfather after he had enlisted as well as service medals and war records, all which further confirmed the identity of the young man preparing to jump into the waters of Normandy.

A CAREER HIGHLIGHT
For Cook Sapene and Desrochers, creating the 2019 proof silver dollar was more than a job. It was a mission: to fill in a missing part of history and tell a story that had not yet been told.
"Because so few veterans from the Second World War are still alive, it's getting harder to tell their stories and really know what it was like back then," says Desrochers. "This was already such a beautiful coin. But now when I look at, I'll never forget the story behind it. It's all I thought about for a couple of weeks. We just had to tell it to the world. It's definitely one of the highlights of my career."
Cook Sapene agrees.
"This coin has so much more meaning now, going from an emblematic soldier to somebody who has a name and a family," she says. "This has been, without a doubt, one of the most rewarding experiences I've ever had working at the Mint."

Remembering the sacrifices made by Veterans, 75 years ago
Second World War Veteran, Alphonse Vautour shares his D-Day story. On June 6, 1944, Private Vautour from the North Shore Regiment of New Brunswick landed in Bernières-sur-Mer, France.