Back to Articles
Rediscover history with three new gems that celebrate the Mother of Confederation
May 05, 2019
History
4 MIN READ


2019 collection celebrates the 200th Anniversary of the birth of Queen Victoria
Born on May 24, 1819, Queen Victoria's youthful exuberance, long reign and keen interest in colonial affairs redefined the monarchy and growth in British colonies, and led to the practice of many new traditions which are still common today.
Two centuries after her birth, the influence of her reign can still be found in many places across the globe including Canada, where she is affectionately known as the "Mother of Confederation" for her active support for Canadian Confederation. Her Majesty left her mark in architecture and design, in place names that reference "Queen," "Regina," "Empress" and "Victoria," in white wedding dresses worn by blushing brides, and is also honoured every year at the end of May on Victoria Day.
Looking to the past to celebrate the present
For the Royal Canadian Mint, celebrating Canadian history and sharing stories about Canada's rich past is one of the things Mint employees are most passionate about. When delving into the history of Queen Victoria, the Mint's product development team was inspired by what they found in their research and have brought forward treasures from the past, in the shape of three new coins, to commemorate the 200th anniversary of the birth of Queen Victoria.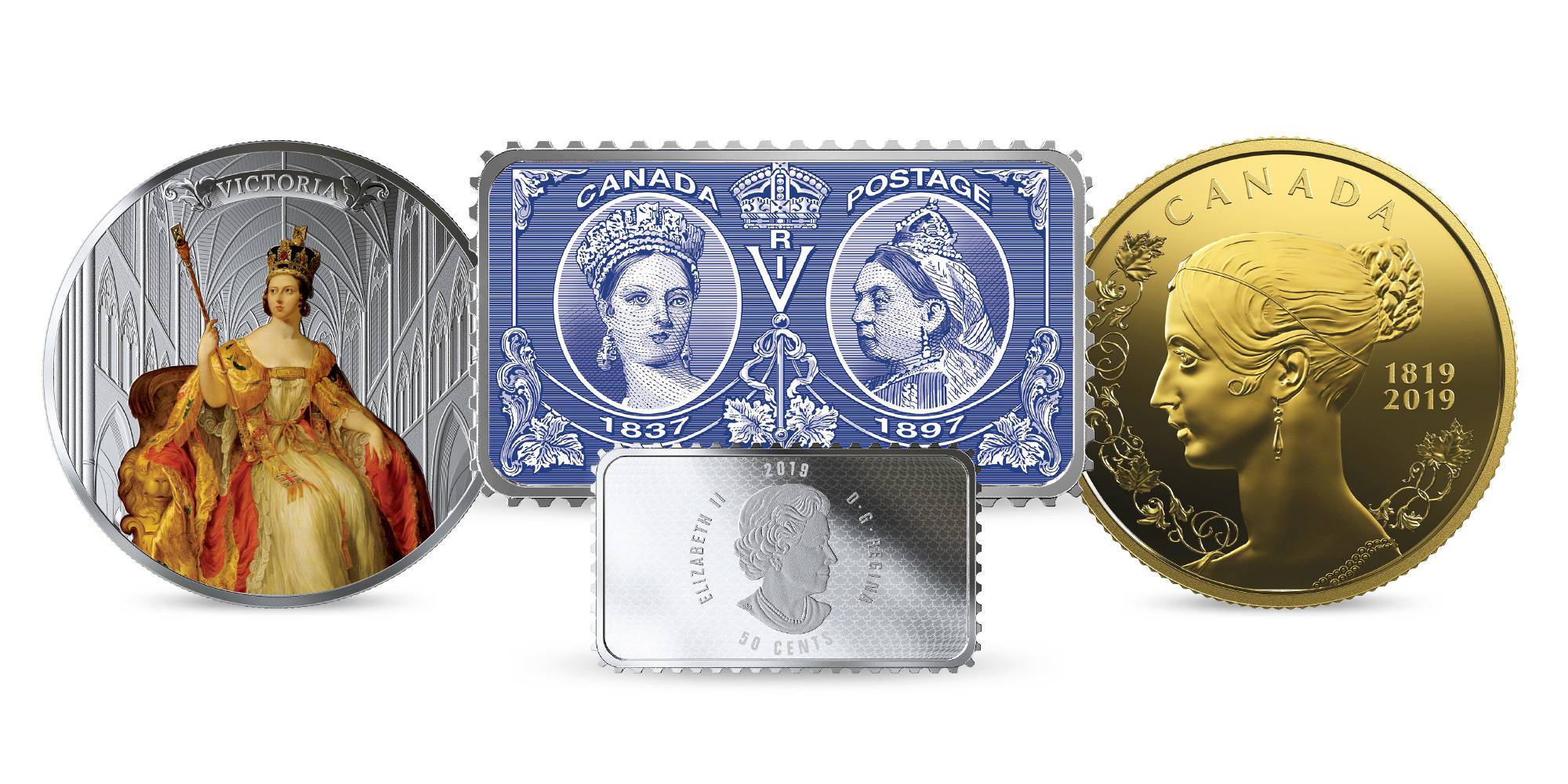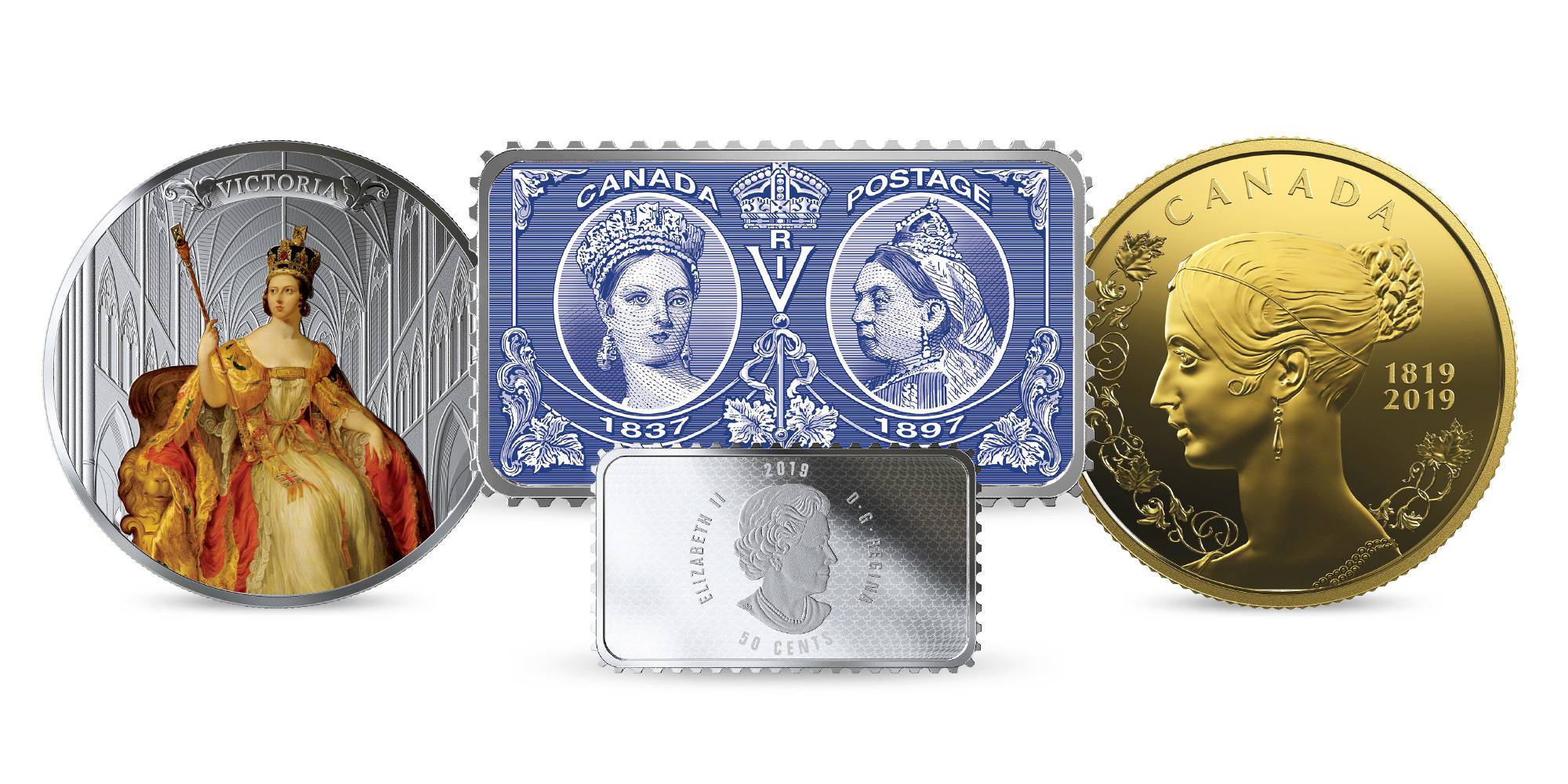 Gem 1: Canada's first commemorative stamp
Over the years the Royal Canadian Mint has issued a number of coins celebrating Canada's postal history, but never has one celebrated Queen Victoria. That is, until now. Mint Product Manager, Yudi Harsono explains how the team ear marked the 1897 Jubilee issue commemorative stamp, "The original list of planned products to celebrate her 200th birthday did not include a stamp-inspired coin. But, the history of this particular stamp was too rich to pass up. We had to include it in our collection."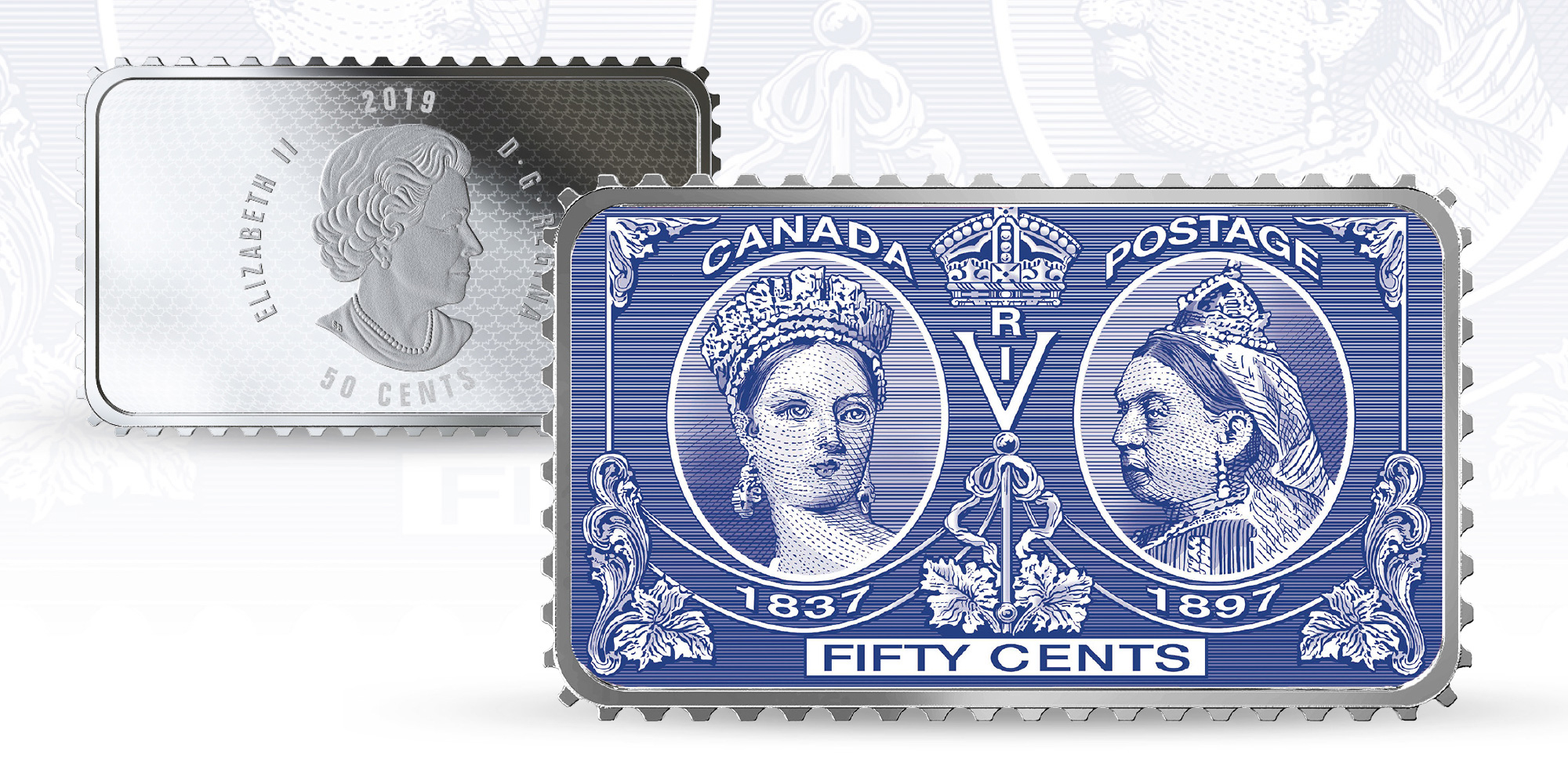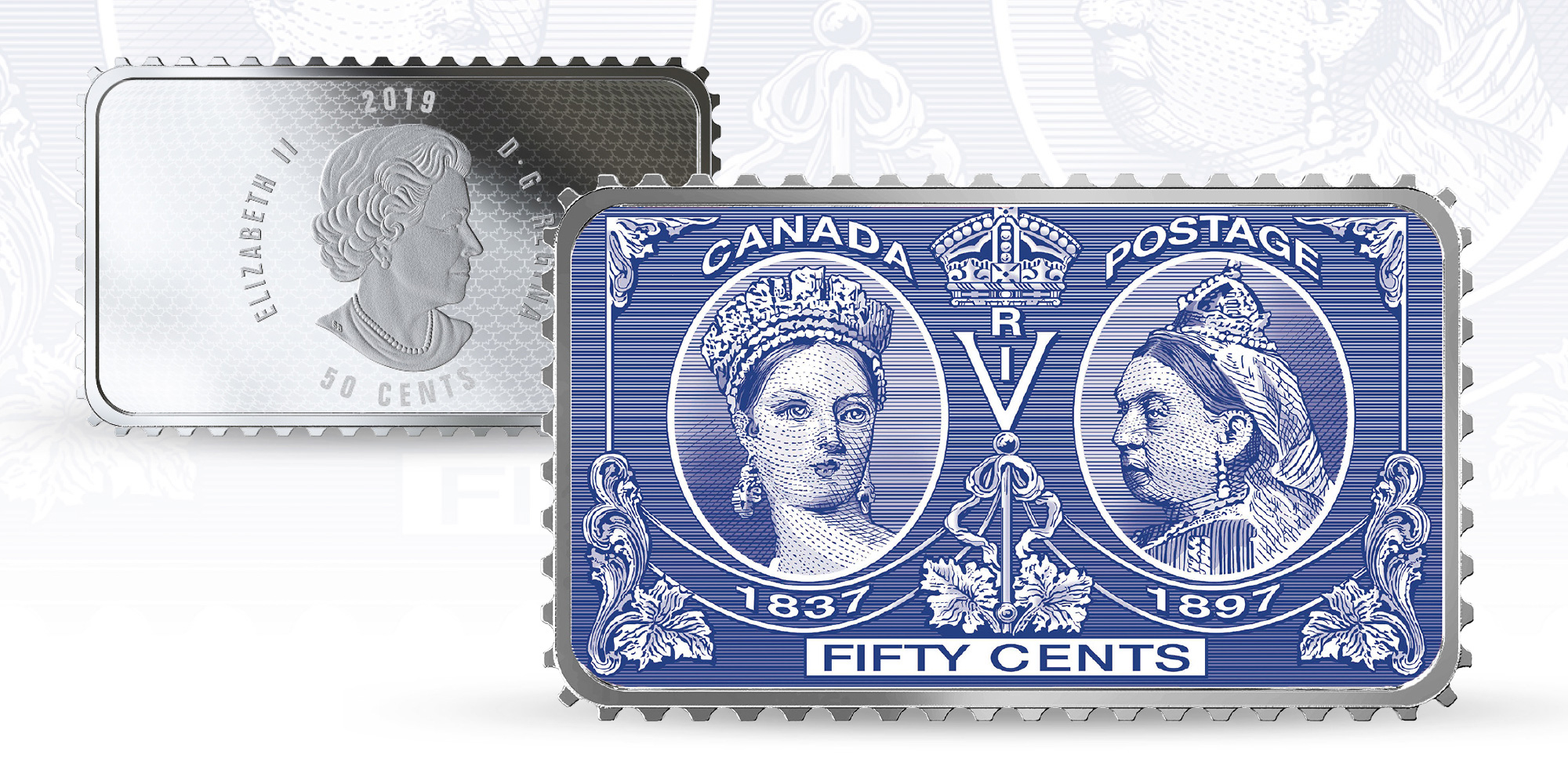 The 1897 "Jubilee" commemorative stamp, considered by many collectors to be the Dominion of Canada's first commemorative stamp, quickly sold-out upon its release in 1897 and was a testament to Her Majesty's popularity among Canadians.
The 2019 50-cent fine silver coin matches the deep royal blue that first caught the Mint's attention and is engraved with horizontal lines like those produced by intaglio printing. Even its edge is serrated to give it a real postage stamp feel.
© Canada Post Corporation. Used under license.
Gem 2: Two historic images come together
Matt Eggink, another product manager at the Mint, worked with the National Portrait Gallery in London (UK) to develop the next tribute to Queen Victoria. "We wanted to feature an image of the Queen's coronation at Westminister Abbey," Eggink explains. "The Abbey's interior is breathtaking and I knew the coin's 5 oz. size would allow us to truly emphasize its grandeur."
When the challenge of finding an image that adequately portrayed Queen Victoria within Westminster Abbey arose, the idea of combining two images from the NPG into one was sparked.
Eggink selected two of the NPG's licensed images: an etching of Westminster Abbey by Wenceslaus Hollar for the engraved background, and a famous state portrait of Queen Victoria at the time of her coronation.
"Interestingly," explains Eggink, "the portrait upon which this new coin is based, is a replica but also an original work by the same artist, Sir George Hayter."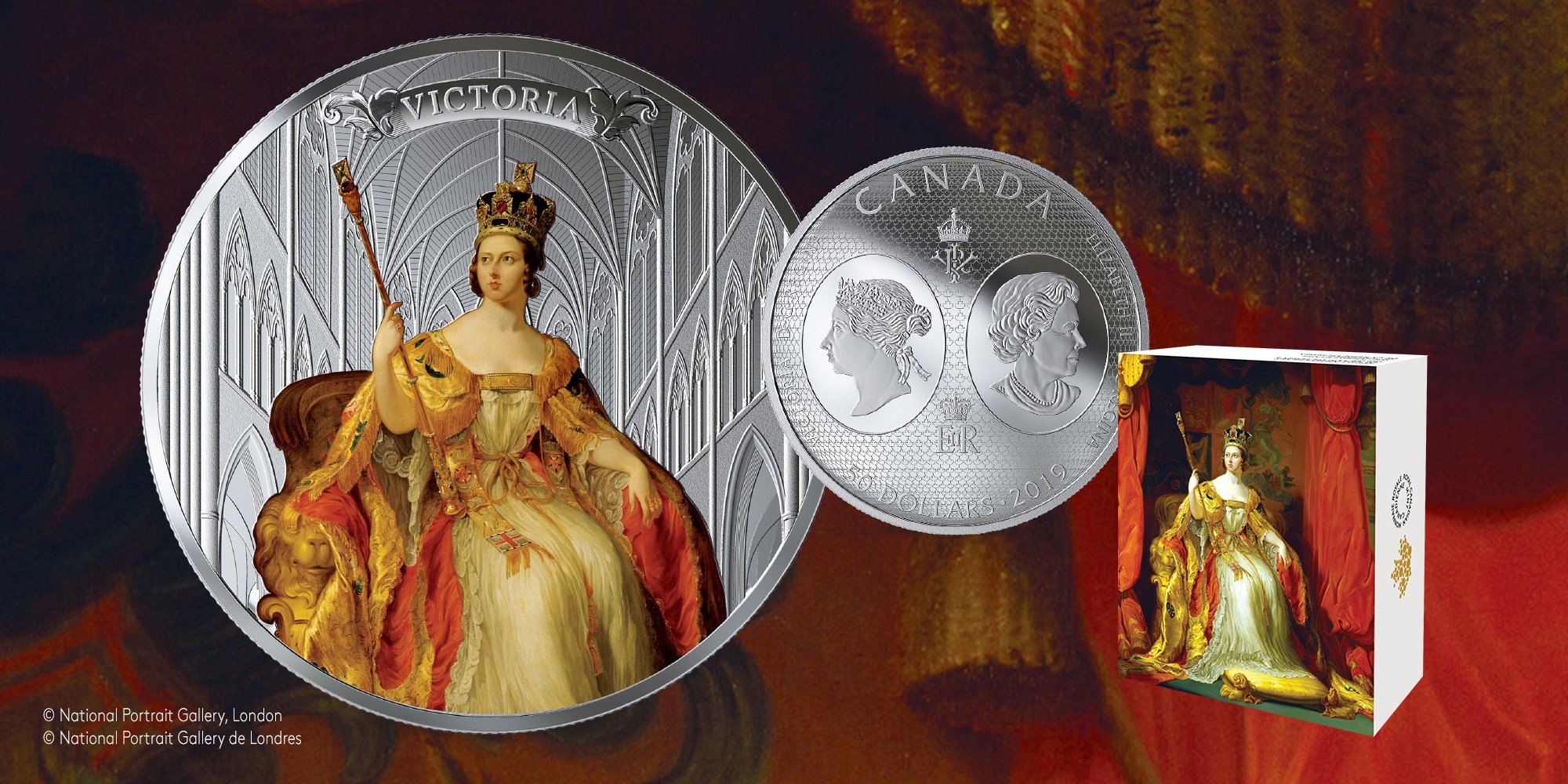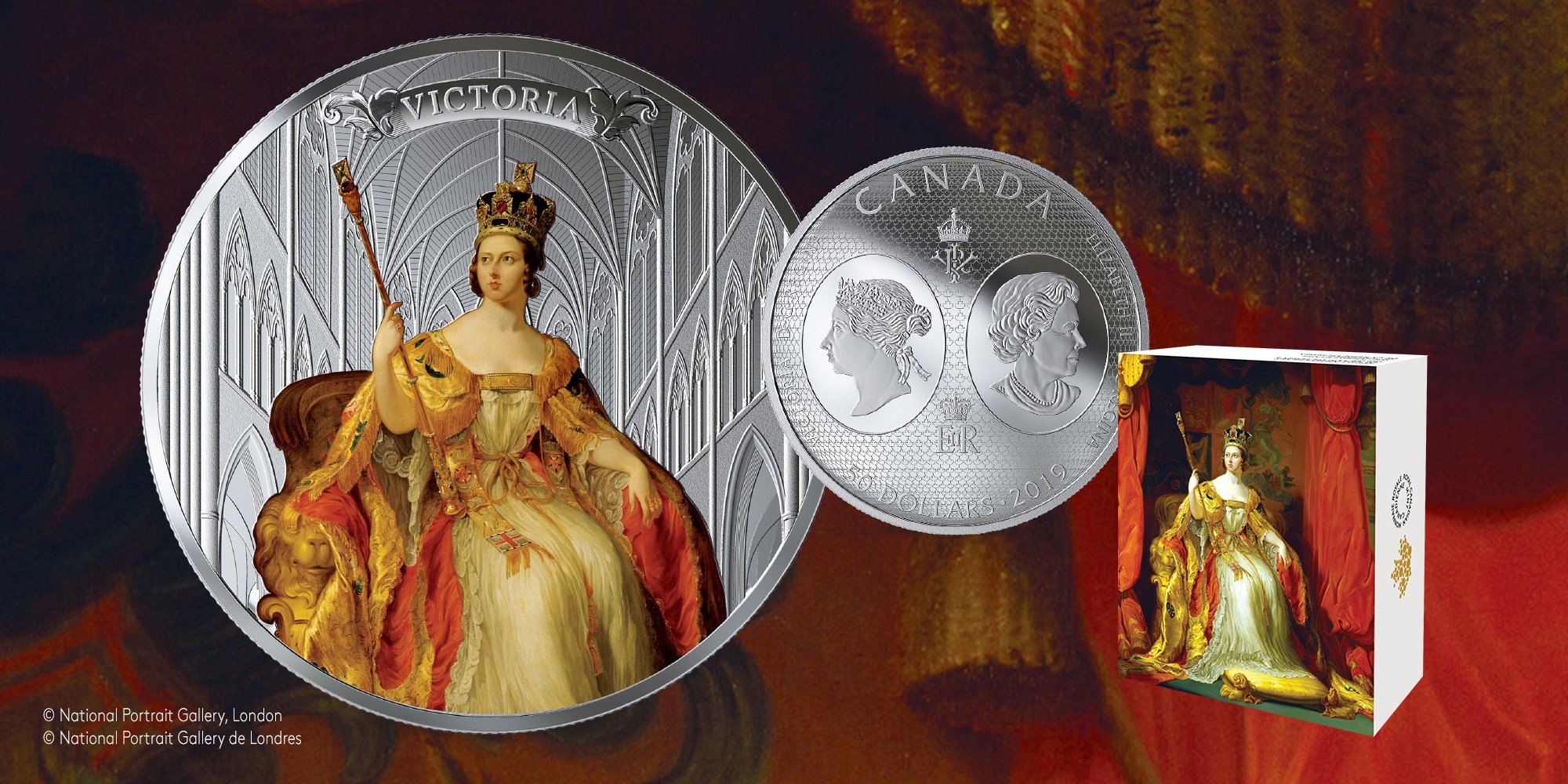 According to the NPG's archives, Hayter painted Queen Victoria's coronation portrait in 1838, but kept the life-size painting so he could make copies for other purposes. The portrait on this coin is a cropped detail of one copy that Hayter painted in 1863, and was given to the NPG by Queen Victoria herself in 1900.
The final outcome of Queen Victoria in full colour superimposed over the Abbey's pillars on this 2019 $50 fine silver coinThis link will open in a new window. is a stunning tribute to the bicentennial of the birth of Her Majesty Queen Victoria (1819-1901).
© National Portrait Gallery, London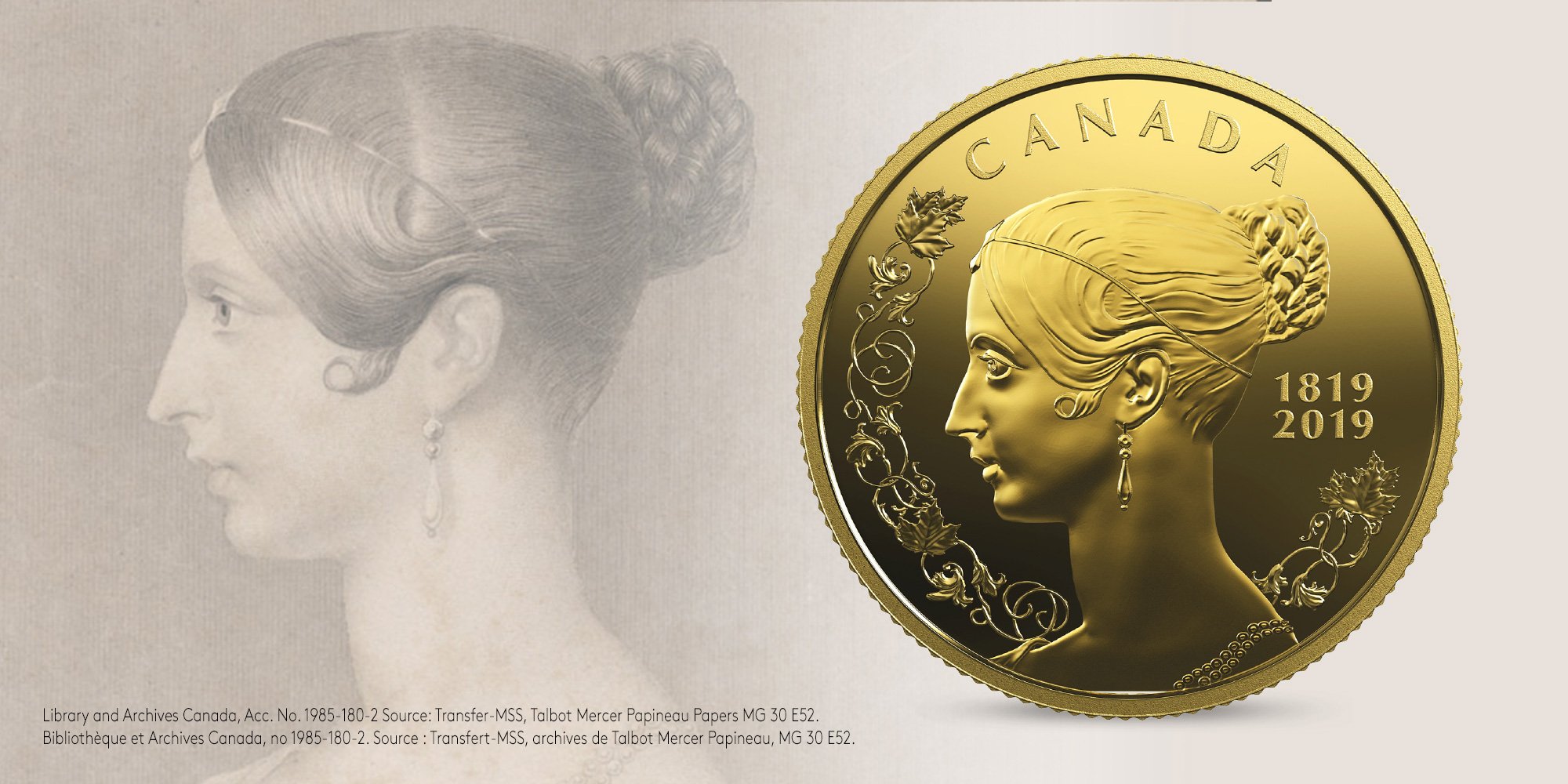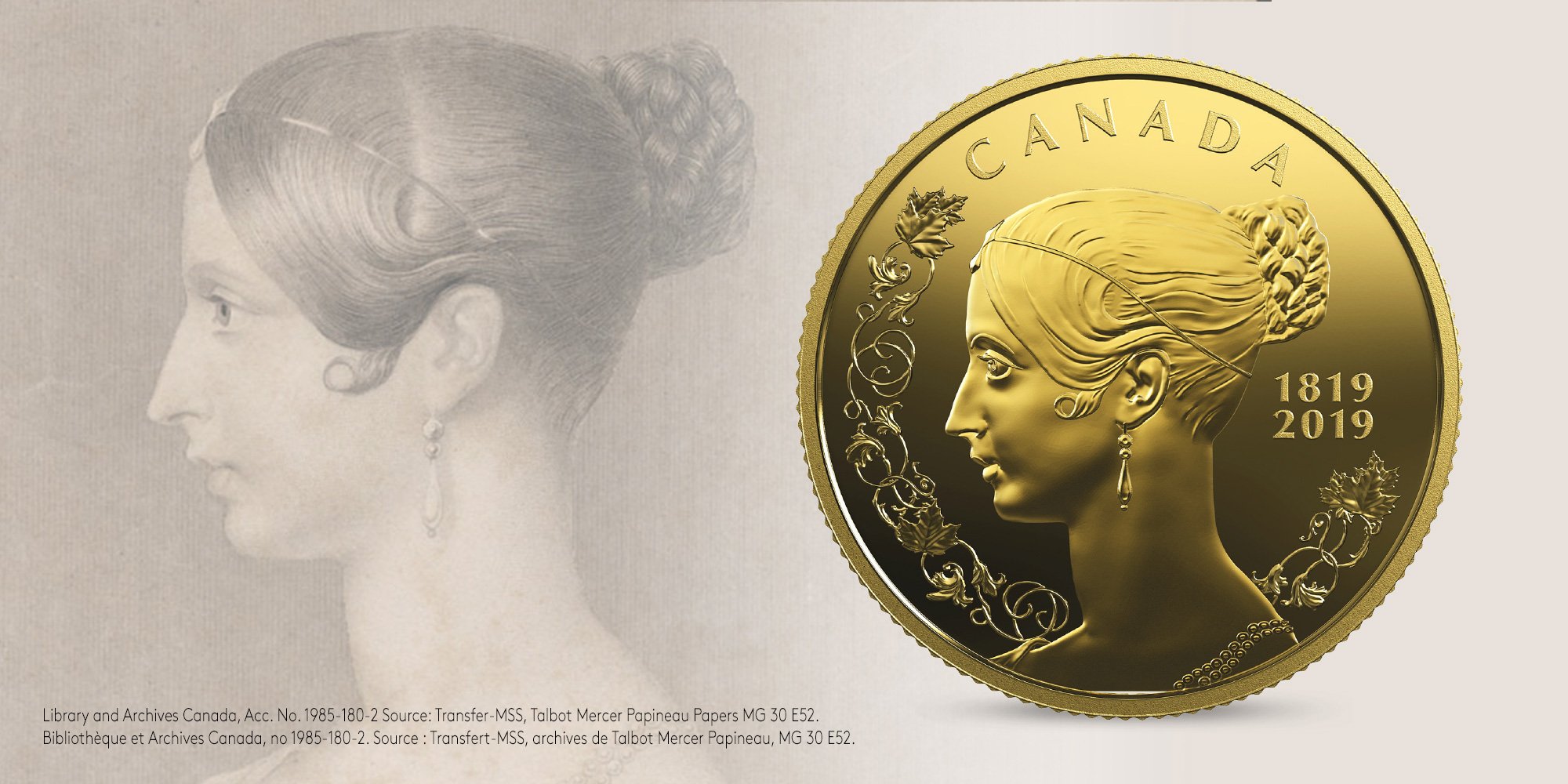 Gem 3: A new portrait fit for an effigy
Most Canadians associate Queen Elizabeth II with their coins, but Queen Victoria's effigy was a fixture on Canadian currency for 63 years.
"I was struck by this portrait of Queen Victoria when I discovered it, , in the Library and Archives Canada database," recalls Eggink. As his research for a 2019 Queen Victoria coin continued, the uncrowned portrait of the young sovereign kept coming back to him. "I kept thinking of how it would have made an outstanding portrait for a coin, and decided that this would be the perfect occasion for it to finally make its debut on a Canadian coin."
The original portrait (c. 1842-1850) was drawn by R.J. Lane. It exudes classic Victorian elegance and is framed with a decorative pattern typical of that era.
Mint engravers took their inspiration from the original garland and reinterpreted it for this new 2019 $10 pure gold coin, adding some maple leaves to give this bicentennial tribute to Queen Victoria a true Canadian touch.
Credit: Library and Archives Canada