Masters Club:
270
Status:

CAN & US shipping only
Availability:

Out of stock in stores
CANADA'S MOST FAMOUS COINS! Struck with pride in Winnipeg, Manitoba. Order today!
Like collectible works of art, Canada's circulation coins feature timeless images that, together, tell the story of a nation's past; of its beautifully varied landscape; of the pride and achievements of its citizens, from coast to coast to coast. The 2019 Classic Canadian Uncirculated Coin Set is a powerful reflection of Canada's history and its natural legacy. Each coin in this set is an outstanding example of Canada's six denominations of coins!
Did you know…
Many of Canada's circulation coin designs were introduced in 1937, when the young nation's coins were re-designed to give them a more contemporary appearance.
Canada's circulation coins are produced by the Mint's high-tech plant in Winnipeg, with over 1 billion coins are minted each year. Its presses can press up to 750 coins per second!
The ideal gift to start a life-long adventure of coincollecting! Order your set today!
Special Features:
CAREFULLY SELECTED! Each coin has been carefully selected to offer the finest representation of Canada's six denominations of circulation coins.
CANADA'S COAT OF ARMS! Your 6-coin set includes the beautiful 50-centcoin featuring Canada's Coat of Arms!
A CONTEMPORARY AND ELEGANT DESIGN! Unique packaging features an eye-catching combination of embossed and foil-stamped elements, resulting in a truly contemporary and elegant design.
A MEANINGFUL GIFT! Use this coin setto mark any event in 2019, whether a birth, wedding, anniversary, retirement, or any personal achievement.
LIMITED WORLDWIDE MINTAGE! Only a limited number of 2019 Classic Canadian Coin Sets will be made. Order today before they're all gone!
EYE-CATCHING GRAPHIC PACKAGING! Thecertificate and all six classic coins are enclosed together in the graphic packaging, which fits perfectly in your uncirculated collector binder.
Designs:
Polar Bear:
Canada's bimetallic two-dollar coin, launched in 1996, features a polar bear, one of the world's largest terrestrial carnivores which can weigh up to 650 kilograms. It lives near the cold seas and frozen ice of Canada's far-north. 
Common Loon:
Launched in 1987, the reverse of the one-dollar coin represents a common loon swimming against the rugged backdrop of the Canadian Shield. The loon's haunting calls are one the quintessential sound of the Canadian wilderness in summer. 
Canada's Coat of Arms:
The Canadian Coat of Arms, proclaimed in 1921 and modified in 1996, reminds Canadians of our diverse heritage. It features images from France (the fleur-de-lis), England (the three royal lions and rose), Scotland (a lion and thistle) and Ireland (the Irish harp and shamrock). 
Caribou:
An enduring symbol of the Canadian north, the majestically-antlered caribou has remained a Canadian icon since first appearing on the twenty-five-cent piece in 1937.
Bluenose:
In 1921, Atlantic Canadians built one of the finest racing and fishing vessels in Canadian history, the Bluenose. Known for its speed, and almost unbeatable in a race, the ship first appeared on the ten-cent piece in 1937. 
Beaver:
The beaver is Canada's national animal. Highly sought after for its rich fur in the 17th and 18th centuries, it was the mainstay of the colonial economy for centuries. Today, the beaver is revered as a symbol of hard work and perseverance.
Packaging:
Your 2019 Classic Canadian Set coins are sealed insidea transparent film and presented in a colourful specifications card!
Order your 6-coin set today!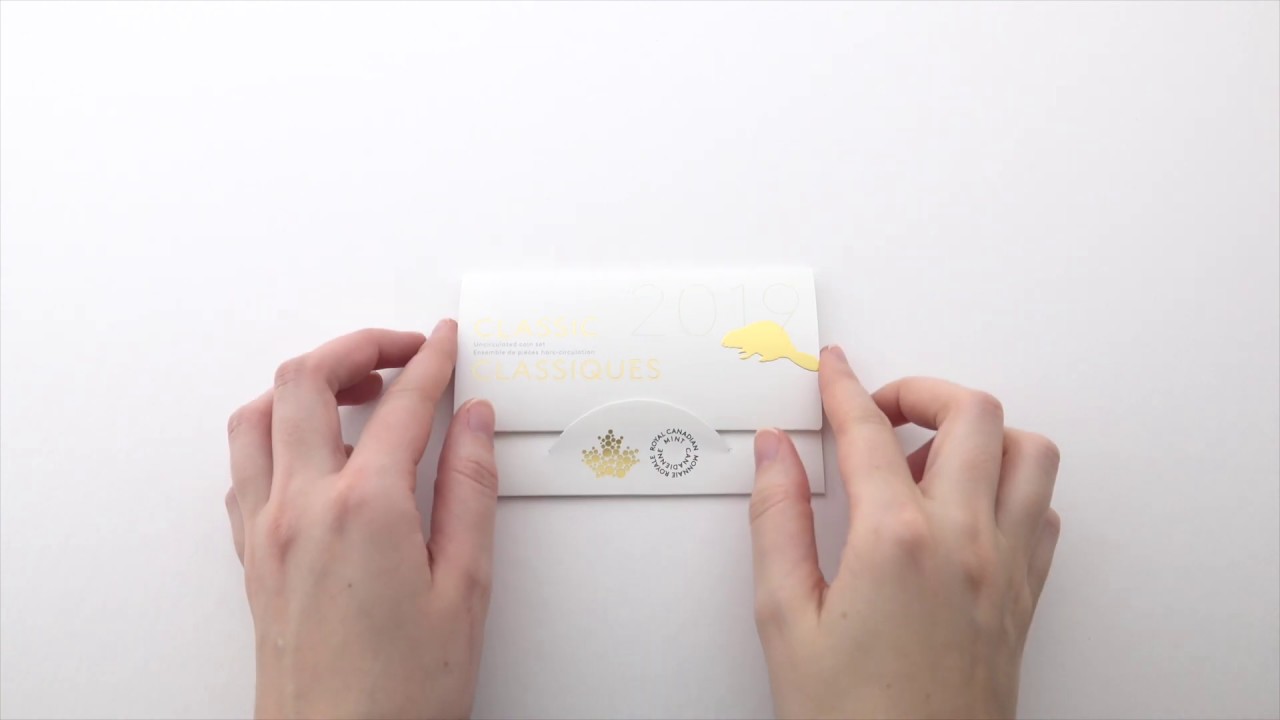 What do you want to know about this product?
Your product was successfully added to your collection.
The product could not be added