1 oz. Pure Silver Coin - Her Majesty Queen Elizabeth II's Maple Leaves Brooch
1 oz. Pure Silver Coin - Her Majesty Queen Elizabeth II's Maple Leaves Brooch
Masters Club:
1,200
Status:

CAN & US shipping only
Availability:

Out of stock in stores
LOW CERTIFICATE OF AUTHENTICITY NUMBER! A Masters Club member benefit! Order today!
Canadians love their Queen. Moreover, for Her MajestyQueen Elizabeth II, the affection is clearly mutual. She has visited her "home away from home" 22 times during her reign—more than any other Commonwealth nation. The Queen displayed her affection for Canada once again during her most recent visit in 2010 when she wore a maple leaves brooch that observers did not recognize—a gift originally presented to her grandmother, Queen Mary (then Duchess) during a royal tour in 1901. It is unknown how long the brooch had been hidden away in the royal vault, but one thing is certain, that spray of maple leaves evoked a sense of home so poignant that The Queen was inspired to wear them as an outward expressionof the warmth she feels for her second home—the home of the maple leaf. This beautiful coin returns that gesture with an exquisite reproduction of the brooch she wore.
Your coin cherishes the enduring warmth between the people of Canada and their Queen! Order today!
Special features:
LOW CERTIFICATE OF AUTHENTICITY NUMBER! Order now to receive a coin with a low certificate of authenticity number between 1 and 1,500! A benefit for being a Masters Club member!
INCLUDES A SWAROVSKI® PEARLCRYSTAL! Your coin features an exquisite, full-colour reproduction of The Queen's 116-year-old brooch—complete with a Swarovski® pearl crystal!
A HISTORIC COIN! Your coin honours The Queen's unwavering devotion to Canada as she visited her beloved second home for the 22nd time at the age of 84!
INCLUDES SERIALIZED CERTIFICATE! The Royal Canadian Mint certifies all of its collector coins!
LOW MINTAGE! Only 5,500 coins will be made worldwide—order today as your coin is a limited work of art in its own right and highly collectible!
ONE OZ. PURE SILVER! Your coin is 1 oz. proof quality 99.99% pure silver!
NO GST/HST!
Design:
Royal Canadian Mint engravers replicated The Queen's maple leaves brooch with exacting detail—six enamel maple leaves in autumn colours and edged with brilliants, all twined together with a single pearl at the end. An engraved floral garland follows the curve of the coin while The Queen's Royal Cypher shines above in vibrant colour.
Did you know…
The brooch was worn twice during The Queen's 2010 tour: on June 29 at a reception at the Cunard Centre in Halifax (Nova Scotia), and onJuly 5 while visiting Research in Motion in Waterloo and Pinewood Studios in Toronto (Ontario).
Observers of the 2010 tour noted that The Queen flipped the brooch depending upon what she was wearing—the single pearl was at the bottom when the brooch was pinned to a jacket or coat, and at the top when the brooch was pinned to a dress.
When the brooch was presented to Queen Mary (then Duchess) in 1901, it was during the first transcontinental royal tour that highlighted the significance of the Canadian Pacific Railway. Lady Strathcona presented thebrooch on behalf of Montreal's Citizens' Reception Committee.
In his book The Royal Tour in Canada, 1901, Joseph Pope described the brooch as, "…a spray of maple leaves wrought in gold and enamel set with diamonds and pearls." An album of Canadian views accompanied this gift.
In May 1902, the brooch was put on display at the Imperial Institute in London (England) alongside more than 870 individual gifts. The Times reported that, "…Canada, like Tasmania, is represented by a beautiful collection of furs and by some jewelry of great value…"
Packaging:
Your coin is encapsulated and presented in a Royal Canadian Mint-branded maroon clamshell with a black beauty box.
Order your coin today!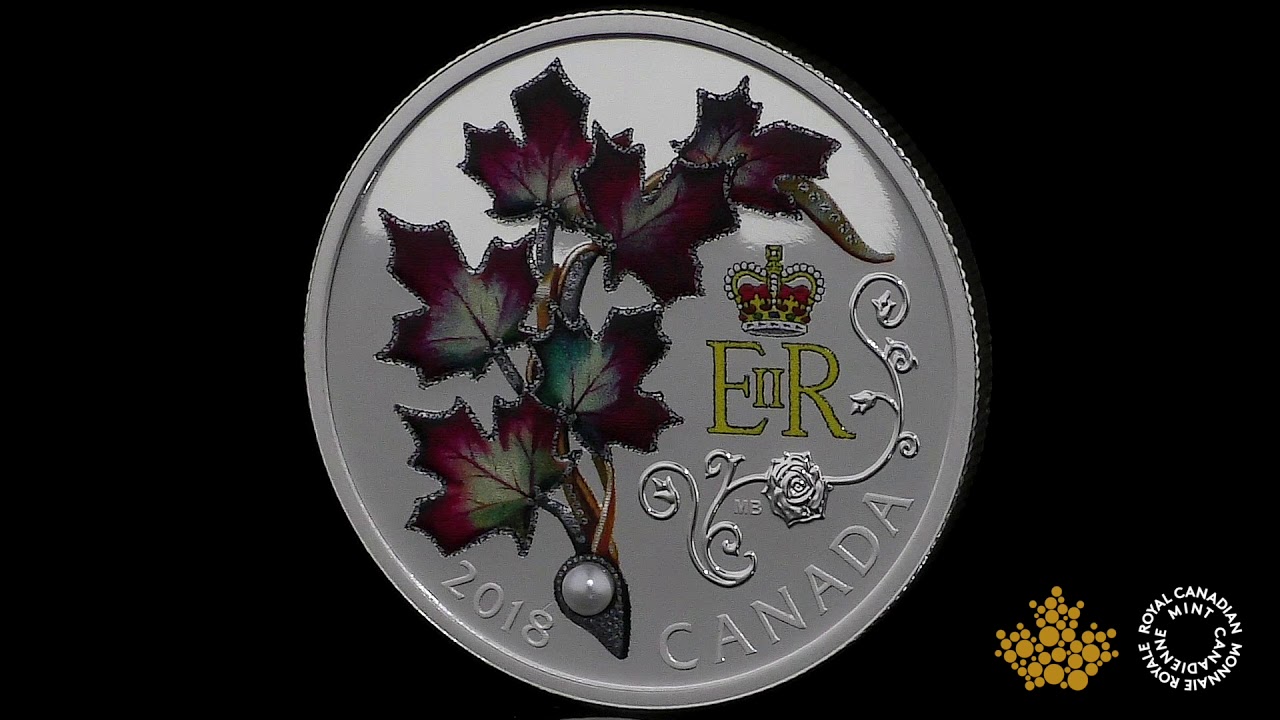 Composition
99.99% pure silver
Artist
Maurade Baynton (reverse), Susanna Blunt (obverse)
What do you want to know about this product?
Your product was successfully added to your collection.
The product could not be added