1 oz. Pure Silver Coin - Bald Eagle Reflection
1 oz. Pure Silver Coin - Bald Eagle Reflection
Masters Club:
1,200
Status:

CAN & US shipping only
Availability:

Out of stock in stores
INCLUDES A BLACKLIGHT FLASHLIGHT! Order today!
A soaring eagle is the very picture of serenity, but its descent is a lesson in strength and elegance. This king of the skies is at home in some of Canada's wildest and most magnificent landscapes, like the coastal setting on your coin. Engraving and colour technologies combine like never before to create a dazzling day-to-night transformation. Like a bright sunny day, your coin is filled with light and shadows—from the eagle's silhouette on theblue-enamelled water, to the frosted mountains in the distance. When viewed under a blacklight (included), the glowing sunset adds a colourful twist, whilethe trees and mountains cast long shadows that are suddenly visible on the water!
Add this breathtaking bald eagle coin that undergoes aglowing transformation to your collection today!
Special features:
CELEBRATES THE BALD EAGLE! Yourcoin is a glowing celebration of Canada'sscenic wilderness and its largest bird of prey!
NEVER SEEN BEFORE! The carefullayering of engraved elements with colour technologies and a blacklight effect adds unprecedented complexity to a scene that can instantly transition from day to dusk.
COMES WITH A BLACKLIGHT FLASHLIGHT! When viewed in the natural light, your coin features a daytime scene filled with summer sunlight that heightens the colours of the sky and the eagle. When viewed under a blacklight (included), a glowing sunset dramatically paints the skyand adds longer shadows to the surface of the waterbelow.
MIMICS THE LOOK OF THE BLUE SKY REFLECTED ON WATER! Translucent enamel mimics the look of the blue sky reflecting on the water.
COMPLEX ENGRAVING! A constant on your coin is the complex engraving that brings the landscape to life, with different frostings that convey distance and mimic shade cast by passing clouds.
STRATEGIC LAYERING! The water element brings all the technologies together, with shadows and a glowing sunset painted onto the transparent blue enamel, which colours the engraved underwater view.
SIMPLY STUNNING! This gorgeous coin is a wonderful addition to your nature-, wildlife- or Canadiana-themed collection.
VERY LOW MINTAGE! Only 4,000 coins will be made worldwide!
1 OZ. PURE SILVER! Your coin is crafted from one ounce of 99.99% pure silver.
NO GST/HST!
Design:
Set over Canada's Pacific coastal waters, the reverse image by Julius Csotonyi evokes a sense of awe and reverence for both the bald eagle (Haliaeetus leucocephalus) and its coastal habitat. The multi-layered design depicts a sunny, summer day along the rocky shoreline, where the engraved evergreen trees reach for the blue-coloured sky overhead. Talons at the ready, a bald eagle swoops low over the shallow water, where translucentblue enamel stands in for the sky's reflection without obscuring the underwater view. When viewed under a blacklight, the same scene transitions to dusk, as a fiery sunset lights up the sky and casts longer shadows on the water. The reverse includesthe word "CANADA", the year "2019" and the face value, "20 DOLLARS". The obverse features the effigy of Her Majesty Queen Elizabeth II by Susanna Blunt.
Did you know…
A bald eagle can live nearly 30 years in the wild, and even longer in captivity.
Females are slightly larger-sized than males, but an adult generally has a wingspan of more than 2 metres and may weigh up to 7 kilograms.
Science suggests the old adage "Red sky at night, sailor's delight" holds true: the best sunsets occur when there is clear air to the west, which brings favourable weather the next day.
A revered cultural symbol of vision and strength, the bald eagle (Haliaeetus leucocephalus) is Canada's largest bird ofprey and the only eagle species found exclusively in North America. Much of Canada's bald eagle population is concentrated along the Pacific coast, where tall trees near large bodies of water provide an ideal nesting site. Its vision is roughly fourtimes more powerful than our own, which allows it to spot fish from high above before swooping down to catch prey with its razor-sharp talons.
Packaging:
Your coin is encapsulated and presented in a Royal Canadian Mint-branded maroon clamshell with a black beauty box.
Order today!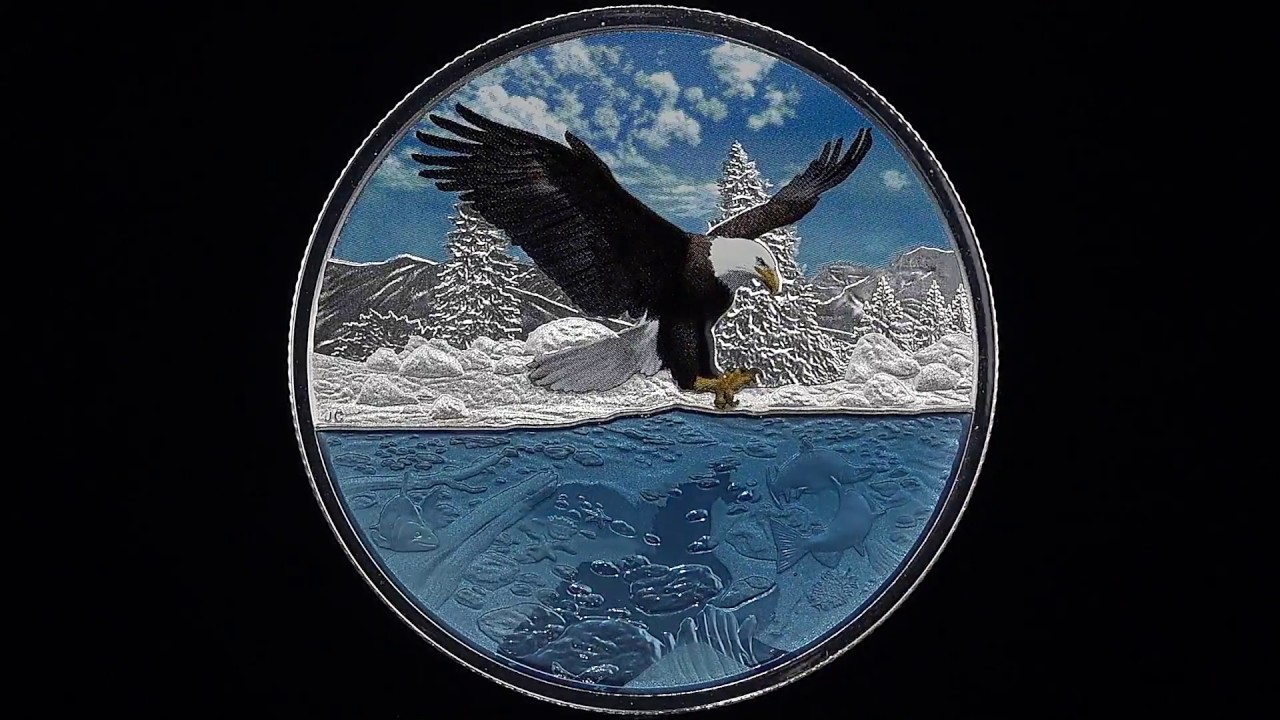 Composition
99.99% pure silver
Artist
Julius Csotonyi (reverse), Susanna Blunt (obverse)
What do you want to know about this product?
Your product was successfully added to your collection.
The product could not be added