1 oz. Pure Silver Coin - Lest We Forget
1 oz. Pure Silver Coin - Lest We Forget
Masters Club:
1,400
Status:

CAN & US shipping only
Availability:

Out of stock in stores
Lest We Forget: Your Remembrance Day coin features a red poppy made from Murano glass. Order today.
A Murano glass poppy (a first for us) tops our 2019 tribute to the men and women who lost their lives in the service of our county. Behind this red flower of Remembrance, the engraved design is based on the poppy wreaths laid at the foot of our war memorials each November 11. Its cross-shaped ribbon bears the promise made to the fallen, even as it stretches across the famouswildflowers of Flanders. It reminds us of sacrifices made in times of war and in the defence of peace. When woven into a wreath and laid upon our monuments, the bright red poppy acts as a solemn mark from a grateful nation—one that promises to never forget.
A pure silver 2019 tribute to courage, dedication, and sacrifice. Order today.
Special features:
OUR FIRST MURANO POPPY: A handcrafted Murano poppy is a glass symbol of remembrance on this pure silver tribute to courage, dedication and sacrifice.
ANNUAL THEME: This 2019 commemorative coin is part of our annual riteof remembrance.
EXQUISITE SCULPTING: Frostings add depth to the design while emphasizing the beautifully engraved details, like the gentle curl of the poppy petals and foliage.
INCUSE TEXT: The incuse text isa pledge to remember all who have fallen, and to acknowledge the valour of all who serve. 
INDIVIDUALLY SCULPTED: The engraved poppies have been individually sculpted and frosted to emphasize the individual stories of remembrance behind our collective memory of sacrifice.
LIMITED WORLDWIDE MINTAGE: Your coin has a limited worldwide mintage of 6,000.
1 OZ. PURE SILVER: Your coin is crafted from one ounce of 99.99% pure silver.
Design:
Designed by artist Kerri Weller, your coin is based onthe poppy wreaths that are a common sight at commemorative services held each November 11 in Canada (Remembrance Day). A solemn symbol of remembrance, a red Murano glass poppy is centrally positioned againstthe coin's proof finish. A wreath of poppies (Papaver rhoeas) forms a circular shape that represents continuity and hope behind the cross-shaped ribbon that bears the incuse text "LEST WE FORGET  N'OUBLIONS JAMAIS". The obverse features the effigy ofHer Majesty Queen Elizabeth II by Susanna Blunt.
"The poppy (Papaver rhoeas) is a poignantsymbol that evokes memories of our veterans, their sacrifices and a mutual longing for peace on this planet we all call home. In designing this coin, I looked to my family's own wartime experiences to find that emotional space in which I could distil these key concepts of loss, remembrance and hope."  Kerri Weller, Artist
"A Murano poppy is something we've never done before and the effect is stunning. There's no mistaking its meaning. And by making sure each poppy stands out, the engraved wreathwas our way of representing the many individual stories of sacrifice and remembrance. It was truly an honourto work on this project." Erica Maga, Product Manager, Royal Canadian Mint
Did you know…
Written in 1915, the poem In Flanders Fields by John McCrae ofGuelph, Ont., inspired the international campaign behind the poppy symbol of remembrance.
Poppies flourished in Flanders during the Napoleonic Wars but disappeared soon after the battles ended. It was the same with the First World War: bombardments disrupted the chalky soil and infused it with lime from the rubble, thus creating favourable conditions for Popaver rhoeasto (briefly) appear on the battlefields.
In 1921, the Great War Veteran's Association in Canada—the predecessor of the Royal Canadian Legion—officially adopted the poppy as a Flower of Remembrance.
Today, the poppy honours the memory of the 117,000 Canadian servicemen and women who lost their lives. It is worn during the Remembrance Day period, from the last Friday in October to November 11.
If you remember having a lapel poppy with a green centre, you're not wrong: the black centre changed to green in 1980, then back to black again in 2002 to reflect the poppy's actual colours.
Packaging:
Your coin is encapsulated and presented in a Royal Canadian Mint-branded clamshell with a black beauty box.
Order today.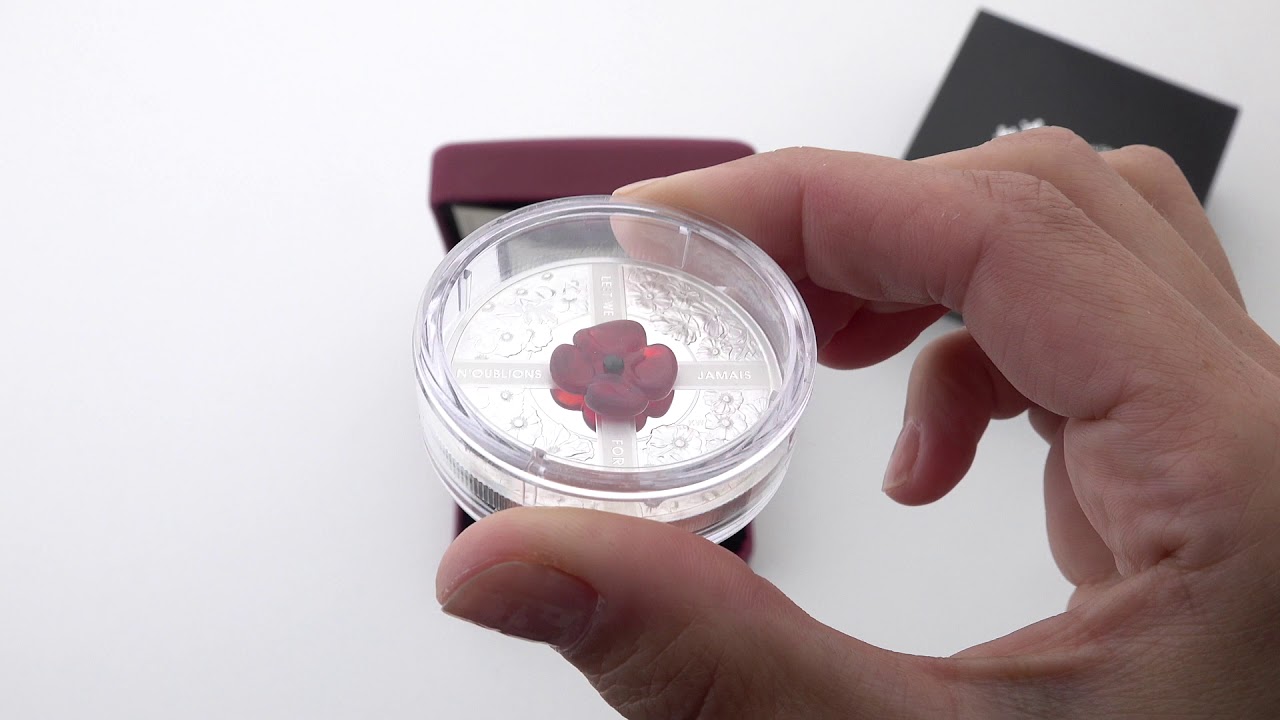 Composition
99.99% pure silver
Artist
Kerri Weller (reverse), Susanna Blunt (obverse)
What do you want to know about this product?
Your product was successfully added to your collection.
The product could not be added