1 oz. Pure Silver Coin - Mystical Snow Day
1 oz. Pure Silver Coin - Mystical Snow Day
Masters Club:
1,050
Status:

CAN & US shipping only
Availability:

Out of stock in stores
FUN! Recalls the magic of when you built your first snowman! Order today!
Who says you have to spend a snow day inside! Once precipitation slows and the windsdie down, Canadians of all ages can't help but marvel at the frozen wonderland around them. Everywhere you look, the once-familiar landscape seems completely altered by a thick blanket of freshly fallen snow. It's a breathtaking sight; it's also a key ingredient for some winter fun for all ages, courtesy of Mother Nature! Creative spirits soar as the pristine snow is gathered, rolled, stacked and packed on to build the perfect snowman. Add on a hat, some buttons and a carrot nose, andyour winter character practically comes to life! It's a timeless and whimsical way to celebrate the joys of Canada's coldest season while making the most of a bright winter day.
A fun Christmas present your loved one will enjoy all year! Order today!
Special features:
CELEBRATES A TIMELESS WINTER ACTIVITY! Your coin is a playful ode to a timeless winter activity, brought to life by different finishes and whimsical engraved elements!
FEATURES A ONE-OF-A-KIND SHADOW ELEMENT! In addition to the cool-toned colours, your 99.99% pure silver coin featuresa one-of-a-kind shadow element engraved on the coin's silver surface—an added touch to truly convey the light-heartedness of the moment and bright spirits on this winter day!
LOW MINTAGE! Only 5,000coins will be made worldwide!
1 OZ. PURE SILVER! Your coin is crafted from one ounce of 99.99% pure silver.
NO GST/HST!
Design:
Designed by Canadian artist Steve Hepburn, your coin presentsa contemporary reinterpretation of a classic winterscene. The view from above allows for a more playful perspective, as two Canadian youth make the most of a snow day by building a snowman. Geometric shapesand the deliberate choice of colours add elements of modern design; and yet, they evoke a strong sense of nostalgia—especially in the concentric circles that form four evergreen trees, whose swirled appearances are reminiscent of lollipops! Using cool-toned colours and engraving to convey bright light and shadows, this layered design radiates with a light-hearted spirit that is also reflected in the shadow engraved on the coin's silver surface.
Did you know…
Building a snowman has long been a winter tradition around the world—anywhere!
Your building material must have the right moisture content! Powder snow may be ideal for skiing but it doesn't tend to stick together very well; on the other end of the spectrum, melting snowor slush is often too watery to hold a shape.
One of Canada's tallest "snow"men resides year-round in Beardmore, Ontario. While it's not really made of snow, the smiling, roadside landmark does measure more than 10 metres high!
Packaging:
Your coin is encapsulated and presented in aRoyal Canadian Mint-branded maroon clamshell with ablack beauty box.
Order today!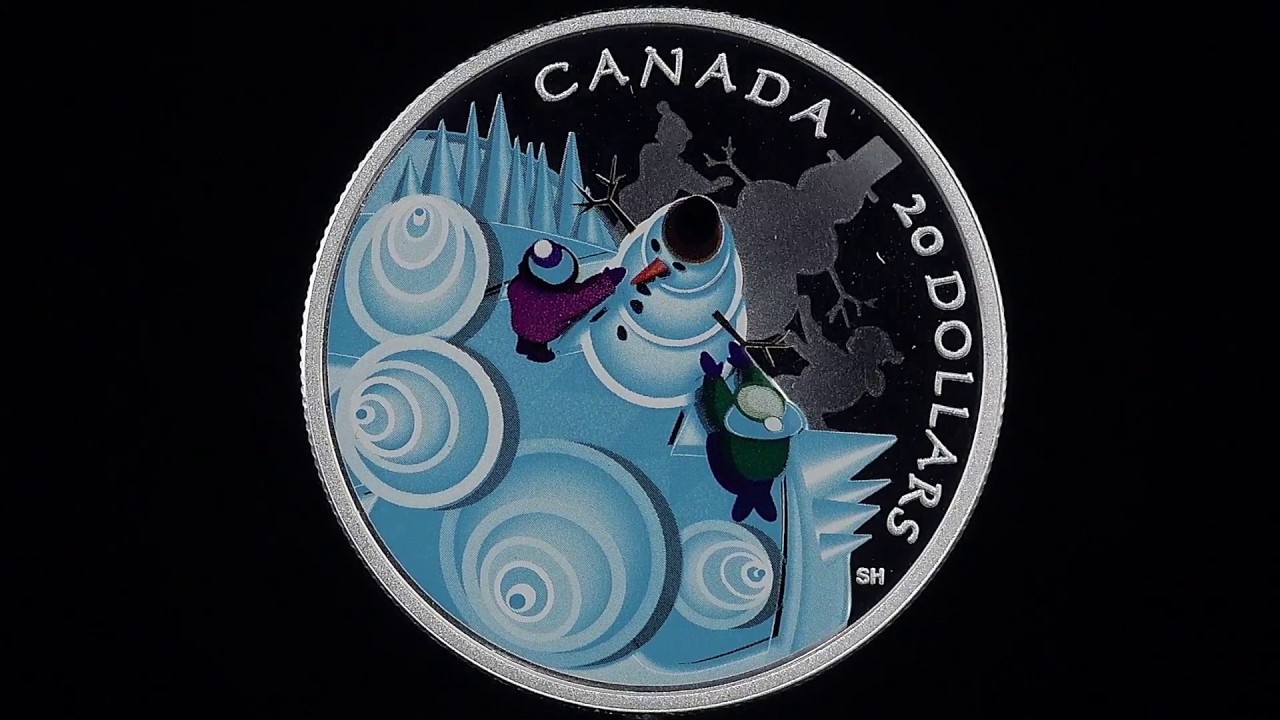 Composition
99.9% pure silver
Artist
Steve Hepburn (reverse), Susanna Blunt (obverse)
What do you want to know about this product?
Your product was successfully added to your collection.
The product could not be added