1 oz. Pure Silver Coloured Coin - Murano Holiday Wreath
1 oz. Pure Silver Coloured Coin - Murano Holiday Wreath
Masters Club:
1,400
Status:

CAN & US shipping only
Availability:

Out of stock in stores
AN ANNUAL FAVOURITE! Our holiday coin looks at the magic of an old-fashioned Christmas! Order today!
An opening note, a flickering flame, a pine or cinnamon scent in the air—the tiniest details can suddenlyevoke warm memories of the holiday season. It's the loveliest trick our senses can play on us, warming our hearts and turning our thoughts to thefriends, family and traditions we love. Thinking back on holidays past, one can almost see the wreath above the mantle and feel the warmth of a fire duringa magical time that lives within us always. It is asentiment that is beautifully embodied by our 2019 holiday coin, featuring selective colour and a Murano glass piece that is the crowning glory of our holiday tribute to yesteryear.
Evoke happy memories of Christmas with this Murano glass coin! Order today!
Special features:
FOR YOU OR A LOVED ONE! A special keepsake to share or keep—one thatevokes happy memories of a magical time that comes once a year, yet lives within us always!
MURANO CHRISTMAS! An annual favourite! A Murano glass element isthe crowning glory on a nostalgia-filled holiday design.
YOUR COIN IS UNIQUE! No two Murano glass pieces are exactly alike! Handcrafted by Italian glassmakers using centuries-old techniques, every wreath is a stunning example of the colourful clarity that is synonymous with Venetian glass.
SELECTIVE COLOUR! The use of selective colour highlights two wondrous sights—the beautifully decorated tree and a very specialgift—on the finely engraved reverse.
LOW MINTAGE! Only 5,000 coins will be made worldwide!
1 OZ. PURE SILVER! Your coin is crafted from one ounce of 99.99% pure silver.
NO GST/HST!
Design:
Designed by artist Marie-Élaine Cusson, the reverse steps back in time to capture the heart-warming magicof an old-fashioned family Christmas. A roaring fire in the stone-lined fireplace conjures a feeling ofwarmth and coziness, while an extraordinary holidaywreath "hangs" on the brick wall above the mantle. Uniquely handcrafted by glassmakers Giorgio and Bernardino Vio of Murano, Italy, thebright green wreath complements the coloured tree, whose traditional mix of decorations, flowers, bows and ribbon garland culminate in a star-shaped topper. The brightly wrapped gifts and a bow on the woodenrocking horse hint at an exhilarating moment of discovery to come—a moment that is at the heart of manymemories of holidays past. The reverse also features the engraved word "CANADA" andthe year "2019". The obverse features the effigy of Her Majesty Queen Elizabeth II by Susanna Blunt.
Did you know…
Wreaths were as a symbol of victory in ancient Rome, but the holiday tradition of hanging a wreath is believed to date back to the 16th century.
A wreath is also a symbol of eternity since the circular shape has no discernable beginning or end.
Another holiday wreath, the Advent wreathis decorated with candles that are lit each week inDecember.
Packaging:
Your coin is encapsulated and presented in a Royal Canadian Mint-branded maroon clamshell with a black beauty box.
Order today!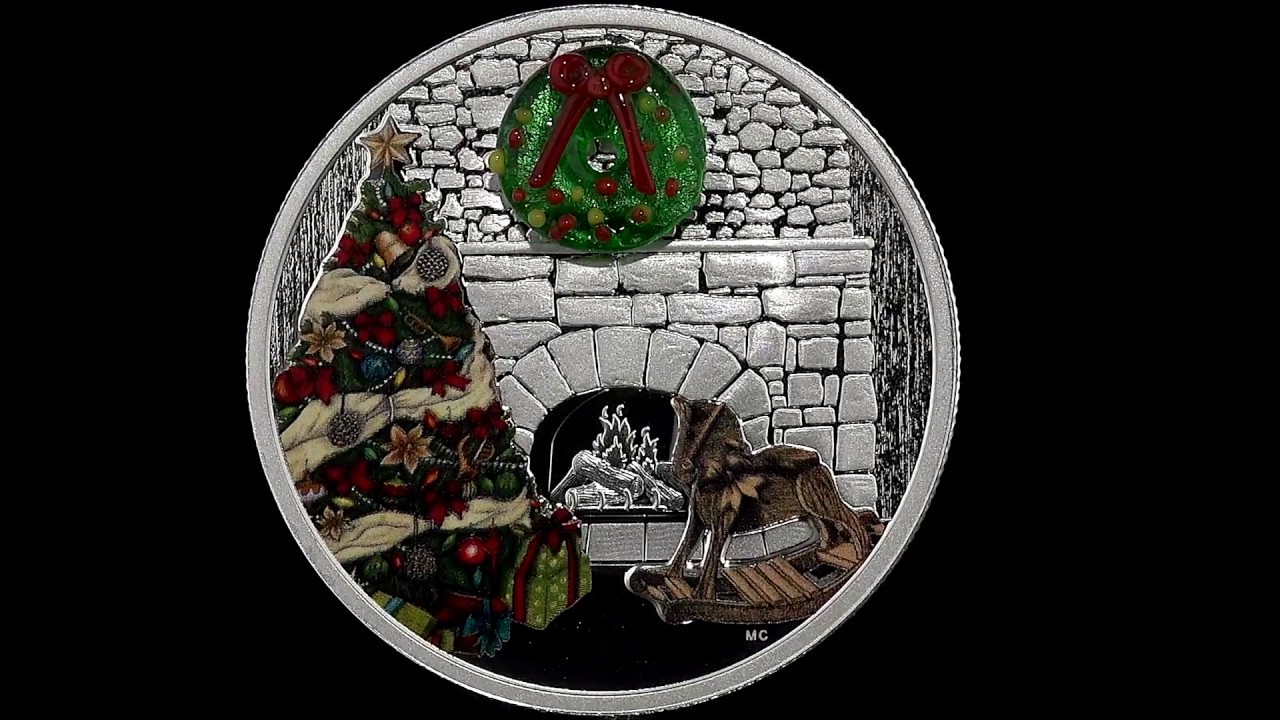 Composition
99.99% pure silver
Artist
Maire-Élaine Cusson (reverse), Susanna Blunt (obverse)
What do you want to know about this product?
Your product was successfully added to your collection.
The product could not be added