10 oz. Pure Silver Double-Concave Coin - Wolves: Nature's Grandeur Series
10 oz. Pure Silver Double-Concave Coin - Wolves: Nature's Grandeur Series
Masters Club:
10,000
Status:

CAN & US shipping only
Availability:

Out of stock in stores
DOUBLE CONCAVE: Your 10 oz. pure silver coin is concave on both sides! Order today!
Unfairly maligned in folklore and fairy tales, the wolf (Canis lupus) is a keystone species whose legendary hunting skills combine cunning, speed, agility and teamwork. It easily commands attention with its unyielding gaze and territorial behaviour; but the wolf is above all a social creature, moving in a tight-knit pack of up to 12 members of the same extended family group that cleverly collaborate to defend their territory, care for the pups and keep prey populations in check. The varying colour of the wolf's fur is one of many adaptations that allow it to survive in different ecosystems, including Canada's boreal forest, where its plaintive howl is the definitive call of the wild.
Stunning! Another 10 oz. double-concave coin! Order today!
Special features:
WOW! A DOUBLE-CONCAVED PIEDFORT COIN! Struck on a specially designed blank, your coin features a curved-shaped reverse and obverse.
SECOND COIN IN A TWO-COIN SERIES! Your coin is the second in a two-coin double-concave series: Nature's Grandeur!
ALSO AVAILABLE IN A TWO-COIN SUBSCRIPTION! While supplies last, order the Nature's Grandeur 2-coin subscription to ensure you receive both coins (Brown Bear, Wolves) in the series! Your credit card is charged only when your coin ships!
MORE THAN A YEAR IN THE MAKING! The twin-concave technology is the product of extensive research and development. Several prototypes were tested to achieve the highest amount ofrelief possible while ensuring a symmetrical curvature—a remarkable feat of engineering.
UNPARALLELED BEAUTY! While the inward-curving shape pulls you into the design, your coin's 60 mm diameter allows for an outstanding amount of finely engraved details.
DOUBLE THE THICKNESS! This piedfort piece is twice as thick and weighs far more (311.5 g) than your average silver coin.
CRAFTED FROM 10 OZ. 99.99% PURE SILVER! NO GST/HST!
LIMITED WORLDWIDE MINTAGE! Only 500 coins available worldwide!
Design:
The concave-shaped reverse provides a uniquely shaped canvas for this wildlife portrait by artistDenis Mayer Jr. In a Canadian forest, two wolves (Canis lupus) pause at the edge of a cliff that gives them a commanding view of theirterritory. One wolf keeps a watchful eye on what lies below while the other has turned its head to facethe viewer, bringing its facial features into full view. The finely engraved forest setting is enhancedwith various finishes that add a sense of depth to the inward-curving design, which also includes the word "CANADA", the year "2019". The equally concave-shaped obverse features a concentric pattern of maple leaves and the effigy of Her Majesty Queen Elizabeth II by Susanna Blunt.
Packaging:
Your coin is enclosed in a double-concave capsule, so you can fully appreciate its shape and brilliant proof finish.
Order today!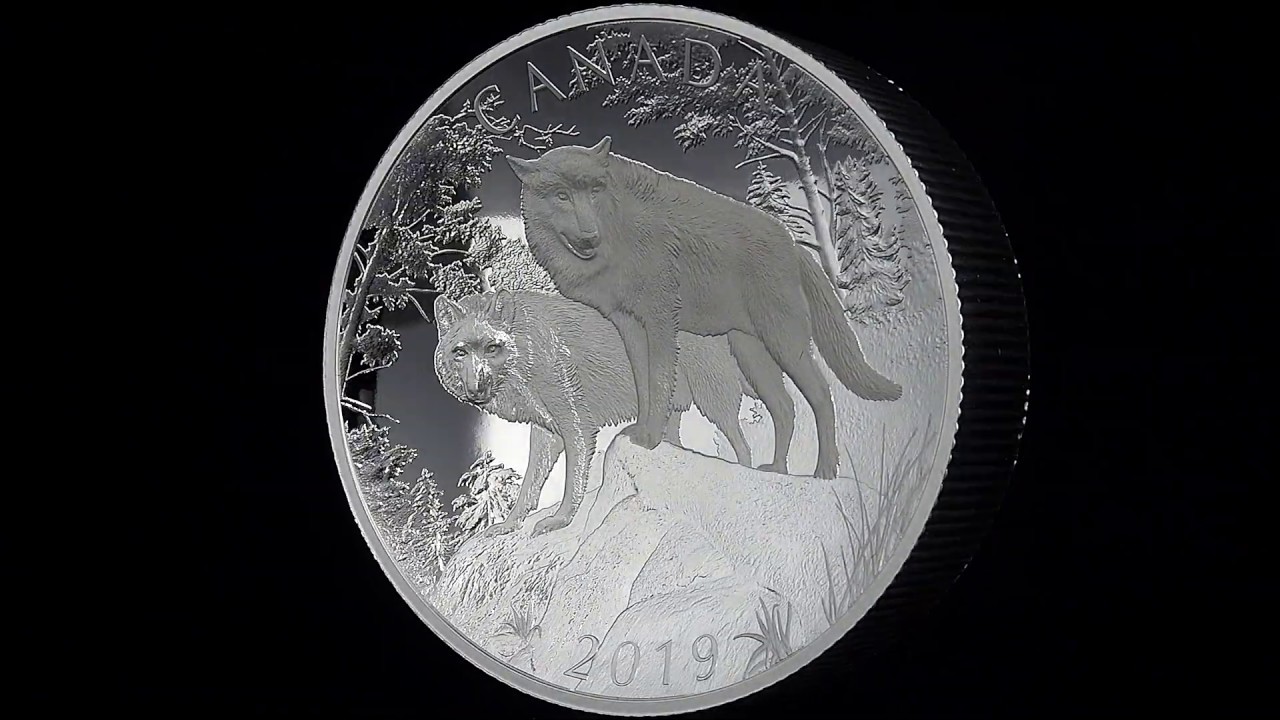 Composition
99.99% pure silver
Artist
Denis Mayer Jr. (reverse), Susanna Blunt (obverse)
What do you want to know about this product?
Your product was successfully added to your collection.
The product could not be added