2 oz. Pure Silver Coin - Special Edition Silver Maple Leaf
2 oz. Pure Silver Coin - Special Edition Silver Maple Leaf
Masters Club:
2,000
Status:

CAN & US shipping only
Availability:

Out of stock in stores
A FIRST! A black rhodium-plated, 2 oz. SML coin! Order today!
A 30th anniversary tribute to the Silver Maple Leaf (SML), your 2 oz. pure silver piece has the added distinction of being the first black rhodium-plated SMLever issued by us. On both sides of your coin, the matte gunmetal finish serves as a unique backdrop, which puts a spotlight on the silver maple leaf that has been a proud, shining success for us since 1988.
Add this stunning black rhodium 2 oz. 99.99% pure silver coin to add to your collection today!
Special features:
OUR FIRST EVER BLACK RHODIUM-PLATED SML! This is the first time we've ever issued a black rhodium-plated SML. A perfect fusion of modern technology and classic design!
DOUBLE THE TECHNOLOGY, DOUBLE THE SILVER! Every SML bullion coin is crafted in 1 oz. 99.99% pure silver, but your tribute piece gives you double the silver of its bullion counterpart—a full 2 ounces!
BOTH SIDES BLACK RHODIUM PLATED! On both sides of your coin, the black rhodium plating plays up the engraved focal points (the effigy and the maple leaf) through the contrast between black and silver, matte and brilliant!
A SPECIAL EDITION FOR A SPECIAL ANNIVERSARY! A collector's item, this special edition piece celebrates the 30th anniversary of Canada's world-famous silver bullion coin, the Silver Maple Leaf (SML).
INCLUDES SERIALIZED CERTIFICATE! The Royal Canadian Mint certifies all of its collector coins. Most of these are serialized certifications, meaning that each certificate is given a uniquenumber, starting at 1.
LIMITED MINTAGE! Mintage is set to just 4,000 worldwide.
2 OZ. OF PURE SILVER! Your coin is crafted from two ounces of 99.99% pure silver and has no GST/HST.
Design:
Your coin features Walter Ott's now-iconic sugar maple leaf design, unchanged since the first Silver Maple Leaf (SML) coin was issued in 1988. Blackrhodium plating fills the field and enhances the natural shine of the coin's silver surface, which is only visible on the engraved relief. The reverse includes the engraved words "CANADA" and "FINE SILVER 2 OZ ARGENT PUR", as well as the purity standard of "9999". The black rhodium-plated obverse features the effigy of Her Majesty Queen Elizabeth II by Susanna Blunt, along with the engraved face value "10 DOLLARS" and the year "2019".
Did you know…
The 2017 Nocturnal by Nature series was the first black rhodium-plated coins issued by the Royal Canadian Mint.
Rhodium is a rare precious metal that belongs to the platinum group.
Canada's silver bullion coin set new industry standards: it was the first of its kind to be minted in one troy ounce of .9999 pure silver. The annual issue has also introduced some innovative anti-counterfeiting technology such as BULLION DNA™, which allows a coin's authenticity to be easily verified.
More than 200 million ounces worth of SML bullion coins have been sold since 1988.
Packaging:
Your coin is encapsulated and presented in a Royal Canadian Mint-branded maroon clamshell with a black beauty box.
Order today!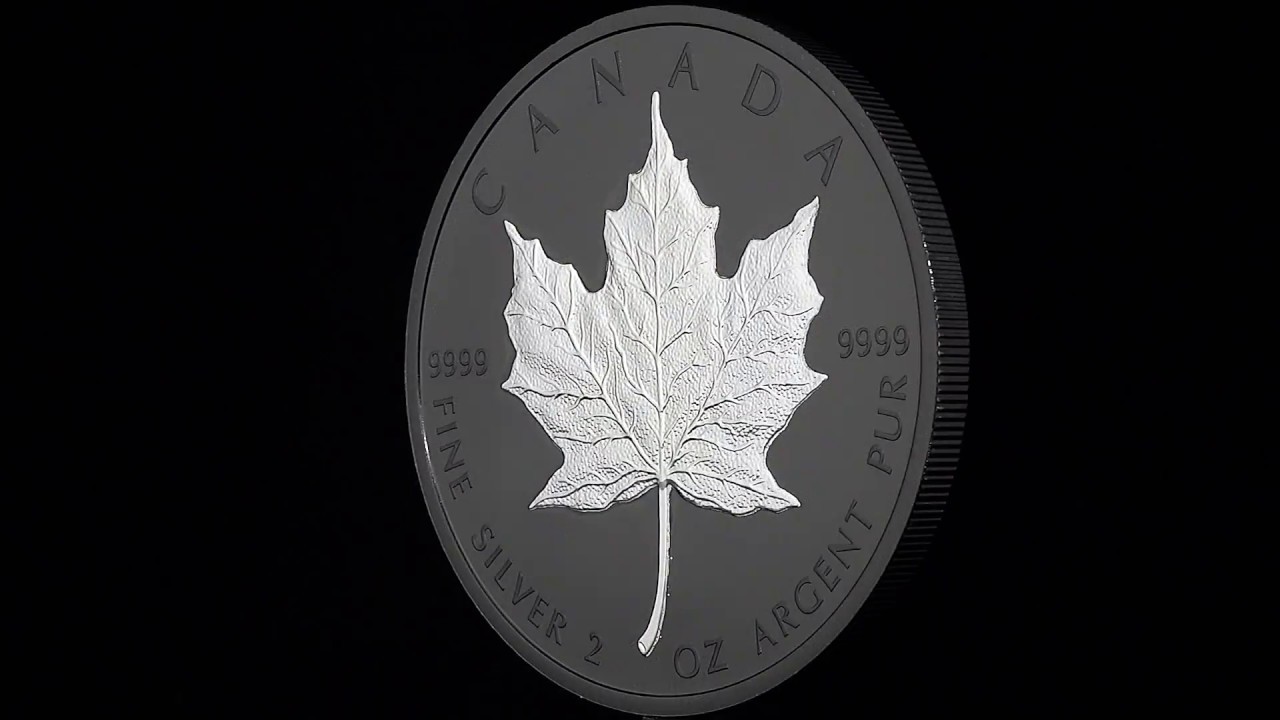 Composition
99.99% pure silver
Artist
Walter Ott (reverse), Susanna Blunt (obverse)
What do you want to know about this product?
Your product was successfully added to your collection.
The product could not be added