2 oz. Pure Silver Coin - Zentangle® Art: Bighorn Sheep
2 oz. Pure Silver Coin - Zentangle® Art: Bighorn Sheep
Masters Club:
1,750
Status:

CAN & US shipping only
Availability:

Out of stock in stores
ANOTHER GORGEOUS ZENTANGLE® COIN! A great alpine species is re-imagined on your wildly artistic coin! Order today!
The dauntless king of the Canadian Rockies lends its likeness to our latest Zentangle®-inspired design. Within the outline of the animal's woolly features and curved horns, an array of finely engraved abstract patterns comes together beautifully to form an exceptionally complex and wildly creative portrait of the bighorn sheep, or Ovis canadensis—"sheep belonging to Canada." This extraordinary design style is a highly intricate celebration of illustrative art and nature, one borne of creative spontaneity and reminiscent of Zentangle® art, where each line anddot combines to form a breathtaking image that is far more than just the sum of its parts.
A gorgeous Zentangle® inspired Bighorn Sheep coin in 2 ounces 99.99% pure silver! Order today!
Special features:
OUR THIRD ZENTANGLE® COIN! Your coin is every bit as elaborate and artistic as the two previousones (the wolf and the owl), which had collectors clamouring for more.
ILLUSTRATION MEETS ENGRAVING! Inspired by the popular Zentangle® method of drawing, the design style mixesabstract patterns to form a larger image that is brought to life by combining relief, engraving, and special finishes.
LARGE CANVAS, GREATER DETAILS! The large diameter (50mm) of your coin is perfectly sized to showcase every intricate detail where the engraving shines in an immaculateproof finish.
A UNIFYING ELEMENT ON BOTH SIDES! Even the obverse features an intricate pattern, which is replicated from the reverse.
INCLUDES SERIALIZED CERTIFICATE! The Royal Canadian Mint certifies all of its collector coins.
LOW MINTAGE! Limited to 4,000coins worldwide.
2 OZ. PURE SILVER! Your coin is crafted from two ounces of 99.99% pure silver.
NO GST/HST!
Design:
The bighorn sheep lends its likeness to anartistic re-imagining on your coin, where an original concept by illustrator Jori van der Linde is brought to life by fine engraving and multiple finishes.Inspired by the Zentangle® method of drawing, a captivating combination of abstract patterns adds a sense of texture, depth and creative contrast to this creative portrait, as each motif fills the space within the outline of thesheep's distinctive curled horns and woolly features. The reverse includes the engraved face value "30 DOLLARS", the year "2019" and the word "CANADA". The obverse replicates one of the patterns from the reverse and features the effigy of Her Majesty Queen Elizabeth II by Susanna Blunt.
Did you know…
Ovis canadensis means "sheep belonging to Canada."
The bighorn sheep's split hooves allow it to step on ledges measuring as little as 5 centimetres! Each hoof consists of a hard outer edge that can snaga protrusion of rock, while the pliable inner pad provides added grip.
Its horns are never shed! The ram's horns can grow to a curled length of 127 centimetres, while the ewe's shorter horns measure roughly 30 centimetres long.
The ridges in the horns represent one year ofgrowth for the sheep after three years of age. However, in this highly stylized design they aren't meant to indicate the age of the sheep.
Packaging:
Your coin is encapsulated and presented in a Royal Canadian Mint-branded maroon clamshell with a black beauty box.
Order today!
The Zentangle® Method is an easy-to-learn, relaxing, and fun way to create beautiful images by drawing structured patterns. It was created by Rick Roberts and Maria Thomas. "Zentangle" is a registered trademark of Zentangle, Inc. Learn more at zentangle.com.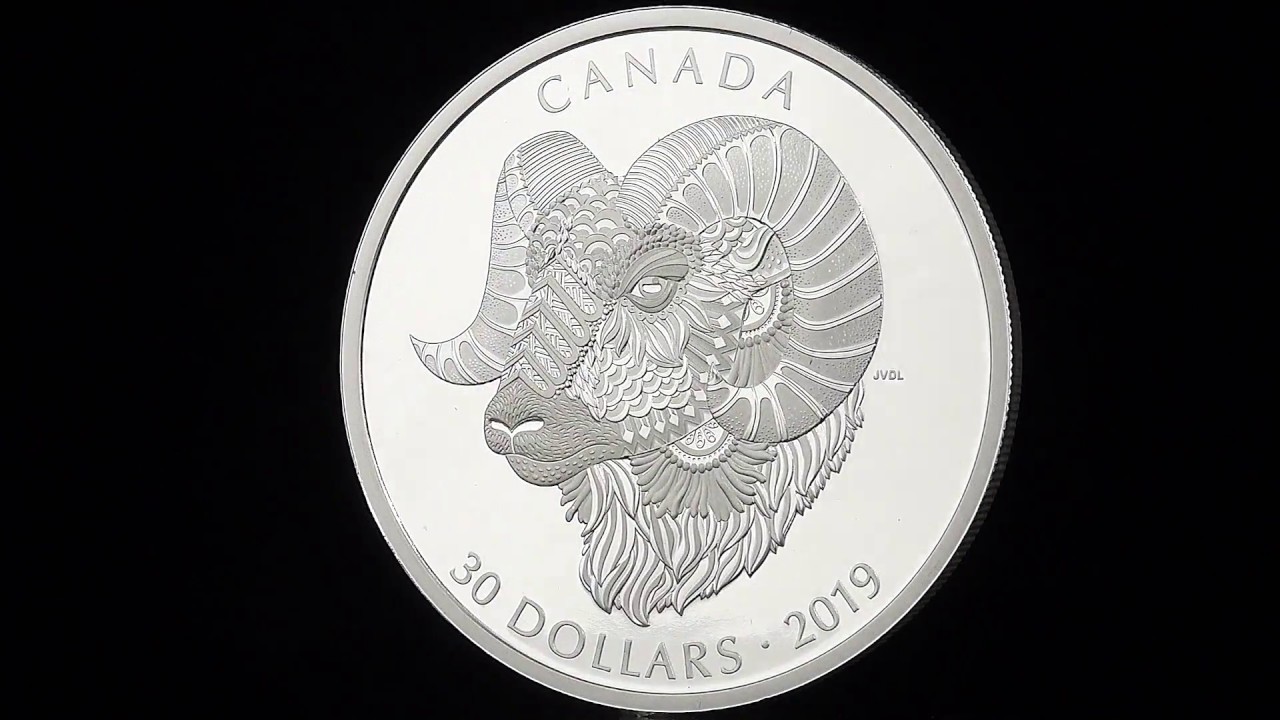 Composition
99.99% pure silver
Artist
Jori van der Linde (reverse), Susanna Blunt (obverse)
What do you want to know about this product?
Your product was successfully added to your collection.
The product could not be added