2 oz. Pure Silver Two-Coin Set - Royal Canadian Mint Coin Lore: Back to Concept
2 oz. Pure Silver Two-Coin Set - Royal Canadian Mint Coin Lore: Back to Concept
Masters Club:
3,600
Status:

CAN & US shipping only
Availability:

Out of stock in stores
Familiar but different: This two-coin set brings you unreleased versions of two classics! Order today!
Back by popular demand! In the tradition of our successful 2017 Forgotten 1927 Designs and 2018 Coins That Never Were sets, we've gone back into the archivesand dug deep to bring you more early coin concepts—and on a much bigger canvas. This set features an early take on two classic coin designs: Emanuel Hahn's Voyageur dollar (1935) and "caribou" 25 cents (1937). The images may lookfamiliar, but the all-new sculpts are based solely on the artist's preliminary pencil sketches, which are preserved in the National Currency Collection - Bank of Canada.
Brought to life in a way that speaks to a love and dedication to history, Hahn's original art features drawing guides, omissions, additions and even a few imprecisions that have all been faithfully included on these two 2 oz. coins. They offer rare insight into the evolution of a numismatic work of art, fromidea to coin to eventual icon.
Two classic Canadian designs: Emanuel Hahn's Voyageur dollar (1935) and "caribou" 25 cents (1937). Order today!
Special features:
A DIFFERENT TAKE ON COINS YOU KNOW AND LOVE! This set is a rare glimpse of the early concepts for the Voyageur dollar and 25-cent coins designed by Emanuel Hahn in the 1930s.
MORE DETAILED THAN EVER! The two 2 oz.-sized canvases provide ample space for engraved details that bring the artist's hand-drawn vision to life. Every design variation, omission, and addition is intentional in order to remain faithful to the original art.
INCLUDES A PRESENTATION BOOKLET! Each set comes with a booklet featuringimages of Hahn's original art, which is preserved in the National Currency Collection - Bank of Canada.
21ST CENTURY TECHNOLOGY MEETS 20TH CENTURY ART! Hahn's penciled drawing guides are re-created using laser engraving technology on a flat field, where the lines are visible without dominating the art.
ALL-NEW SCULPTS! These aren't just adapted versions of pre-existing designs—they're all-new sculptsof old favourites, complete with artistic nuances that couldn't be reproduced when the coins made their debut in the 1930s. 
A LEGACY. A LEGEND! The pencil drawings that inspired these coins are part of Emanuel Hahn's outstanding numismatic and artistic legacy. The sketches are preserved inthe National Currency Collection - Bank of Canada, along with Hahn's correspondence, plaster models, and other production materials.
INCLUDES SERIALIZED CERTIFICATE! The Royal Canadian Mint certifies all of its collector coins.
LOW MINTAGE! Limited to 1,750 coin sets worldwide.
4 OZ. PURE SILVER! Each of your two coins are crafted from two ounces of 99.99% pure silver, making a combined total of four ounces for the set!
NO GST/HST!
Designs:
The 25-cent coin re-creates a preliminary sketch of the iconic caribou design by artist Emanuel Hahn. The BigDipper asterism appears behind the left-side profile of Rangifer tarandus, while the denomination "25 CENTS" is positioned between the caribou's antlers. Laser engraving on flat mimics the artist's hand-drawn guide lines. The reverse includes the word "CANADA" and an updated date, "2019". The obverse features theeffigy of King George VI by T. H. Paget.
The $1 coin also features Emanuel Hahn's early take on the Voyageur design that eventually appeared on Canada's silver dollars (1935-1986). Beneath the aurora borealis, a voyageurand an Indigenous guide paddle a fur-laden canoe past wind-swept pines that rise up from a semi-circular island. Laser engraving on flat mimics the artist's hand-drawn guide lines. The reverse includes the word "CANADA", an updated date "2019" and the denomination, "DOLLAR". The obverse features the effigy of King George VI by T. H. Paget.
Did you know…
The stars align differently on this version of the25-cent coin.
Emanuel Hahn's early version of the caribou design included a slightly different-looking rack of antlers and the Big Dipper asterism in the background. The seven stars appear on preliminary sketches for the 5-cent and, later, the 25-cent coin (seen in this set). All but three stars wereremoved sometime in 1937; those three can still be seen in the legend, before and after the word "CANADA" and just before the year.
Text elements are different, too.
The word "CENTS" appears as all caps on this early version of the 25-cent, which doesn't include fur texture onthe neck. And take a closer look at the canoe on this version of the dollar coin—the "HB" letters are positioned differently, while theinsignia on the canoe is erased. The travellers arealso missing distinctive pieces of clothing (a feather, a fur cap and a handkerchief).
An earlier drawing reveals a Voyageur design that didn't include the Northern Lights.
At one time, a fleur-de-lis and a maple leaf were included in the legend; birds were seen inthe sky and a forest appeared to rise up in the distant horizon. The design was revised to include the aurora borealis, which were represented by sharp vertical lines. On this version, the Northern Lights have a softer, more gradually etched appearance that is closer to the original art.
Packaging:
Your coins are encapsulated and presented ina Royal Canadian Mint-branded maroon clamshell witha black beauty box.
Order today!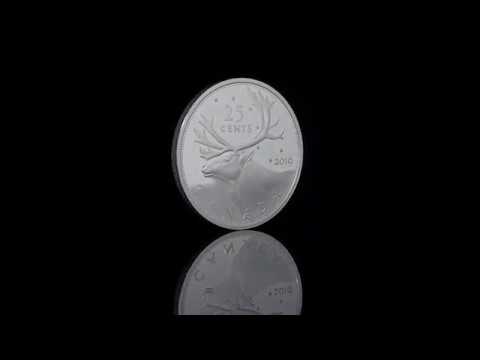 Composition
99.99% pure silver
Artist
Emanuel Hahn (reverse), T. H. Paget (obverse)
What do you want to know about this product?
Your product was successfully added to your collection.
The product could not be added