2019 Capricorn: Zodiac Series - Pure Silver Coin made with Swarovski® Crystals
2019 Capricorn: Zodiac Series - Pure Silver Coin made with Swarovski® Crystals
Masters Club:
550
Status:

CAN & US shipping only
Availability:

Out of stock in stores
Your 2019 Zodiac coin series starts with the determined Capricorn! Order today!
One by one, the 12 zodiac constellations rise and march across the night sky in our 2019 Zodiac series. Each astrological sign is colourfully represented by the stellar pattern that inspired it. While an engraved outer ring mimics the look of a timepiece, an inner ring of Swarovski® crystals frames the centre image and adds star-like sparkle to the reverse.
The perfect 2019 birthday gift for a Capricorn! Order your coin today!
Special features:
FIRST COIN IN NEW ZODIAC SERIES! The stars align in your 12-coin series that takes you on a celestial-themed journey through the zodiac! First coin in the new series: Capricorn!
AVAILABLE INDIVIDUALLY OR AS A 12-COIN SUBSCRIPTION! Each subscription to the 12-coin series guarantees you'll receive every coin (each coin priced at $54.95) in the 2019 Zodiac series. You will also receive a FREE paperboard collector case with your first coin, allowing you to display all 12 coins as one complete set.
SAVE $130 WHEN YOU ORDER THE SUBSCRIPTION!  Free collector case ($35 value), free shipping on each coin and collector case ($41value), last coin free! ($54.95 value)
TWENTY CRYSTALS ON EACH COIN! Each 99.99% pure silver coin features 20 genuine Swarovski® crystals that add a dose of sparkle!
TURN YOUR COIN INTO JEWELRY! Transform your coin into a pendant necklace with the 27 mm Sterling Silver Pendant Necklace Making Kit (coin not included).
LOW MINTAGE! Limited to 4,000 coins worldwide.
PURE SILVER! Your coin is crafted from 99.99% pure silver.
Design:
The reverse image by artist Jori van der Lindefeatures an engraved outer ring of Roman numerals that captures the look of a classic timepiece. An inner ring of 20 Swarovski® crystals surrounds a colourful zodiac-themed image, which pairs the constellation and glyph associated with Capricorn (December 22-January 20). The obverse features the word "CANADA", the face value "5 DOLLARS", the year "2019" and the effigy of Her Majesty Queen Elizabeth II by Susanna Blunt.
Did you know…
The constellation is Capricornus—Latin for "horned goat."
Its symbol (or glyph) is a simplified drawing that represents a mythical sea-goat: the upper portion represents a goat's horned head while thecurved fish tail can be seen below.
Compatible signs: Taurus, Virgo, Scorpio andPisces.
Packaging:
Your coin is encapsulated and presented in a Royal Canadian Mint-branded maroon clamshell with a black beauty box.
Order today!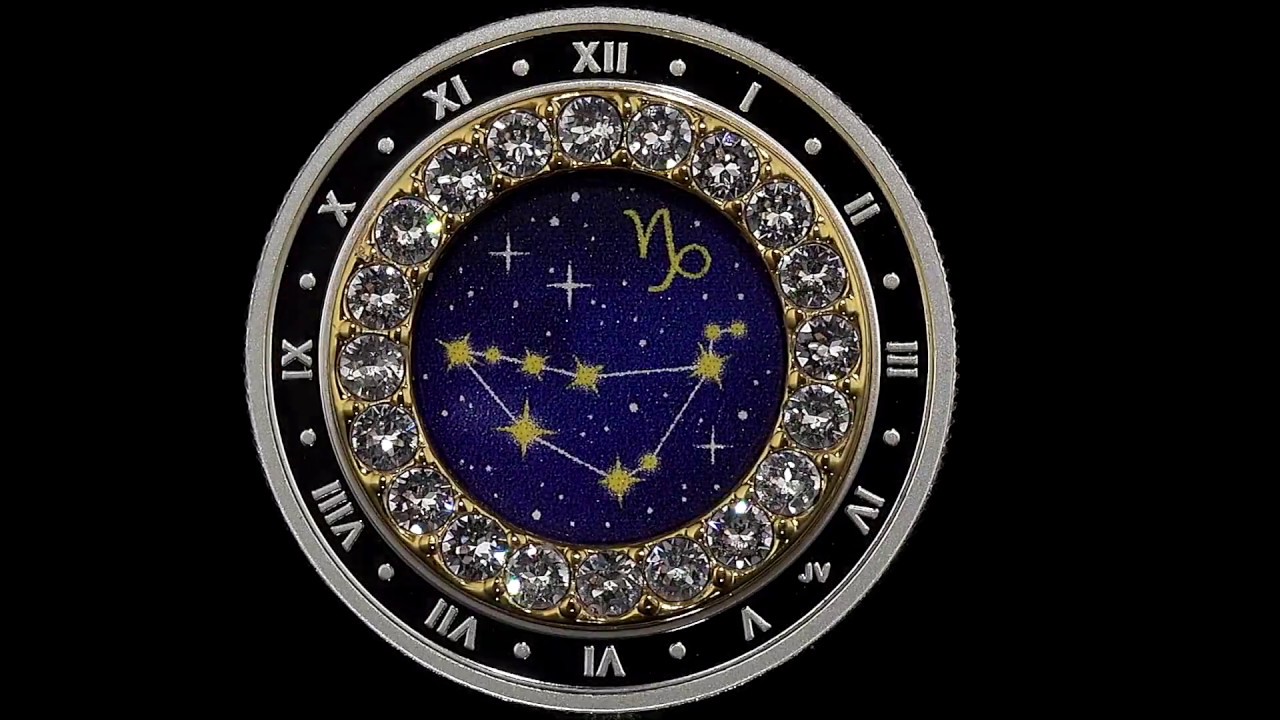 Composition
99.99% pure silver
Artist
Jori van der Linde (reverse), Susanna Blunt (obverse)
What do you want to know about this product?
Your product was successfully added to your collection.
The product could not be added