Celebration of Love - Pure Silver Coin made with Swarovski® Crystal
Celebration of Love - Pure Silver Coin made with Swarovski® Crystal
Masters Club:
550
Status:

CAN & US shipping only
Availability:

Out of stock in stores
The perfect 2019 romantic gift to give anytime this year! Order today!
Love is a passion that strikes like Cupid'sarrow, a sense of belonging that unites two souls. It is the friendships that fill our lives with happiness, magnifying our joy, and lessening our sorrow. Love is also the familial bond that nurtures, anchors, and supports us, in good times and bad. In all its many forms, a love expressed is a show of appreciation for those who matter most. Celebrate that gift of love with an everlasting bouquet. A Swarovski® crystal makes this a sparkling expression of affection. Tied with a ribbon shaped like the infinity symbol, each rose is clad in a symbolic colour—yellow for friendship, red for romance, orange for affection—asa reminder that throughout our lives, love can bloom in many different ways.
Celebrate your love with this gorgeous coin! Order today!
Special Features:
GIFT BOX! Packaged in a beautiful keepsake gift box.
THE IMAGE OF LOVE IN BLOOM! Your pure silver coin is an eye-catching celebration of the beauty of love.
A SPARKLING EXPRESSION OF LOVE! A beautiful Swarovski® crystal adds a touch of luminous elegance to your coin's design.
MEANINGFUL COLOURS! Colours traditionally convey emotion in a floral arrangement. On your coin, each flower is infused with meaning thanks to the use of selective colour:

Yellow for friendship and gratitude
Red for romance and passion
Orange for excitement and enthusiasm
Blue to add a balancing touch of tranquility to the arrangement

CLOSE TO YOUR HEART! Your coin's 27 mm diameter makes it perfectly sized to fit in a bezel (sold separately), which transforms itinto a distinctive piece of jewelry.
A PIECE THAT SAYS SO MUCH! Love enters our lives in many differentways. Your coin's symbolic representations of love make it an ideal gift for showing your appreciation for a loved one, whether a spouse, family member, or friend.
INCLUDES SERIALIZED CERTIFICATE! The Royal Canadian Mint certifies all of its collector coins.
99.99% PURE SILVER COIN! Your coin has no GST/HST.
Design:
Designed by Anna Bucciarelli, your coin features a bouquet of roses that form a blooming heart. Each flower is selectively coloured to represent different expressions of love: yellow for friendship and gratitude; red for romance and passion; and orangefor excitement and enthusiasm. Blue accent flowers add a balancing touch of tranquility to the arrangement. Shaped like the infinity symbol, the ribbon symbolizes eternal love and is adorned with a Swarovski® crystal.
Packaging:
Your coin is encapsulated and presented in a beautiful custom beauty box.
Order today!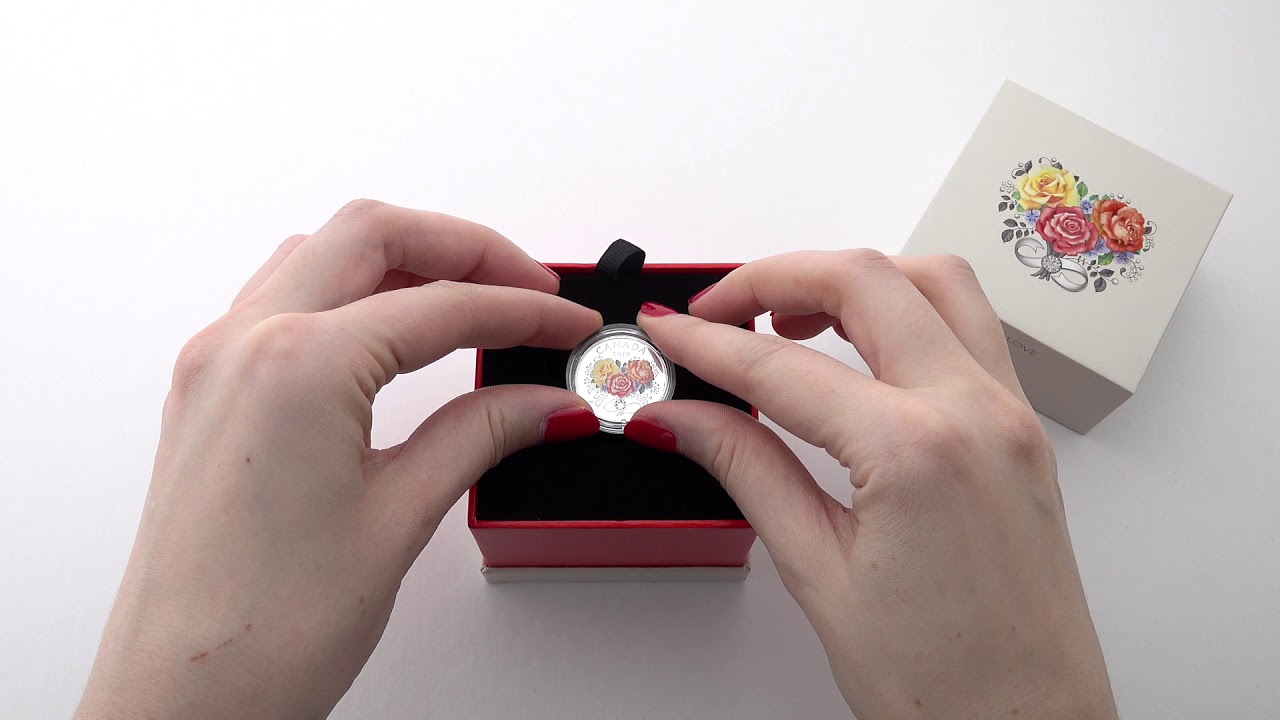 Composition
99.99% pure silver
Artist
Anna Bucciarelli (reverse), Susanna Blunt (obverse)
What do you want to know about this product?
Your product was successfully added to your collection.
The product could not be added