3.5 oz. Pure Silver Coin - Multilayered Polar Bear - Mintage: 279 (2019)
3.5 oz. Pure Silver Coin - Multilayered Polar Bear - Mintage: 279 (2019)
Masters Club:
8,000
Status:

CAN & US shipping only
Availability:

Out of stock in stores
A world first in minting technology—multi-layered engraving! Order today!
One of the biggest challenges of minting a story is the limited space upon which each tale can be told. But our R&D researchers have found a way to unlock more design space than ever, by extending the engraving inside the coin. Thisis multilayered engraving, our latest ground-breaking innovation, which makes its world debut on a low-mintage prototype. Marked by the R&D logo on the obverse, the piedfort-like piece re-imagines the $2 circulation coin as multilayered art, with a top plate that cuts away to the landscape engraved within. The polar bear image is the perfect match for our latest advanced minting process, which allows us to go deeper into detail and reveal a hidden dimension of the story. It represents the future of storytelling on our coins—a future by design.
The image below depicts the cross-sectional profile of 55.0 mm diameter 3.5 oz. coin indicating an interiorcavity depth of 1.3 mm.
Your coin is a prototype product of innovation challenging the status quo of the coin collecting and minting world!Order today!
Special features:
NEW FROM R&D LAB COIN! This low mintage prototype coin marks the world debut of new technology pioneered by the Royal Canadian Mint's R&D researchers.
AN INNOVATIVE FIRST: MULTILAYERED ENGRAVING! Our new multilayered technology unlocks new design space without changing a coin's weight or precious metal volume. By engraving the inside of the coin, a coin design becomes multilayered art.
PATENTED LOCKING MECHANISM! We have a soft spot for the $2 polar beardesign since it introduced the world to another R&D innovation (and world first): a patented locking mechanism that keeps the bimetallic coin's outer ring and core firmly secured together.
SPECIAL PACKAGING! Your special coin is packaged in an exclusive "From R&D Lab" wooden box, with a custom certificate to explain the technology behind its design.
BE THE FIRST TO OWN IT! This gives you first access to a numismatic innovation. The multilayered technology that created this limited-edition coin will also be applied to future coins from the Royal Canadian Mint, but with a standard mintage.
THERE'S MORE TO THE STORY! By engraving the Arctic landscape ona separate layer, we're adding to the story told on our $2 circulation coin. It's not just about the polar bear anymore—it's also about the environment we share.
A SUPER-SIZED VERSION OF AN ICON! This ultra-enhanced collector's item looks like a piedfort coin and is twice the size (55 mm) ofthe $2 circulation coin. It is also crafted from 99.99% pure silver and is 15 times heavier than a toonie!
INCLUDES SPECIAL CERTIFICATE! Your coin is encapsulated and presented in a Royal Canadian Mint-branded "From R&D Lab" wooden box and special certificate.
3.5 OZ. 99.99% PURE SILVER COIN! Your $2 coin is 99.99% pure silver, with a diameter of 55 millimetres and a nominal metal weight of 110 grams.
NO GST/HST
Design:
Your coin's design is based on the $2 circulation coin and enhanced with multilayered engraving technology. A top plate includes a cut-out of an adultpolar bear on an ice floe during the summer months,while its outer ring bears the words "CANADA" and "2 DOLLARS". The inside of the coin provides a separate base layer and features the Arctic landscape. The obverse features the repeating R&Dlogo as a tiled background behind the effigy of HerMajesty Queen Elizabeth II by Susanna Blunt.
Packaging:
Your coin is encapsulated and presented in a Royal Canadian Mint-branded "From R&D Lab" wooden box and special certificate.
Order today!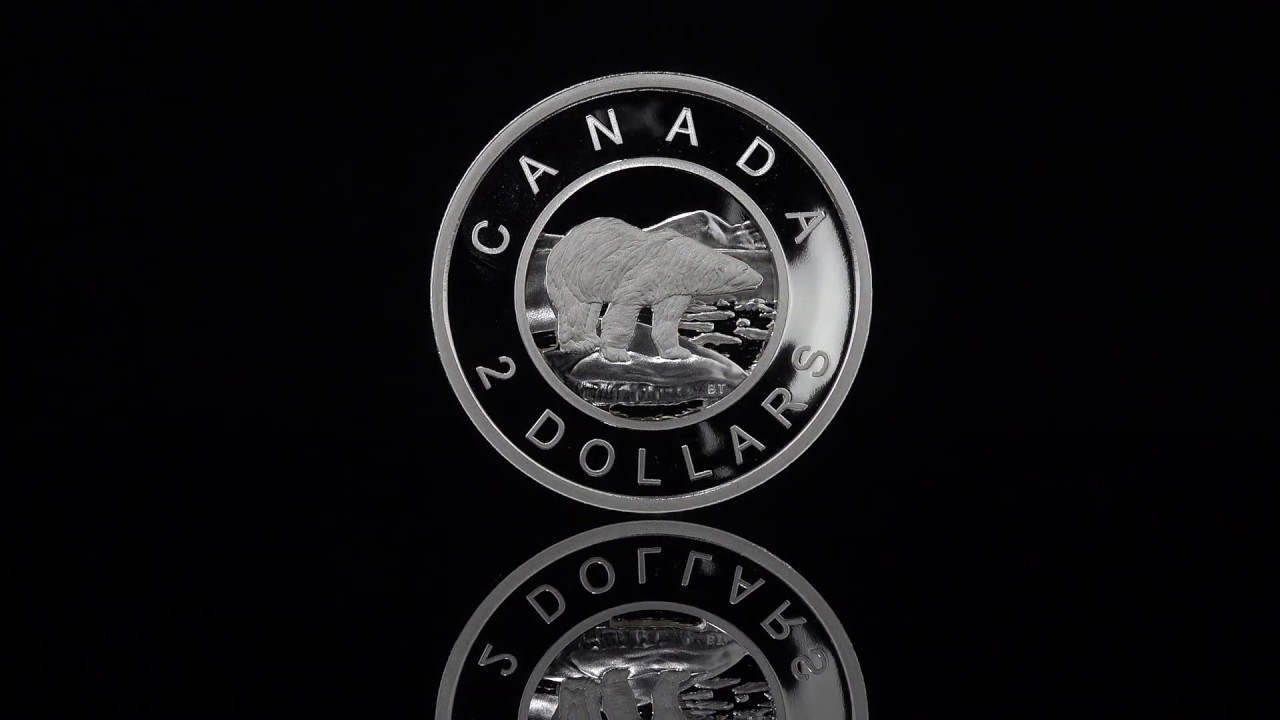 Composition
99.99% pure silver
Artist
Brent Townsend (reverse), Susanna Blunt (obverse)
What do you want to know about this product?
Your product was successfully added to your collection.
The product could not be added