5-Coin Set - Canada's Wildlife Treasures
5-Coin Set - Canada's Wildlife Treasures
Masters Club:
350
Status:

CAN & US shipping only
Availability:

Out of stock in stores
Only $34.95 for the entire set which includes all 5 coins! Order today!
Meet five wildlife treasures that have a strong Canadian connection! From a big bear to a button-sized butterfly, this special set introduces you to five of our endemic animals—animals that are only found in Canada and nowhere else. These all-Canadian wildlife treasures are tucked inside a colourful folder that opens up like a magazine spread. In addition to the five coins, you'll find information on each animal's size and other fascinating facts, plus a map that shows you where these Canadian creatures are found.
For collectors of all ages! A fun wayto get to know some "only in Canada" creatures! Order today!
Special Features:
GET TO KNOW CANADA'S WILDLIFETREASURES! This special set of coinsis a fun way to learn about some of the animals that are only found in Canada.
LIKE A MAGAZINE SPREAD! The packaging comes loaded with colourful images andfacts that make learning—and collecting—fun!
RARELY SEEN ON OUR COINS! Most of these animals have never appeared on a Canadian coin before.
LEARNING IS THE FIRST STEP TO WILDLIFE CONSERVATION! This set highlights five of Canada's endemic animals, including one of the most endangered mammals in the world.
FOR COLLECTORS OF ALL AGES! This set's wildlife theme will appeal to all collectors. It is a fun educational tool to introduce young Canadians to their animal neighbours or to a potential lifelong hobby: coin collecting!
Design:
Designed by artist Joel Kimmel, the coins in this set feature five of Canada's endemic animals: Johansen's Sulphur (Colias johanseni), Peary caribou (Rangifer tarandus pearyi), Copper redhorse (Moxostoma hubbsi), Vancouver Island marmot (Marmota vancouverensis) and Kermode bear (Ursus americanus kermodei). Our 2019 Canada's Wildlife Treasures was made possible with the collaboration of the Toronto Zoo. From breeding programs to educational activities, Canada's largest zoo is fighting wildlife extinction while inspiring Canadians to protect our natural environment—for today and for the future.
"It is so important to preserve biodiversity on this planet and as Canadians, we are the guardians of the plants and animals found only in our country. We need Canadians from coast to coast to coast towork together to learn about these species and do everything we can to preserve these National treasures. The Royal Canadian Mint is doing its part by producing the Canadian endemic animal coin collection showcasing some of the magnificent animals that call Canada home to help raise awareness." Dolf DeJong, CEO, Toronto Zoo
Some wild facts…
Canada has about 286 endemic species.
Many of Canada's endemic animals may be easily over-looked on account of their size. They include various insects, such as flies, bees, ants, beetles, and grasshoppers, but also spiders, slugs, and snails.
Many of these invertebrates (i.e. animals without backbones) might not be considered as charismatic as alarge mammal, like a bear, but they provide critical ecosystem services needed by all life on Earth. Others, such as butterflies, are good at capturing ourattention.
Packaging:
Like a magazine spread, your packaging comes loaded with colourful images and facts that make learning—and collecting—fun!
Only $34.95 for the entire set which includes all 5coins! Order today!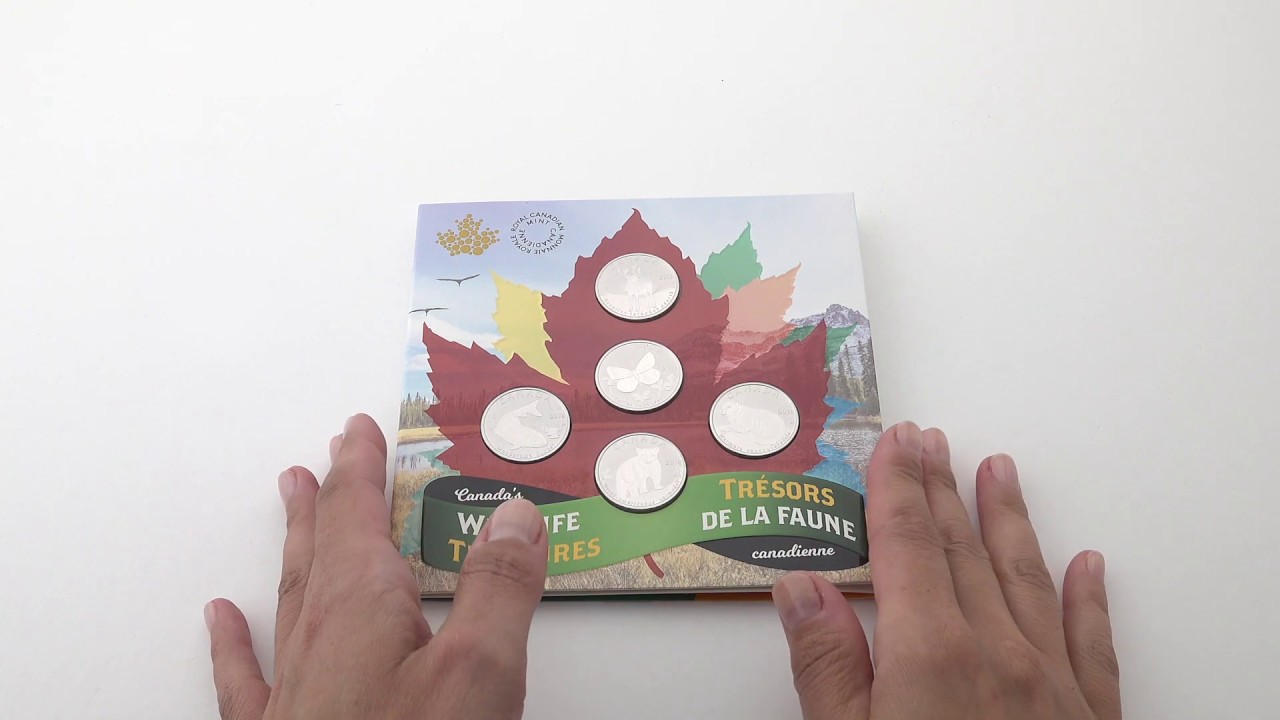 Composition
three-ply nickel plated steel
Artist
Joel Kimmel (reverse), Susanna Blunt (obverse)
What do you want to know about this product?
Your product was successfully added to your collection.
The product could not be added