5 oz. Pure Silver Coin - Symbolic Canada
5 oz. Pure Silver Coin - Symbolic Canada
Masters Club:
5,300
Status:

CAN & US shipping only
Availability:

Out of stock in stores
Your coin features a mix of different symbols that inspire pride for the land Canadians call home! Order today!
From culture to geography, Canada is a country defined by diversity. And nowhere is that diversity more evident than in the different icons that represent Canada. Our challenge with this 5 oz. coin was to represent Canada in a symbolic design that highlights what makes us unique.But with so many icons to choose from, we couldn't pick just one. Instead, we've combined several famous Canadian symbols to form a single image that radiates pride. On the reverse, each stylized icontells a story—from the canoe to the evergreens, theNorth Star and the inunnguaq, and even the rocks that represent each province and territory. Coming together as one, they give shape to a nation's spirit, a shape that resembles the most famous Canadian icon of all: the maple leaf.
Celebrate Canada with this gorgeous 5 oz. 99.99% pure silver coin! Order today!
Special Features:
A LARGE-SIZED CELEBRATION! Your coin celebrates Canada through some of its cultural, historical and geographical icons—all beautifully rendered on a 5 oz. 99.99% pure silver coin.
SEVERAL ICONS FORM A LARGER ONE! Look closely at the rock formation: from the inunnguaq to the paddle, and the evergreens on both sides, the composition mimics the shape of the quintessential Canadian symbol, the maple leaf.
VISUAL STORYTELLING! Every element on the reverse tells part of the story, from an Arctic emblem to the rays of light.
GORGEOUS ARTWORK AND NUMISMATIC CRAFTSMANSHIP! Your coin is enhanced by multiple finishes that add nuance to key elements—especially the matte appearance of the rocks, the highlyreflective surface of the water, and the luminous rays of light in the sky.
A COLLECTIBLE PIECE OF ART! Your coin shows an enduring love for Canada!
INCLUDES SERIALIZED CERTIFICATE! The Royal Canadian Mint certifies all of its collector coins.
5 OUNCES PURE SILVER! Your coin is crafted from five ounces 99.99% pure silver, and has no GST/HST!
Design:
Designed by Canadian artist Adam Young, your coin features a composition of pride-evoking icons that represent Canada in many different ways. From topto bottom, each of the 13 layers of stone symbolizes a Canadian province or territory. Water wraps around this rock formation to connect each coast, where the pine trees represent a natural resource that hasprovided much revenue and inspired many works of Canadian art. The canoe pays homage to the First Peoples of Canada, while reflecting on the way many Canadians originally arrived to these shores. At the top of it all, the inunnguaq symbolizes Canada's spirit, strength and determination; its legs forma window that frames the North Star, which radiateslike a lighthouse beacon that provides safety, guidance and a luminous welcome to these shores. The composition intentionally mimics the shape of a maple leaf, including the paddle that forms the leaf's petiole. The obverse features the effigy of Her Majesty Queen Elizabeth II by Susanna Blunt.
Packaging:
Your coin is encapsulated and presented in a Royal Canadian Mint-branded maroon clamshell with a black beauty box.
Order today!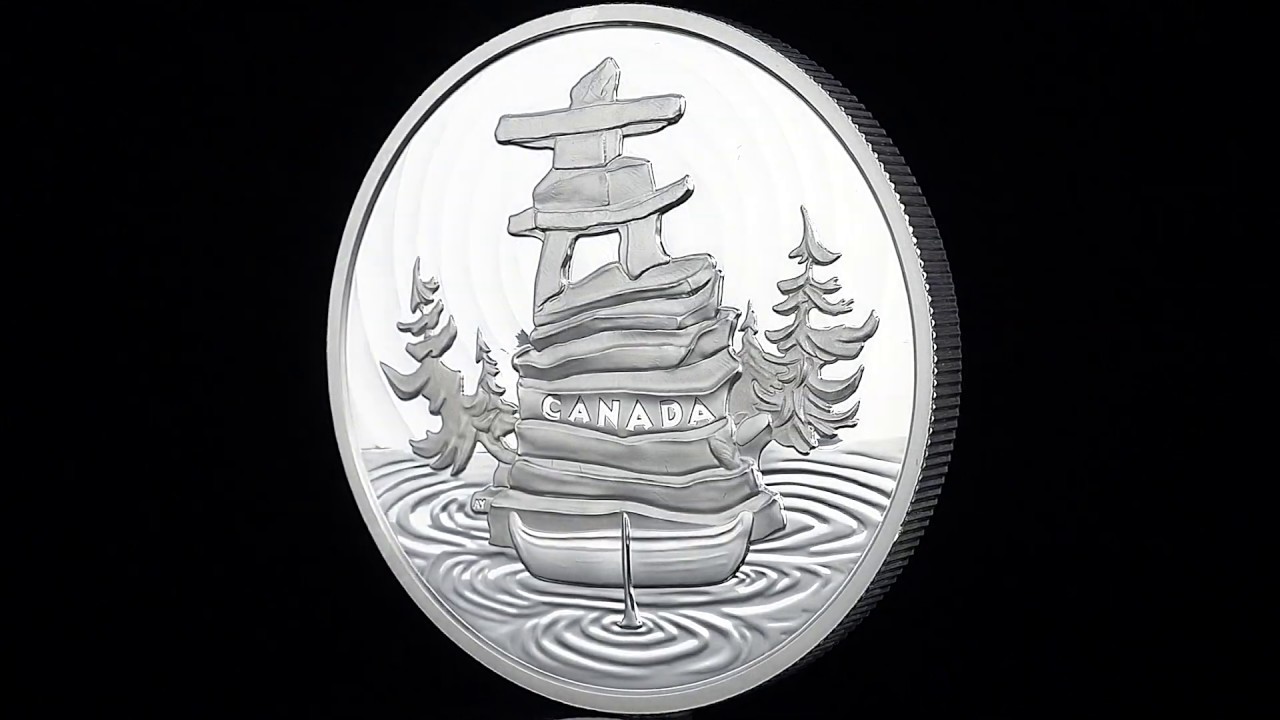 Composition
99.99% pure silver
Artist
Adam Young (reverse), Susanna Blunt (obverse)
What do you want to know about this product?
Your product was successfully added to your collection.
The product could not be added