5 oz. Pure Silver Coin - The Bumble Bee and the Bloom
5 oz. Pure Silver Coin - The Bumble Bee and the Bloom
Masters Club:
5,700
Status:

CAN & US shipping only
Availability:

Out of stock in stores
A FIRST! The gold-plated bumble bee moves! Order today!
A moveable bumble bee is drawn to one of the showiest blooms yet on your 5 oz. 99.99% pure silver collectible coin. When you tilt yourcoin, the gold-plated bee circles around the rose gold-plated petals of a wild rose—one of the many flowering plants in Canada that depend on these wondrous little pollinators.
Add this gorgeous five-ounce 99.99% pure silver coin—with a bee that moves—to your display today!
Special features:
A FIRST! THE BUMBLE BEE MOVES! Your coin includes a show-stopping, interactive element: tilt your coin to help thebumble bee fly circles around the wild rose!
BEE-AUTY THAT WON'T WHITHER OR FADE! Your gorgeous coin and its flower-and-bee topper will forever bloom and enchant asa treasured part of your collection. A true stunner.
MERGES ART AND TECHNOLOGY! A sophisticated design that magnificently merges art and technology; engraving and casting; silver and (rose) gold.
INCLUDES GOLD AND ROSE-GOLD HIGHLIGHTS! Gold and rose gold plating elegantly highlights the crowning touches (the sterlingsilver bumble bee and flower) on your floral-inspired coin, while a mirror-like proof finish lights up the engraved shrub like sunlight on a summer day.
LARGE CANVAS! With a diameter of 65 millimetres and a nominal metal weight of 157.6 grams, your five-ounce 99.99% pure silver coin makes for a wonderfully largecanvas for you to enjoy all the art and details!
A LOWER THAN USUAL MINTAGE! Combined with a stunning design and lower-than-usual mintage for a five oz. pure silver coin, thismay sell quickly, so order today before thesefun coins are gone!
SERIALIZED CERTIFICATE! Your coin includes a serialized certificate!
NO GST/HST!
Design:
Designed by Canadian artist Tony Bianco, your coin presents a close view of Canada's most commonwild rose and the floral emblem of Alberta, Rosa acicularis. The leaves and flowers of this native shrub fill much of the engraved reverse, where the proof finish is as luminous as a bright summer day. The image is topped by two sterling silver-cast elements: a rose gold-plated bloom and a gold-plated bumble bee. Firmly affixed to the coin's surface, the five-petal flower is fullyopened to expose the pollen-laden anthers that are a food source for pollinating insects. But the moveable bumble bee adds an interactive twist to this dimensional design; using gravitational force, the "flying" bee is able tocircle around the rose whenever the coin is tiltedfrom one side to the other. The reverse includes the engraved word "CANADA" and the year, "2019". The obverse features the effigy of Her Majesty Queen Elizabeth II by Susanna Blunt.
Packaging:
Your coin is encapsulated and presented in a Royal Canadian Mint-branded maroon clamshell with blackbeauty box.

Order today!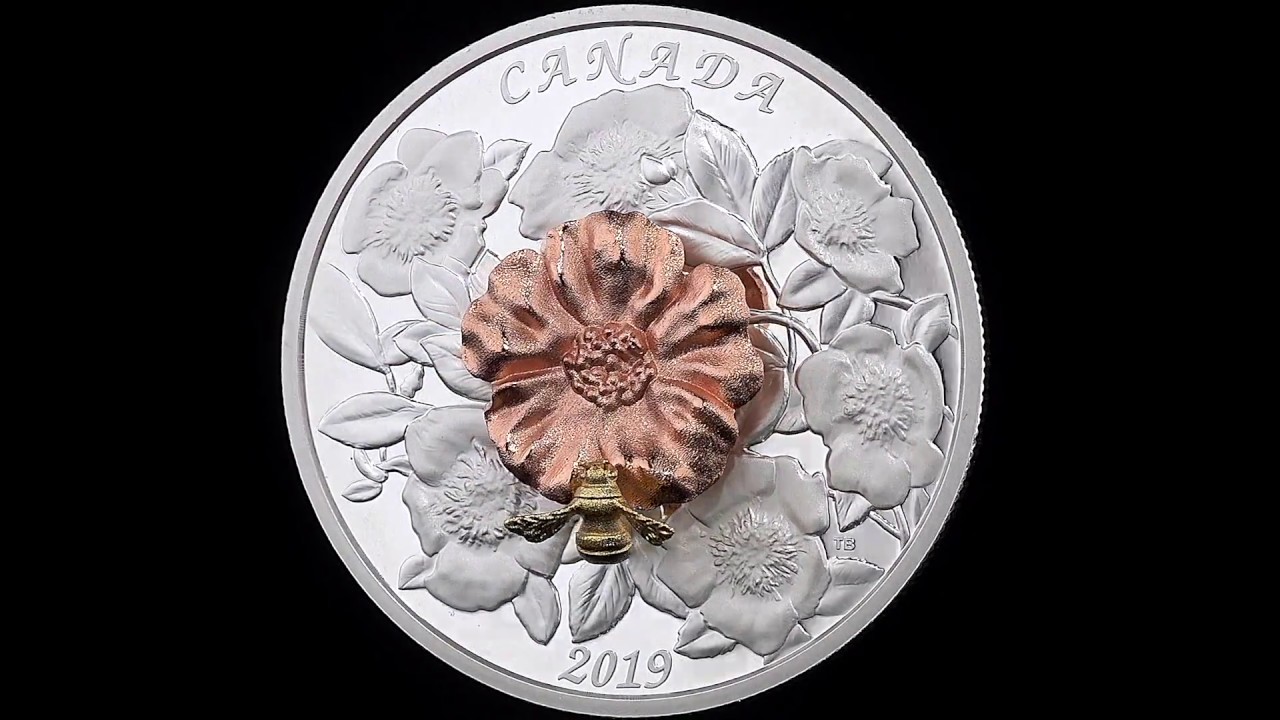 Composition
99.99% pure silver with gold and rose gold plating
Artist
Tony Bianco (reverse), Susanna Blunt (obverse)
What do you want to know about this product?
Your product was successfully added to your collection.
The product could not be added