5 oz. Pure Silver Gold Plated Coin - Inner Nature: Grizzly Bear
5 oz. Pure Silver Gold Plated Coin - Inner Nature: Grizzly Bear
Masters Club:
5,700
Status:

CAN & US shipping only
Availability:

Out of stock in stores
Reverse gold plating on 5 oz. pure silver! Order today!
Nature is a web of intricate connections. In her first coin design with the Mint, Canadian artist CaitlinLindstrom-Milne has created a captivating double image to demonstrate how the grizzly bear contributes to this harmony. An upper body portrait showcases the grizzly's formidable power. But look closely at its silhouette to see the unseen. Subtle engraving and unprecedented finesse reveal the bear's inner nature, and the profound relationshipit shares with its prey and the land.
Add this stunning 5 oz. pure silver coin to your collection today!
Special features:
AN EXCITING NEW CANVAS FOR CANADIAN ARTIST CAITLIN LINDSTROM-MILNE! Her realistic style features unexpected compositions that often incorporate opposite elements to balance the main subject or reveal a deeper meaning. This is Lindstrom-Milne's first coin with the Mint. She balancedthe coastal grizzly bear's power with Canada violets. These delicate flowers grow in the bear's habitat. They also embody the gentler side of a female grizzly as she nurtures her cubs.
A MASTERPIECE OF ENGRAVING! Your coin's innovative double imagery pushes the envelope of engraving as the sculptor carves alandscape within the bear's silhouette. The landscape is a projection of the animal's inner nature. It is not a tangible element withinthe scene, yet must be immediately recognized as part of the grizzly bear living in a coastal area, like its imposing muzzle and thick fur. 
REVERSE GOLD PLATING! Your coin (and the series) features 5-oz. pure silver coins enhanced with reverse gold plating, which delivers the shimmering luxury of gold. It's an upscale feature that heightens the prestige of your work of art.
INCLUDES SERIALIZED CERTIFICATE! The Royal Canadian Mint certifies all of its collector coins.
LOW MINTAGE! Limited to 750 coins worldwide.
5 OZ. PURE SILVER! Your coin is crafted from five ounces 99.99% pure silver and includes reverse gold plating.
NO GST/HST!
Design:
Designed by Canadian artist Caitlin Lindstrom-Milne, yourcoin features an upper-body portrait of a grizzly bear against a gold-plated background of Canada violets within a series of squares. A sockeye salmon swerves in front of the bear's muzzle that is wide open in an attempt to catch the fish. A waterfall with distant mountains is engraved within the bear's silhouette. Rocks protrude from the water and line the riverbank where evergreens grow. "CANADA 2019 50 DOLLARS" appears in the lower left quadrant of the design. Its engraving echoes the curved shape of a swimming salmon. On the obverse, the effigy of Her Majesty Queen Elizabeth II by Susanna Blunt with "ELIZABETH II D.G. REGINA" engraved along the outer edgeof the coin.
"The grizzly bear is fierce. It dominates the landscape. I wanted to balance all that power with a delicate flower that grows where the grizzly catches salmon. It was an interestingchallenge to communicate this duality within the round shape of a coin." Caitlin Lindstrom-Milne, Artist
Did you know…
Canadian artist Caitlin Lindstrom-Milne also designs custom tattoos. To do so, she must create designs that will display well on different parts of the human body. This has influenced her flair for unusual and surprising compositions.
Engraver Steven Stewart faced an unprecedented task as he interpreted the artist's 2D design as a 3D sculpture. The challenge: how to convey the landscape asa projection. It is the bear's inner nature, and is intangible and translucent. Stewart's skill and his creative use of frostings produced impressive results—including an illusory salmon above the water. 
Order today!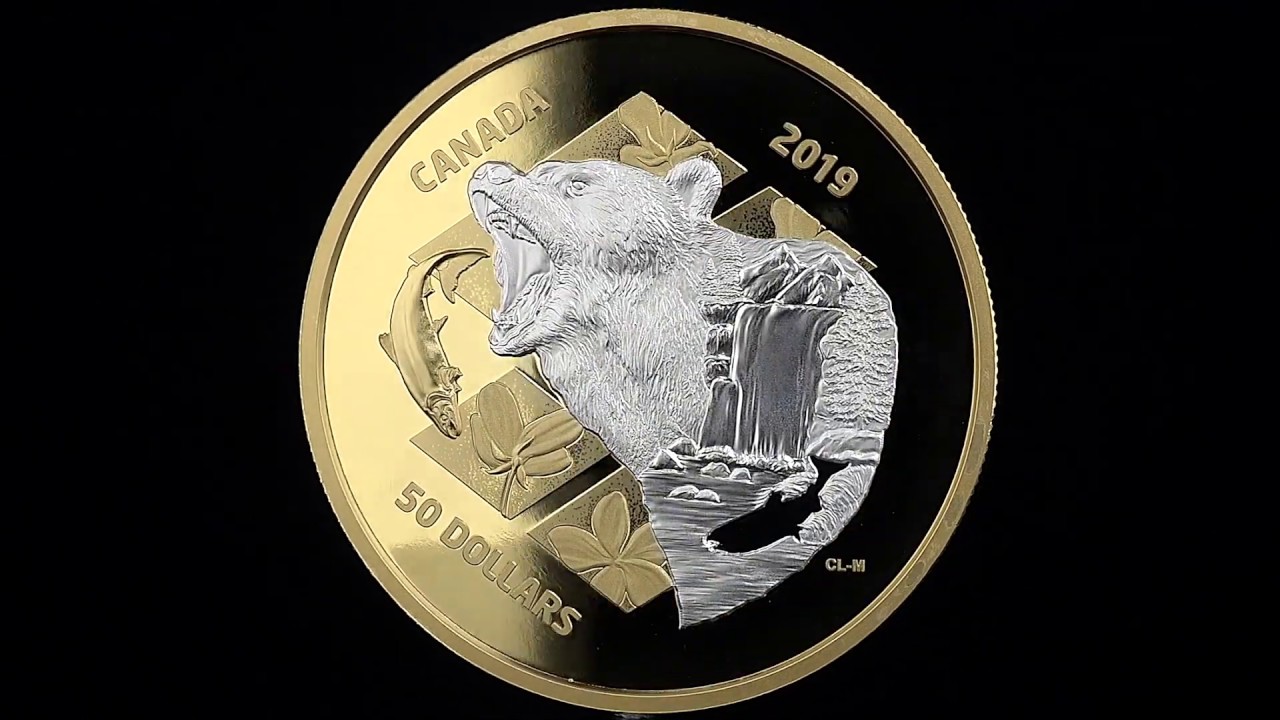 Composition
99.99% pure silver
Artist
Caitlin Lindstrom-Milne (reverse), Susanna Blunt (obverse)
What do you want to know about this product?
Your product was successfully added to your collection.
The product could not be added