5 oz. Pure Silver Reverse-Gold Plating Coin - Big Coin Series: 5-Cent
5 oz. Pure Silver Reverse-Gold Plating Coin - Big Coin Series: 5-Cent
Masters Club:
5,700
Status:

CAN & US shipping only
Availability:

Out of stock in stores
STUNNING! G.E. Kruger-Gray's 5-cent design makes the leap to a 5 oz. coin! Order today!
An official emblem of Canada since 1975, the beaver's use as a cultural motif dates back hundreds of years—long before G. E. Kruger-Gray's design made its debut in 1937. From 1858 to 1921, the Canadian 5-cent piece featured the same reverse image as other coinage used in Canada during that period: two crossed maple boughs topped with a crown. In 1937, the Royal Canadian Mint introduced G.E. Kruger-Gray's beaver design as part of a modernization effort, and with a few notable exceptions,it has been used continuously on Canadian "nickels" ever since.
Today, G.E. Kruger-Gray's 5-cent piece is one of sevendesigns to make the leap to a 5 oz. coin—part of our reverse gold-plated tribute to Canadiancirculation coins past and present.
LOWEST MINTAGE EVER FOR THIS SERIES! Mintage lowered to 1,250! Order today!
Special features:
A CLASSIC! This 5 oz.pure silver version of the 5-cent piece features British artist G.E. Kruger-Gray's iconic beaver design. With only a few notable exceptions, the image has appeared continuously on Canadian "nickels" since 1937.
SILVER AND GOLD, TOGETHER ON ONE COIN! New for 2019, reverse gold plating adds a warm-toned gleam that creates a beautiful contrast next to the silver shine of the engravedrelief!
FOURTH IN 7 COIN SERIES! Your 5-cent coin is the fourth in our exciting 2019 seven-coin series of 5-ounce pure silver versions of current and historical Canadian circulation coinage!
5 OUNCES PURE SILVER! Yourcoin is crafted from five ounces 99.99% pure silver!
LARGE DIAMETER! Your 5-cent coin has a diameter of 65.25 mm and a nominal metal weight of 157.6 grams! The ideal diameter and weight for such a beautiful design!
SERIALIZED CERTIFICATE! Your coin includes a serialized certificate!
LOWER MINTAGE THAN LAST YEAR! Mintage has been lowered from 1,500 to 1,250 in 2019—the lowest ever for the popular Big Coin series, which has a history of selling quickly.
GST/HST EXEMPT! Your coin is GST/HST exempt.
Design:
The reverse features British artist G.E. Kruger-Gray's iconic image of the side profile of a beaver standing on a rock surrounded by water. Reverse gold plating fills the field while the coin's silver surface draws the eye to the engraved relief. The reverse gold-plated obverse features the effigy of Her Majesty Queen Elizabeth II by Susanna Blunt.
 Packaging:
Your coin is encapsulated and presented in a Royal Canadian Mint-branded maroon clamshell with graphic beauty box.
Order today!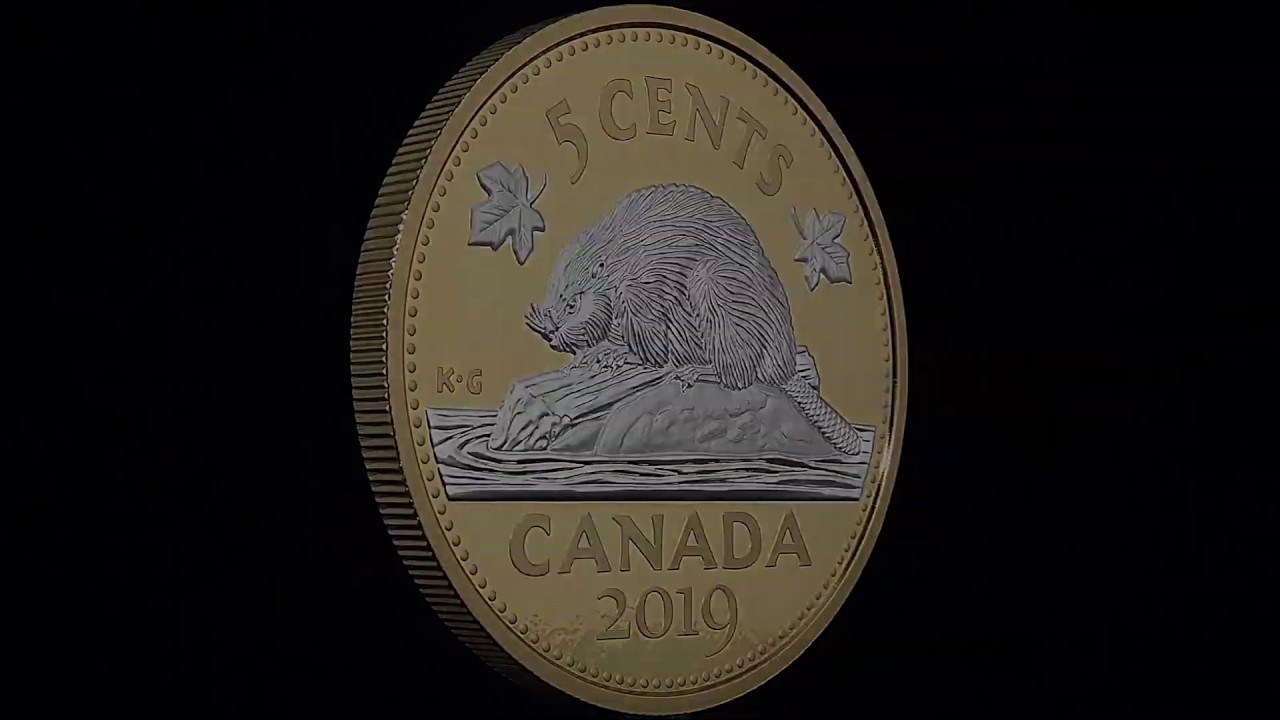 Composition
99.99% pure silver
Artist
G.E. Kruger-Gray (reverse), Susanna Blunt (obverse)
What do you want to know about this product?
Your product was successfully added to your collection.
The product could not be added