99.999% 1 oz. Pure Gold Coin - Atlantic Puffins
99.999% 1 oz. Pure Gold Coin - Atlantic Puffins
Masters Club:
29,000
Status:

CAN & US shipping only
Availability:

Out of stock in stores
STUNNING! A numismatic work of art designed in the purest gold available in the world! Order today!
A native of Canada's Atlantic coast, the Atlantic puffin (Fratercula arctica) spends much of its time at sea. Its unique appearance and colourful features have made it one of Canada's most beloved seabirds, and the official bird of Newfoundland and Labrador.
A gorgeous addition to your five 9s gold coindisplay! Order today!
Special features:
CRAFTED IN FIVE 9S PURE GOLD! Your coin is a superb wildlife portrait crafted from 1 oz. 99.999% pure gold (five 9s)—the highest standard of pure gold available in the world!
A CELEBRATION OF CANADIANA! A rare appearance for the Atlantic Puffins and the first ever on a five-nines 1-ounce gold coin. Meticulous engraving enhances the finely detailed features of the puffins.
THE INCOMPARABLE GLEAM OF GOLD! Your coin was meticulously hand-polishedto achieve the mirror-like proof finish, which further emphasizes the crisp, flawless impression on both the reverse and obverse!
CRAFTED TO EXACTING STANDARDS! Your detail-rich coin is a stunning showcase of our artistic vision and outstanding craftsmanship!
INCLUDES SERIALIZED CERTIFICATE! The Royal Canadian Mint certifies all of its collector coins. Most of these are serialized certifications, meaning that each certificate is given a unique number, starting at 1.
LOW MINTAGE! Limited to just 400 coins worldwide.
NO GST/HST!
Design:
Designed by Canadian artist Denis Mayer Jr., your coin features two puffins along the shores of the Atlantic Ocean. The design depicts two puffins standing side by side on top of rocks with lichens and daisy flowers in the background. The year "2019" isindicated on the left side next to the adult puffin; on top, the word "CANADA" and the purity of "99999 Au" are engraved on the coin's reverse, along with the artist's initials, "DM". The obverse features the effigy of Her Majesty Queen Elizabeth II by Susanna Blunt and a denomination of "200 DOLLARS"
Did you know…
The puffin's penguin-like look changesdramatically between breeding and non-breeding seasons: in the winter, its beak is a dull grey to matchthe dreary winter; in the spring, it seems to burstwith colour! In the past, this led many observers to think they were two different species.
The puffin might have wings but it is a horrible flier – its wings need to flap up to 400 beats per minute just to stay in the air! They're also known for crash-landing more often than not, and will easily knock over other puffins that might be standing in their landing path.
In the water, they're strong swimmers! Their webbed feet act like rudders but remarkably, they can dive to a depth of 61 metres and can hold their breath for up to one minute underwater!
Feeling hungry? A puffin will dive into the water to scoop out as many fish as it can in one take. It will usually grab an average of 10 fish at a time, but it's been known to net up to 60 in a single dive!
Packaging:
Your coin is encapsulated and presented in a Royal Canadian Mint-branded maroon clamshell with a black beauty box.
Order your five 9's pure gold coin today!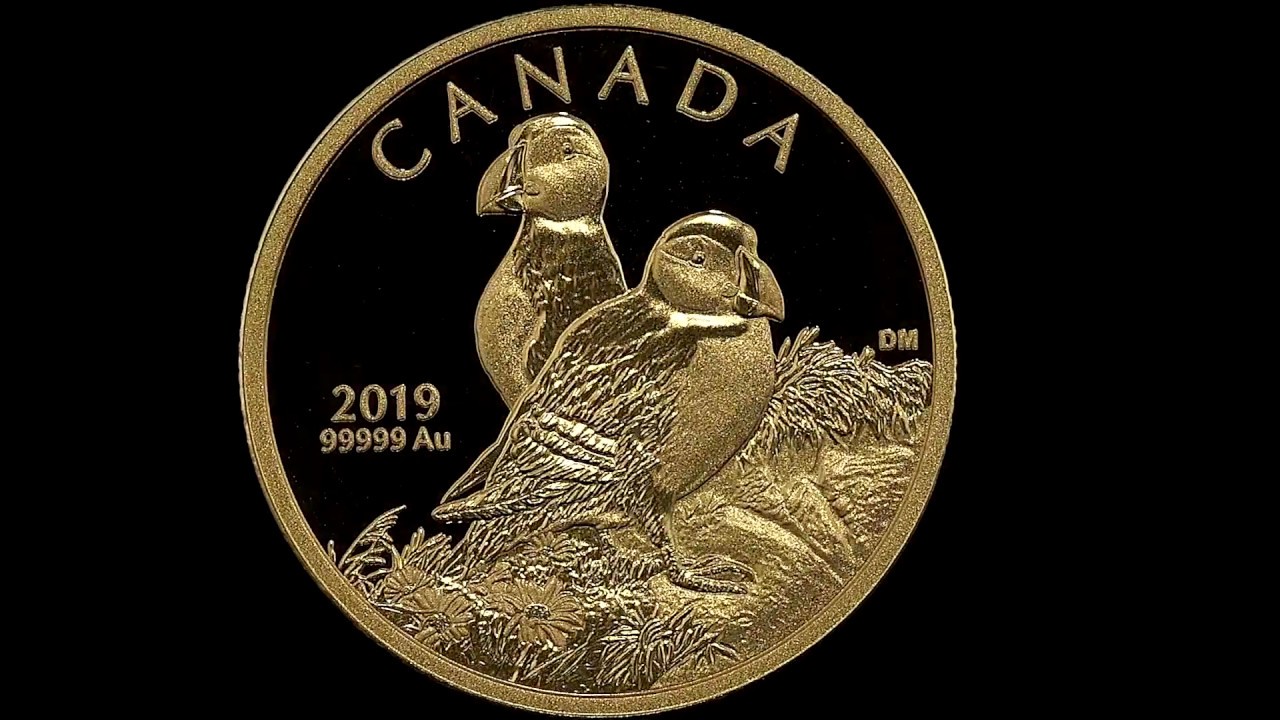 Composition
99.999% pure gold
Edge
interrupted serrations
Artist
Denis Mayer Jr. (reverse), Susanna Blunt (obverse)
What do you want to know about this product?
Your product was successfully added to your collection.
The product could not be added