Norse Gods - 1 oz. Pure Silver Gold-Plated 3-Coin Subscription
Norse Gods - 1 oz. Pure Silver Gold-Plated 3-Coin Subscription
From $94.95 CAD per product
Masters Club:
950
Status:

CAN & US shipping only
Availability:

Out of stock in stores
A fun coin gift for someone who enjoys the Norse gods! Subscribe today!
Norse mythology has influenced the way we tell stories and given rise to everyday words, including some days of the week—Wednesday for Odin, Thursday for Thor, and Friday for Frigg. The Norse gods and giants are even part of Canada's multicultural heritage: they're the folk heroes of Scandinavian Canadians who made their home all over Canada, in places such as Gimli, Manitoba, a community namedfor the heavenly hall of the righteous after Ragnarök.
We're combining history and myth in a new series dedicated to Norse gods—and it begins with the hammer-wielding god of thunder: Thor. In the time ofCanada's Viking Age (c. 1000), quick-tempered Thor was one of the most admired figures of Norse faith and lore. It is from him that we get the word "Thursday" (Thor's Day). His legendary strength and fearlessness are evident on your coin, where the apocalyptic battle scene is enhanced with selective gold plating and an antiqued finish—a first-time combination worthy of theultimate warrior.
Subscribe today for fascinating depictions of Thor, Odin, and Frigg on pure silver coins!
Special features:
GET $55 IN VALUE! When you subscribe* to the Norse Gods series, save $15 off your third coin, plus receive free shipping. And, receivea free collector case with your first coin ($40 value). Coins in your subscription include:

Thor (priced at $109.95)
Odin (priced at $109.95)
Frigg (priced at $94.95 - save $15)

NORSE ART! Your coins combine Norse art-inspired elements and a historic artefact frame both sides of each of your coins!
SELECTIVE GOLD PLATING! The use of selective gold plating on each of your coins draws your eye to important parts of your coin.
INCLUDES SERIALIZED CERTIFICATES! The Royal Canadian Mint certifies all of its collector coins.
LOW MINTAGE! Limited to 3,500 coins worldwide.
ONE OZ. PURE SILVER! Eachof your coins are crafted from one ounce of 99.99% pure silver.
GST/HST EXEMPT! Your coins are GST/HST exempt.
First coin design:
Designed by Alexandra Lefort, your first coin in your 3-coin subscription depicts the battle between Thor and Jörmungandr at Ragnarök, an end-of-days event in Norse mythology. Clad in the finest clothing and armour of the Viking era, the Norse god of thunderstands with his hammer raised, ready to strike the coiled serpent. Selective gold plating highlights Thor's hammer (Mjöllnir), iron gloves (Járngreipr) and belt (Megingjörð). A Norse art-inspired pattern lines the rim on the obverse and reverse. Thegold-plated goat heads represent Tanngrisnir and Tanngnjóstr, who pull Thor's chariot, while the gold-plated Mjöllnir is based on a 10th-century silver pendant. The obverse features the gold-platedeffigy of Her Majesty Queen Elizabeth II by SusannaBlunt.
Packaging:
Subscribe today to the Norse Gods 3-coin series and receive a free collector case with your first coin. In addition,each of your coins are encapsulated.
Subscribe today!
* Credit card purchases only, charged upon shipment. After purchasing your first coin, you will automatically receive the subsequent coins when they are released. Coins may not be issued in the same order as listed herein. Subscription agreement may be cancelled at your request at any time with a phone call or written notice to the Royal Canadian Mint.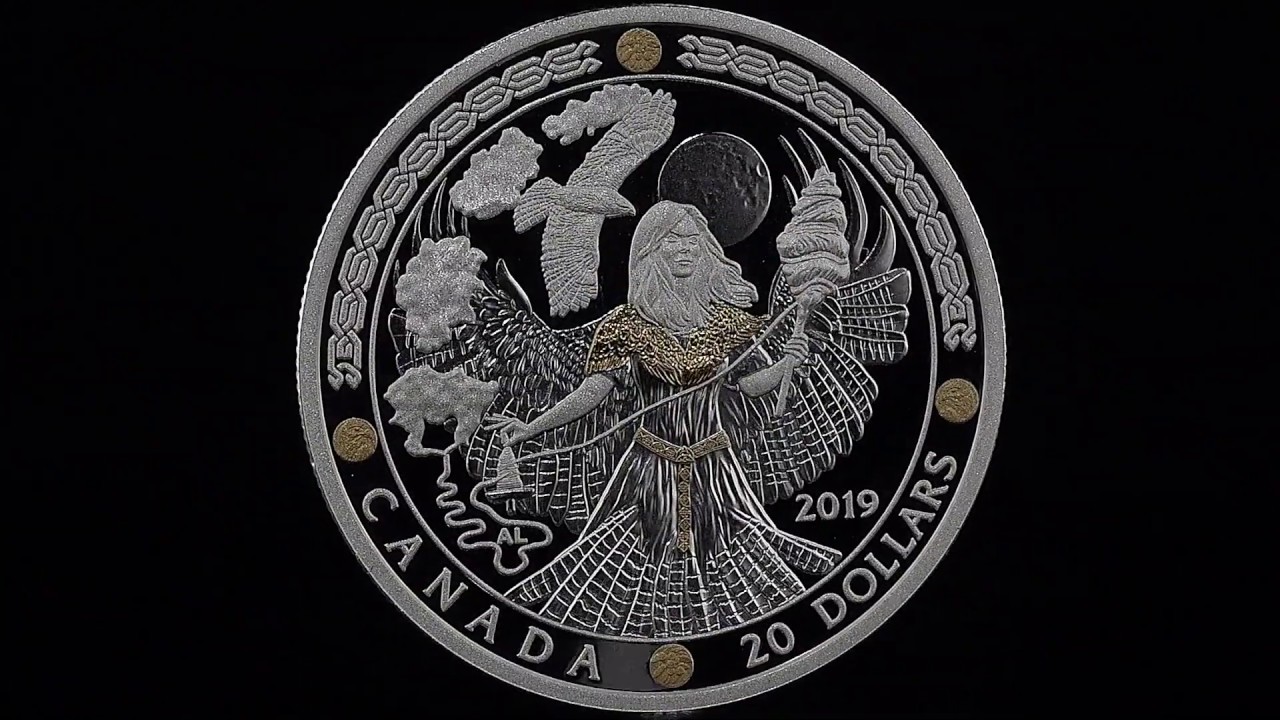 Composition
99.99% pure silver
Artist
Alexandra Lefort (reverse), Susanna Blunt (obverse)
What do you want to know about this product?
Your product was successfully added to your collection.
The product could not be added