Pure Silver Coin Set - The Elements
Pure Silver Coin Set - The Elements
Masters Club:
2,000
Status:

CAN & US shipping only
Availability:

Out of stock in stores
Impressive! Fire, air, earth, water in a 4 coin square-shaped celebration of Canada! Order today!
They are the four elements that were believed by the ancient Greeks to be the pillars of life: Earth, grounding and nourishing; Air, always in motion; Fire, provider of heat and light; and Water, constantly flowing. They are the cornerstones of our natural world. And they are especially significant in a nation like ours, with an identity that is so strongly tied to nature.
This four-coin set is an original concept proposed by long-time collector and Masters Club member, Bernard Dumais. Its design is a Canadian take on the four elements, complete with maple leaves. And like a four-part image, each square coin comes together to illustrate how these elemental forces of nature have all shaped Canada's past, present and future—from the warm chinook to our flowing rivers, and a burning sense of pride for it all.
"With my submission, I wanted to propose a theme that would truly represent Canada and its natural strengths. I was inspired by the four elements that have shaped our past, present and future: earth,air, fire and water. As a collector and proud ambassador of Mint products, I am tremendously honoured to have been able to contribute to the creation of this set."
— Masters Club Member: Bernard Dumais
A gorgeous fire, air, earth, water 4-coin set, all one image! Order today!
Special features:
FIRE. AIR. EARTH. WATER! Your pure silver set features a four-part image. Each square coin is a quadrant, and when all four coins are tiled, they complete a circular illustration of the four forces of nature in Canada.
A POWERFUL FIRST IMPRESSION! From the moment you open the clamshell case, you'll see the full design. All four coins come individually encapsulated and securely placed in a recessed insert, to be viewed and displayedas one complete set.
THE FOUR ELEMENTS MAKE THEIR DEBUT. This theme has never been featured on a Canadian coin (until now). This is our first exploration ofa concept that was fundamental to the ancient sciences and philosophy. Instead of symbols, we opted fora visual storytelling approach by highlighting the impact of these forces of nature in Canada.
EXCEPTIONAL DETAILS! The carefullysculpted design is rich in detail, with different frostings that transform an etched image into a dynamic piece of art.
A TOUCH OF COLOUR! In all four corners of the completed design, the maple leaves are transformed by seasonal colours: red, gold, brown, andgreen.
LOW MINTAGE! Only 2,000 coin sets will be made available worldwide.
INCLUDES SERIALIZED CERTIFICATE! The Royal Canadian Mint certifies all of its collector coins.
NO GST/HST!
Design:
Designed by artist Rebecca Yanovskaya, your four-part image ties together the four elements within a circle that represents a continuous circle—Canada's past, present, and future. Each square coin features aquadrant named (in English and in French) for an elemental energy, with all four elements bleeding intothe other:
"FIRE FEU" features the comforting glow of a campfire that symbolizes heat and light, with maple leaf-shaped flames that represent pride burningin the hearts of Canadians.
"AIR" is represented by the warm chinook that descends the eastern slopes of the Rocky Mountains, and the winds that provide lift for ourmigratory bird species.
"EARTH TERRE" features the forests, rocks and fields that are the foundation of this land.
"WATER EAU" is represented by a fast-flowing river filled with salmon to symbolize the fisheries.
The completed circle is framed by red, gold, brown, and green-coloured maple leaves, the beloved symbol of Canada. Each reverse includes the engraved word "CANADA" and the year "2019". Each obverse features the face value "3 DOLLARS" and the effigyof Her Majesty Queen Elizabeth II by Susanna Blunt.
Did you know…
Earth
Some of Earth's oldest rocks, the Canadian Shield represents nearly 50 per cent of Canada's total land mass. The Shield is rich in natural resources, from minerals to forests; in fact, forests cover 35% (or 3,470,690 km2) of Canada's total area (9,984,670 km2).
Water
Surrounded by three oceans, Canada has the world's longest coastline (243,042 km) and a rich fishing tradition. Beyond the coasts, Canada is a freshwater-rich country: our many rivers, waterways and lakes represent about 20% of the world's freshwater (7% of the world's renewable fresh water). Our deepest lake is Great Slave Lake (N.W.T.), which is where our longest river, theMackenzie River, begins.
Fire
The campfire on the coin symbolizes pride, and the pride that burns within us. Though Canada isn't known for volcanic eruptions, our Pacific coast is part of the famous Ring of Fire. In fact, British Columbia and Yukon are home to a few volcanoes, including Mounts Garibaldi, Edziza and Mount Meager. Most Canadians tend to associate fire with winter warmth and time spent outdoors.
Air/Wind
Chinook means "snow eater." It refers to a class of strong winds called foehn that blow warm and dry in descending a mountain slope. Chinooks often occur over the western plains of North America but are at their greatest strength in southwestern Alberta, where they funnel through Crowsnest Pass and fan out across southernAlberta, with a diminishing effect as they cross into Saskatchewan. The arrival of a chinook wind, withits typical arch of low cloud in the western sky paralleling the Rockies, brings mixed blessings to residents of southern Alberta. While it may bring a welcome touch of spring and temporary relief from the bitter cold of winter, a few are bothered by debilitating reactions ranging from sleeplessness to migraines, disrupted skiing conditions to thawed backyard skating rinks. On the other hand, what Albertan wouldn't favour golfing in January and seeing lilacs before spring.

— David Phillips, Senior Climatologist, Environment and Climate Change Canada
Packaging:
From the moment you open the case, you'll see the completed design. All four coins come individually encapsulated and securely in place in a custom recessedinsert, which allows you to view and display them as a set.
Order today!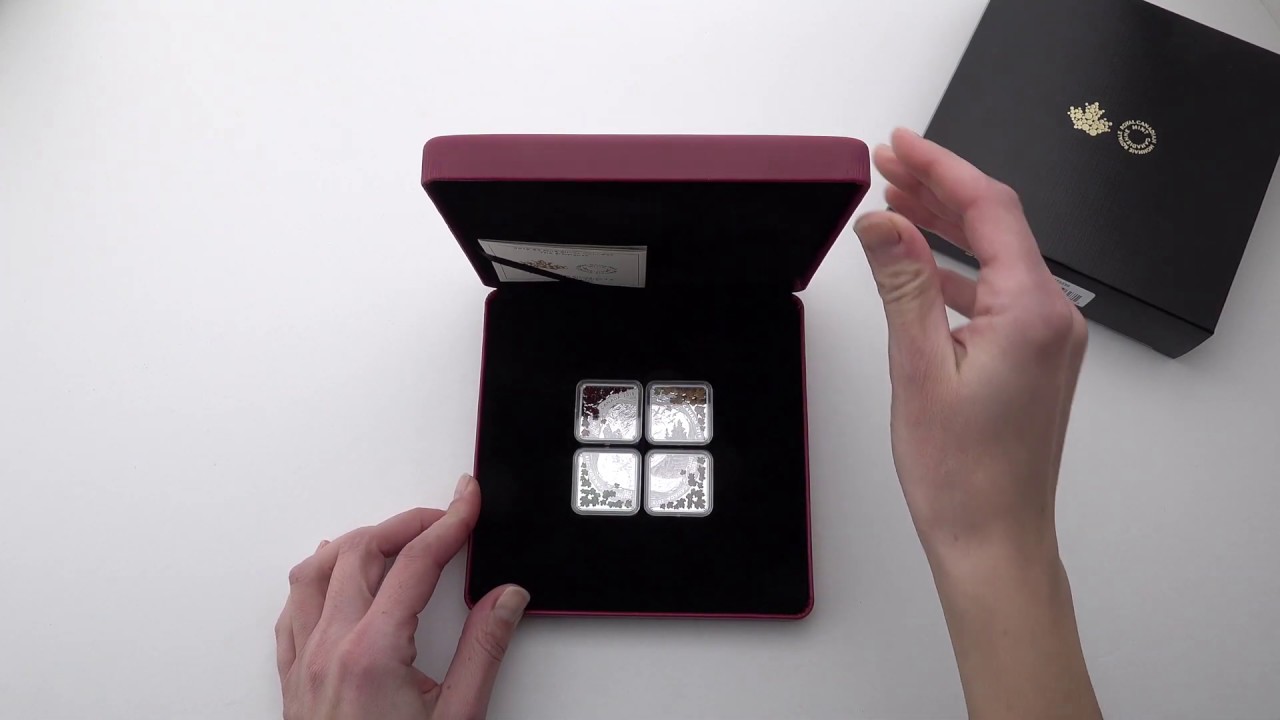 Composition
99.99% pure silver
Face Value
3 dollars (each)
Artist
Rebecca Yanovskaya (reverse), Susanna Blunt (obverse)
What do you want to know about this product?
Your product was successfully added to your collection.
The product could not be added