Pure Silver Ultra-High Relief One Kilogram Coin - D-Day: A Snapshot in Time
Pure Silver Ultra-High Relief One Kilogram Coin - D-Day: A Snapshot in Time
Masters Club:
25,000
Status:

CAN & US shipping only
Availability:

Out of stock in stores
D-Day: A snapshot in time and the view from the sky. Order today.
We were young, but we had bravery well beyond our years. We didn't go into Normandy to leave our mark on history — we went in to liberate France from the Nazis, knowing how much hinged on our success. On land, on water, and in the air, we gave our all for victory at Juno Beach and beyond.

Canada had a frontline view of victory on D-Day, and throughout the Normandy campaign. It was at Juno Beach that 3rd Canadian Infantry Division supported by 2nd Canadian Armoured Brigade came ashore on the morning of June 6, 1944. And it was here that valour and sacrifice in the sand, sea and sky laid the foundations of a greater Allied victory, one that extended well beyond the beaches and first-day objectives.
Our year-long commemoration of the Normandy campaign comes to a close with a kilo-sized pièce de résistance that is a labour of love and a reverent homage to Canada's veterans. The sky-high view of Juno Beach shows D-Day from a flyer's perspective, the highest possible viewpoint that day. Looking down from an RCAF Mustang, one gets a sense of the magnitude of this historic event that was unprecedented in bothsize and scope. The coordinated combined operations amphibious assault required over a year of planning and training. Attention to detail was key then, and it is crucial on this coin, where even the smallest feature has historical significance.

Nestled in its wooden collector case, your pure silver snapshot is appropriately aged thanks to an antiqued finish, while ultra high relief technology gives it a relief height of nearly 4 millimetres. It is a stunning ode to a defining moment in our history, onethat marked the beginning of the end of the war in Europe.

A reverent homage to Canada's veterans. Order your one kilogram pure silver coin today.

Special features:
CANADA ON D-DAY. Crafted from 1 kilogram of 99.99% pure silver, your ultra high relief coin features a snapshot in time that pays homage to history and theveterans of the Normandy campaign.
ULTRA HIGH RELIEF COMBINED WITH ANTIQUED FINISH. Ultra high relief technology adds extraordinary depth on a large scale, with a relief height of up nearly4 millimetres; while an antiqued finish captures the aged look of silver patina.
HISTORICAL OBVERSE. Just like previous Second World War coins, the obverse features the period-appropriate effigy of King George VI.
A FLYER'S VIEWPOINT. As though looking down from a photo-reconnaissance RCAF Mustang, the aerial viewof Canadians on the Bernières-sur-Mer beach (and beyond) gives a sense of the magnitude of D-Day, which ultimately lead to victory 11 months later.
EVERY VIEWING BRINGS RENEWED APPRECIATION. The design was entirely based on wartime photography, mapsm and documents in which every detail has been carefully researched to ensure historical accuracy.
THE END OF A YEAR-LONG JOURNEY OF REMEMBRANCE. Each 2019 Normandy campaign commemorative coin represents a different chapter in the story of Canada in the Normandy campaign. Our final offering brings that story to aclose by inviting reflection and remembrance.
LOW MINTAGE! Limited to 400 coins worldwide.
ONE KILOGRAM PURE SILVER! Your coin is crafted from one kilogram of 99.99% pure silver.
NO GST/HST!
Design:
Based on wartime photography, maps and documents from the Second World War, the reverse design by Royal Canadian Mint engraver Traian Georgescu features a flyer's view of Juno Beach 'Nan White' in Normandy,France, on June 6, 1944. The image is engraved in ultra high relief and shows the D-Day invasion site after the first line of enemy defences were defeated at Bernières-sur-Mer. Canadian troops are shown disembarking from the Landing Craft Infantry (Large) (LCI(L)) vessels of the Royal Canadian Navy. Moving past the recently breached seawall and past the attending supporting units with their specialized vehicles, the troops are joined by Canadian manned Sherman tanks as the assault forces move off the beaches to push inland and reach their objectives. The reverse includes the word "JUNO" and the 75th anniversary commemorative dates, "1944 – 2019", all in a military stencil font. The obverse features the effigy of King George VI by T. H. Paget.
"It was an honour for me to be asked to workwith the Mint and consult on such an impressive coin. As a Veteran, author and collector of Canadian Army militaria working on this project allowed me tofully indulge my passion for history and collate material from several primary sources in order to analyse one small sector of the Juno beachhead. Re-examining the details of the terrain, landing craft, vehicles and troops was like stepping back in time and reliving the planning that went into actual invasion some 75 years ago. Normandy is hallowed ground, which I have been privileged to visit on several occasions. This high-relief coin not only brings an exciting new perspective to the memory of D-Day but also pays homage to that special generation of Canadian sailors, soldiers and airmen who succeeded in their mission and ultimately liberated Europe from tyranny. Lest We Forget." W.E. Storey, CD, Consultant

"For this Juno Beach design, we had to travel back in time. We gathered current and archival images, and then we pieced everything togetherto show D-Day from a completely different perspective. Satellite imagery shows us what the rooftops and restored buildings look like today. But for the damaged buildings, we determined their height and shape based on the shadowy forms on old aerial photographs." Traian Georgescu, Engraver, Royal Canadian Mint

"For our final D-Day coin, I wanted something that spoke to the landing as a whole and gives a sense of how Operation Neptune was a key event within a larger campaign. We opted for an overhead view that tells a more complete story, but it involved a lot of details that needed to be historically accurate. Enter Ed Storey, a passionate enthusiast for our military history! To create the design, Ed helped us find reference photos that had been taken from different angles. He went through every detail with us — the landscape, the boats,the soldiers and the vehicles — to ensureeach element was designed accurately. He even tracked down a detailed drawing from a 1943 manual for one of the small bulldozers." Erica Maga, Product Manager, Royal CanadianMint
Did you know…
If you look closely at the engraved reverse, you'll find: two LCI(L), one LCS(S) and one LCT craft; 42 vehicles, including M4 Sherman and Churchill AVREtanks, flamethrower WASP 2S, D7 armoured bulldozers, and more; 58 houses, with Canada House (also known as Hoffer House) on the left; and 453 soldiers oncraft, in the water and on land. Each of these individual design elements took at least one full week to develop.
Packaging:
Your coin is encapsulated and presented in a Royal Canadian Mint-branded wood case with black beauty box.

Order today.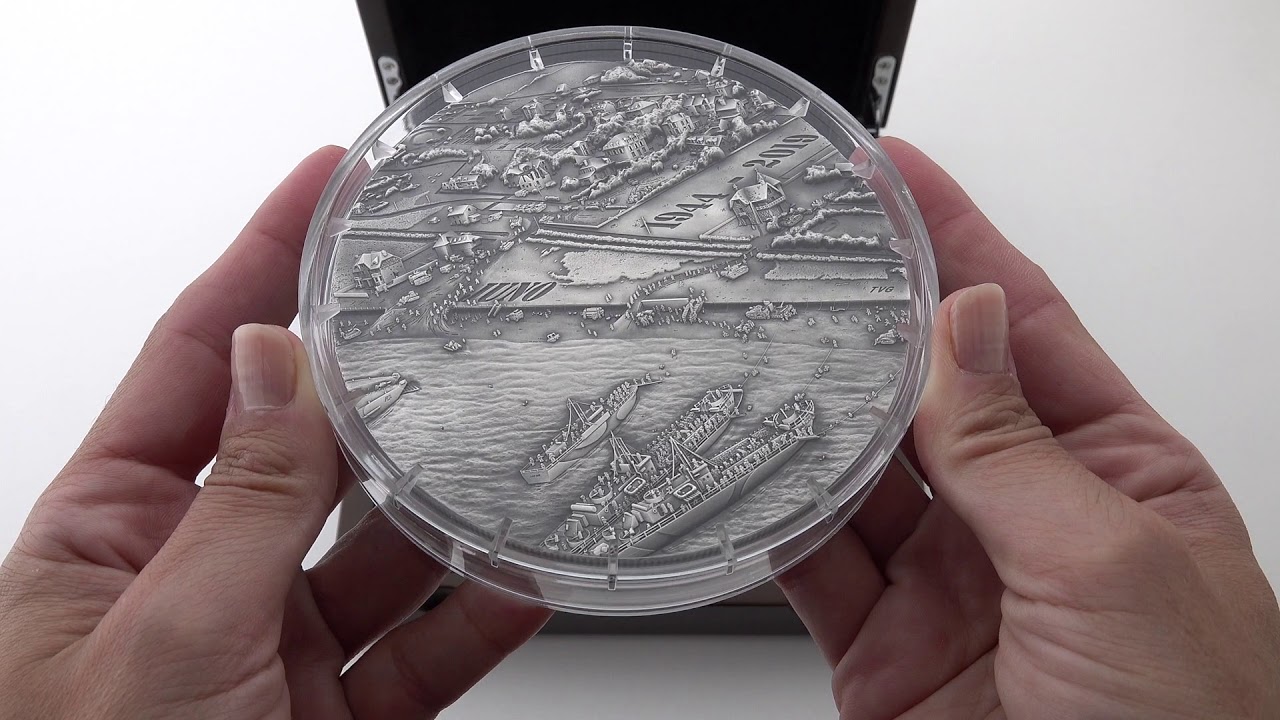 Composition
99.99% pure silver
Artist
Royal Canadian Mint engraver Traian Georgescu (reverse), Susann a Blunt (obverse)
What do you want to know about this product?
Your product was successfully added to your collection.
The product could not be added