Sci-fi glow in the dark UFO coin
Sci-fi glow in the dark UFO coin
Masters Club:
1,300
Status:

CAN & US shipping only
Availability:

Out of stock in stores
Discover a sci-fi glow to our depiction of 'Canada's Roswell'. Order today the Glow-in-the-Dark Coin - Canada's Unexplained Phenomena - Shag Harbour (2019).
Our second UFO coin is a re-telling of a widely witnessed event that took place in 1967. The vertical design conveys a feeling of awe as you witness four mysterious lights crashing into the waters off Shag Harbour, N.S. Use the blacklight flashlight (included) to view the coin in the dark—the glowing features add a sci-fi worthy touch to this true story!
"This coin brings attention to a story that many people don't know about. The Shag Harbour Incident is one of the best government-documented UFO crashes; even today, the case remains open and unsolved." Laurie Wickens, Eyewitness and President of the Shag Harbour UFOIncident Society
FIRST COIN IN SERIES SOLD OUT! Don't be disappointed, order yours now!
Special features:
CANADA'S BEST-DOCUMENTED UFO CRASH! Now you're a witness too! This coin is are-telling of a UFO crash in Canada that prompted agovernment investigation in 1967—the same year as the Falcon Lake Incident featured on a 2018 coin.
SECOND COIN IN A PHENOMENAL SERIES! For our second Unexplained Phenomena coin, we're telling the story on a 1 oz. fine silver rectangular wafer that gives us more vertical space to depict a UFO crash off Canada's East Coast.
A BLACK LIGHT-ACTIVATED GLOW!Use the black light flashlight (included) to activate the coin's glow-in-the-dark features. These add a sci-fi worthy element to our colourful depiction of the mysterious craft and the four mysterious lights that were spotted in the sky.
1 OZ. 99.99% PURE SILVER! Your limited collectible is set apart by anunusual theme and a glowing design—a sure conversation-starter and an enthralling addition to your collection!
INCLUDES SERIALIZED CERTIFICATE! Regardless of special packaging, the Royal Canadian Mint certifies all of its collector coins!
LOW MINTAGE! Only 4,000 coins will be made worldwide—order today as your coin is a limited work of art in its own right and highly collectible!
NO GST/HST!
Design:
Designed by Pandora Young, your coin is an artist's rendering of the Shag Harbour Incident. Thecolourful vertical image shows the well-known UFO encounter from a witness' perspective, with a view from a fishing vessel off the southern coast of Nova Scotia. Three fishermen look up at the night sky, where black light technology adds a glow to the mysterious craft and its flashing lights as the objectcrashes into the Gulf of Maine. The obverse features the effigy of Her Majesty Queen Elizabeth II by Susanna Blunt.
The Story:
At first, no one referred to it as a UFO. Laurie Wickens, then 18, noticed the lights while driving with friends and estimated the craft to measure some 60 feet in diameter. But when it came crashing down into the sea, a flash of light and a roar led some witnesses to believe a plane crash had just occurred.
Three RCMP officers, including one who had also seen the lights, arrived at the impact site to find the strange object glowing in the water less than a kilometre from the shore. Officials contacted the Rescue Coordination Centre in Halifax to find outif an aircraft had gone missing—all were accounted for. Coast Guard and military vessels also arrived on the scene but they were already too late: the lights had already vanished and only the sparkling yellow foam remained on the surface.
The search for a downed craft continued into the early morning hours but there was never any evidence ofdebris. A diving detachment of the Royal Canadian Navy also combed the seabed until the investigation was called off on October 9.
What crashed in the water? Was it top-secret aircraft? An alien ship? Government documents show authorities could not offer a conventional explanation. Even today, the Shag Harbour Incident remains a mystery and one of the best-documented encounters with an unidentified flying object.
Did you know…
Commercial pilots were the first to spot mysterious lights in the evening sky on October 4, 1967, as they approached Yarmouth, N.S. Sightings were also reported in Halifax.
Seven witnesses (including Laurie Wickens) notified the RCMP about strange flashing lights or a possible plane crash. In fact, it was the authorities — not the witnesses — who first referred to the case asa UFO incident.
Established in 2006, the Shag Harbour Incident Society is dedicated to chronicling the 1967 encounter. Visitors to the interpretive centre in Shag Harbour, N.S., can learn more about the unexplained sighting through the permanent display of articles, memorabilia and videos.
Packaging:
Your coin is encapsulated and presented in a Royal Canadian Mint-branded clamshell with a black beauty box.
If you enjoy UFO stories, then this coin is for you! Order today!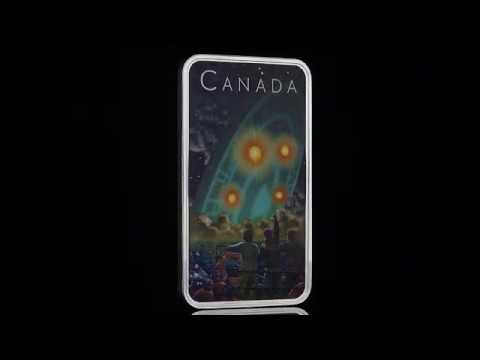 Composition
99.99% pure silver
Artist
Pandora Young (reverse), Susanna Blunt (obverse)
What do you want to know about this product?
Your product was successfully added to your collection.
The product could not be added