1 Kilogram Pure Gold Coin - Archival Treasures: 1912 Heraldic Design
1 Kilogram Pure Gold Coin - Archival Treasures: 1912 Heraldic Design
Masters Club:
1,050,000
Status:

CAN & US shipping only
Availability:

Out of stock in stores
Art is history on this 1 kg pure gold heraldic homage to the past.
Plucked from the national archives, a pen-and-ink drawing from 1912 is now a limited-edition work of finely engraved art.
All the ornate details of the original concept have been painstakingly re-created and adapted to fill both sides of this luminous 99.99% pure gold kilo coin. There's a timeless quality to the reverse, yet its elegant design predates the arms created for Canada a century ago.
It's a spellbinding snapshot of an era, and a fascinating glimpse of Canada's early attempts to express its identity.
From the archives. In honour of the 100th anniversary of the Arms of Canada (1921-2021), we dug deep into Canada's heraldic past and Library and Archives Canada's collection to bring you this rare art treasure.
High rarity, high visual appeal. Only 40 of these coins will ever be minted — an exceptionally low worldwide mintage.

A gold kilo. Your coin is beautifully crafted in one kilogram of 99.99% pure gold and hand-polished to proof perfection.
A centennial program. Part of a yearlong 100th anniversary celebration of the Arms of Canada.
Includes serialized certificate. The Royal Canadian Mint certifies all of its collector coins.
No GST/HST
A chaotic heraldic era: 1867-1921
After Confederation, Canada experienced a period of expansion that is reflected in the wildly different heraldic designs of the era. The four-province shield assigned to the Dominion of Canada in 1868 for useas the Great Seal was a popular starting point for artists and amateur heralds: some surrounded it with Canadian art elements; others augmented it with the emblems of each new province and territory, resulting in a chaotic shield with up to nine quarterings. The different iterations appeared on documents, postcards, dishes and other memorabilia; and it was this lack of consensus that inspired the formation of a committee in 1919 to obtain new armorial bearings.
Credit: Library and ArchivesCanada, Acc. No. 1941-35-1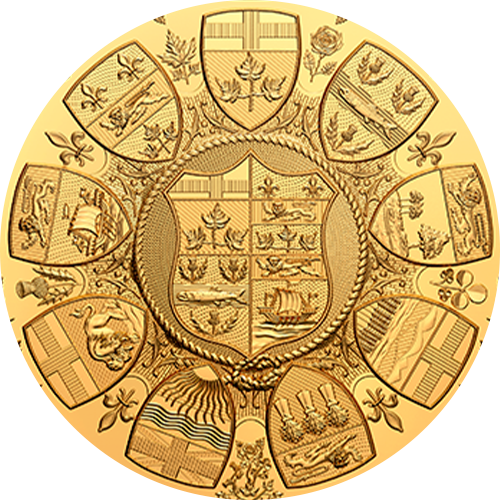 Based on historic art
A follow-up to the 2020 Reimagined 1905 Arms of Dominion of Canada coin, this high-rarity collectible features an engraved re-creation of a 1912 pen-and-ink drawing of Canadian heraldic emblems.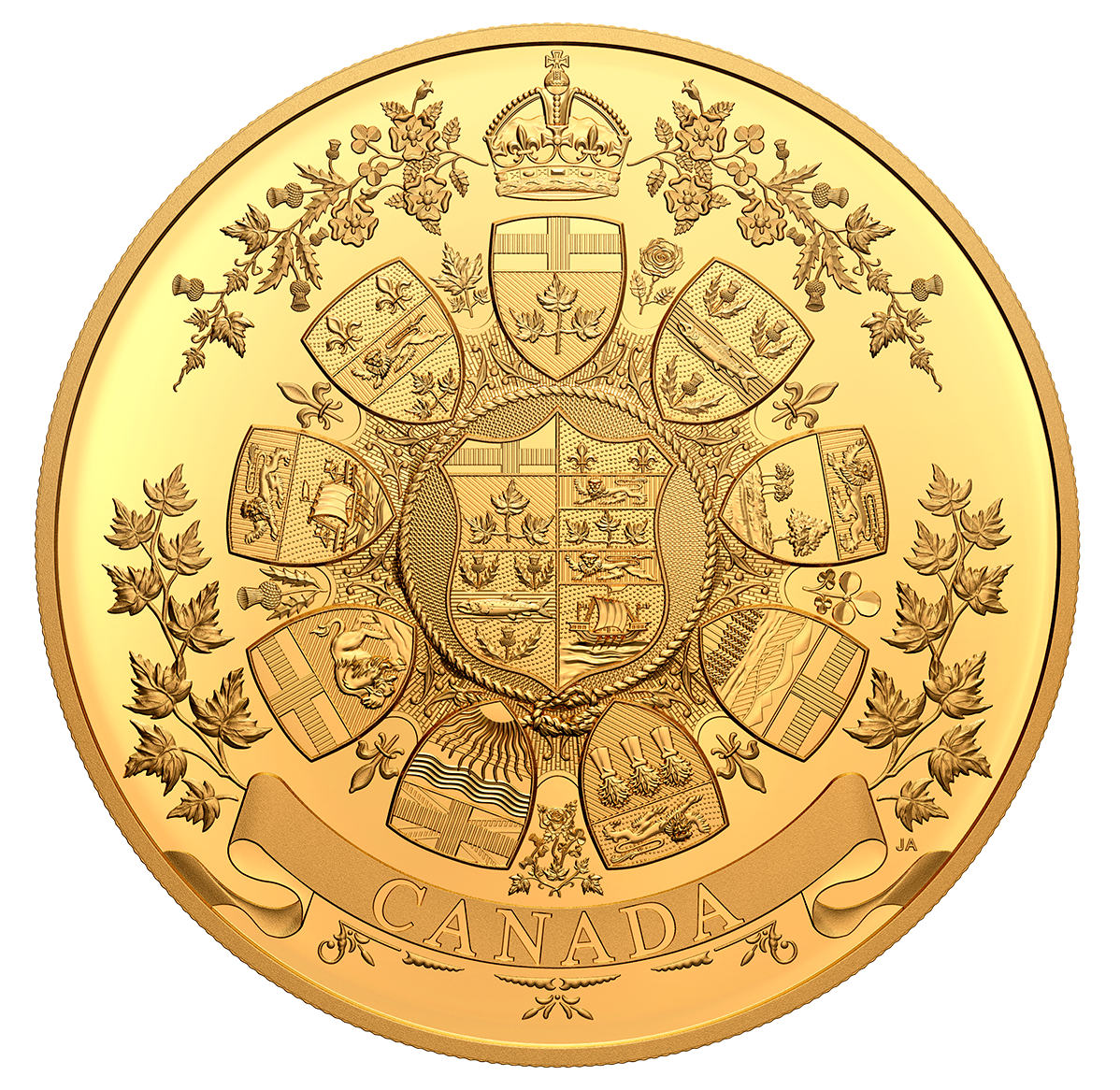 Rich in symbolism
We pored over every detail of the original drawing to get it right! The end result is a highly limited engraved masterpiece that will appeal to traditionalists and collectors of high-prestige pieces.
Composition
99.99% pure gold
Packaging
Your coin is individually encapsulated and elegantly presented in a Royal Canadian Mint-branded wood case with black beauty box.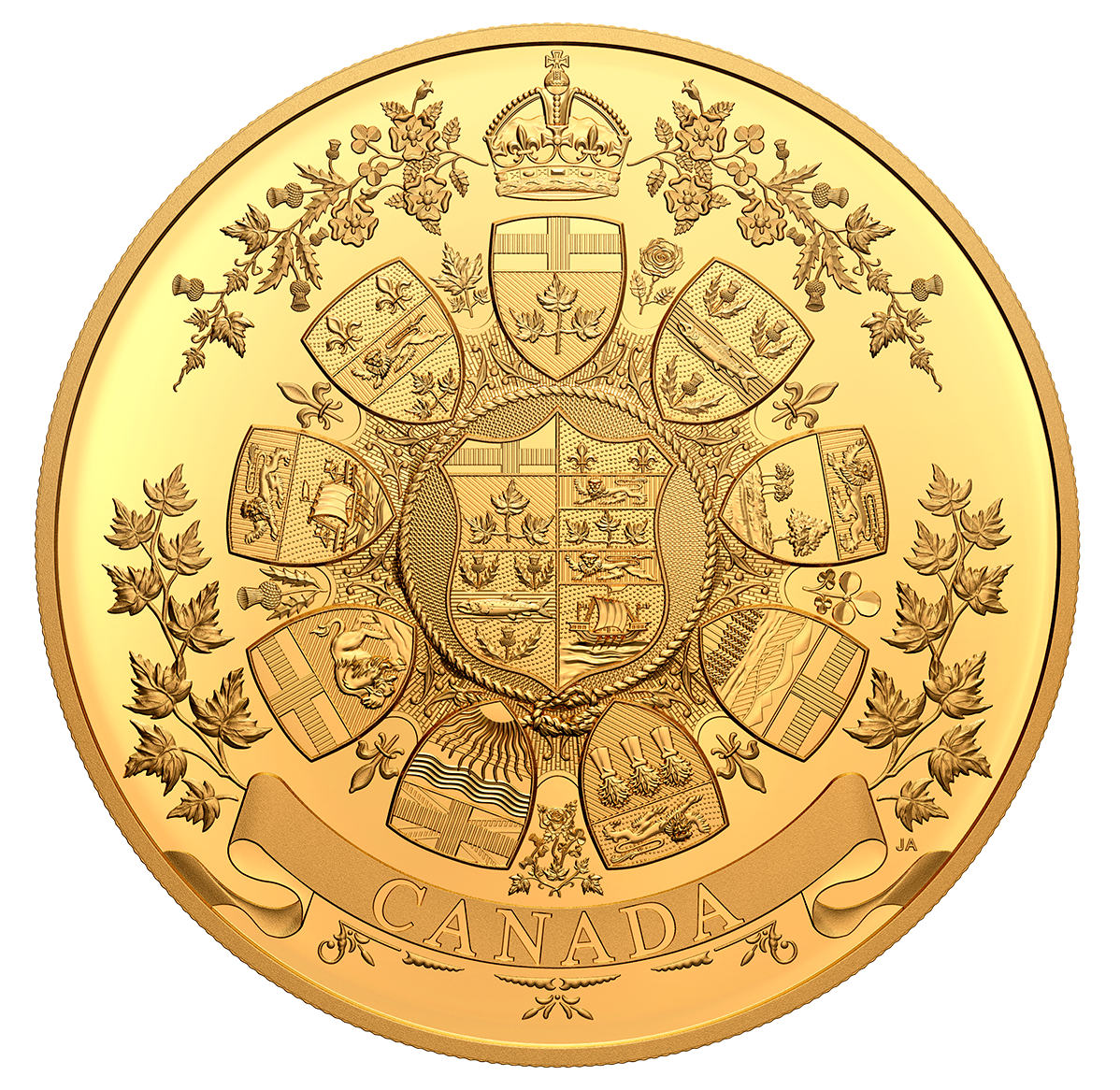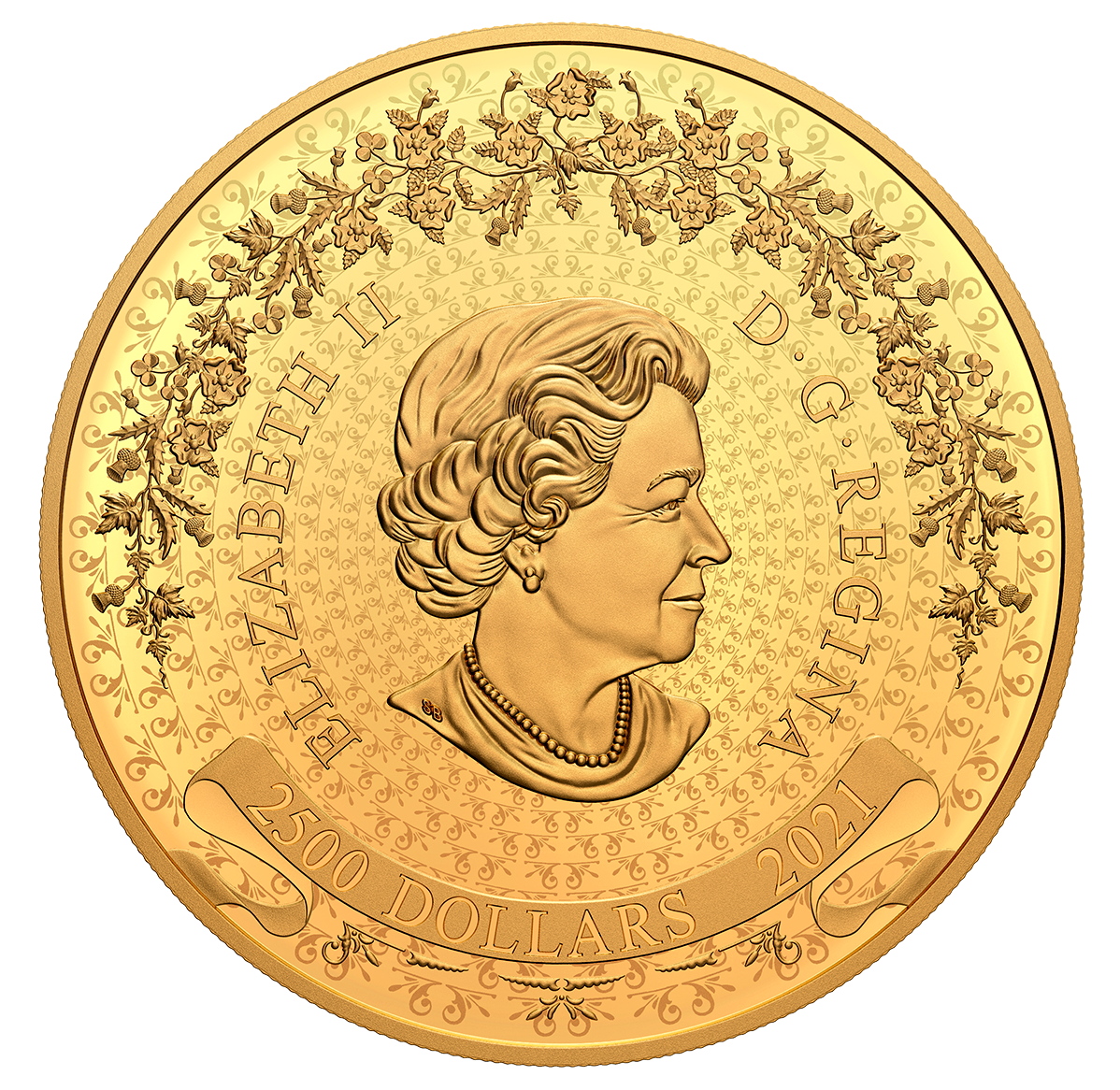 The reverse features an engraved rendering of a heraldic art concept that pre-dates the Arms of Canada proclaimed in 1921. Based on the pen-and-ink drawing by Joseph Aubé, the design centres on the quartered shield emblem of the Dominion of Canada and features a circular arrangement of the nine provincial coats of arms in use in 1912: (clockwise from the top) Ontario, Nova Scotia, Prince Edward Island, Alberta, Saskatchewan, British Columbia, Manitoba, New Brunswick and Quebec. The composition is surmounted by a stylized royal crown and surrounded by symbols of Canada, France and the United Kingdom, as well as a banner scroll that seemingly continues on the obverse. A garland of emblems also appears on the obverse, which features the effigy of Her Majesty Queen Elizabeth II by Susanna Blunt.
What do you want to know about this product?
Your product was successfully added to your collection.
The product could not be added