1 oz. Pure Gold Coin – Celebrating Canada's Diversity - Mintage: 250 (2021)
1 oz. Pure Gold Coin – Celebrating Canada's Diversity - Mintage: 250 (2021)
Masters Club:
44,000
Status:

CAN & US shipping only
WOW! Your 99.99% pure gold coin includes a magnificent grade AAA emerald. Order today.
Never ending and never breaking, the Celtic love knots on this extraordinary showpiece are the perfect embodiment of eternal love – for family and for one's heritage. The intricate design captivates with its interwoven pattern of cultural symbols. And at the centre of it all lies a magnificent grade AAAemerald, which adds a symbolic colour to our celebration of Celtic roots that run deep in Canada.

If you enjoy a mix of Celtic and decorative art elements, then order this coin today.

Special features:
MADE IN THE TRADITION OF CELTIC METALWORK: In the tradition of Celtic metalwork, Celtic love knots and interlinking patterns flow in a circular expression of a love that has no beginning or end on this 99.99% pure gold showpiece.
FEATURES A GENUINE EMERALD: Our second Celebrating Canada's Diversity coin features a genuine emerald. The grade AAA rose cut gem is stunning and adds a symbolic colour to our Celtic-themed celebration.
A TRIBUTE TO CELTIC CANADIANS: Art is one of the most captivating representations of culture and you'll find a rich array of beautiful cultural traditions in Canada! By seamlessly combining different cultural symbolsin one entrancing design, each coin in this series—including this tribute to Celtic Canadians—is an artistic expression of pride in Canada's multicultural heritage.
EXPERTLY CRAFTED: The emerald centrepiece naturally draws the eye but its deep sparkle is amplified by the coin's mirror-like prooffinish, which brings out every beautifully engraved detail.
INCLUDES SERIALIZED CERTIFICATE! The Royal Canadian Mint certifiesall of its collector coins.
Design:
The reverse design by artist Bonnie Ross features a mix of Celtic and decorative art elements that represent eternal love. Nestled between the heart-shaped Celtic love knots, each triquetra symbol (or Trinity knot) forms the point of a star shape that surrounds thegrade AAA rose cut emerald at the centre. The classic Celtic knot border along the outer edge celebrates Canada's multiculturalism by including six maple leaves that symbolize the historic ties between Canada and the six Celtic nations. The obverse features the effigy of Her Majesty Queen Elizabeth II by Susanna Blunt.
Did you know?
More than nine million Canadians claim Scottish or Irish heritage.
Emeralds are only found in a few places and, surprisingly, Ireland isn't one of them. Still, the gemstone has a long association with the Emerald Isle — a nickname that first appeared in print in the poem"When Erin First Rose" by William Drennan (1754-1820) —because it conjures images of the green Irish landscape.
"Triquetra" means "three-cornered" in Latin, and the symbol is also known as the Trinity Knot. It's hard to pin down an exact date but its earliest appearance in Celtic art is around the 7th century. Throughout history, the Triquetra has been assigned different meanings, including the HolyTrinity (Father, Son, Holy Spirit) and the three-fold forces of nature (earth, fire, water); today, itis one of the most popular symbols of Celtic culture.
Packaging:
Your coin is encapsulated and presented in a RoyalCanadian Mint-branded clamshell with a graphic beauty box.

Order today!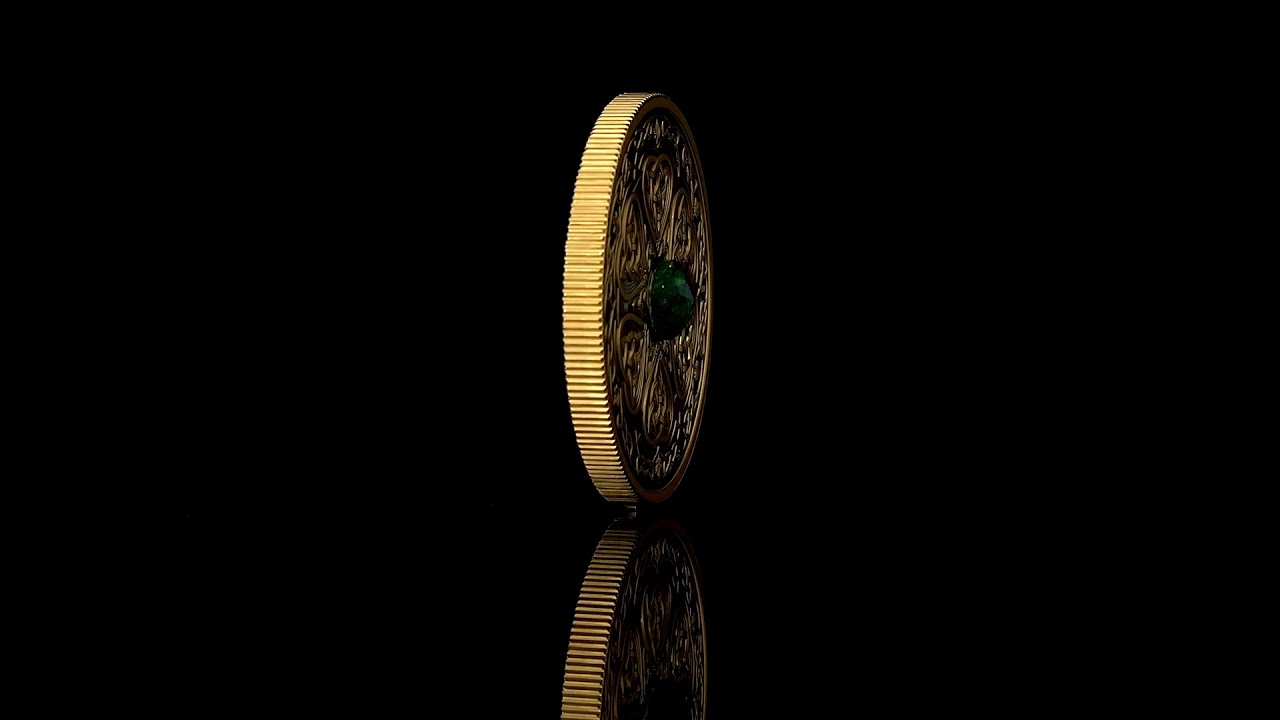 Composition
99.99% pure gold
Artist
Bonnie Ross (reverse), Susanna Blunt (obverse)
What do you want to know about this product?
Your product was successfully added to your collection.
The product could not be added