5 oz. Pure Silver Coin - The First 100 Years of Confederation: Canada Takes Wing - Mintage: 1,250 (2
5 oz. Pure Silver Coin - The First 100 Years of Confederation: Canada Takes Wing - Mintage: 1,250 (2
Masters Club:
6,000
Status:

CAN & US shipping only
Availability:

Out of stock in stores
Final coin! Complete the series with Coin #3, which features a pop art style. Order today!
Coin #3 takes to the skies for one last look at The First 100 Years of Confederation! Its pop art elements speak to Canada's post-war (1945-1967) prosperity and its active role on the world stage, and to a nationwide sense of optimism during Canada's centennial year. Between 1945 and 1967, aviation technology sent us soaringto new heights and also brought us closer than ever before. At the end of the Second World War, our nation's character had been established and our place on the international stage secured; but in the midst of Cold War tensions, our new-found sense ofself emboldened us to champion peace and cooperation. It was a signal to the world that Canada had arrived.

COIN #3 marks the end of an unforgettable series that presents Canadian history in a whole new way. Complete your series—order today!
Special features:
IT'S HISTORY ON THE MOVE! Coin #3 marks the end of a three-coin series that fuses art, history and industry! It's the story of Canada's first 100 years (1867 to 1967), viewed through the lens of art and represented by a mode of transportation that defined the era.
POP ART! Coin #3 features a pop art style that is synonymous with the bold, colourful designs of the 1950s and '60s.
FIVE EFFIGIES ON ONE COIN! The multi-effigy obverse features theeffigies of five monarchs who served as Canada's constitutional head of state between 1867 and 1967, and whose combined reigns span a century of change. Each effigy is accompanied by a Latin inscription stating the monarch's name and royal title,as seen on some of our most historic coins.

D.G. – Dei Gratia, "By the Grace of God"

REGINA – "Queen"

REX – "King"

IMP – "Emperor"

IMP:IND – "Emperor of India"
MADE FOR YOU! Collectors, this series is for you. Each coin in this series offers youcaptivating art and a fascinating story. And the effigies on the obverse don't just represent Canadian history; they represent your hobby and a century's worth of Canadian coin history — one effigy even predates Confederation!
A RARE TREASURE! Beone of the privileged few to own this 99.99% pure silver coin — mintage is limited to just 1,250 worldwide.
INCLUDES SERIALIZED CERTIFICATE! The Royal Canadian Mint certifies all of its collector coins.
NO GST/HST
Design:
Designed by Canadian artist Glen Green, the coin's reverse features a symbol of Canada's high stature on the world stage during the post-war years (1945-1967). Canada's famous bush plane, the de Havilland Canada DHC-2 Beaver, is rendered in a pop art style. The obverse combines five of the effigies that have appeared on Canadian coins since 1867 (clockwise, from top): the first effigy of HerMajesty Queen Elizabeth II by Mary Gillick, with the Latin inscription "ELIZABETH II D·G·REGINA"; the effigy of King George VI by T. H. Paget, with the inscription "GEORGIVS VI D·G·REX"; the effigy of King George V by Sir E. B. Mackennal, with the inscription "GEORGIVS V D·G·REX ET IND: IMP:"; the effigy of King Edward VII by G. W. De Saulles, with the inscription "EDWARDVSVII D·G·REX IMP:"; and the effigy of Queen Victoria by L. C. Wyon, with the inscription "VICTORIA D·G·REGINA".
Did you know?
Pilots have referred to the de Haviland DHC-2 Beaver as the world's best bush plane. First flown in 1947, the iconic DHC-2 was designed to suit the needs of bush pilots and is hailed as the airplane that opened the North. It was also named one of the great Canadian engineering feats of the 20th century!
The powerful DCH-2 Beaver was built for heavy lifting on short runways and can land on lakes, rivers, ice fields and snow. It has been used for year-round emergency medical evacuation, as well as freight and passenger service to many northern communities and isolated cabins.
The U.S. military ordered hundreds of DHC-2 Beavers during the Korean War. And by the time production ceased in 1967, 1,600 of these legendary Canadian aircrafts had been delivered to pilots in Canada and aroundthe world.
Packaging:
Your coin is individually encapsulated and presented in a Royal Canadian Mint-branded clamshell with a black beauty box.
Order today!
The copyright, trademark and aircrafttype certificate associated with the DHC-2 Beaver aircraft are the property of Viking Air Limited and have been reproduced under license by the Royal Canadian Mint.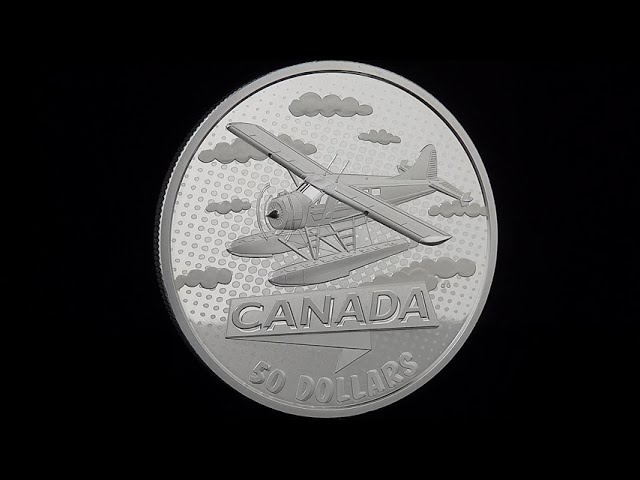 Composition
99.99% pure silver
Series
Pure Silver 3-Coin Subscription Series – The First 100 Years of Confederation - Mintage: 1,250 (2021
Artist
Glen Green (reverse), Susanna Blunt (obverse)
What do you want to know about this product?
Your product was successfully added to your collection.
The product could not be added