5 oz. Pure Silver Coin - The First 100 Years of Confederation: An Emerging Country
5 oz. Pure Silver Coin - The First 100 Years of Confederation: An Emerging Country
Masters Club:
6,000
Status:

CAN & US shipping only
Driving progress: Coin #1 is an art nouveau-styled glimpse of Canada's railway era.
It was the era that laid the groundwork for a modern Canada. With its art nouveau look, the first coin in our three-part First 100 Years of Confederation series travels back in time for a glimpse of Canada between 1867 and 1914.
These were the years in which the locomotive, like the 4-4-0 one featured on this coin, was the engine of change and the driver of progress. The completion of the transcontinental railway in 1885 ushered in a season of unprecedented growth for an emerging country, and by 1914, these ribbons of steel were wrapped around almost every aspect of life in Canada.
An outstanding start to a new series that fuses art, history and industry.
It's history on the move. This is Coin #1 in an exciting three-coin series that fuses art, history, and industry! It's the story of Canada's first 100 years (1867 to 1967), viewed through the lens of art and represented by a mode of transportation that defined the era.
Made for you. Collectors, this series is for you. Each coin in this series offers you captivating art and a fascinating story. And the effigies on the obverse don't just represent Canadian history; they represent your hobby and a century's worth of Canadian coin history — one effigy even pre-dates Confederation!
A rare treasure. Be one of the privileged few to own this 99.99% pure silver coin — mintage is limited to just 1,250 worldwide.
Subscribe to the series. Don't miss out — subscribe to the series to guarantee your three coins and a complete series that will have a special place in your collection.
Includes serialized certificate. The Royal Canadian Mint certifies all of its collector coins.
No GST/HST
Packaging
Your coin is individually encapsulated and presented in a Royal Canadian Mint-branded clamshell with a black beauty box.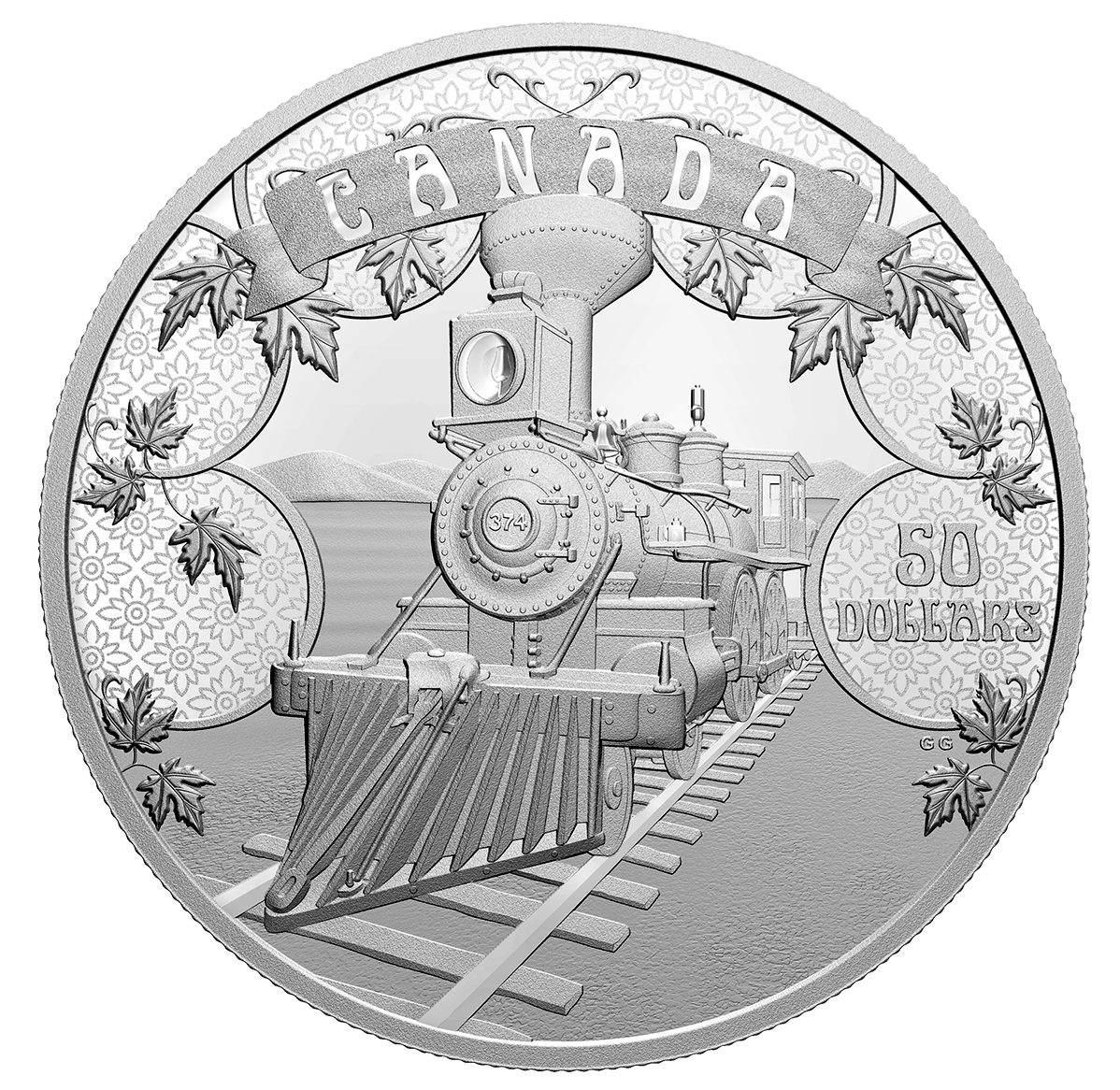 Art nouveau style
As you view each coin, let the art style guide you in this journey through time! Each design is presented in a different art style that channels the spirit of the era it represents, beginning with art nouveau.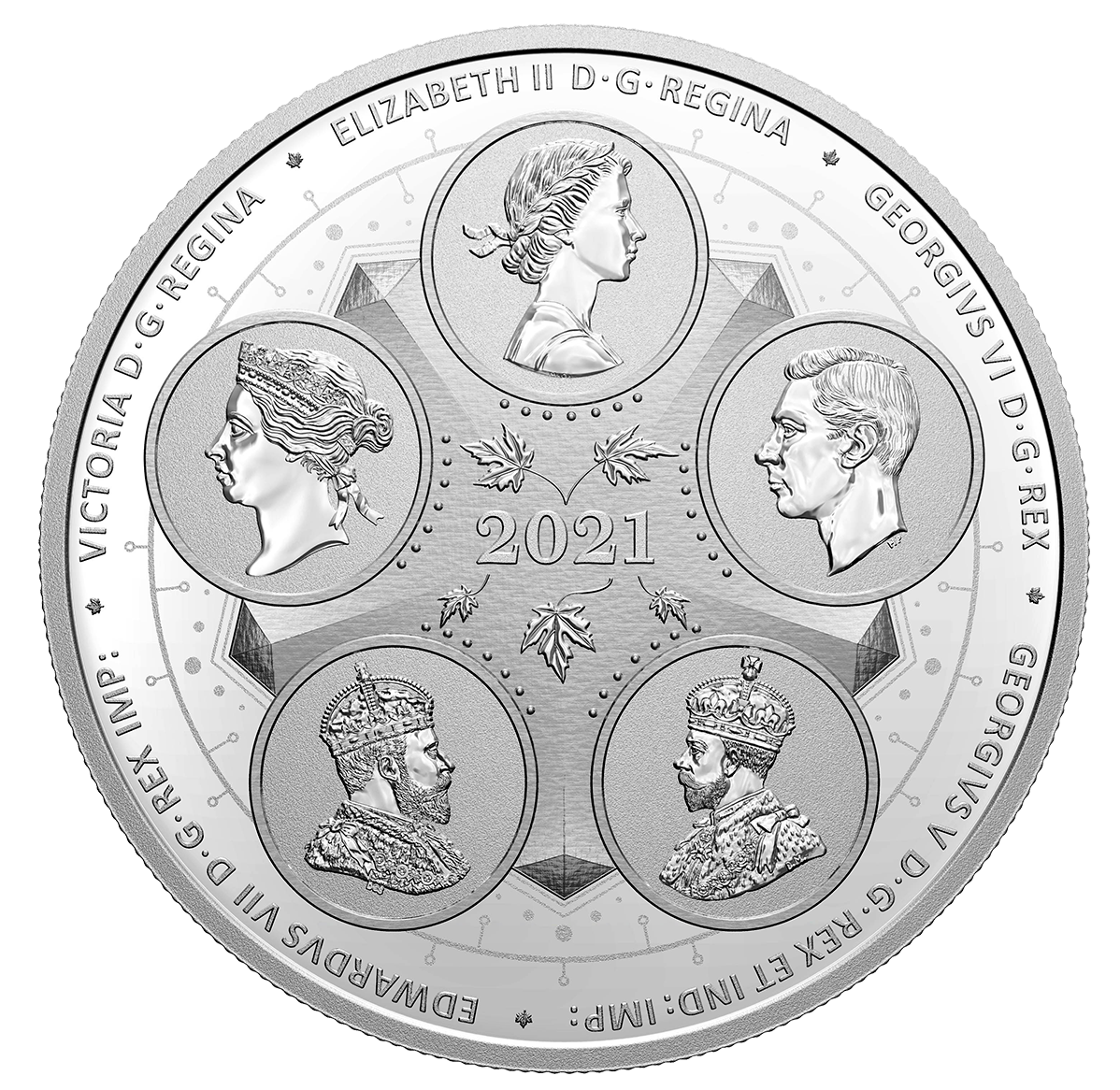 Five effigies on one coin
The multi-effigy obverse features the effigies of five monarchs who served as Canada's constitutional head of state between 1867 and 1967, and whose combined reigns span a century of change. Each effigy is accompanied by a Latin inscription stating the monarch's name and royal title, as seen on some of our most historic coins.
D.G. – Dei Gratia, "By the Grace of God"
REGINA – "Queen"
REX – "King"
IMP – "Emperor"
IMP:IND – "Emperor of India"
Composition
99.99% pure silver
Series
Pure Silver 3-Coin Subscription Series – The First 100 Years of Confederation - Mintage: 1,250 (2021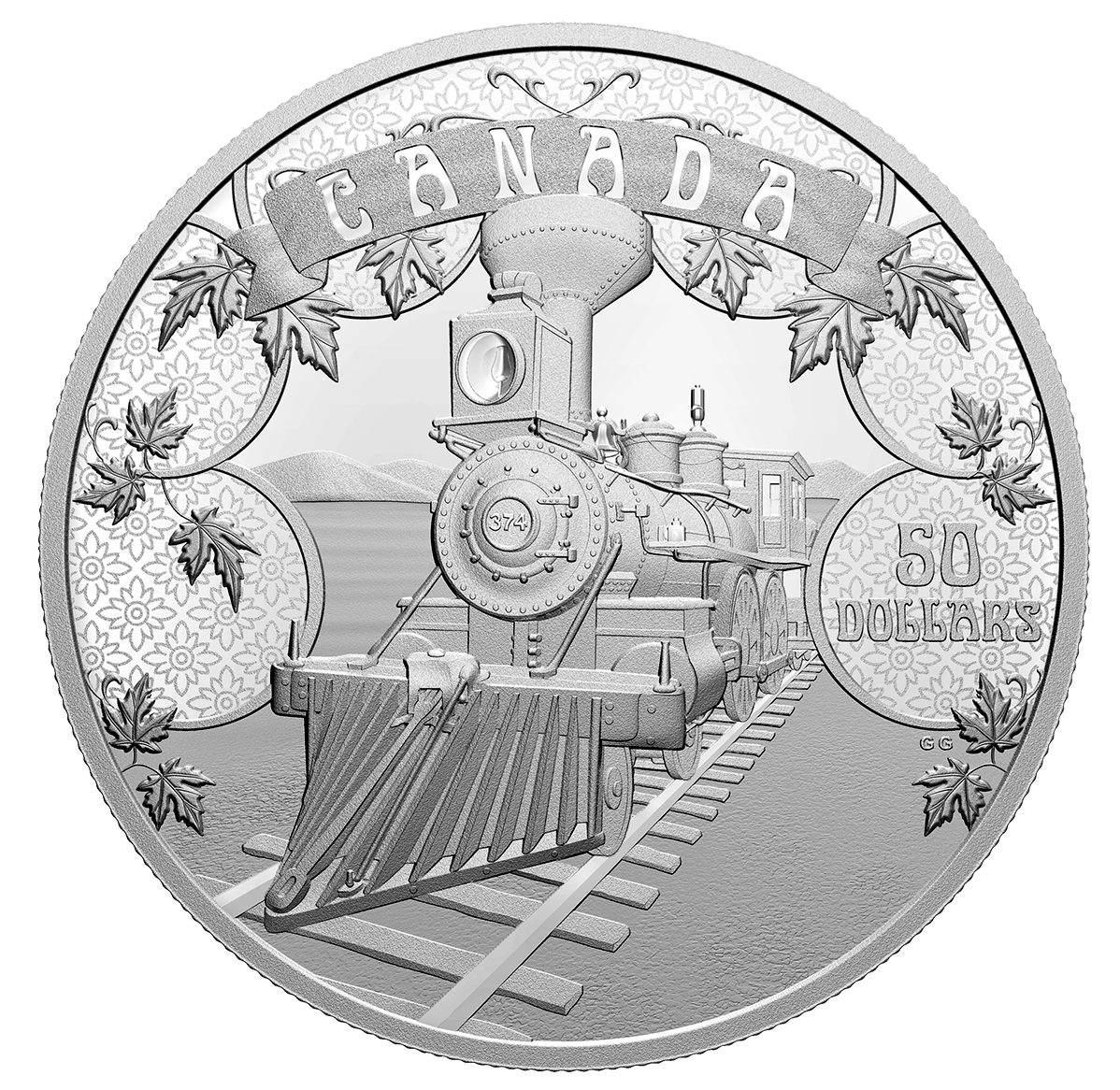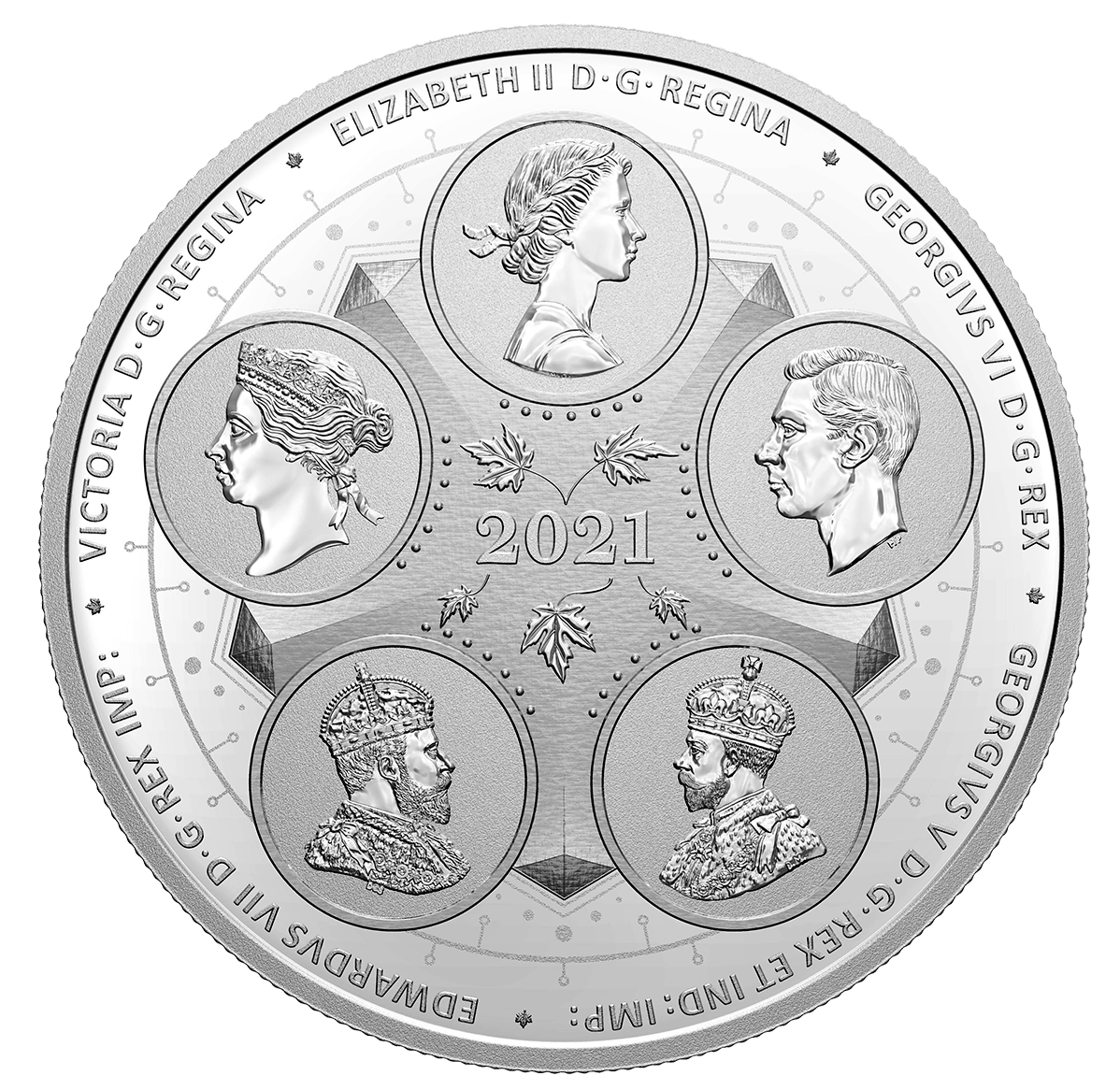 Designed by Canadian artist Glen Green, your coin's reverse highlights the importance of railways in Canadian history and the role they played in the expansion of Confederation after 1867. Art nouveau design elements surround the depiction of Engine No. 374, the 4-4-0 locomotive that hauled the first passenger train along the transcontinental railway that linked eastern and western Canada. The obverse combines five of the effigies that have appeared on Canadian coins since 1867 (clockwise, from top): the first effigy of Her Majesty Queen Elizabeth II by Mary Gillick, with the Latin inscription "ELIZABETH II D·G·REGINA"; the effigy of King George VI by T. H. Paget, with the inscription "GEORGIVS VI D·G·REX"; the effigy of King George V by Sir E. B. Mackennal, with the inscription "GEORGIVS V D·G·REX ET IND: IMP:"; the effigy of King Edward VII by G. W. De Saulles, with the inscription "EDWARDVS VII D·G·REX IMP:"; and the effigy of Queen Victoria by L. C. Wyon, with the inscription "VICTORIA D·G·REGINA".
What do you want to know about this product?
Your product was successfully added to your collection.
The product could not be added