5 oz. Pure Silver Coin - The First 100 Years of Confederation: Coming of Age
5 oz. Pure Silver Coin - The First 100 Years of Confederation: Coming of Age
Masters Club:
6,000
Status:

CAN & US shipping only
Art deco! Coin #2 takes to the seas for a look at progress.
Our journey through history continues! Coin #2 in the First 100 Years of Confederation is an art deco-styled view of Canada from 1914 and 1945 and features one of the first ships built for the Royal Canadian Navy (RCN).
This was an era in which a young Canada was navigating uncertain waters made murkier by two wars and a crippling economic depression. Waves of immigration had landed on our shores and swept west, transforming society and enriching our cultural fabric. But the changing tides of history also carried Canada's finest and our hopes for peace to places like Vimy, and later, Juno Beach — two key turning points that marked Canada's coming of age, which is represented on this coin.
A gorgeous piece that tells a powerful story through captivating art.
Art deco style. As you view each coin, let the art style guide you in this journey through time! Coin #2 features the modern art deco style that is considered the successor to art nouveau (Coin #1)
Made for you. Collectors, this series is for you. Each coin in this series offers you captivating art and a fascinating story. And the effigies on the obverse don't just represent Canadian history; they represent your hobby and a century's worth of Canadian coin history — one effigy even predates Confederation!
A rare treasure. Be one of the privileged few to own this 99.99% pure silver coin — mintage is limited to just 1,250 worldwide.
Includes serialized certificate. The Royal Canadian Mint certifies all of its collector coins.
No GST/HST
Packaging
Your coin is individually encapsulated and presented in a Royal Canadian Mint-branded clamshell with a black beauty box.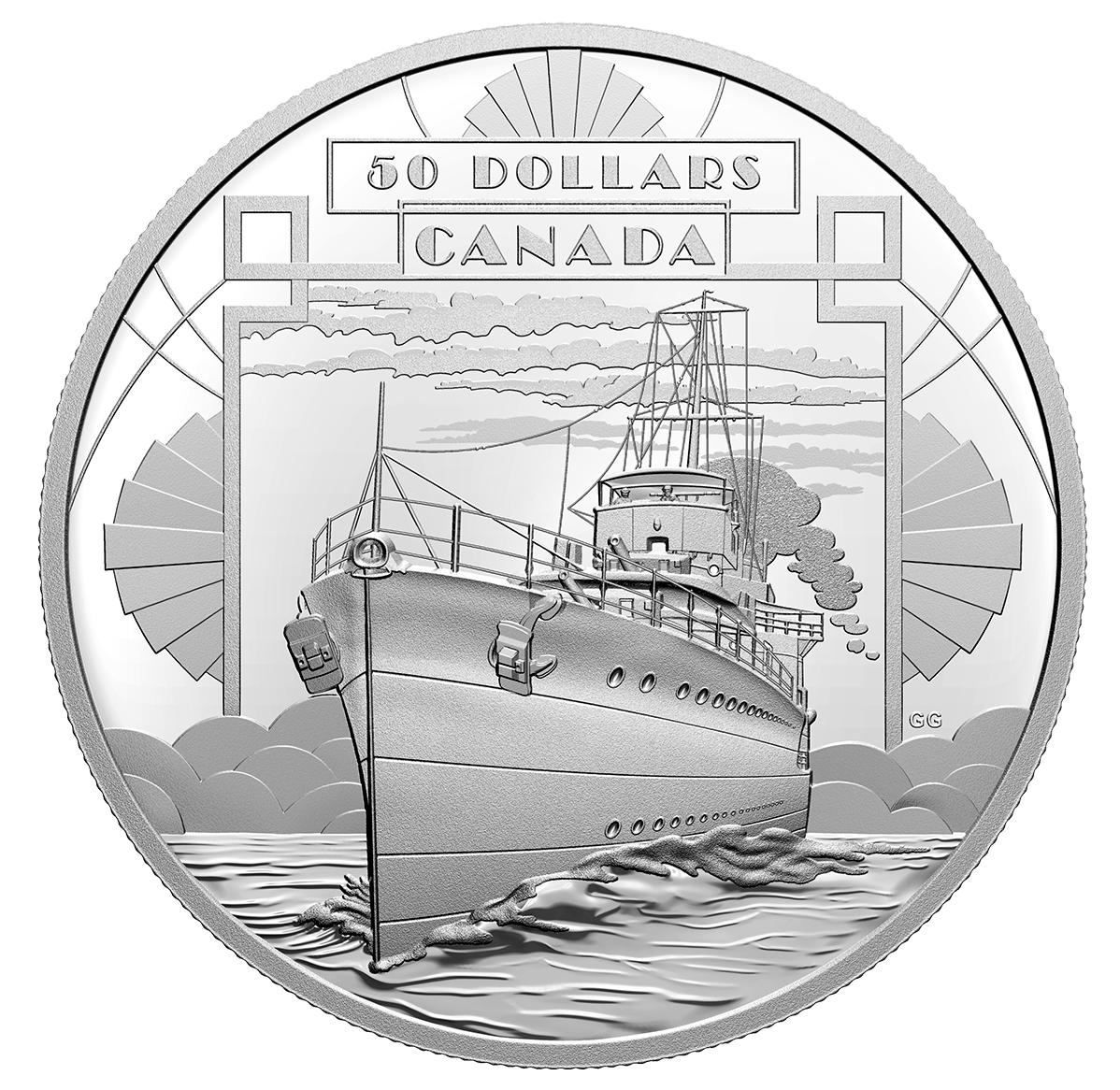 It's history on the move
This is Coin #2 in an exciting three-coin series that fuses art, history and industry! It's the story of Canada's first 100 years (1867 to 1967), viewed through the lens of art and represented by a mode of transportation that defined the era.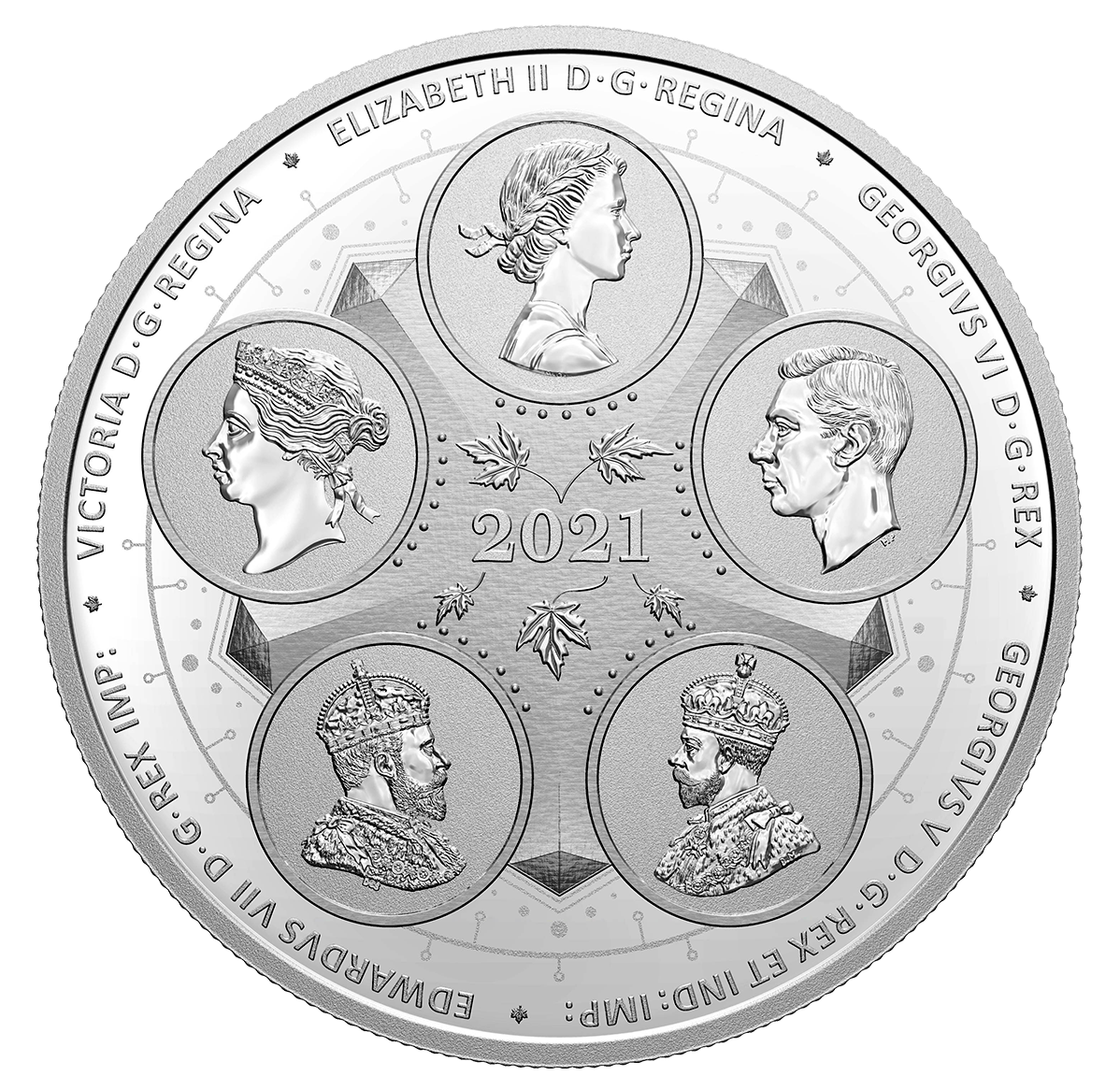 Five effigies on one coin
The multi-effigy obverse features the effigies of five monarchs who served as Canada's constitutional head of state between 1867 and 1967, and whose combined reigns span a century of change. Each effigy is accompanied by a Latin inscription stating the monarch's name and royal title, as seen on some of our most historic coins:
D.G. – Dei Gratia, "By the Grace of God"
REGINA – "Queen"
REX – "King"
IMP – "Emperor"
IMP:IND – "Emperor of India"
Composition
99.99% pure silver
Series
Pure Silver 3-Coin Subscription Series – The First 100 Years of Confederation - Mintage: 1,250 (2021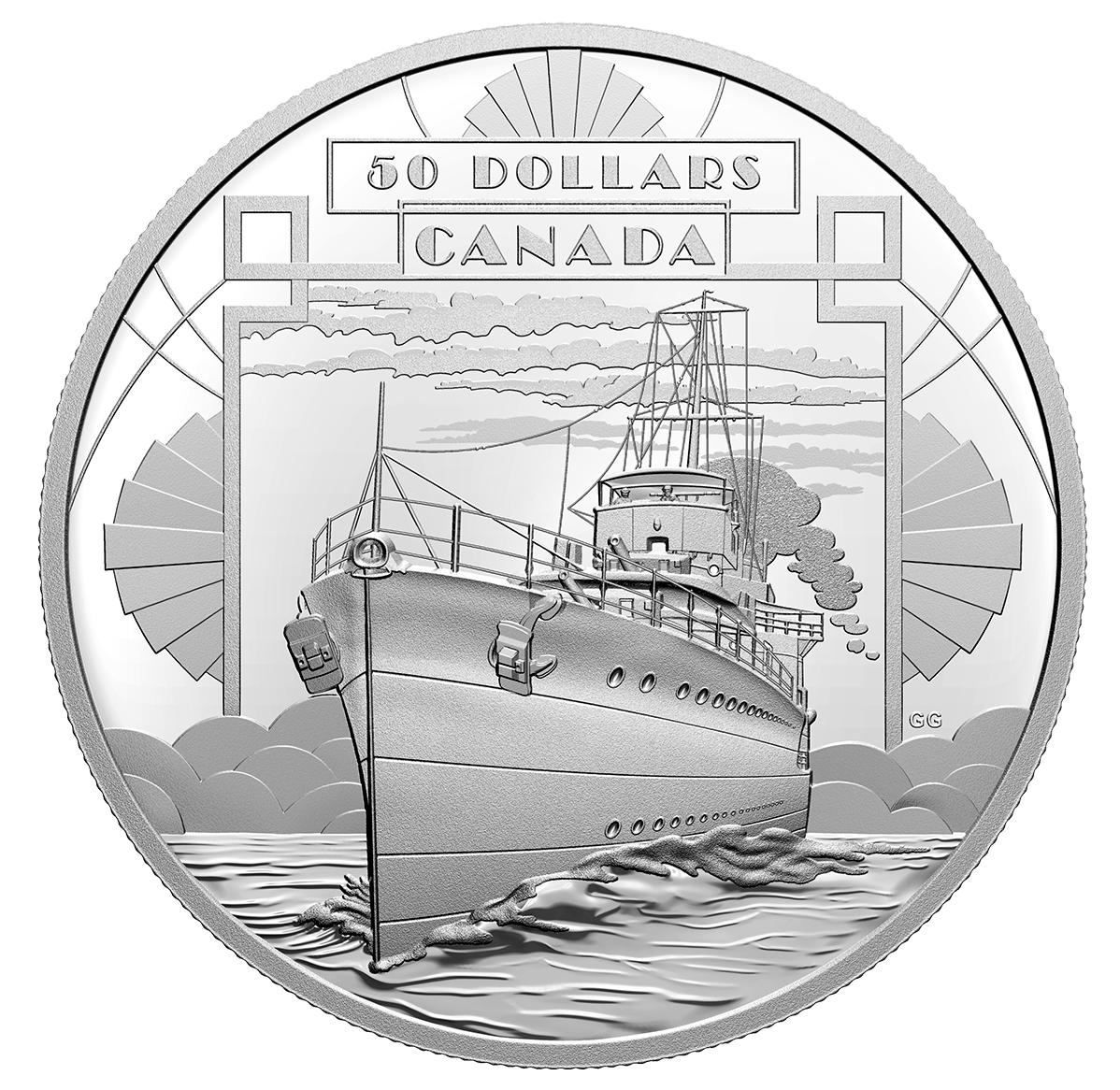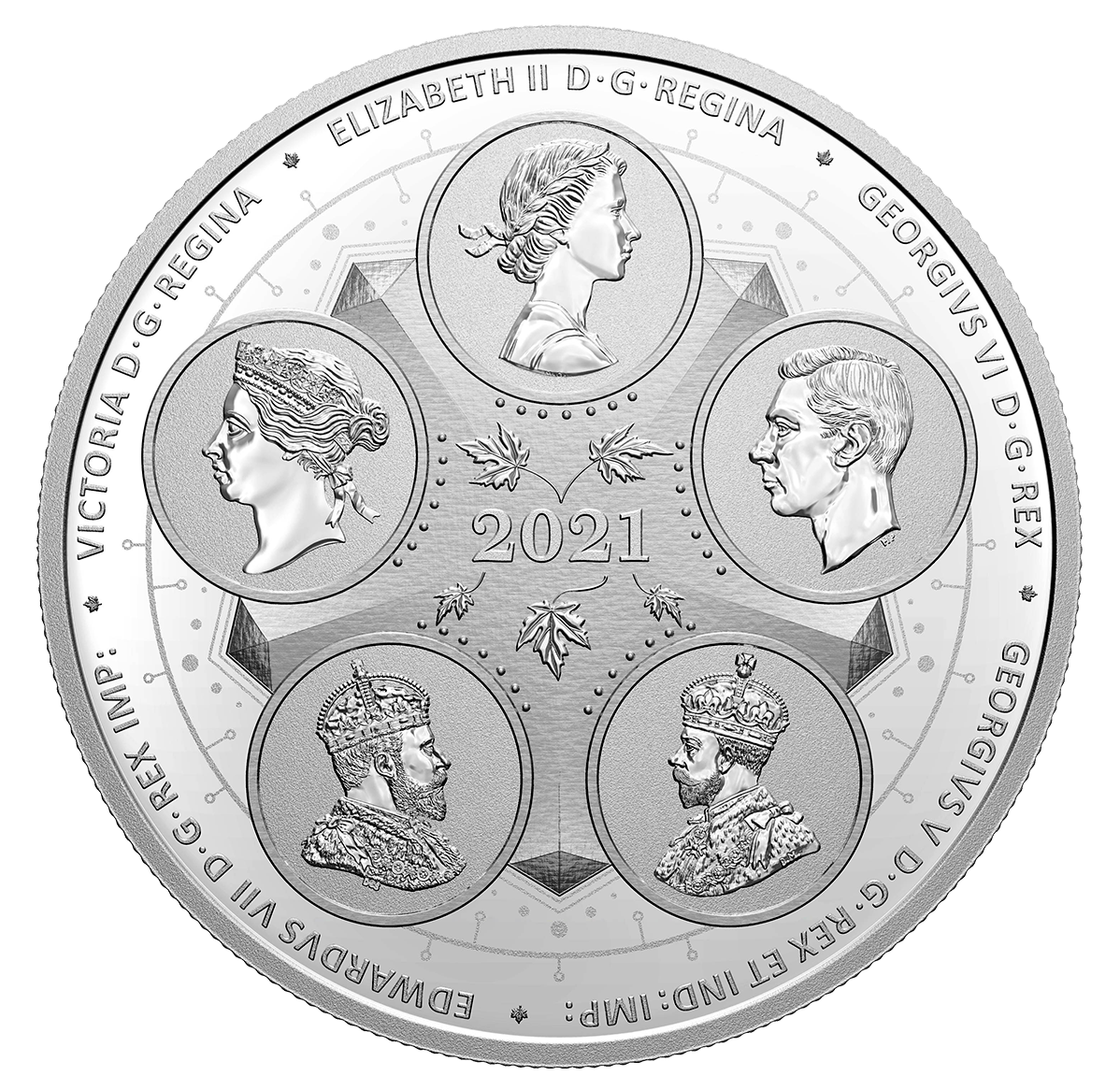 Designed by Canadian artist Glen Green, your coin's reverse features a symbol of a Canada's new-found standing on the world stage after the First World War (1914-1918). Art deco elements surround the depiction of HMCS Saguenay; built in 1931, the vessel was one of the first warships built for the Royal Canadian Navy before the naval service's rapid expansion during the Second World War (1939-1945). The obverse combines five of the effigies that have appeared on Canadian coins since 1867 (clockwise, from top): the first effigy of Her Majesty Queen Elizabeth II by Mary Gillick, with the Latin inscription "ELIZABETH II D·G·REGINA"; the effigy of King George VI by T. H. Paget, with the inscription "GEORGIVS VI D·G·REX"; the effigy of King George V by Sir E. B. Mackennal, with the inscription "GEORGIVS V D·G·REX ET IND: IMP:"; the effigy of King Edward VII by G. W. De Saulles, with the inscription "EDWARDVS VII D·G·REX IMP:"; and the effigy of Queen Victoria by L. C. Wyon, with the inscription "VICTORIA D·G·REGINA".
What do you want to know about this product?
Your product was successfully added to your collection.
The product could not be added