Pure Gold Coin - Bluenose
Pure Gold Coin - Bluenose
Masters Club:
11,000
Status:

CAN & US shipping only
Availability:

Out of stock in stores
Our annual $100 gold coin, now in 99.99% pure gold!
The design that gave Bluenose the gift of speed also gave the schooner its grace and majesty. Our 2021 Bluenose centennial celebration continues on this limited edition collectible, which highlights the ingenuity and elegance of the ship's design.
On the 20 mm coin's reverse, the photo of a newly launched Bluenose before being fitted with sails and rigging presents a different view of the fishing vessel, while the hull drawing is a nod to the design that made it a racing champion.
This is the only gold coin in our 2021 celebration of the 100th anniversary of Bluenose. Mintage is limited to 2,000 coins worldwide!
Part of the Bluenose anniversary collection. The Bluenose story continues! The 2021 Proof Dollar was the first chapter of a story that continues on multiple coins this year; the next chapter is Bluenose's launch, which is the theme behind this magnificent coin.
A treasured tribute. The only gold coin in our yearlong (2021) celebration of the 100th anniversary of Bluenose, the ship that captured a nation's heart and lifted its spirit! It is the pride of Nova Scotia and a Canadian icon, and it has also been a big part of the Royal Canadian Mint's story since 1937.
Includes serialized certificate. The Royal Canadian Mint certifies all of its collector coins.
No GST/HST
A Winner By Design:
In the Smith and Rhuland shipyard in Lunenburg, Nova Scotia, the construction methods were the same ones that had built more than 100 vessels, but Bluenose's design set it apart. Its architect, William James Roué, had envisioned a sleek-looking schooner that would be a "combination of Gloucester and Nova Scotian vessels, with the depth of the former and the breadth of the latter." Through theory and calculations, Roué drafted the blueprints for a vessel with a large hold for her catch carrying capacity and a hull that was optimized for reduced resistance in water—giving her speed that was a benefit in her fishing and racing careers.
Bluenose Specifications:
Vessel no. 150,404, registered at the Port of Lunenburg, N.S., in March 1921.
Length: 43.6 metres (143 feet) *not including bowsprit
Waterline length: 34 metres (112 feet)
Displacement tonnage: 258 tonnes (285 tons)
Beam: 8.2 metres (27 feet)
Draught: 4.85 metres (15 feet 10 inches)
Sail area: 930 square metres (10,000 square feet)
'Bluenose' is an official mark adopted and used by the Nova Scotia Department of Communities, Culture and Heritage pursuant to the Trade-marks Act (Canada). It is used by the Royal Canadian Mint with the Department's permission.
William James Roué Signature © jeroué. Used with permission.
Blueprints of 1921 BLUENOSE © jeroué. Used with permission.
bluenose.novascotia.ca
wjroue.ca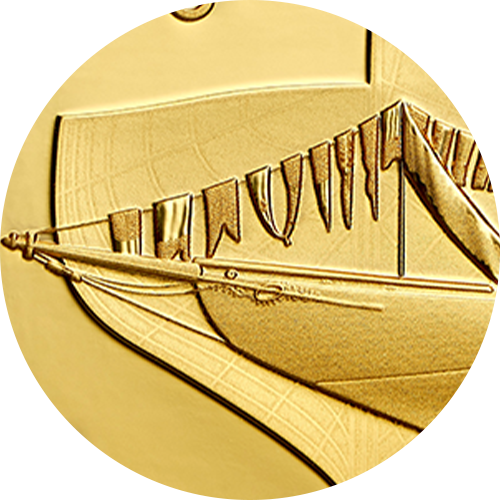 Big on details
Thanks to a mix of different finishes and techniques, this coin's engraved design is just as detailed and complex as previous $100 pure gold coins.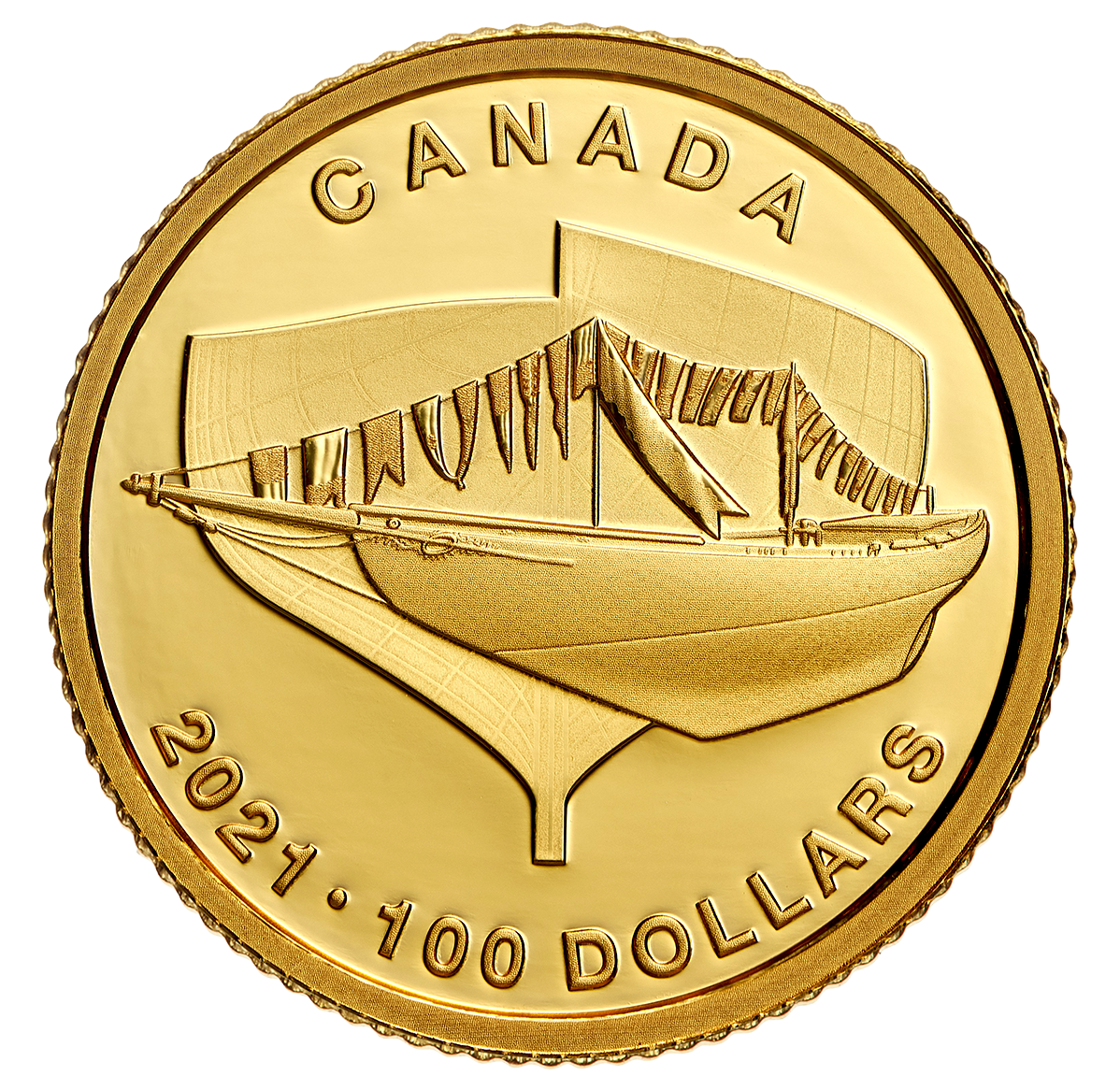 A different view
You're used to seeing the image of Bluenose under full sail — that's how the ship has appeared on our 10-cent circulation coin since 1937. For this design, RCM engravers opted for a new perspective that emphasizes the bow and shows Bluenose without its sails and rigging.
Composition
99.99% pure gold
Packaging
Your coin is individually encapsulated and presented in a Royal Canadian Mint-branded clamshell with a black beauty box.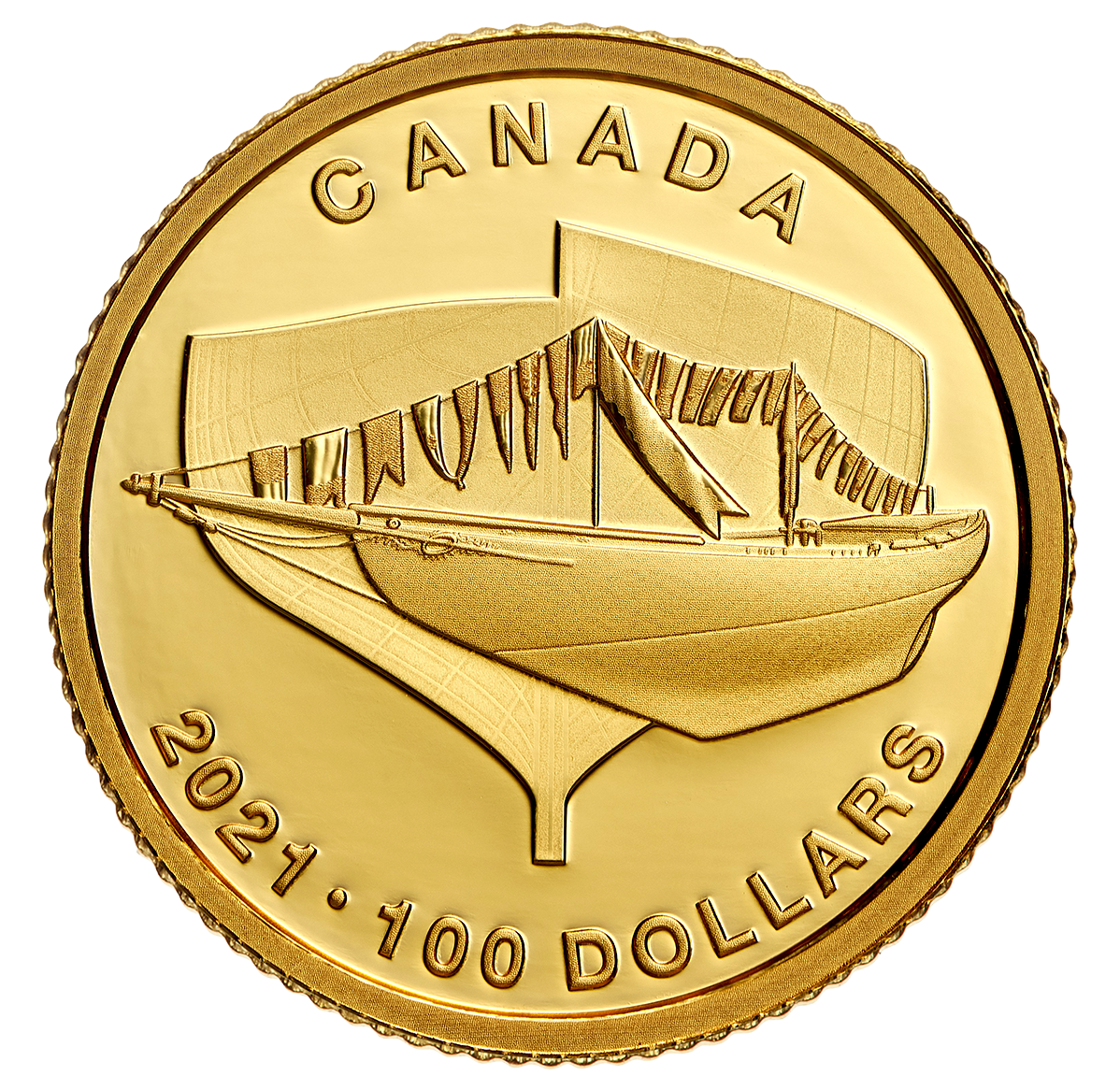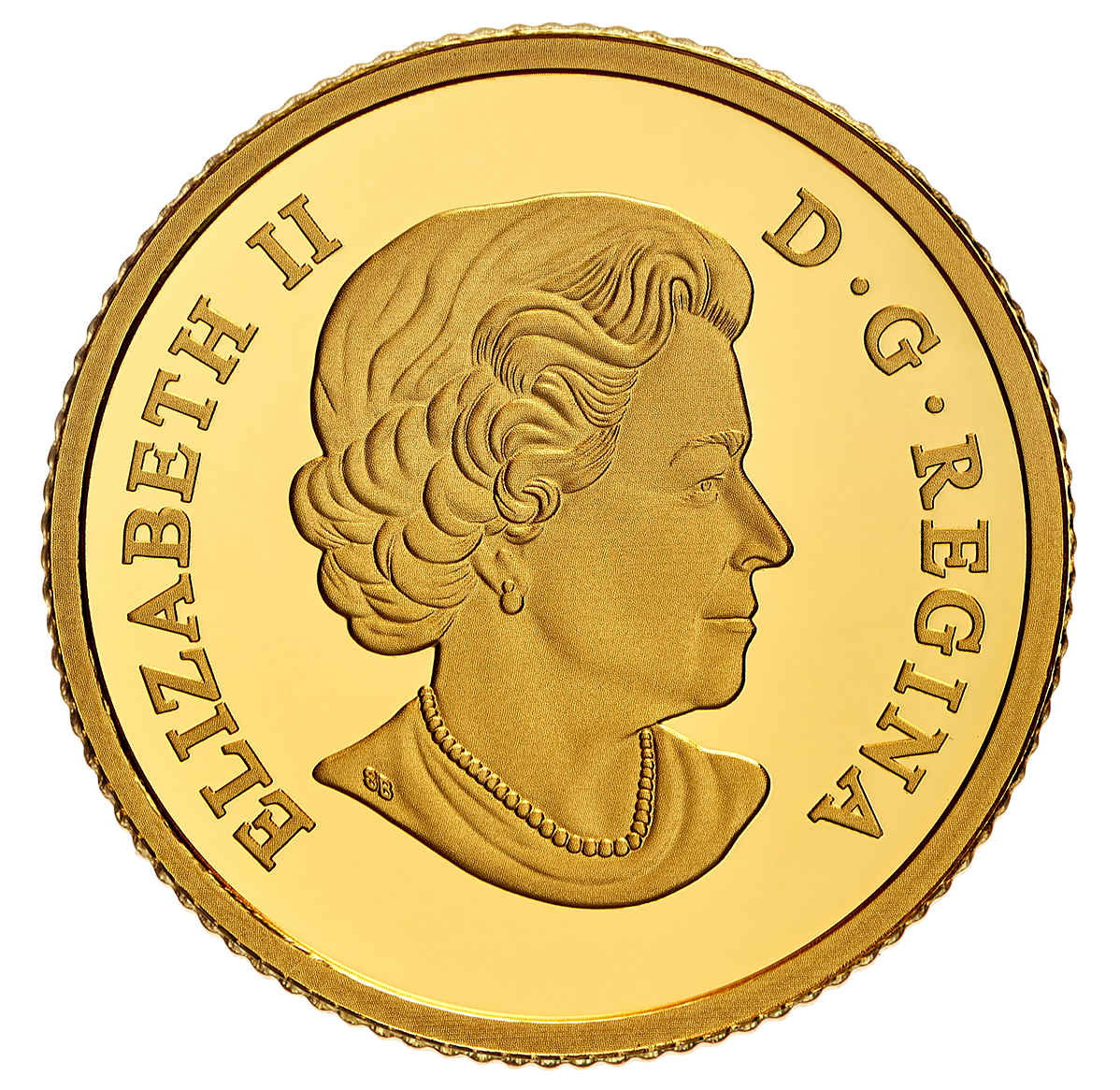 The reverse celebrates Bluenose through two images that are precisely aligned to create a contrasting effect. In the background, the hull drawing focuses on W.J. Roué's streamlined design and the clean lines that contributed to the ship's successful racing career. In the foreground, the image of Bluenose without sails and dressed in an array of signal flags is based on a launch day (March 26, 1921) photograph, but the use of a forced perspective emphasizes the bow and creates a sense of movement. The obverse features the effigy of Her Majesty Queen Elizabeth II by Susanna Blunt.
What do you want to know about this product?
Your product was successfully added to your collection.
The product could not be added