Pure Silver Coin - Dancing Diamond™
Pure Silver Coin - Dancing Diamond™
Masters Club:
9,000
Status:

CAN & US shipping only
Availability:

Out of stock in stores
Give the gift of a Dancing Diamond™ surrounded by silver AND gold.
Held in place by Dancing Diamond Pure Silver Coin - Dancing Diamond™ technology, the Canadian-sourced FIRE AND ICE™ Pure Silver Coin – Dancing Diamond™ diamond on our third Sparkle of the Heart coin provides a spectacular touch of sparkle that dances with the slightest movement of its coin base. You'll find this dazzling centrepiece nestled among the gold-plated stamens of a beautiful peony, the floral symbol of a romantic bliss.
Surrounded by intricate silver butterflies and flowers, it is a joyous celebration of spring, of life, and of a special love embodied by this design that strikes the perfect balance between silver and gold.
The tradition continues and it's as beautiful as ever – especially with selective gold plating. Don't miss your chance to own the 2021 Sparkle of the Heart coin.
THIRD COIN IN AN ANNUAL SERIES! Our third Sparkle of the Heart coin is a celebration of life and love! Like the two coins before it, this keepsake features innovative Dancing Diamond™ technology that allows the well-secured gemstone to freely "dance" and emit an exquisite sparkle with every movement of the coin.
PREVIOUS COINS SOLD OUT: The 2019 and 2020 coins sold out within minutes! For 2021, mintage is once again limited to just 750 coins worldwide!
AN EXTRAORDINARY EXPRESSION OF LOVE: Just in time for Mother's Day and springtime celebrations – give the gift of a sparkling diamond surrounded by flowers. The coin's silver-gold contrast will also ensure all eyes will be on this beautiful expression of your love, and it issure to become a treasured keepsake.
INCLUDES SPECIAL CERTIFICATE: The Royal Canadian Mint certifies all of its collector coins, including this one. Your coin also comes with a special card (enclosed in a passport holder) that attests to the authenticity of your "dancing" Canadian diamond.
Packaging:
Your coin is encapsulated and presented in a Royal Canadian Mint-branded clamshell with a black beauty box.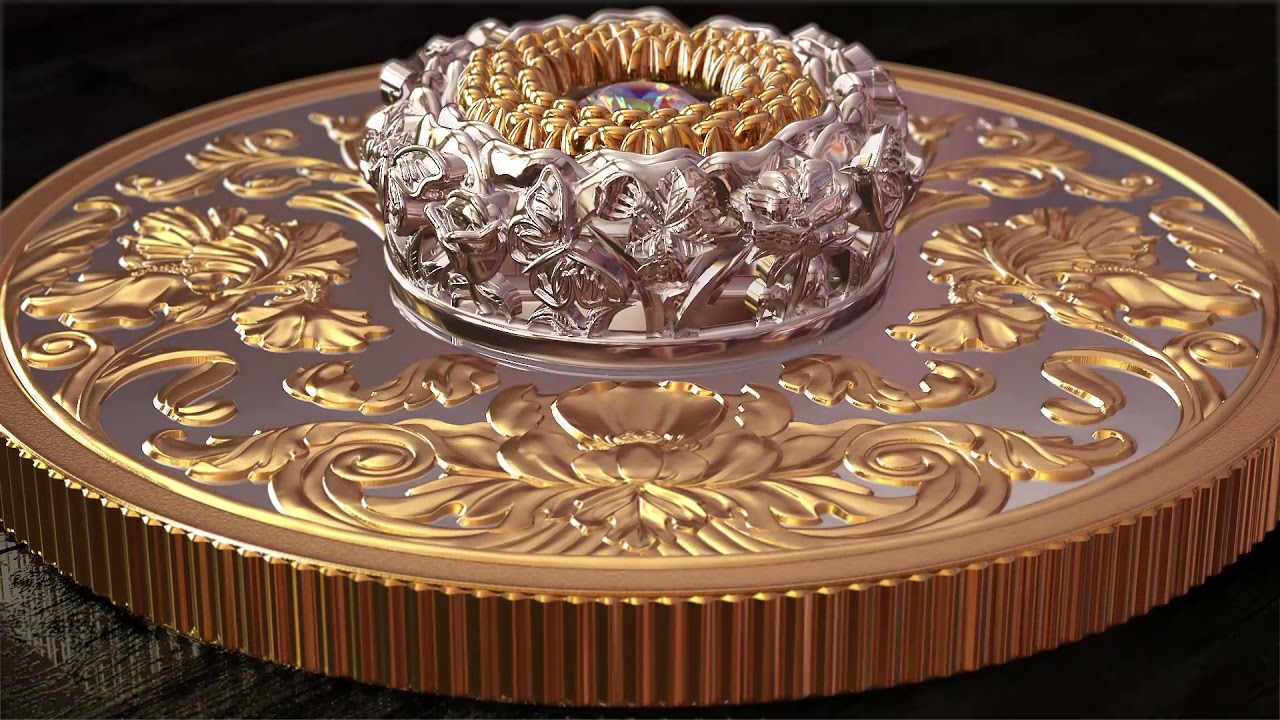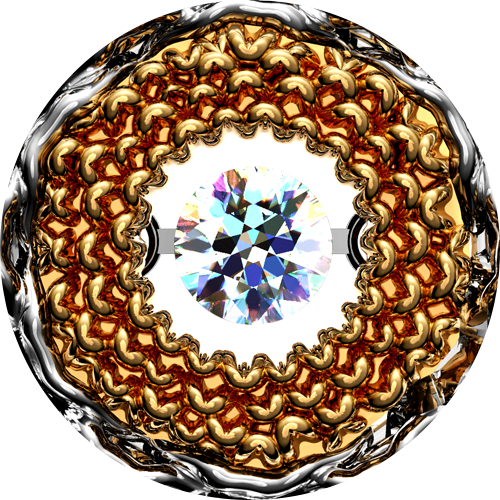 A genuine Canadian diamond
The centrepiece is a genuine Canadian-sourced FIRE AND ICE™ diamond that has been expertly cut and mounted to maximize its brilliance. Its movement and fire will dazzle you every time!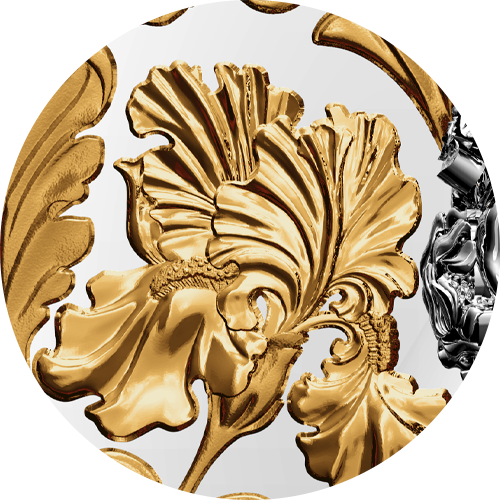 Selective gold plating
A first for this series, selective gold plating adds a luxurious colour contrast to the engraved design on both the obverse and reverse, and to the wreath of peony stamens that surrounds the diamond.
Intricate metalwork
As intricate as silver filigree jewellery, the diamond centrepiece's outer ring features an uplifting motif of flowers in bloom and butterflies in flight.
Composition
99.99 % pure silver with selective gold plating
Embellishments
Gems
Plating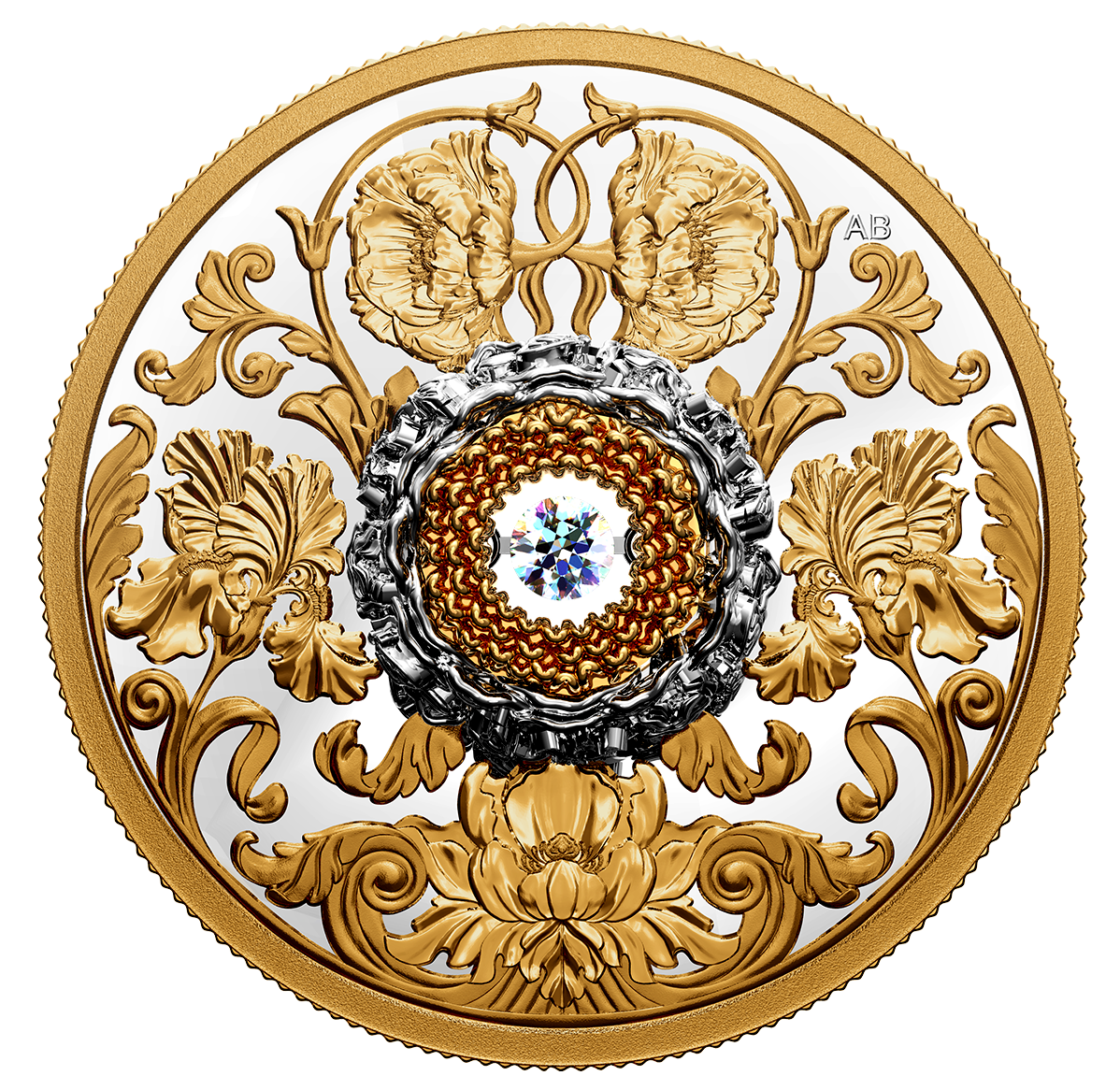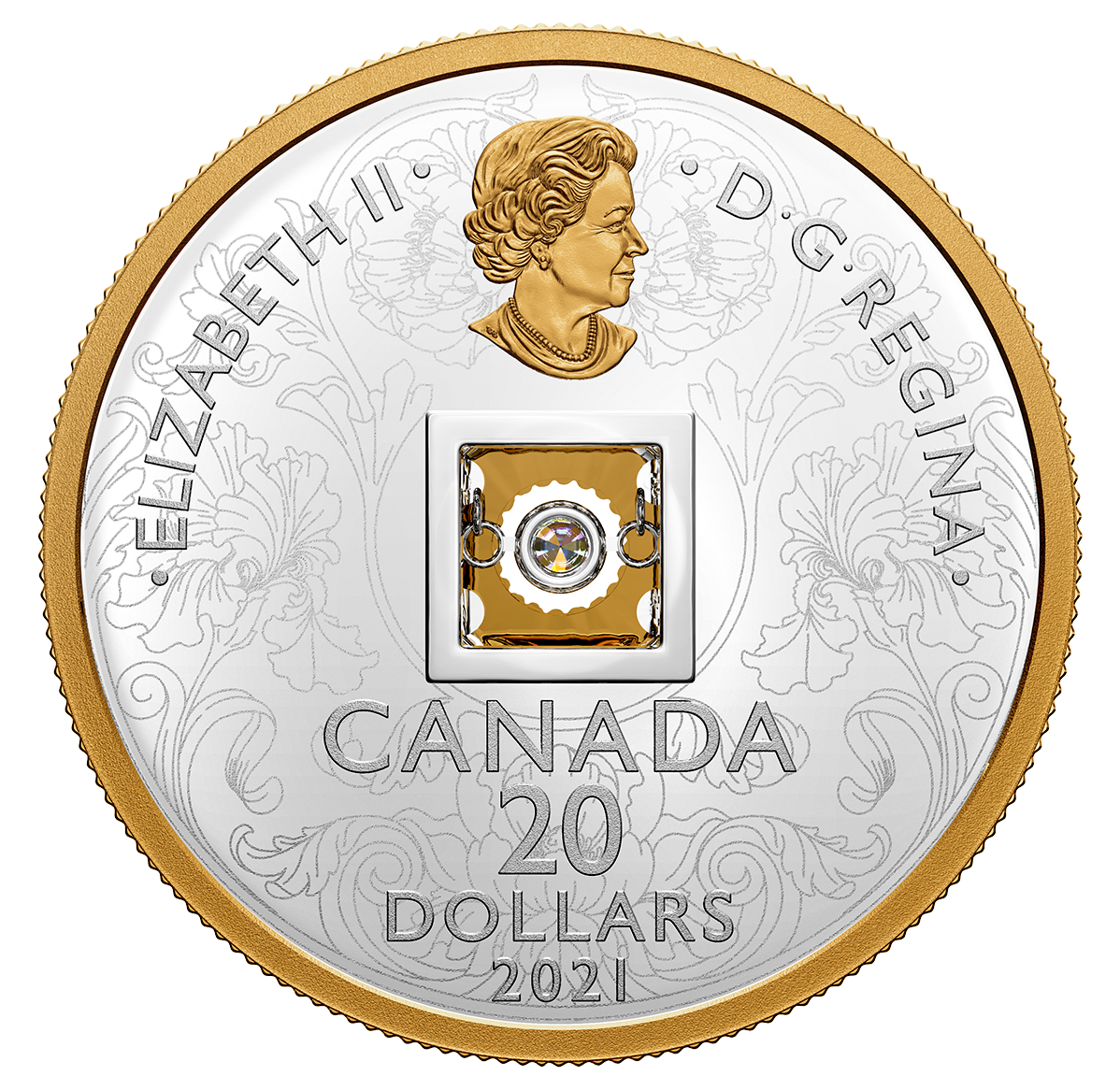 On your coin's reverse, the engraved design by Canadian artist Anna Bucciarelli features a selectively gold-plated arrangement of irises, peonies and acanthus leaves. The patented Dancing Diamond™ mount allows for a Canadian-sourced FIRE AND ICE™ diamond to be set within an open circle at the centre of the coin, where it catches the light with every movement. This diamond centrepiece is nestled among gold-plated peony stamens and surrounded by spring-themed filigree details, such as butterflies and flowers. The obverse features the selectively gold-plated effigy of Her Majesty Queen Elizabeth II by Susanna Blunt, as well as the text "CANADA", the face value of "20 DOLLARS", and the date "2021".
What do you want to know about this product?
Your product was successfully added to your collection.
The product could not be added