2022 Annual Favourites Subscription
2022 Annual Favourites Subscription
From $26.95 CAD per product
Masters Club:
270
Status:

CAN & US shipping only
Availability:

Out of stock in stores
Build a coin-collecting starter kit for someone you love!
To help you build a coin-collecting starter kit for someone you love, we've assembled the 2022 Annual Favourites Subscription, three of our favourite 2022 products that together make this year memorable. Steeped in tradition, each highlights the care and expertise we put into every product.
Inspire a future coin collector with the 2022 Annual Favourites Subscription.
3-product subscription. Subscribe today* and then relax knowing you will receive all three products, including the 2022:

Classic Canadian Uncirculated Set
Proof Silver Dollar
Specimen Set

Risk free. Each coin set is backed by the Royal Canadian Mint's 100% money-back satisfaction guarantee. And because each product ships one per month, you can cancel your order at any time with no obligation for the rest of the collection.

One stop shopping
We made it easy for you! Instead of searching the Royal Canadian Mint for three products that together make a perfect coin-collecting starter kit, simply order this subscription and then relax!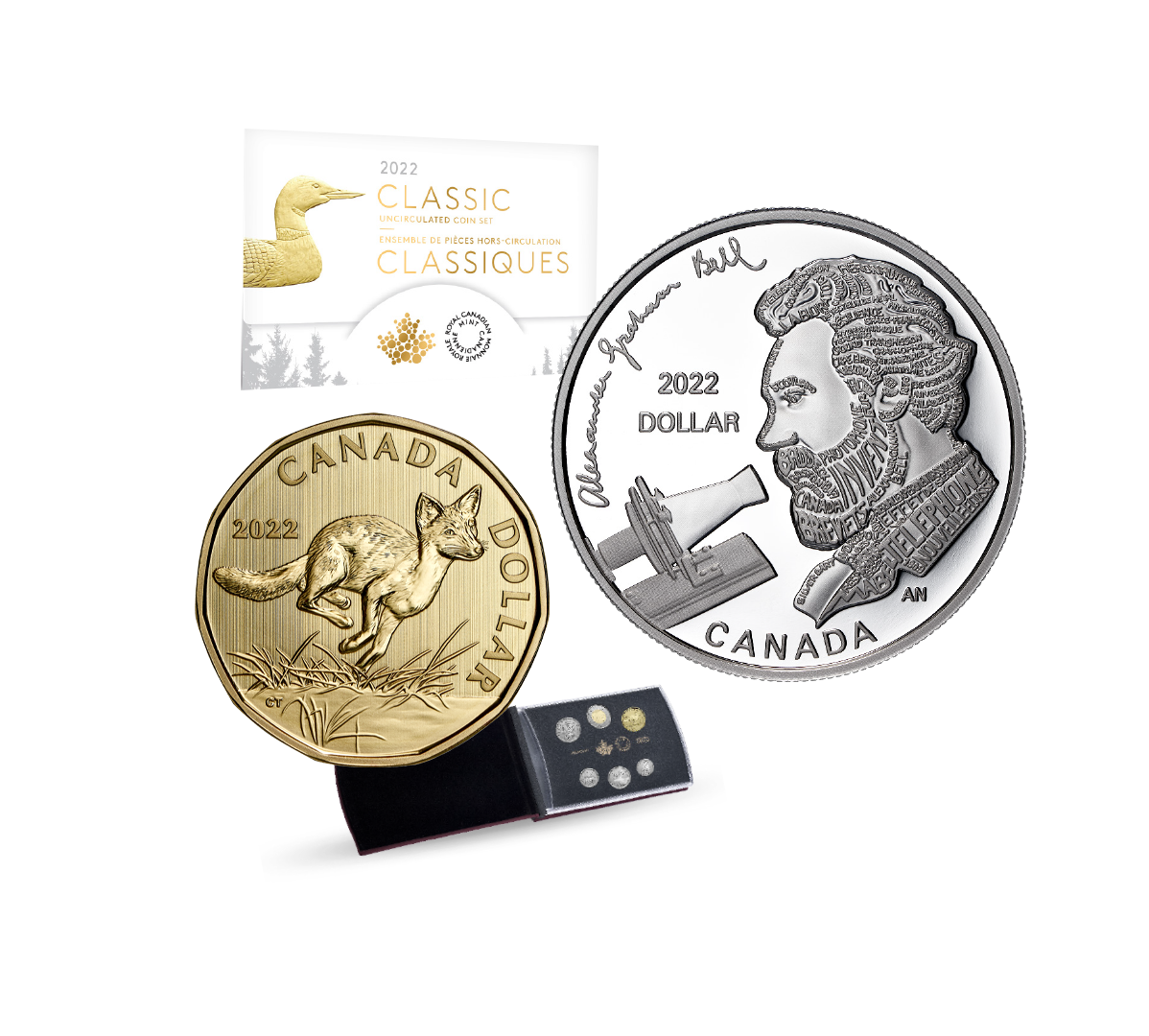 Your credit card is only charged when your product ships
To make the purchase of this subscription financially easier, your credit card is charged only when your product ships, meaning that the payment of your subscription is spread out over three months.
Classic Canadian Uncirculated Set (2022)
Price:

$26.95 CAD
Proof Silver Dollar
Price:

$69.95 CAD
Specimen Set (2022)
Price:

$59.95 CAD
Personality rights of ALEXANDER GRAHAM BELL are used with the permission of Alexander and Mabel Bell Legacy Foundation.
*Credit card purchases only, charged when each coin is shipped. The Royal Canadian Mint reserves the right to refuse or limit orders and to limit the total amount of subscribers to this series. The Mint also reserves the right to change its prices and product offerings without notice. After purchasing your first coin, you will automatically receive the subsequent coins when they are released. Coins may not be issued in the same order as listed above. Subscription agreement may be cancelled at your request at any time with a phone call or written notice to the Royal Canadian Mint. While quantities last.
What do you want to know about this product?
Your product was successfully added to your collection.
The product could not be added