5 oz. Fine Silver Coin – Relics of New France: Louis XIV 30 Deniers
5 oz. Fine Silver Coin – Relics of New France: Louis XIV 30 Deniers
$699.95 CAD
Pay up to 6 monthlyinstallments of $116.66 CAD.
Masters Club:
7,000
Status:

CAN & US shipping only
Shipping:

Expected to be shipped on Oct 03
A three-century old design replicated using the technologies of today. Own the replica and the relic.
This modern tribute revisits the 1711 Louis XIV 30 deniers featured on the 2021 Relics of New France gold piece and shows you the other side of the coin: the obverse! The monogram of the long-reigning King Louis XIV has been faithfully re-created on a 5 oz. 99.99% fine silver coin, which is presented alongside a genuine 30-deniers coin that instantly evokes images of life in New France.
Own a replica AND a relic! This two-coin set is an extraordinary tribute to an important coin in Canadian history.
Please note: We worked closely with our dealer network to source the original 30-deniers coins, which came pre-sealed in coin slabs. The coin slabs may have some surface scratches or contain dirt residue from the original coins. Each 30 deniers coin has been authenticated, and given its age, loss of detail is to be expected. We are pleased to offer this unique product as is. If, however, you are not fully satisfied with this unique product, the Royal Canadian Mint's 30-day return policy still applies.
Special features
A piece of history. This modern collectible re-creates the obverse of the Louis XIV 30 deniers coin that circulated in New France during the 18th

century.

An obverse on the reverse. The centuries-old monogram connects you to Canada's past, while the modern era is represented on the 2022 coin's obverse.
5 oz. of silver. This 65.25 mm coin is bigger in size than the original one and it has a much higher silver content (99.99%) too!
For the love of history and the hobby. This gorgeous piece is our way of honouring the history of currency in Canada, using the technologies of today.
Includes serialized certificate. The Royal Canadian Mint certifies all of its collector coins.
NO GST/HST.
Packaging
Your coin is encapsulated and presented in a Royal Canadian Mint-branded clamshell with a black beauty box. Inside the clamshell, a special insert holds both your fine silver coin and a genuine 30-deniers coin, which is sealed in a plastic coin slab.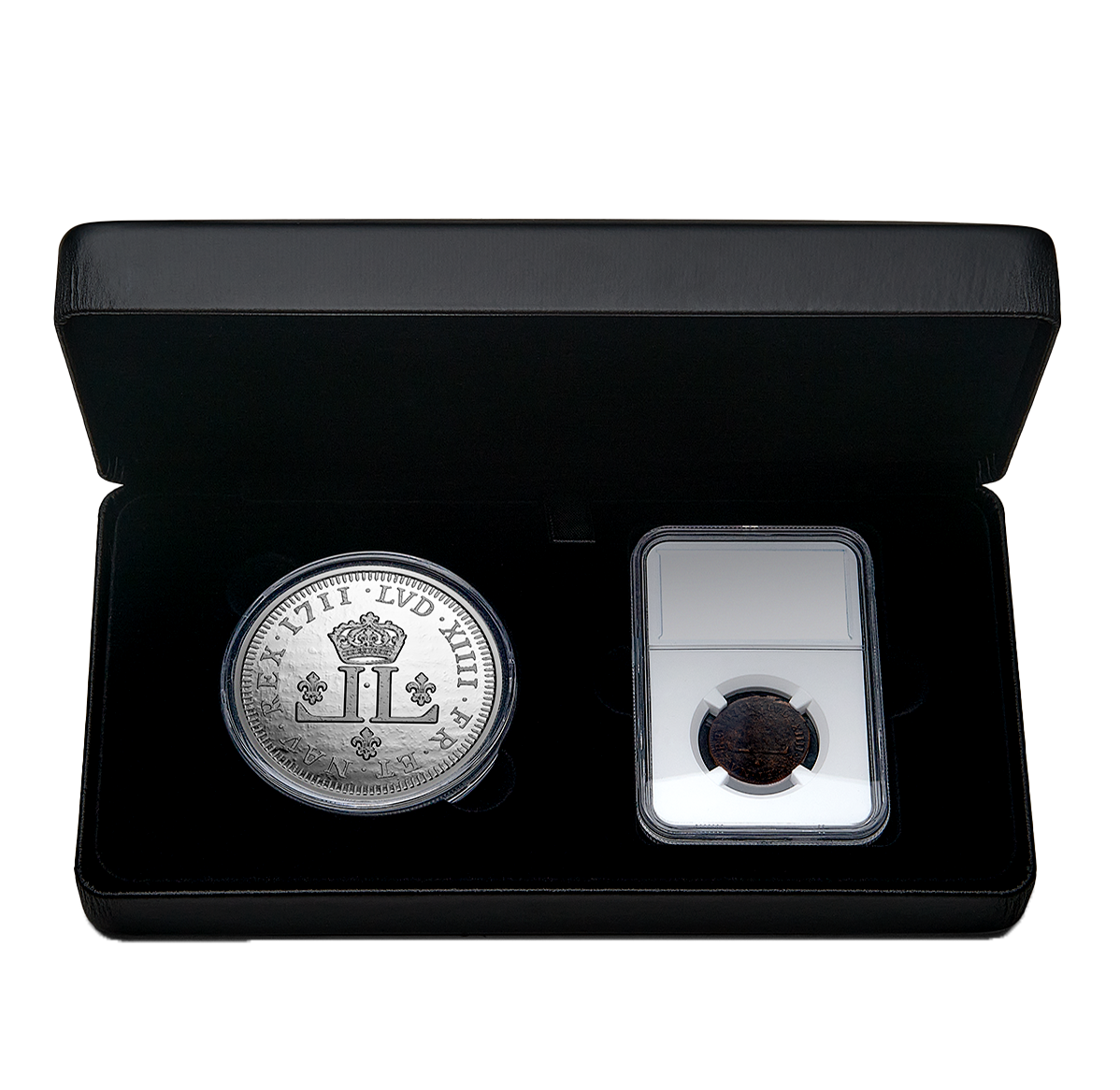 A genuine 30 deniers
Your fine silver coin comes with a genuine Louis XIV 30 deniers coin sealed in an authenticated coin slab. Both coins are enclosed in a black clamshell—perfect for side-by-side viewing.
New yet "aged"
Modern engraving techniques mimic the effects of time without interfering with the proof finish.
Composition
99.99% pure silver
Packaging
Black clamshell with black beauty box
Artist
Original design by Norbert Roettiers (reverse), Susanna Blunt (obverse)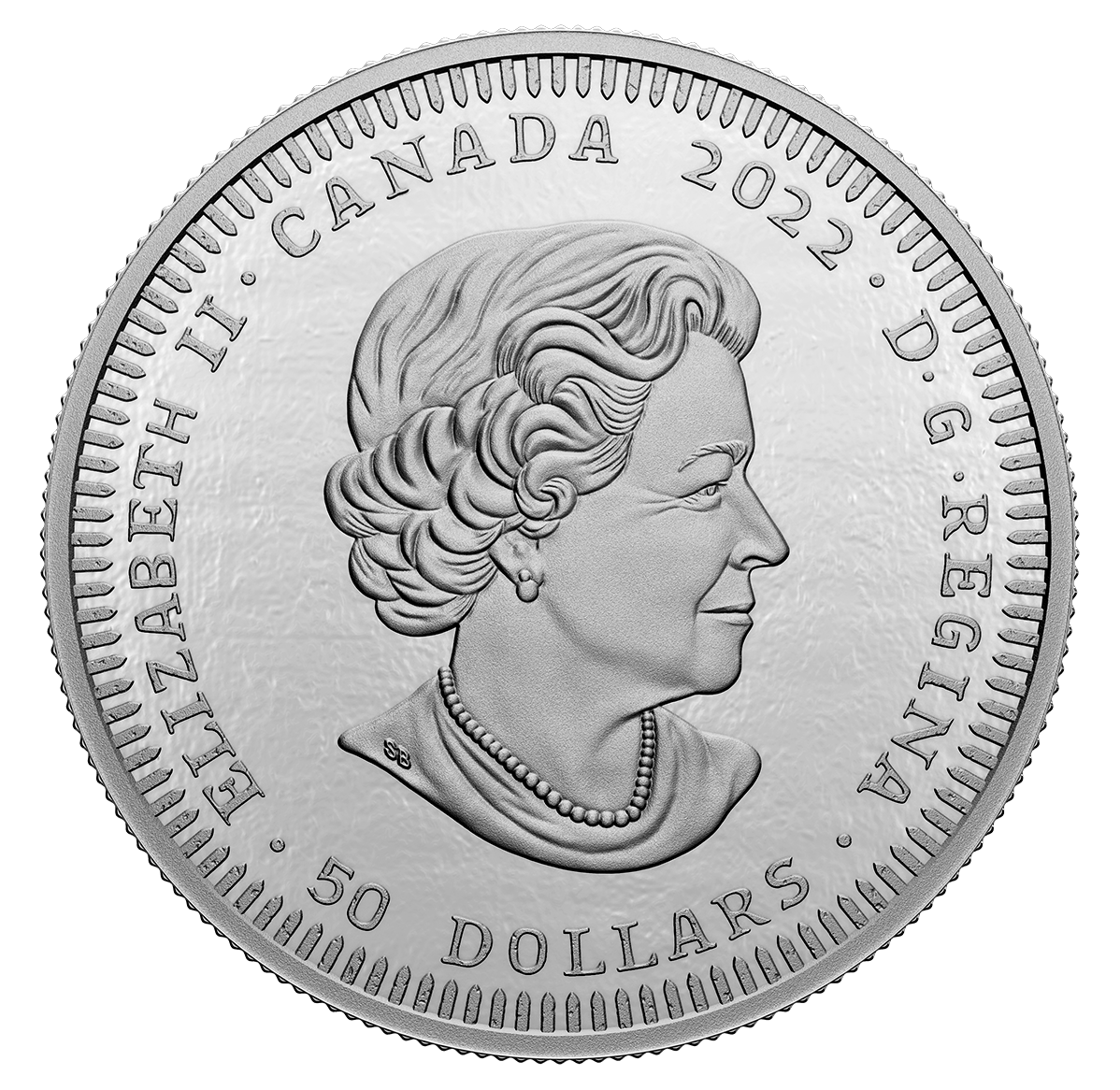 Your coin's reverse re-creates the Louis XIV 30 deniers obverse design by engraver Norbert Roettiers (1665-1727). It features the crowned doubled monogram of King Louis XIV of France flanked by three fleurs-de-lis, along with the Latin inscription "LVD · XIIII · FR · ET · NAV · REX · 1711" ("Louis XIV, by the grace of God, king of France and Navarre, 1711"). The obverse features the effigy of Her Majesty Queen Elizabeth II by Susanna Blunt.
What do you want to know about this product?
Your product was successfully added to your collection.
The product could not be added