5 oz. Pure Silver Six-Coin Subscription Series
5 oz. Pure Silver Six-Coin Subscription Series
From $599.95 CAD per product
Masters Club:
6,000
Status:

CAN & US shipping only
Availability:

Out of stock in stores
Subscribe to this six-part series that expands the stories told on our circulation coins.
Canada's circulation coins are a part of our everyday lives and collectors have come to know every design element and variation. But what if these familiar images only told part of the story?
The successor to our popular Big Coin series, The Bigger Picture zooms in on Canada's circulation coins and zooms out to reveal there's a lot more story to discover! Like a coin within a coin, each circulation design is re-created on a larger 5 oz. fine silver piece that provides an extended canvas for the engraved-only art.
Pull back and see the bigger picture on these six coins. Subscribe to the series today! Not available as singles!
Exclusive subscription. Subscribe today* and you can rest easy knowingyou'll receive all six coins in The Bigger Picture series. Your subscription includes:

Coin #1: Bluenose (priced at $599.95)
Coin #2: Beaver (priced at$599.95, expected ship date of March 2022)
Coin #3: Caribou (priced at $599.95, expected ship date of May 2022)
Coin #4: Coat of Arms (priced at $599.95, expected ship date of July 2022)
Coin #5: Loon (priced at $599.95, expected ship date of September 2022)
Coin #6: Polar Bear (priced at $599.95, expected ship date of November 2022)

Low mintage. An exciting collecting opportunity for those who love Canada's circulation coins with a limited mintage. Only 1,300 coins are available worldwide.
Includes serialized certificate. The Royal Canadian Mint certifies all of its collector coins.
No GST/HST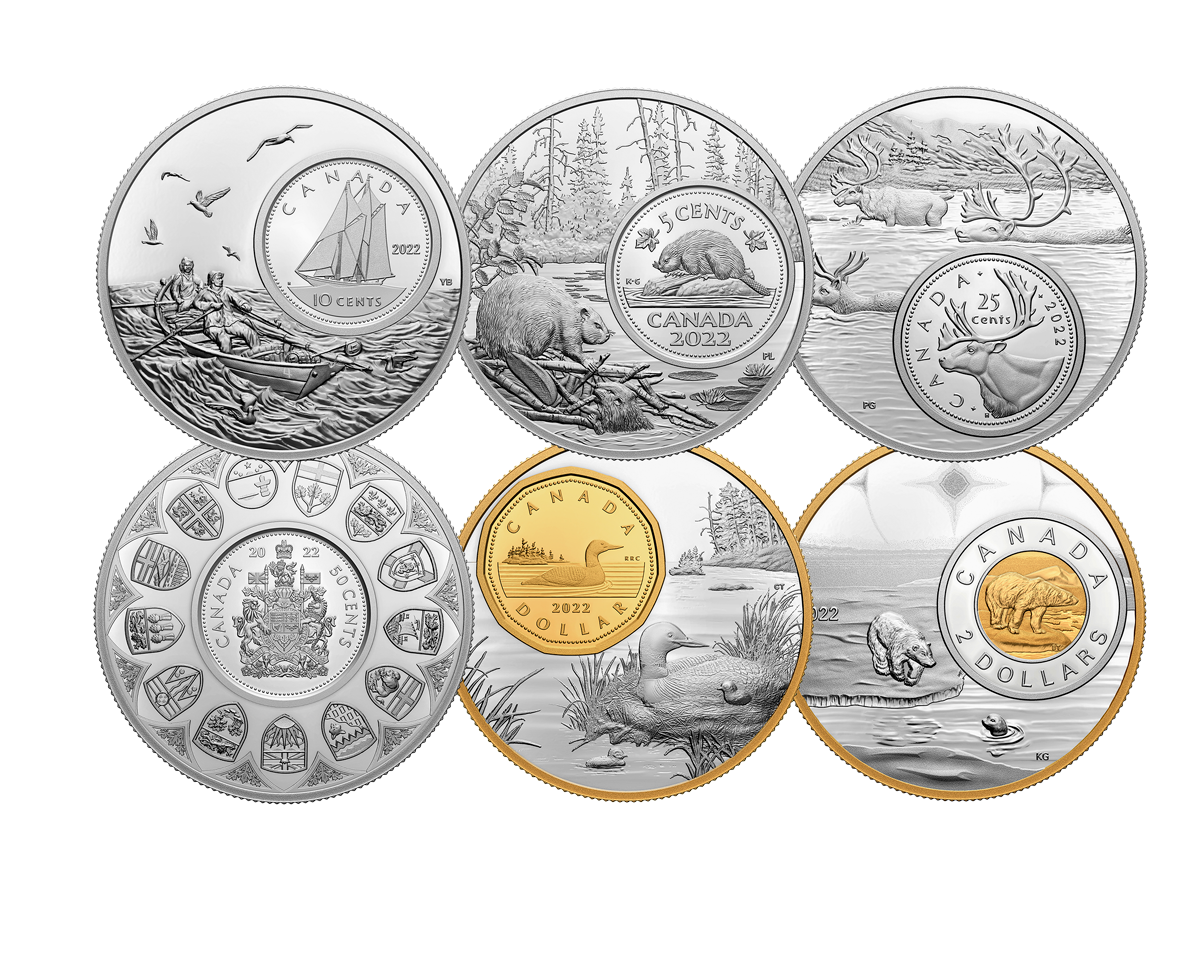 5oz. of pure silver
Each of these coins is crafted from five ounces of the world's finest silver (99.99% pure). That high silver content gives each coin a diameter of 65.25 mm and a metal weight of 157.6 g – the same as our popular Big Coin series – and that provides ample room for complex engraving and captivating designs.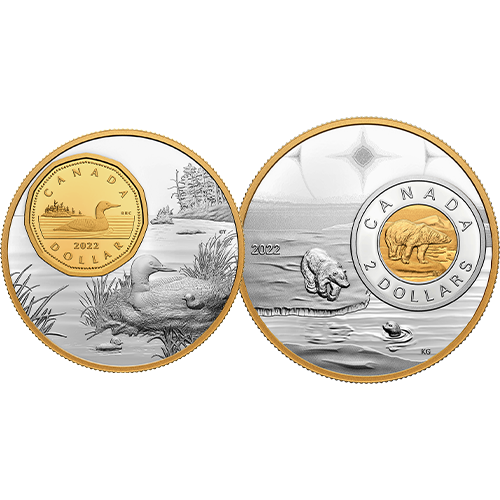 Gold plating on coin 5 and 6
Selective gold plating adds a dazzling gleam to our finely engraved homage to the Loon and Polar Bear coins. It's an upscale feature that mimics the look of the old-time favourite circulation coin designs.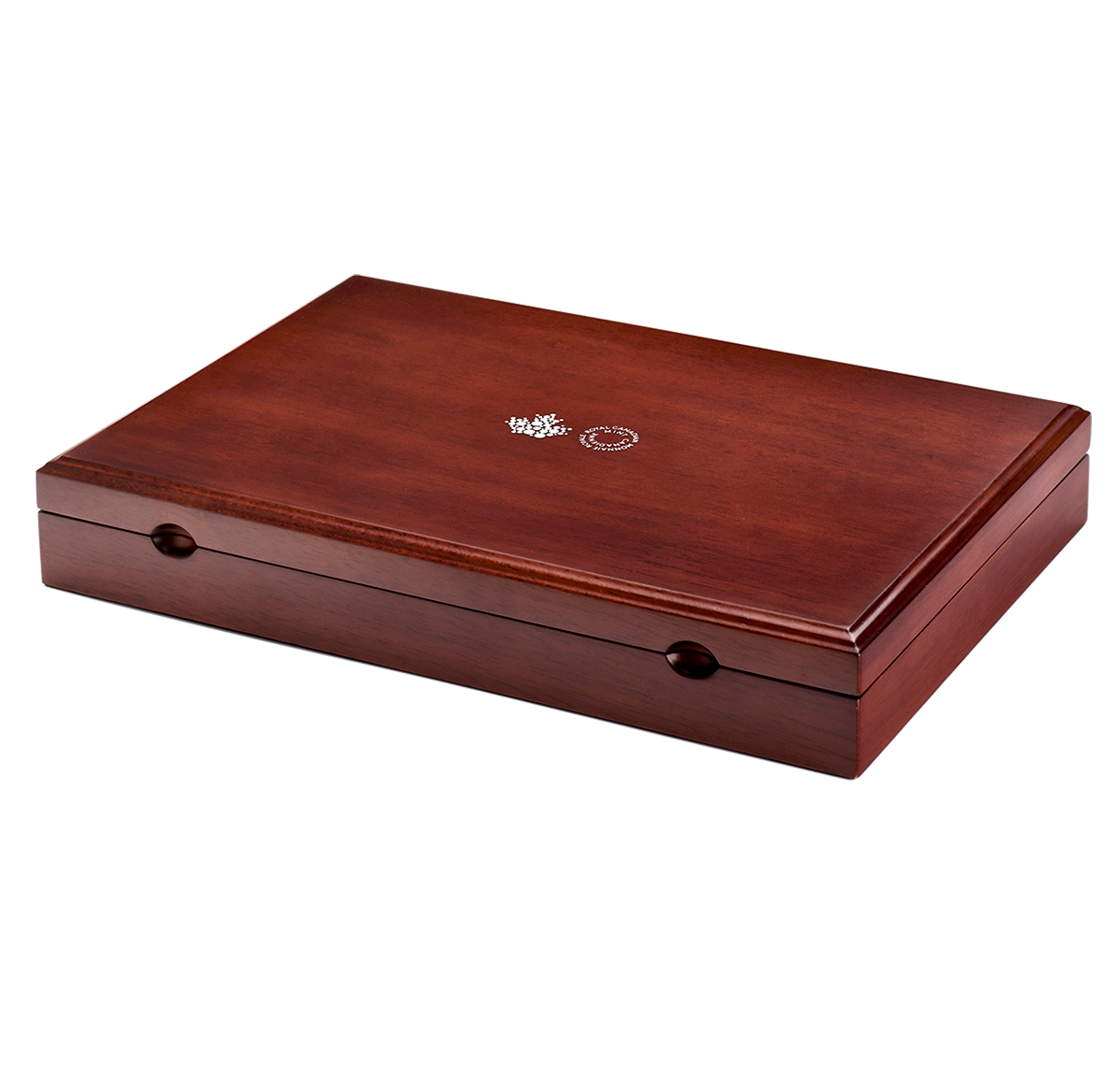 Special subscription case
Coin #3 comes packaged in a gorgeous wooden display case that contains an insert for all six coins. The other 5 coins in the series are individually shipped in die-cut (clear plastic sleeve) that serve as temporary holders until the coins can be added to your display case.
Composition
99.99% pure silver
Bluenose
Price:

$599.95 CAD
Caribou
Price:

$599.95 CAD
Coat of Arms
Price:

$599.95 CAD
Polar Bear
Price:

$599.95 CAD
'Bluenose' is an official mark adopted and used by the Nova Scotia Department of Communities, Culture and Heritage pursuant to the Trademarks Act (Canada). It is used by the Royal Canadian Mint with the Department's permission.
*Credit card purchases only, charged when each coin is shipped. The Royal Canadian Mint reserves the right to refuse or limit orders and to limit the total amount of subscribers to this series. The Mint also reserves the right to change its prices and product offerings without notice. After purchasing your first coin, you will automatically receive the subsequent coins when they are released. Coins may not be issued in the same order as listed above. Subscription agreement may be cancelled at your request at any time with a phone call or written notice to the Royal Canadian Mint. While quantities last.
What do you want to know about this product?
Your product was successfully added to your collection.
The product could not be added