Best Wishes On Your Wedding Day - 1 oz. Pure Silver Coin with Pink Gold Plating
Best Wishes On Your Wedding Day - 1 oz. Pure Silver Coin with Pink Gold Plating
Masters Club:
1,200
Status:

CAN & US shipping only
Availability:

Out of stock in stores
Going to a wedding this year? Need a special gift they will enjoy forever? Then celebrate that special moment in a couple's love story with this pure silver coin!
"Now join your hands, and with your hands your hearts." -- William Shakespeare, 3 Henry VI (4:6)
It can be heard in the subtle softness of one's voice and touch; the smiles and laughter that linger between a couple long after the story has been told. Love can inspire displays of affection thatcan send the heart racing, just as it can be found in the smallest of everyday gestures.
To truly love someone is to cherish them, to see the best in that person and value them for who they are; from the wordless communication of a gaze to the spellbinding chemistry of a kiss, the love shared between two people is a precious gift that once found, should be celebrated and nurtured.
Some traditions may differ between cultures or change across the generations, but the idea of marriage still rings true as much today as it did in the past: it is about two individuals celebrating their commitment to one another, and the deeper connection they share. Hand in hand, they mark their love with a celebration in which they vow to love one another, to be joined as one to face life's agonies, joys, challenges and tender rewards together –for these are the moments that help write the chapters of each couple's love story.
This year, give the wedding gift that friends and family will treasure forever!
A limited mintage of 10,000 coins available worldwide will make this a sought-after item for collectors.
A unique way to add a little "love" to your collection with a coin that carries deep, personal meaning, and may represent something unique to each person that views it.
A beautiful way to commemorate an important milestone in a couple's life or celebrate the beautiful bond shared with one who is greatly loved.
Packaging
Your coin is encapsulated and presented in a premium graphic box that will impress everyone with its beautiful appearance.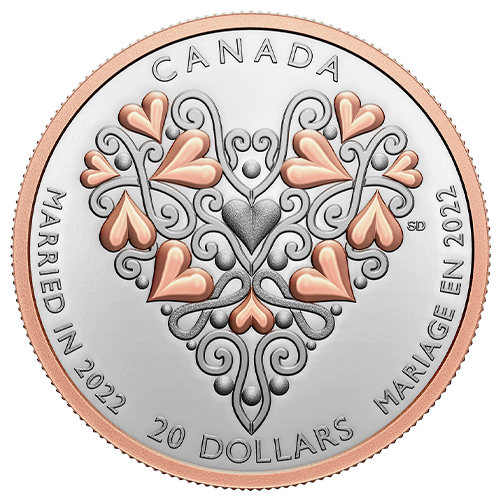 Elegant engraving
This 99.99% pure silver coin features a poignant celebration of love and marriage. This coin is expertly engraved and wonderfully showcased by the coin's proof finish.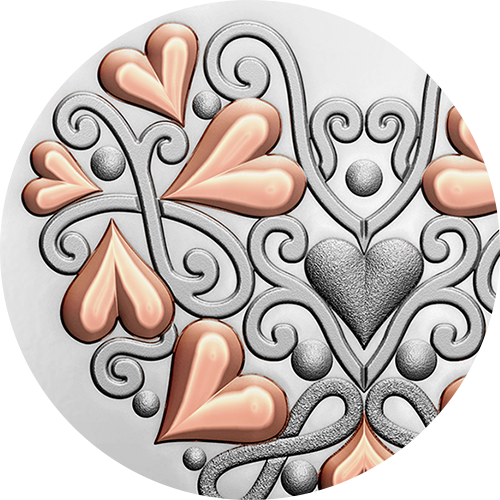 Pink gold plating
Selective pink gold plating brings to life the intricately patterned heart on the reverse, as well as the effigy of Her Majesty Queen Elizabeth II on the obverse.
Composition
99.99% pure silver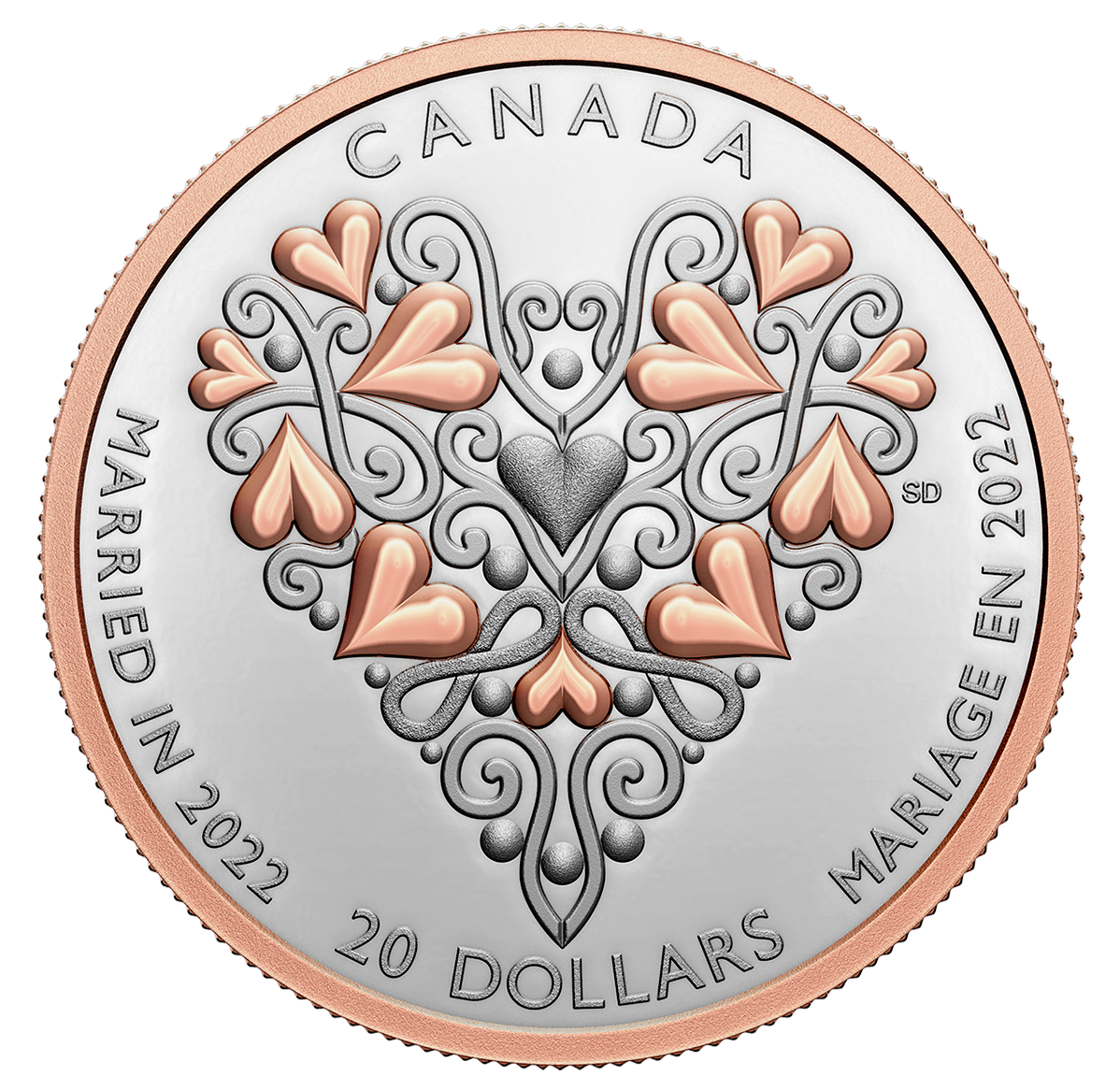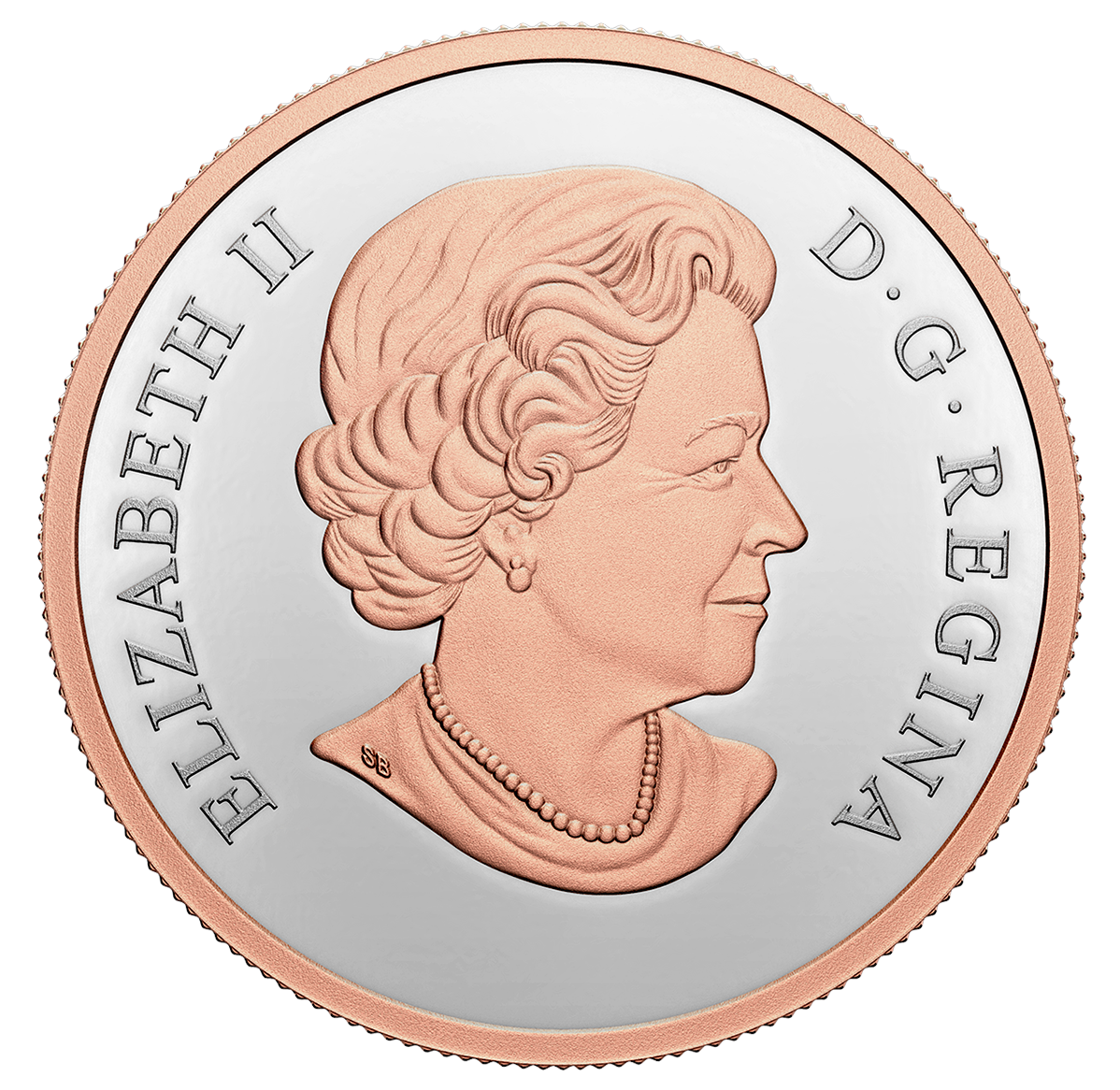 This pink gold-plated $20 coin is 99.99% pure silver, with a diameter of 38 millimetres and a metal weight of 31.39 grams. The reverse design by Canadian artist Sylvie Daigneault is a beautiful celebration of love and an artistic ode to marriage–an occasion when two individuals mark their commitment to one another. Fittingly, two different design elements—hearts and arabesque-style scrolls—come together in one intricately engraved pattern that forms a large heart shape. Also engraved on the reverse is the year "2022", the word "CANADA" and the face value "20 DOLLARS". The obverse features a pink gold-plated effigy of Her Majesty Queen Elizabeth II by Susanna Blunt.
What do you want to know about this product?
Your product was successfully added to your collection.
The product could not be added