Kilo Pure Gold Coin – Lunar Year of the Rabbit
Kilo Pure Gold Coin – Lunar Year of the Rabbit
$99,500.00 CAD
Pay up to 6 monthlyinstallments of $16,583.33 CAD.
Masters Club:
995,000
Status:

CAN & US shipping only
Availability:

Out of stock in stores
Welcome the Year of the Rabbit with this 99.99% pure gold kilo coin. Please call to order yours today.
The noble Rabbit is a cherished symbol of longevity, abundance and prosperity, and in Chinese folklore, it is the trusted companion of Chang'e, the goddess of the moon. People born in the Year of the Rabbit are kind, creative, sociable and peaceful; yet, behind that gentle smile lies great strength and a readiness to take swift action. The Rabbit is known for its attention to detail, and in a year associated with the Water element, it has the added ability to adapt to different situations in order to obtain the best possible outcome.
May the Year of the Rabbit (2023) bring you serenity, joy and prosperity. Celebrate the Lunar New Year with this auspicious pure gold kilo coin that carries a blessing of vitality and longevity. Please call to order yours today!
Special features
Second coin in new lunar series. Celebrate the Year of the Rabbit (2023) with the second coin in an annual series that honours the 12 signs of the Chinese zodiac. Each coin features a round shape that symbolizes harmony.
A very low mintage. Mintage is limited to just 38 coins that are available to collectors worldwide. It's an exclusive collectible that is a must-have for collectors who have an eye for beauty, a love of craftsmanship and an interest in rare numismatic treasures.
Includes serialized certificate. The Royal Canadian Mint certifies all of its collector coins.
NO GST/HST

Packaging
For an elegant presentation, your Lunar Year of the Rabbit gold kilo coin is housed in a red lacquered wood case with a red outer box, evoking the Chinese New Year custom of gifting "lucky money" in a red envelope.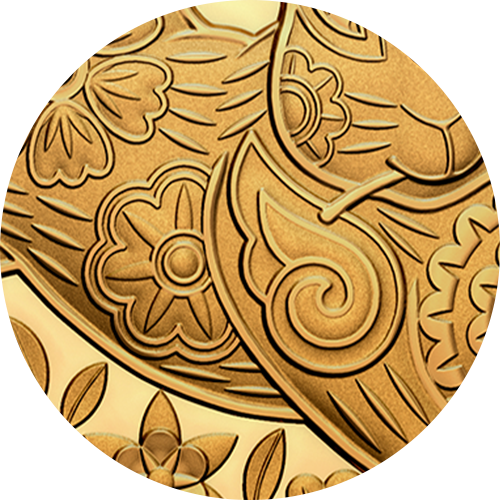 Your lucky rabbit
Your coin features an intricate design filled with auspicious symbols to attract good fortune in 2023 and to honour those born in the Year of the Rabbit (1927, 1939, 1951, 1963, 1975, 1987, 1999, 2011 and 2023).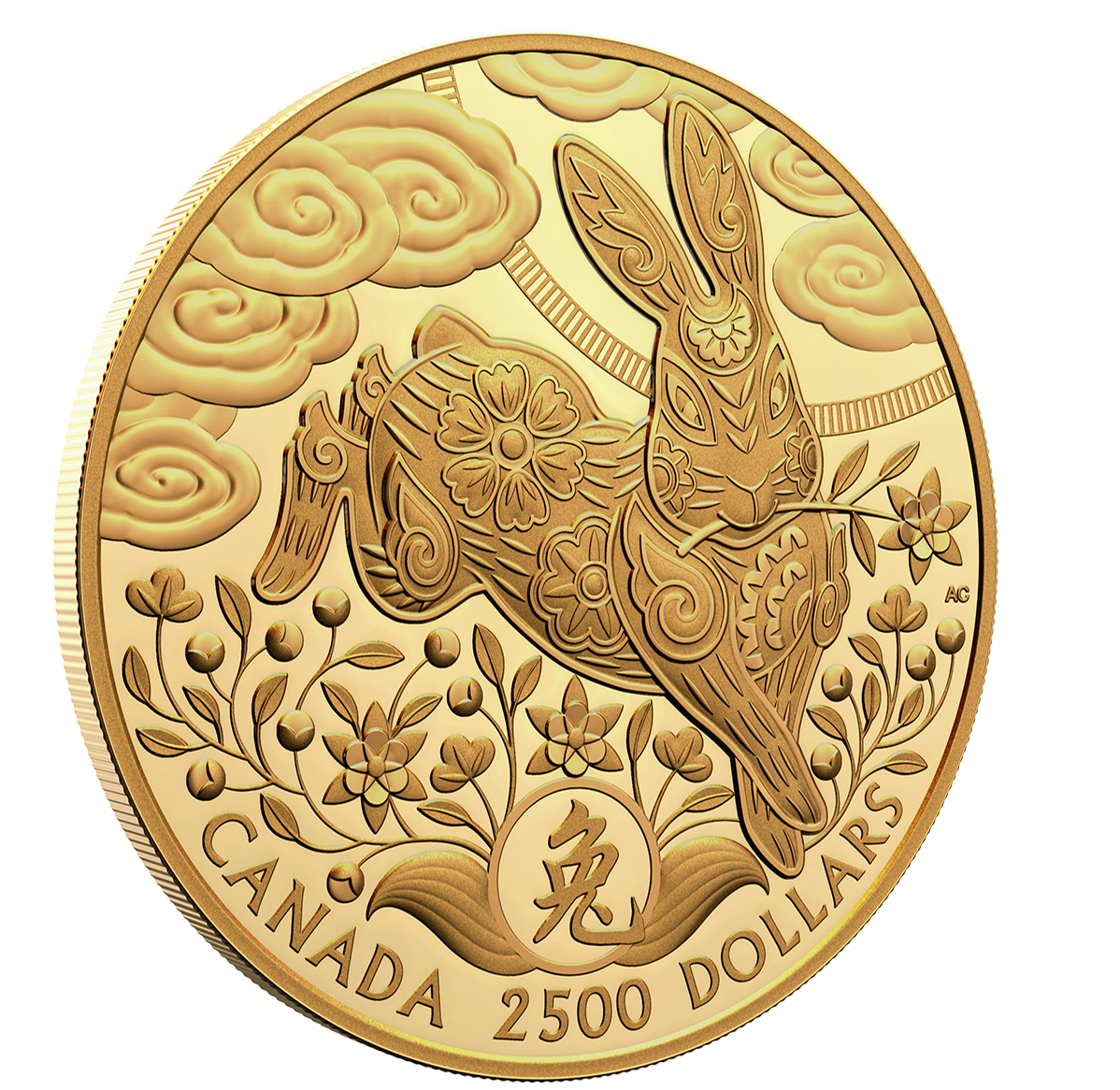 One kilogram of 99.99% pure gold
This large coin (102 mm) features precision-engraved art, a mix of special frostings and a mirror-like proof finish that emphasizes the luminous gleam of 99.99% pure gold.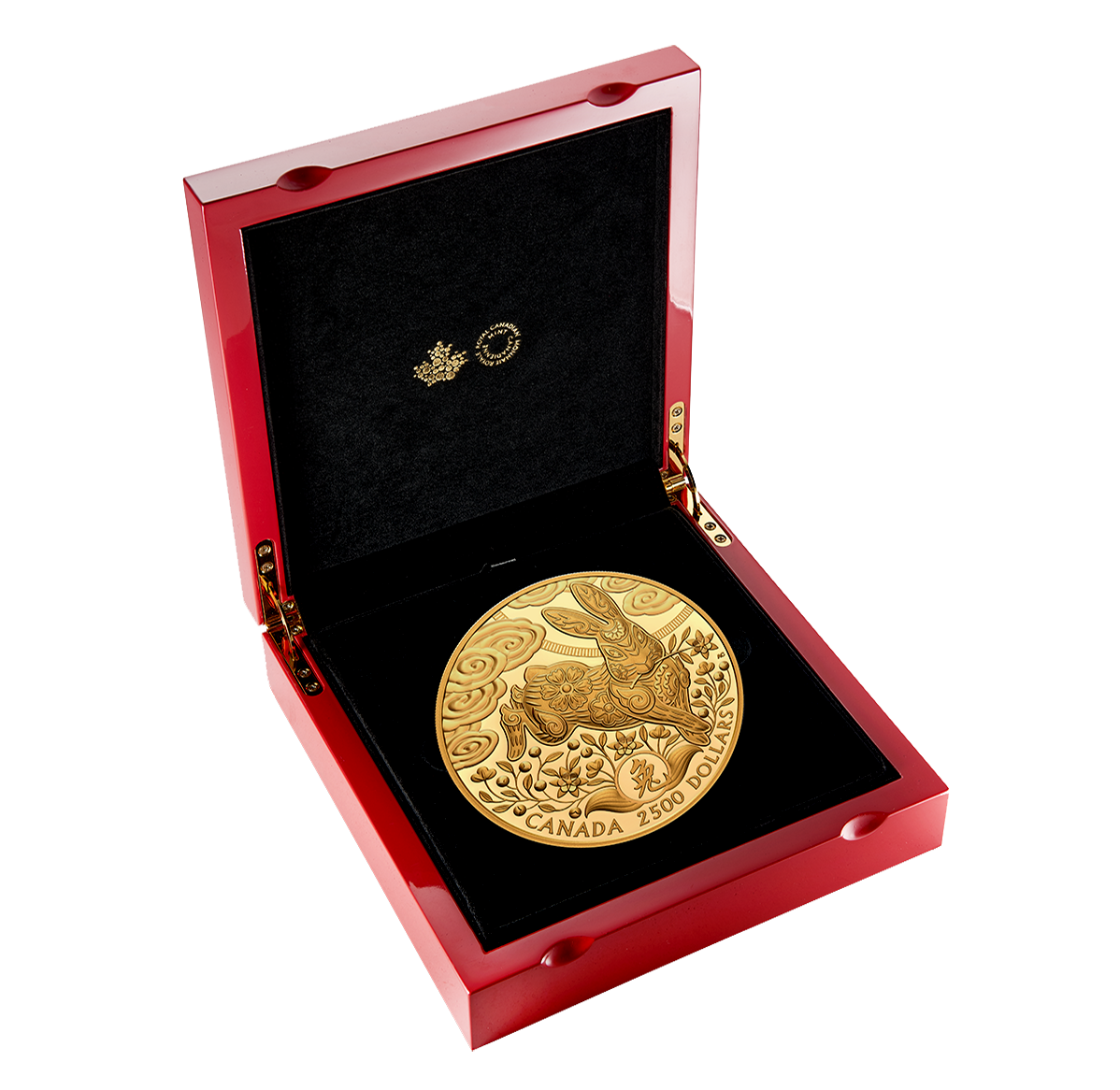 Luxurious packaging
Your gold kilo coin is encapsulated and elegantly presented in a luxurious red lacquered wooden case with a red beauty box, evoking the Chinese New Year custom of gifting "lucky money" in a red envelope.
Composition
99.99% pure gold
Packaging
Red lacquered wood case with custom red beauty box
Artist
Aries Cheung (reverse), Susanna Blunt (obverse)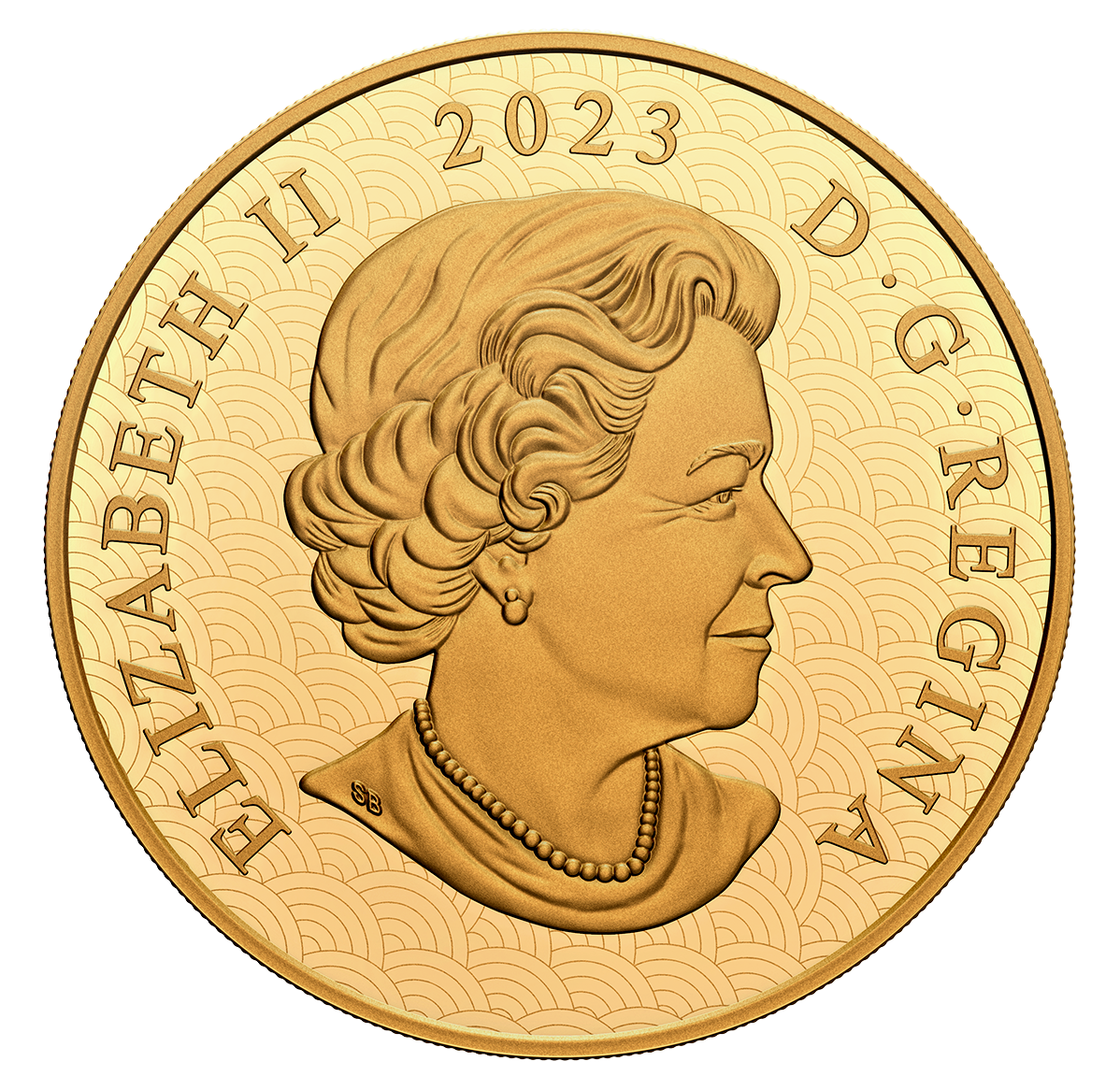 Inspired by traditional Chinese folk art and folklore, the reverse design by artist Aries Cheung features a depiction of the Jade or Gold Rabbit, adorned with wing motifs that speak to the Rabbit's traditional association with the moon, nature, healing and wellbeing. Sent by Chang'e, the goddess of the moon, the noble Rabbit carries medicinal herbs in its mouth, as it completes its healing mission on earth. The Chinese character for "Rabbit" is nestled among flowers and cinnamon leaves, while above, the auspicious cloud pattern and Flower Moon imply a blessing of vitality, longevity and prosperity. The reverse also includes the word "CANADA" and a face value of "2500 DOLLARS". The obverse features the effigy of Her Majesty Queen Elizabeth II by Susanna Blunt and a repeating scallop pattern.
What do you want to know about this product?
Your product was successfully added to your collection.
The product could not be added