Lenticular Coin – Santa's Sleigh
Lenticular Coin – Santa's Sleigh
Masters Club:
300
Status:

CAN & US shipping only
Make the holidays merry and bright with this lenticular coin.
Step inside Santa's workshop! It's Christmas Eve at the North Pole, and while Santa Claus is busy putting on his red suit, these elves are loading toys and gift boxes onto his sleigh. This lenticular coin offers a sneak peek at preparations for Santa's annual gift delivery. His magical helpers are working as fast as they can, but look out! When the coin is tipped, the elves will have to act quickly to catch those falling boxes.
Create some magic and memories with this fun holiday coin.
Special features
Loading Santa's sleigh. Add some holiday magic to your collection with this whimsical collectible, which will surprise and delight revelers for years to come.
One of our most affordable coins. Priced at just $29.95, this holiday-themed coin was made for sharing and cherishing.
A 2022 holiday keepsake. A superb addition to any lenticular or holiday-themed collection, this fun-for-all-ages coin is the perfect 2022 holiday keepsake, and it makes for a great gift or stocking stuffer too!
Includes certificate. The Royal Canadian Mint certifies all of its collector coins.
Packaging
Your coin is encapsulated and presented in a Royal Canadian Mint-branded clamshell with a black beauty box.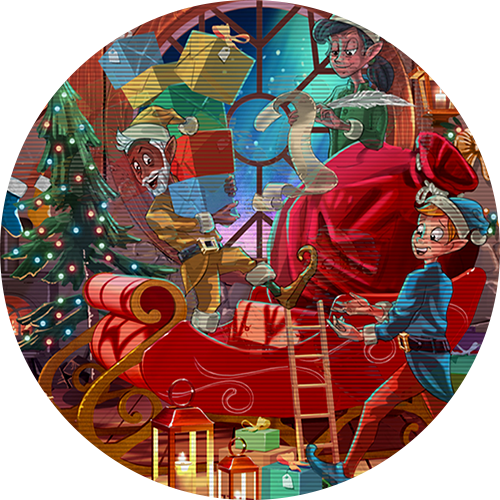 A playful design
Take a sneak peek inside Santa's workshop—see how the elves are checking the list (twice) and loading Santa's magical sleigh! It's a colourful, festive scene that is sure to put a smile on your face.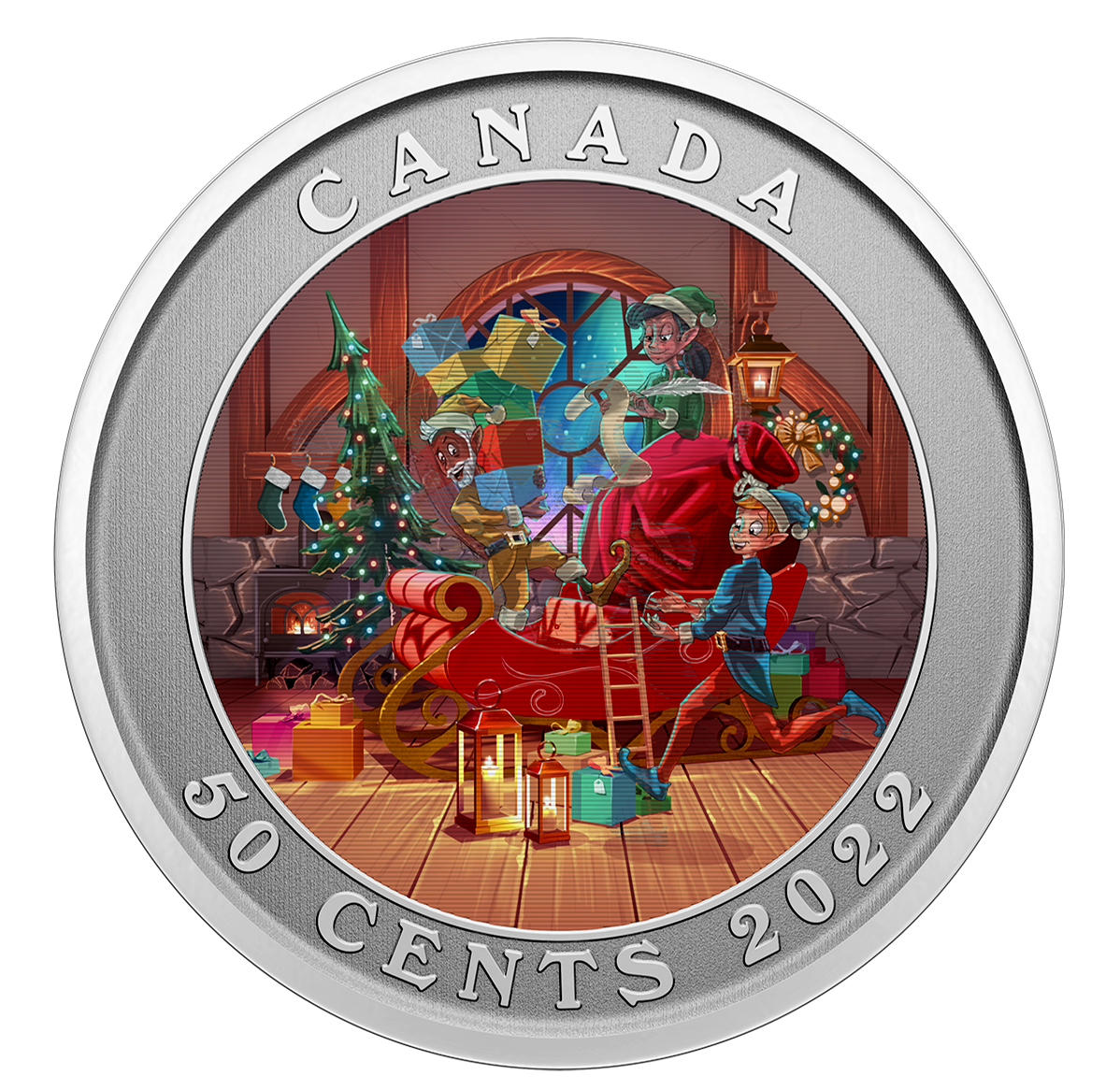 Motion-filled reverse
Your coin is crafted in colour using the latest lenticular technology to deliver fluid, uninterrupted movement. Simply tip the coin to change your viewing angle, and the scene suddenly shifts as some of the gifts accidentally slip from the top of the pile!
Composition
Nickel plated steel
Packaging
Black clamshell with black beauty box
Artist
Jesse Koreck (reverse), Susanna Blunt (obverse)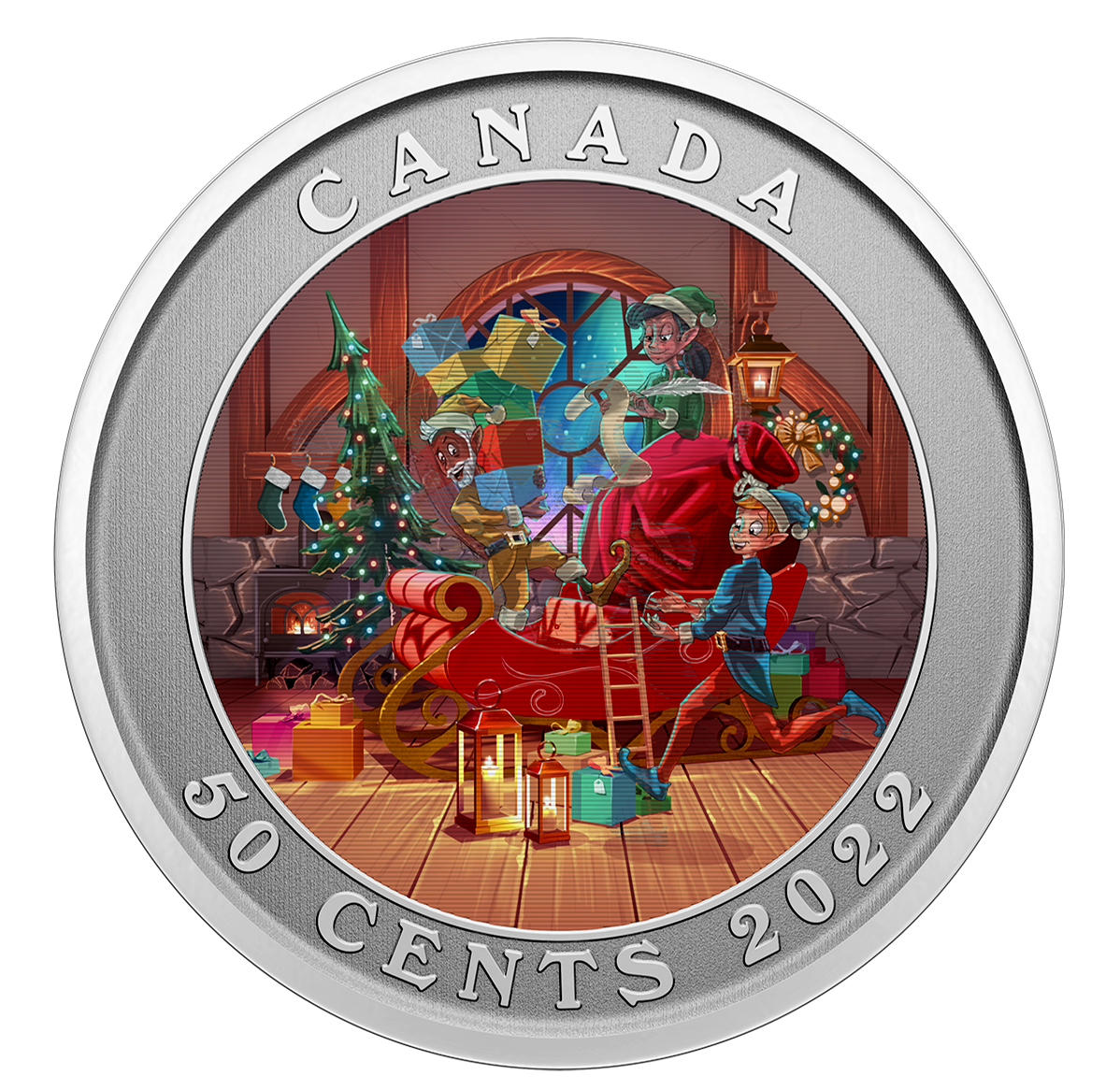 Designed by Canadian artist Jesse Koreck, your coin's reverse is enhanced with lenticular technology, which creates a sense of motion through the seamless transition between two interlaced colour images. Both images capture the excitement and activity at the North Pole on Christmas Eve, as Santa's industrious elves load toys and gift boxes onto his magical sleigh. While one helper is checking the list, the elf in the foreground races to assist another with a stack of gifts; when the coin is tipped, the second image shows the panic on the elves' faces as some of the gifts fall from the top of the pile. The obverse features the effigy of Her Majesty Queen Elizabeth II by Susanna Blunt.
What do you want to know about this product?
Your product was successfully added to your collection.
The product could not be added