Pure Gold One Kilogram Coin - Lunar Year of the Tiger
Pure Gold One Kilogram Coin - Lunar Year of the Tiger
Masters Club:
1,050,000
Status:

CAN & US shipping only
Availability:

Out of stock in stores
An auspicious start to the new year! Welcome the Year of the Tiger with this 99.99% pure gold kilo coin!
The new Royal Canadian Mint Lunar series begins in 2022, the Year of the Tiger, and the king of all beasts has never looked more fearless than on this kilo-sized 99.99% pure gold masterpiece.
Much like the noble creature itself, those born in the year of the Tiger are strong, courageous and capable. They are natural leaders with a penchant for adventure and a desire to live life to the fullest. In a year associated with the Water element, they are also adaptable and open to new opportunities. Though the Water Tiger craves new experiences, it remains hard working, driven and dependable — a mighty combination that can lead to great success and fortune.
Ready to face new challenges, your bold Tiger spirit is worthy of a big celebration in 2022.
Highly exclusive - only 33 minted. Just 33 of these coins are available to collectors worldwide. This exclusive collectible is a must-have for collectors who have an eye for beauty, a love of craftsmanship and an interest in rare numismatic treasures.
Your lucky tiger. To attract good luck for 2022, your coin features an intricate design filled with auspicious symbols, especially for a person born in 1926, 1938, 1950, 1962, 1974, 1986, 1998, 2010 and 2022.

Includes serialized certificate. The Royal Canadian Mint certifies all of its collector coins.
No GST/HST
Packaging
For an elegant presentation, your Lunar Year of the Tiger coin is housed in a red lacquered wood case with a red outer box, evoking the Chinese New Year custom of gifting "lucky money" in a red envelope.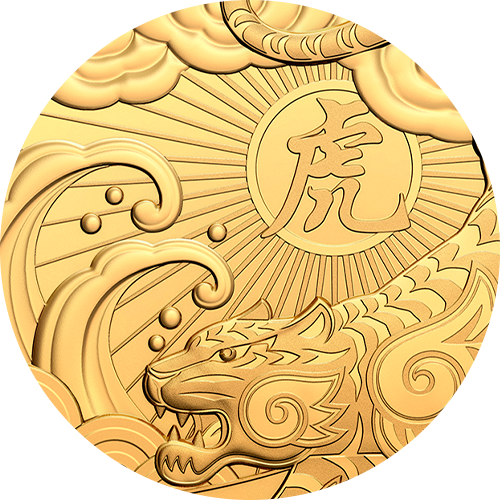 New lunar series, new shape
Our Lunar Lotus series ended with the Year of the Ox (2021). This coin marks the start of a new 12-year series of coins featuring a round shape that symbolizes harmony.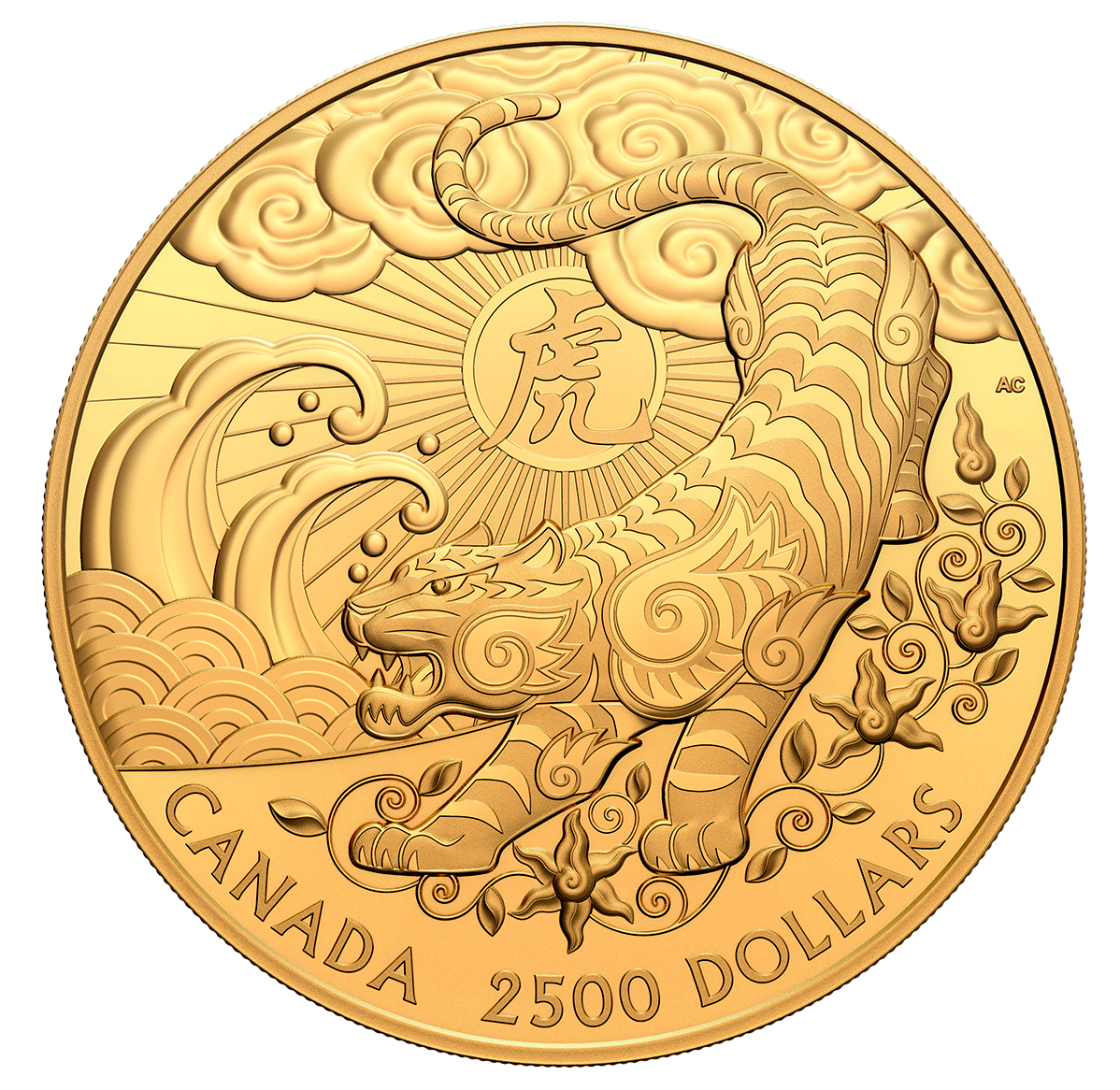 One kilogram of 99.99% pure gold
This large coin (102 mm) features precision-engraved art, a mix of expertly applied frostings and a mirror-like proof finish that highlights the refined beauty of 99.99% pure gold.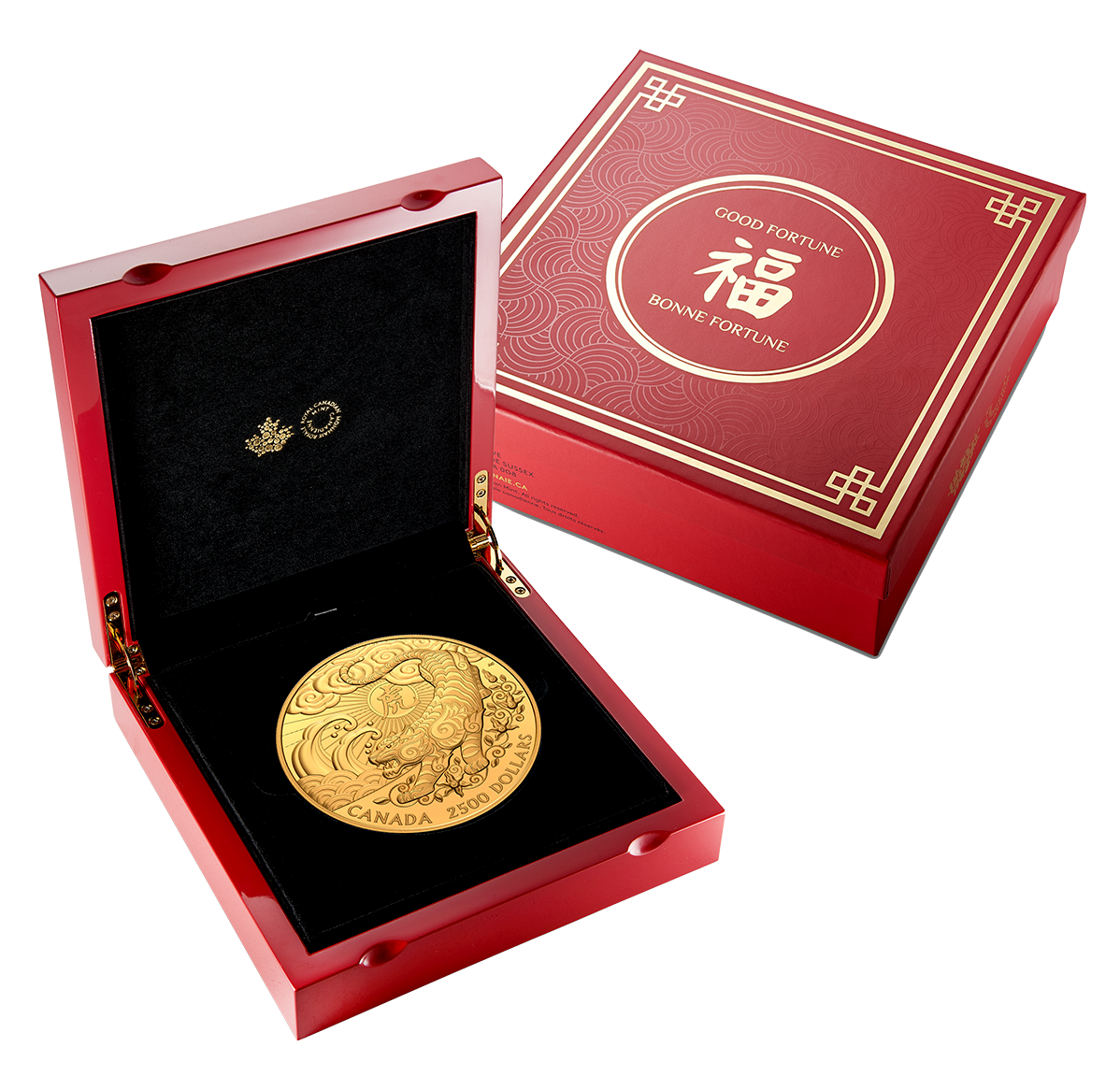 A luxurious display
Your coin is encapsulated and elegantly presented in a red lacquered wood case with a red outer box, evoking the Chinese New Year custom of gifting "lucky money" in a red envelope.
Composition
99.99% pure gold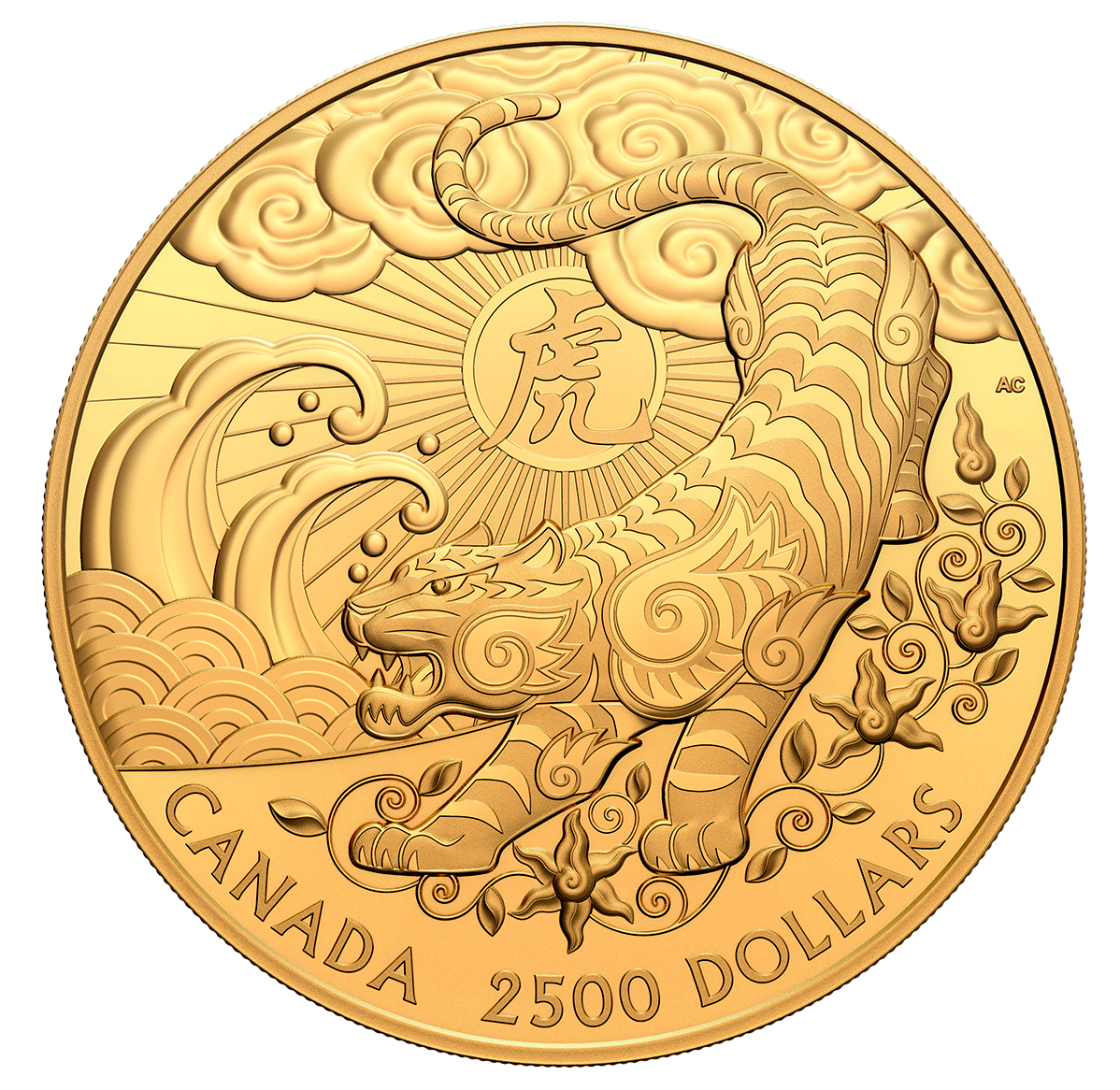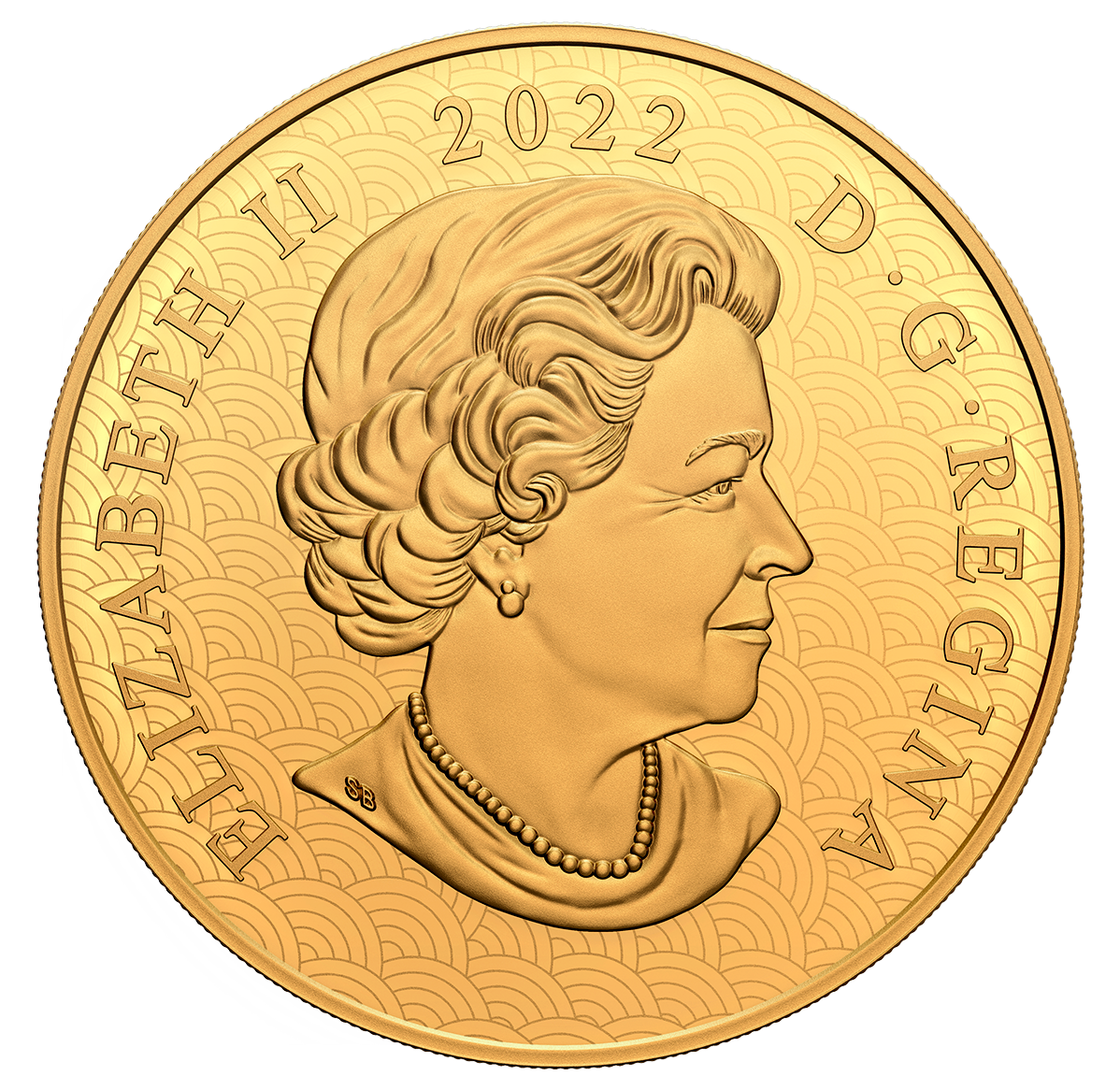 Inspired by traditional Chinese brush paintings, Canadian artist Aries Cheung offers a modern take on the classic image of the Tiger descending the mountain. The Tiger has descended from the auspicious clouds representing mobility and stature, and has adopted a stance that emphasizes its power and authority. Its lucky flower, the Asiatic lily, adds floral yin energy to counter the Tiger's yang masculinity, while its wing-like fur hints at a divine association. In the sky, the stylized sun is seen radiating energy and bears the Chinese character for "Tiger". Also in the background, the rolling waves represent Water, the dominant element for 2022; and where Water meets Land, these two elements become opposite but balanced forces (yin and yang). The reverse also includes the year "2022", the word "CANADA" and the face value, "2500 DOLLARS". The obverse features the effigy of Her Majesty Queen Elizabeth II by Susanna Blunt and a repeating scallop pattern.
What do you want to know about this product?
Your product was successfully added to your collection.
The product could not be added