Masters Club:
70,000
Status:

CAN & US shipping only
Availability:

Out of stock in stores
Welcome spring with an all-gold Easter egg that radiates good will and fortune.
For the past seven years, the Mint has issued pysanka-themed collector coins, a spring tradition that pays tribute to Ukrainian culture and artistry in Canada. As we prepare to launch this year's collection, and in light of the invasion of Ukraine, the Mint has decided to donate all net proceeds from the sale of our 2022 gold and silver pysanka coins to the Canadian Red Cross Ukraine Humanitarian Crisis Appeal.
Funds raised through this appeal will help the Red Cross respond to humanitarian needs emerging from the current conflict faced by Ukraine. We hope our donation helps put words into action.
A gleaming 99.99% pure gold masterpiece! The tree-of-life symbolism on this luminous pure gold pysanka coin evokes the blessings of springtime: rebirth, growth, prosperity and strength. Intricately engraved and framed by an endless band of stars that radiate goodwill, its forest-themed reverse design represents a gift of hope and a wish for health, wealth and happiness.
This all-gold collector's item gives you the best of both worlds: a centuries-old art form that is rich in symbolism, and the highest-quality minting in the world.
An annual celebration. Our annual Easter egg-shaped celebration of Ukrainian-Canadian culture is a collector favourite, and this springtime tradition continues in 2022.
Shines like the sun. Your all-gold pysanka coin features a radiant, mirror-like shine that makes it a luminous celebration of spring.
A coveted collectible. Mintage is limited to 250 worldwide. Previous pysanka coins sold out quickly, and given its high visual appeal and low mintage, this prestige collectible will be a sought-after piece too.
Includes serialized certificate. The Royal Canadian Mint certifies all of its collector coins.
No GST/HST
Packaging
Your coin is encapsulated and presented in a Royal Canadian Mint-branded clamshell with a black beauty box.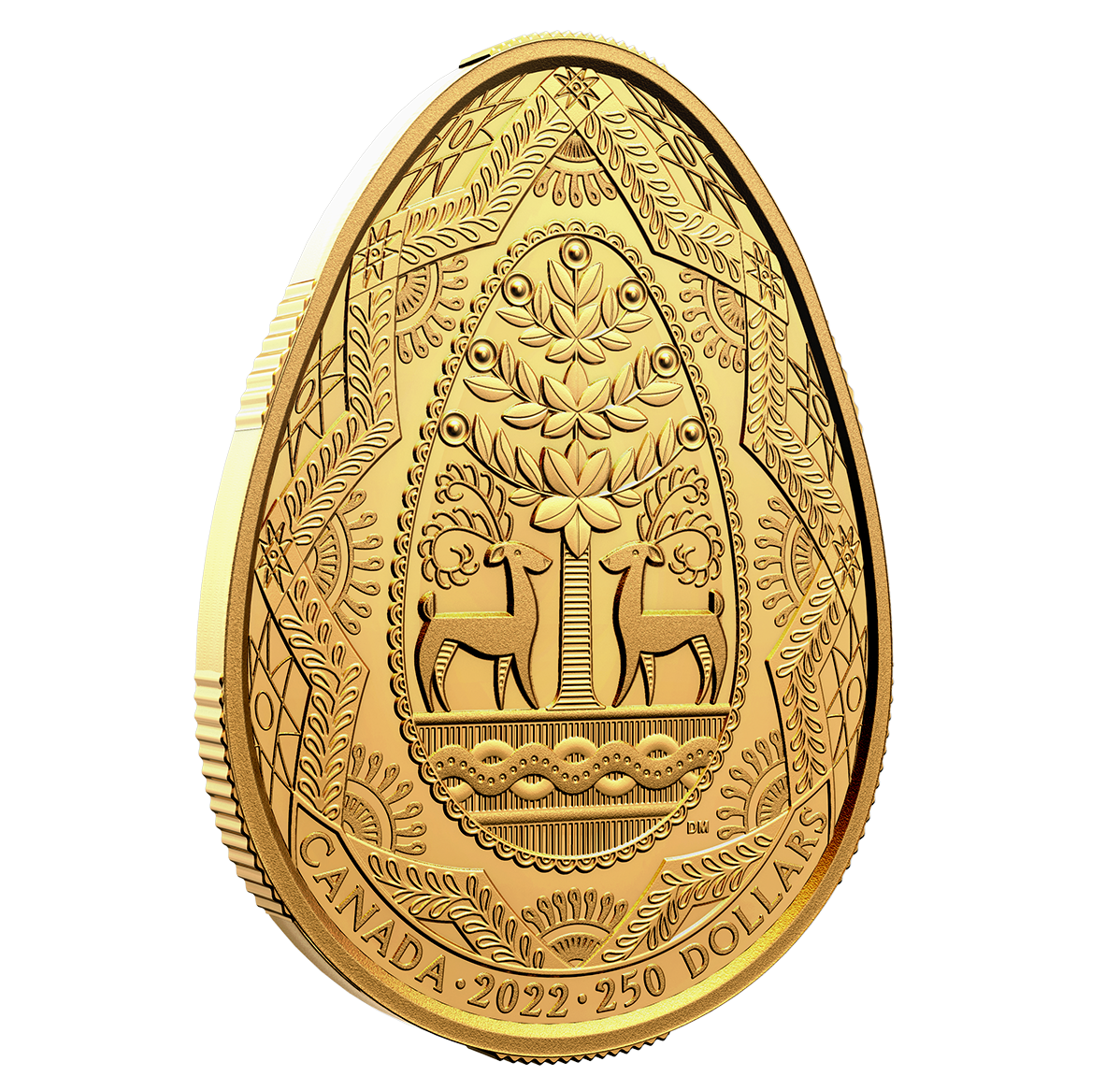 A minted work of art
Crafted in 99.99% pure gold, your coin features a very finely engraved design that highlights the symbolic language of the pysanka, and all its centuries-old motifs.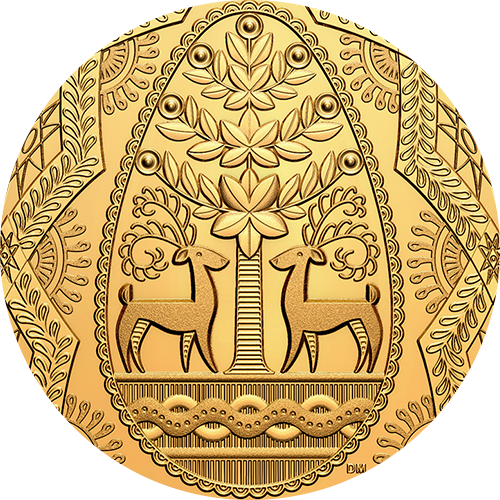 For art lovers
While this gold pysanka features a new forest-themed design for 2022, it continues our tradition of combining intricate detailing and polishes to ensure every aspect of the engraved art is of the highest calibre.
Composition
99.99% pure gold
Edge
Interrupted serrations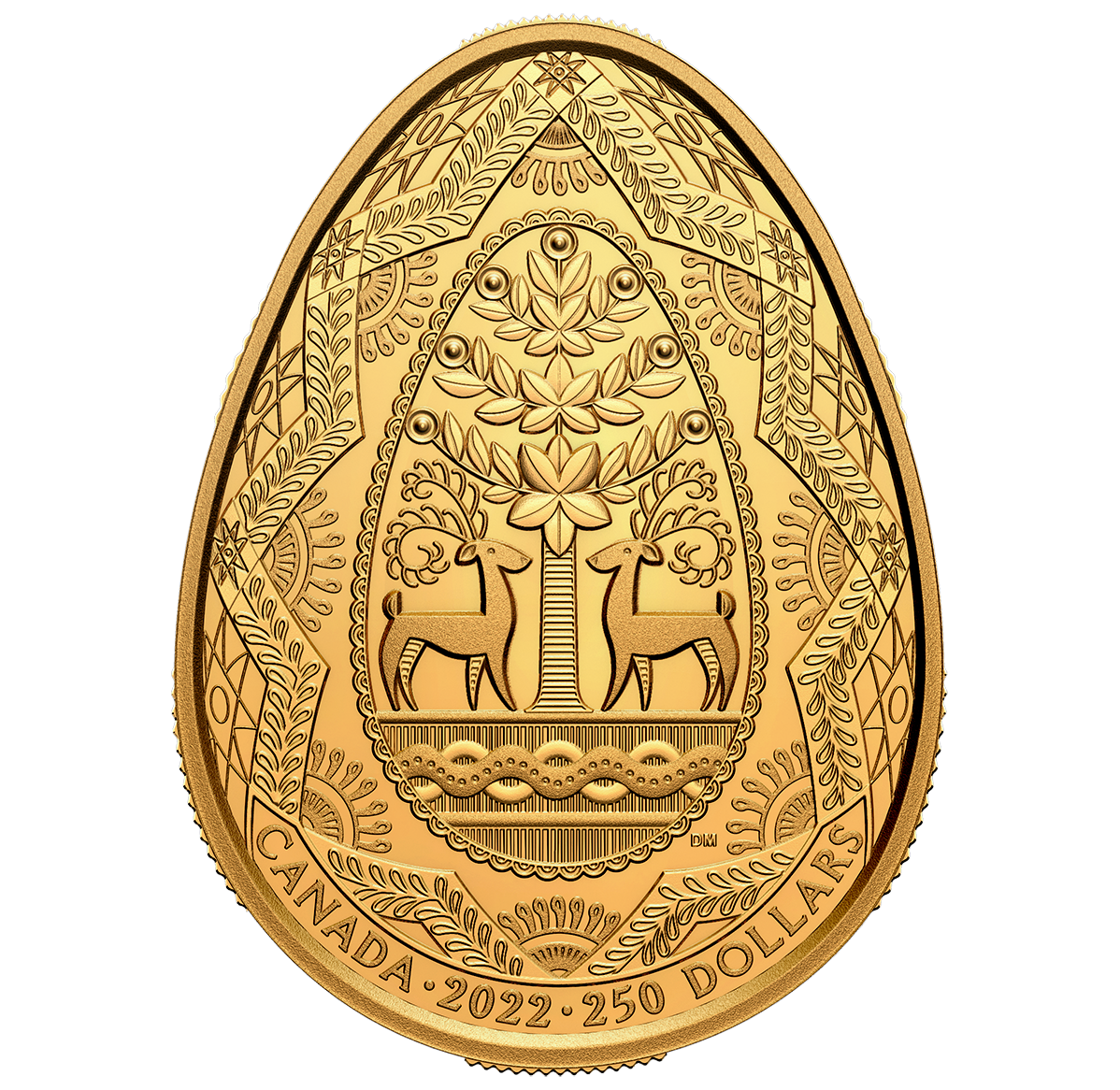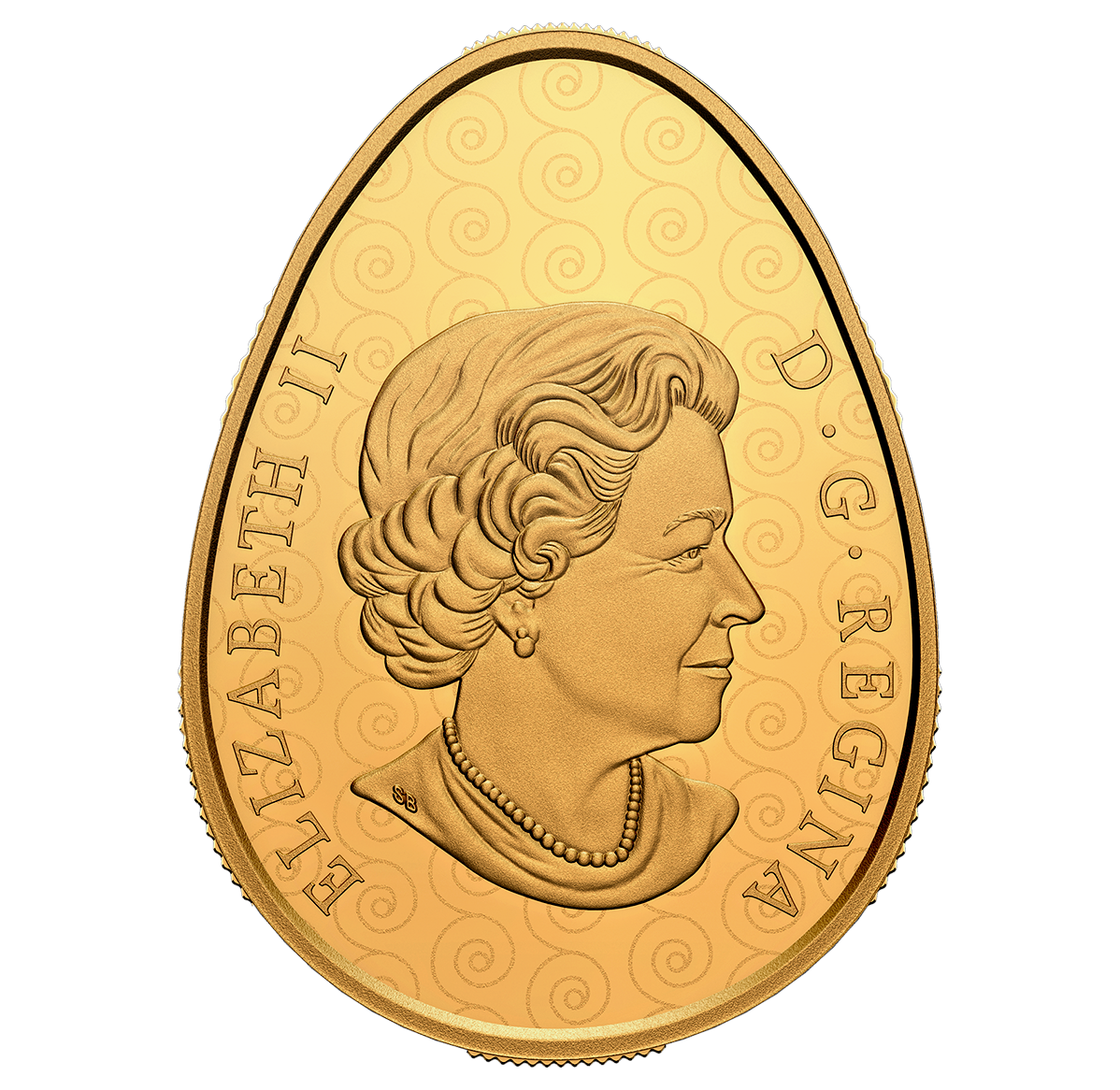 Designed by Canadian artist Dave Melnychuk, yourcoin's reverse is a forest-themed celebration of spring. The central motif features the Tree of Paradise (or the Tree of Life), a foundational symbol that represents renewal and creation, health and wisdom, a long life and eternal youth. The Tree's fruit-bearing branches represent the days of the week and the anticipation of spring. The crowned kings of the forest, two noble deer stand on each side of the Tree and above the River of Paradise, where they symbolize wealth, prosperity and strength. Eight stars appear along the edge of the design, where these radiating symbols of good fortune form aneternity band that surrounds the central motif. Theobverse features the effigy of Her Majesty Queen Elizabeth II by Susanna Blunt.
What do you want to know about this product?
Your product was successfully added to your collection.
The product could not be added