5 oz. Pure Silver Coin – The Monarch and the Bloom
5 oz. Pure Silver Coin – The Monarch and the Bloom
$799.95 CAD
Pay up to 6 monthlyinstallments of $133.33 CAD.
Masters Club:
8,000
Status:

CAN & US shipping only
Shipping:

Expected to be shipped on Oct 12
Experience one of nature's most delicate moments, as a monarch butterfly circles around an aster bloom.
What a joy to spot this splendid creature! Delicate and graceful, the gorgeous monarch butterfly flits from one plant to the next, dancing merrily through the sky in search of the perfect flower—like the standout bloom on this coin's interactive reverse. A monarch butterfly may travel up to 5,000 kilometres during its two-way migration, an astounding feat for one so small and fragile! It truly is a wonder to observe, both in nature and on this fine silver movement coin, as it selects one special flower out of the millions it has passed over.
Tilt the coin to make the monarch fly–the moment is fleeting and full of magic.
Special features
An interactive viewing experience. The monarch's multi-generational migration is one of the most complex and highly evolved of any animal, and its unique appearance makes it one of the best-known butterflies in Canada. Through its interactive design, your coin's reverse invites every viewer to learn more about this emblematic species.
5 oz. of pure silver. Your 5 oz. 99.99% pure silver coin features a large 65.25 mm diameter that provides enough space for both the engraved and silver cast elements. Together, they form a magical design that will enchant gardeners and nature lovers.
Special packaging. Instead of being enclosed in a regular capsule, your coin sits on an elegant wooden base and is protected by a clear dome that allows you to view and interact with your new keepsake.
Very low mintage. Our movement coins always sell out quickly, and with a limited mintage of just 1,250 coins, this one is sure to be in high demand.
Includes serialized certificate. The Royal Canadian Mint certifies all of its collector coins.
Packaging
Your coin sits on an elegant wooden base and is protected by a clear dome that allows you to view and interact with this newest addition to your collection. It comes packaged in a Royal Canadian Mint-branded black beauty box.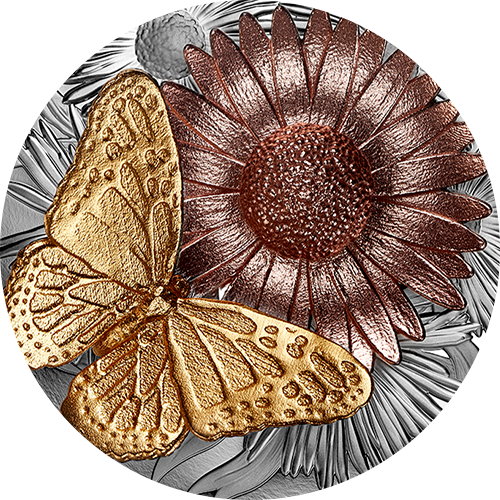 A 3D butterfly and bloom
Your coin's reverse features two 3D elements that have each been cast in sterling silver (92.5% pure): a rose-gold plated aster flower, and a gold-plated monarch butterfly (this is the species' first appearance on a movement coin).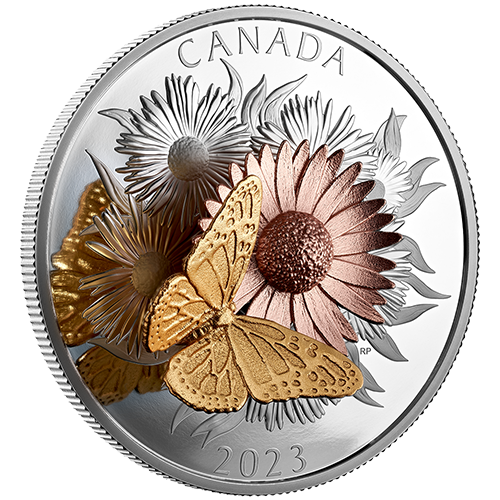 It moves
Tilt the coin and watch as the gravity-activated monarch circles around the aster flower. Both feature an incredible number of details – just look at the monarch's wing pattern.
Composition
99.99% pure silver with selective gold plating and embellishments cast in sterling silver
Packaging
Wood circular base with black beauty box
Artist
Ryan Poser (reverse), Susanna Blunt (obverse)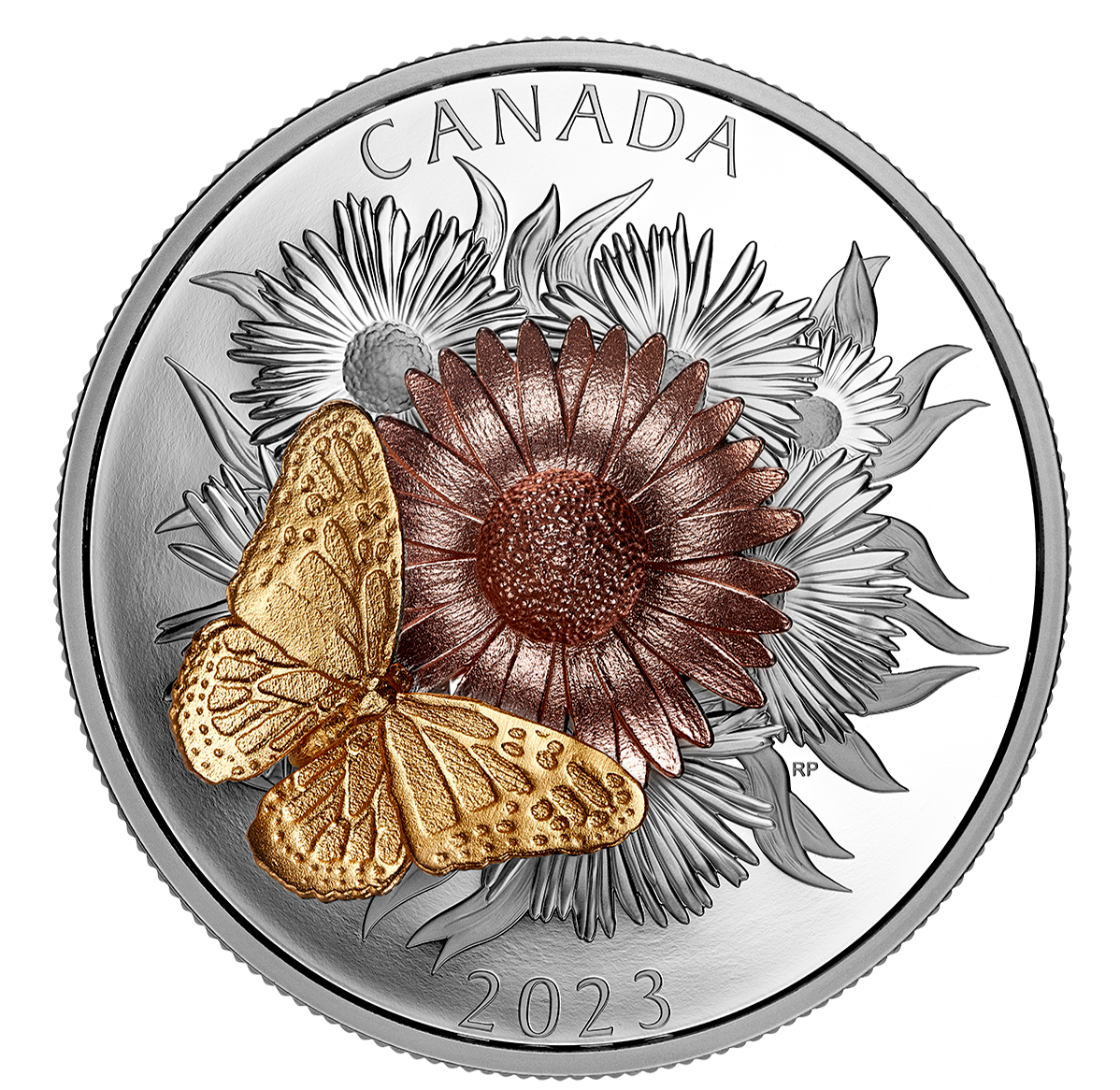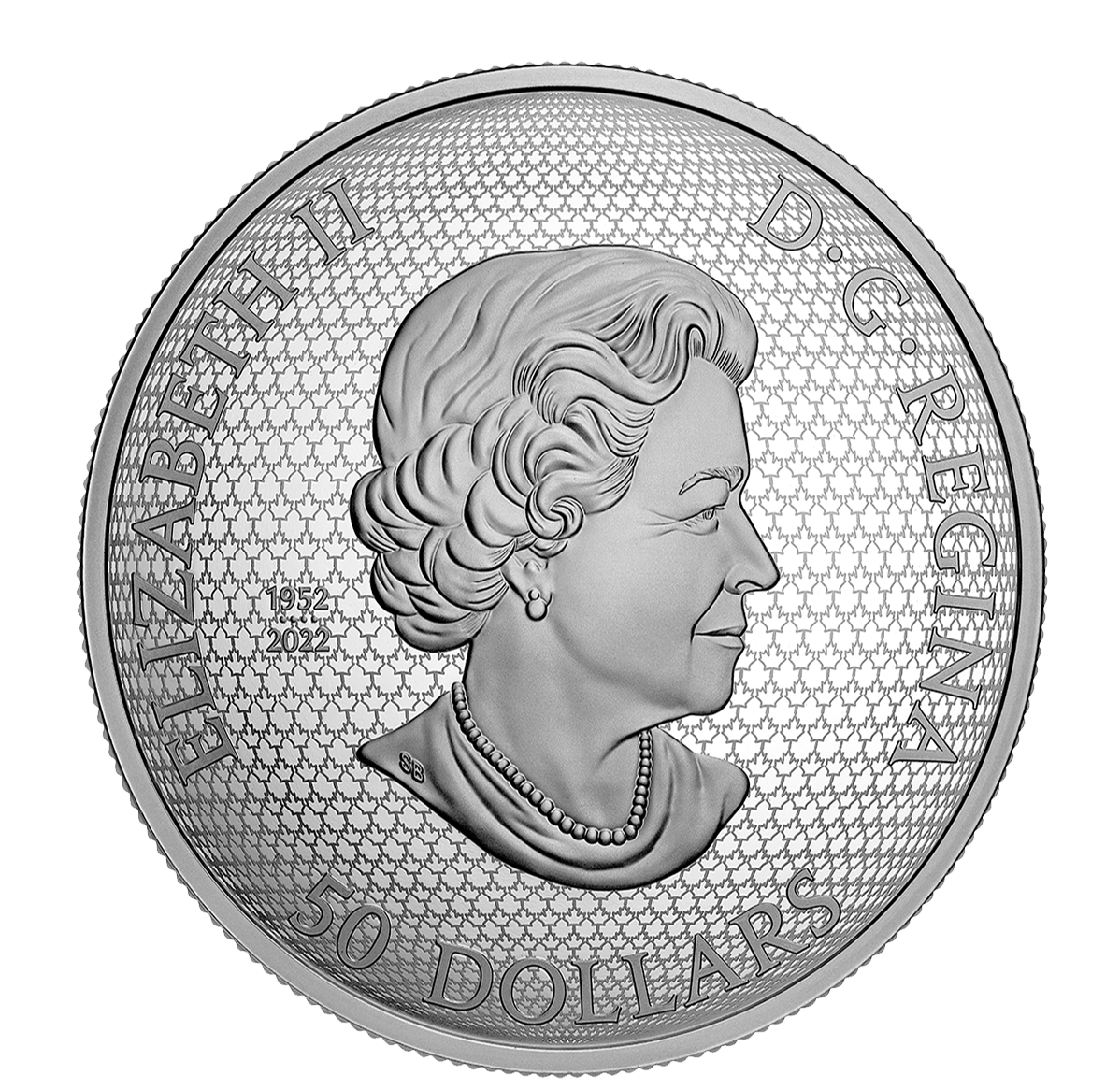 Designed by RCM Engraver Ryan Poser, your coin's reverse features an engraved arrangement of aster (Symphyotrichum novae-angliae) flowers topped with a 3D monarch butterfly (Danaus plexippus) and aster bloom. Both elements are cast in sterling silver; the butterfly is plated in yellow gold and the flower is plated in rose gold. When the coin is tipped, the motion causes the monarch to circle around the flower. The obverse features the effigy of Queen Elizabeth II by Susanna Blunt. The obverse also bears a special marking that includes four pearls symbolizing the four effigies that have graced Canadian coins and the double date of her reign.
What do you want to know about this product?
Your product was successfully added to your collection.
The product could not be added