$5 Pure Silver Coin – His Majesty King Charles III's Royal Cypher
$5 Pure Silver Coin – His Majesty King Charles III's Royal Cypher
Masters Club:
350
Status:

CAN & US shipping only
Shipping:

Expected to be shipped on Dec 14
Add this affordable Coronation keepsake to your collection.
The Coronation of His Majesty King Charles III on May 6, 2023 is a momentous occasion as it marks the first coronation of a new Sovereign of Canada in seven decades. The formal investiture of the monarch's regal power is a spectacle like no other — one steeped in pomp, pageantry and centuries-old traditions that connect the past and future. Culminating in the religious ceremony held at Westminster Abbey in London (United Kingdom), the Coronation of His Majesty The King is both a solemn and celebratory event that will long be remembered, and it is commemorated through the Royal Cypher appearing on this fine silver keepsake.
His Majesty The King's Coronation: Mark the moment with this affordable fine silver keepsake.
Special features
A Coronation keepsake. An extraordinary issue to mark an extraordinary event, this fine silver keepsake commemorates the Coronation of His Majesty King Charles III — the first coronation of Canada's new monarch in seven decades.
Part of His Majesty King Charles III Coronation suite. His Majesty King Charles III's Coronation is a significant historical event, and your newest collectible is part of a unique collection of Canadian collector coins specially issued to commemorate the momentous occasion.
Fine silver. Crafted in ¼ oz. of 99.99% pure silver, this affordable Coronation keepsake is intended for collectors of all ages and collecting interests. It is available while supplies last.
Matte proof finish. Your coin features a unique matte proof finish: the background or field has a satin sheen that contrasts beautifully with the high-shine relief.
Mark this historic moment. Mark this momentous event, the first coronation in seven decades, with a special collector coin from the Royal Canadian Mint. As part of your collection, this coin will help preserve your memories of this day for years to come.
No GST/HST.
Packaging
Each coin is packaged in a colourful gift card folder with a removable coin capsule that allows easy access to your Coronation keepsake.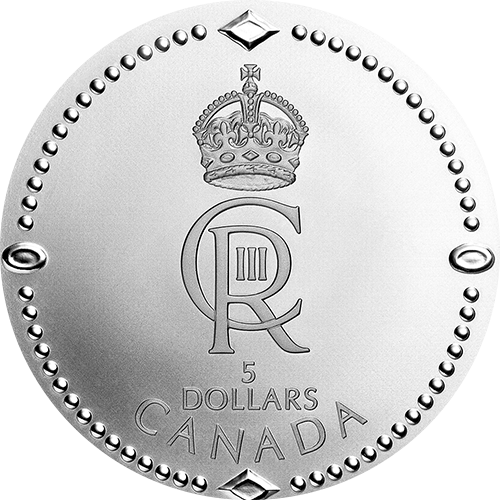 First appearance of His Majesty's Royal Cypher
His Majesty's Royal Cypher makes its Canadian numismatic debut on this and other Coronation-themed collectibles from the Royal Canadian Mint. Its appearance on your coin's reverse signals the start of a new era in Canadian numismatics.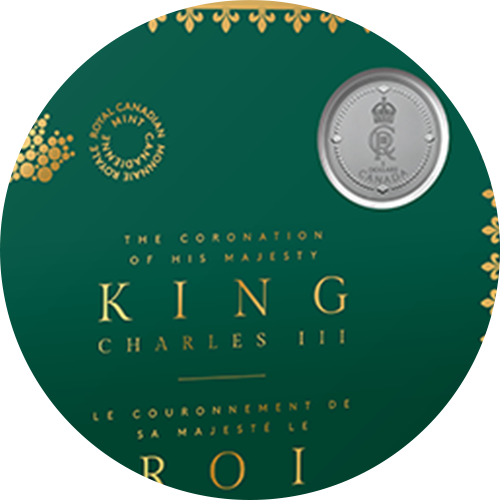 Ready-to-display packaging
The newest addition to your collection comes packaged in a colourful folder that makes it ready for gifting and presenting. The coin itself is enclosed in a removable capsule that allows easy access to your Coronation keepsake, so you can take a closer look.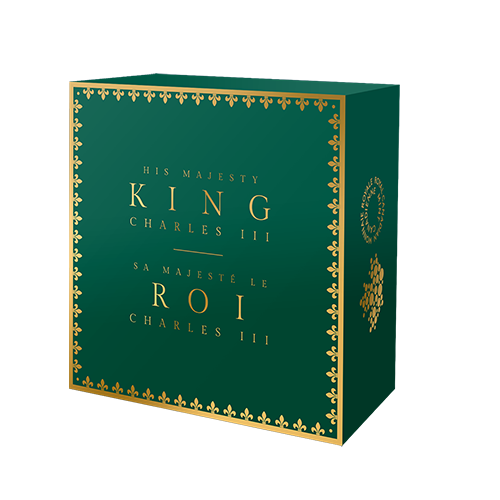 Commemorative packaging
The commemorative packaging is coloured green, which was inspired by the colourful gemstones depicted in the Royal Cypher. It is also a nod to His Majesty's longstanding commitment and passion for conservation and environmentalism.
Composition
99.99% pure silver
Packaging
Gift set folder with removable capsule
Artist
RCM engravers (reverse), Susanna Blunt (obverse)
Your coin's reverse design features the Royal Cypher of His Majesty King Charles III. Paired with his regnal number ("III"), the initials "C" and "R" stand for "Charles" and "Rex" (the Latin word for "King"). The stylized crown in His Majesty's cypher is a representation of the Tudor Crown, which inspired the four gemstone shapes and the engraved pearls that run along the coin's edge. The obverse features the effigy of Queen Elizabeth II by Susanna Blunt. The obverse also bears a special marking that includes four pearls symbolizing the four effigies that have graced Canadian coins and the double date of her reign.
What do you want to know about this product?
Your product was successfully added to your collection.
The product could not be added