$50 Fine Silver Coin – Curated Coin Collection: RCMP
$50 Fine Silver Coin – Curated Coin Collection: RCMP
$649.95 CAD
Pay up to 6 monthlyinstallments of $108.33 CAD.
Masters Club:
6,500
Status:

CAN & US shipping only
Availability:

Out of stock in stores
Commemorate the RCMP's 150 years of service: Mark the occasion with this UHR compilation of coins from the past.

In 2023, the Royal Canadian Mounted Police (RCMP) is commemorating 150 years of history and service, and we're marking the occasion with this curated collection of RCMP coin designs, with some dating back to 1973.
Designed for passionate collectors and struck in Ultra High Relief (UHR), this compilation mixes numismatic and commemorative tributes from our past, and highlights RCMP anniversaries that were previously commemorated on our coins, including the 25-cent piece from the force's centennial year (1973). Each of these reproduced designs is a variation of the iconic RCMP horse and rider image—the venerable "Mountie" image that is recognized worldwide.
Six designs on one coin—it's an RCMP retrospective in Ultra High Relief.
Special features
150ᵗʰ Anniversary of the RCMP. In 2023, Canada's national police service, the Royal Canadian Mounted Police (RCMP) commemorate its 150TH anniversary! Mark the moment with this compilation of historic RCMP coin designs, curated for you.
Ultra High Relief (UHR). Six reverse designs have been carefully reproduced on this coin's reverse, where Ultra High Relief creates a realistic, multilevel/multilayered effect—it looks like the actual coins are piled together with their reverses displayed for all to see and admire.
The finest silver. Crafted in 5 oz. 99.99% pure silver, your UHR coin is the product of intensive efforts by our R&D and engraving teams.
Limited exclusive. Mintage is limited to just 1,250 coins worldwide.
Includes serialized certificate. The Royal Canadian Mint certifies all of its collector coins.
No GST/HST.
Packaging
Your coin is encapsulated and presented in a black Royal Canadian Mint-branded clamshell with a black beauty box.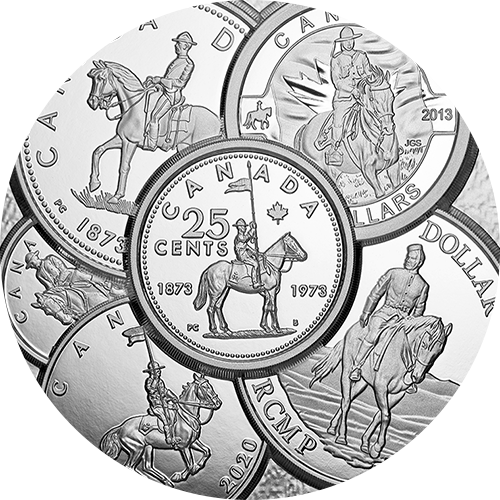 Iconic imagery
The Mountie on horseback is one of the most iconic images of Canada, and each of the six designs on your coin's reverse is a variation on that classic image.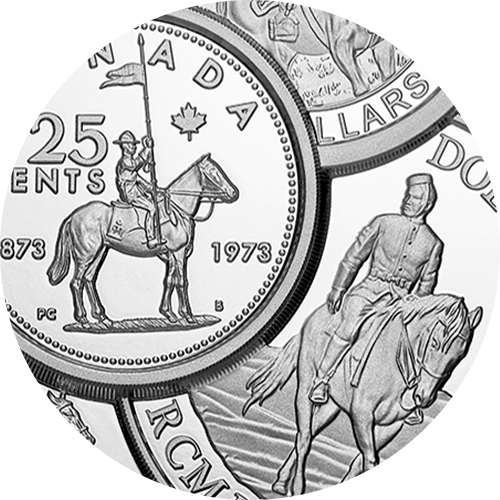 Anniversaries past and present
Many of the designs re-visited on this 2023 coin are associated with previous RCMP anniversaries, such as the 25-cent and proof dollar designs from the force's centennial year (1973).
Composition
99.99% pure silver
Packaging
Black clamshell with black beauty box
Artist
RCM Engravers (reverse), Susanna Blunt (obverse)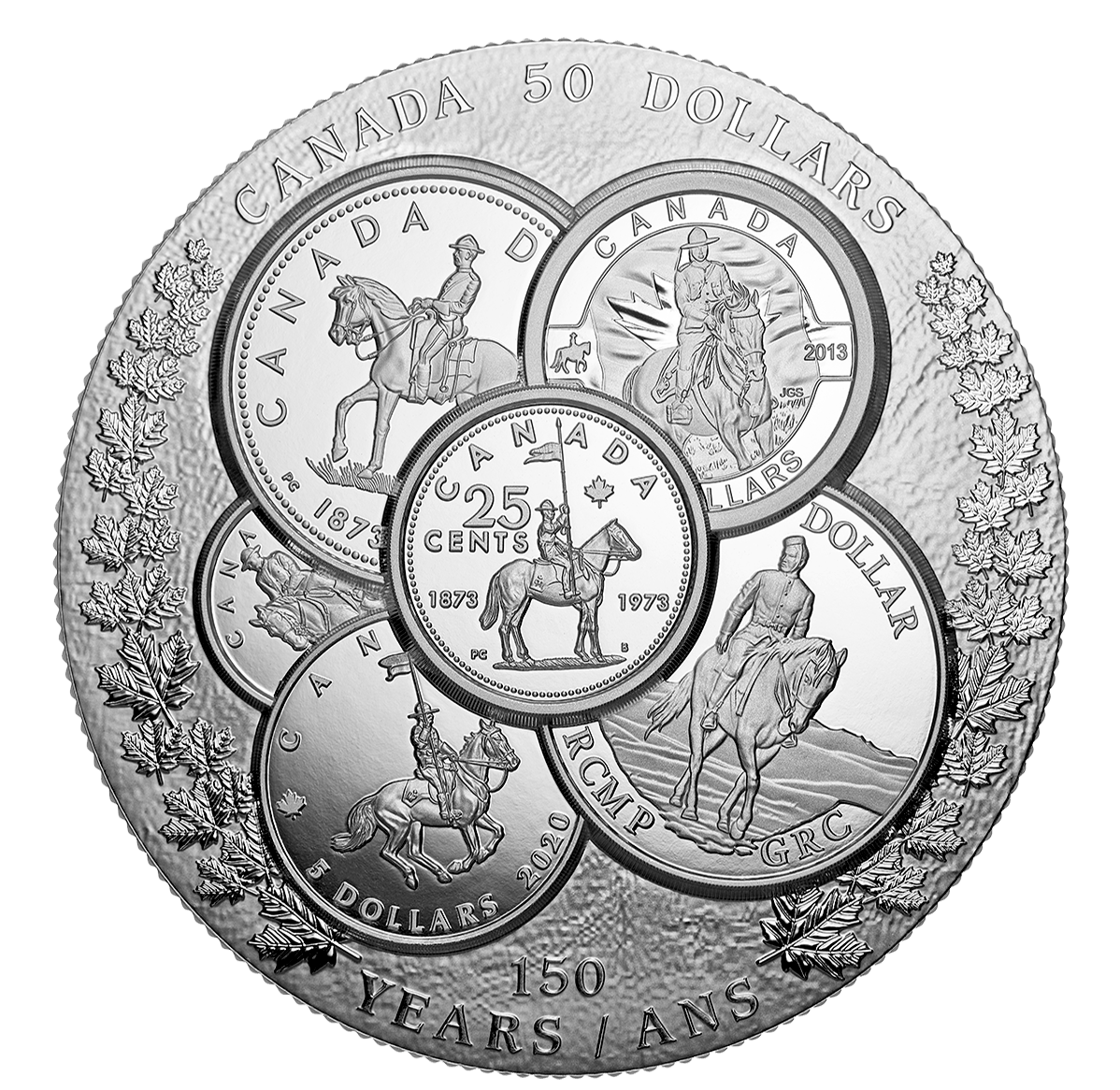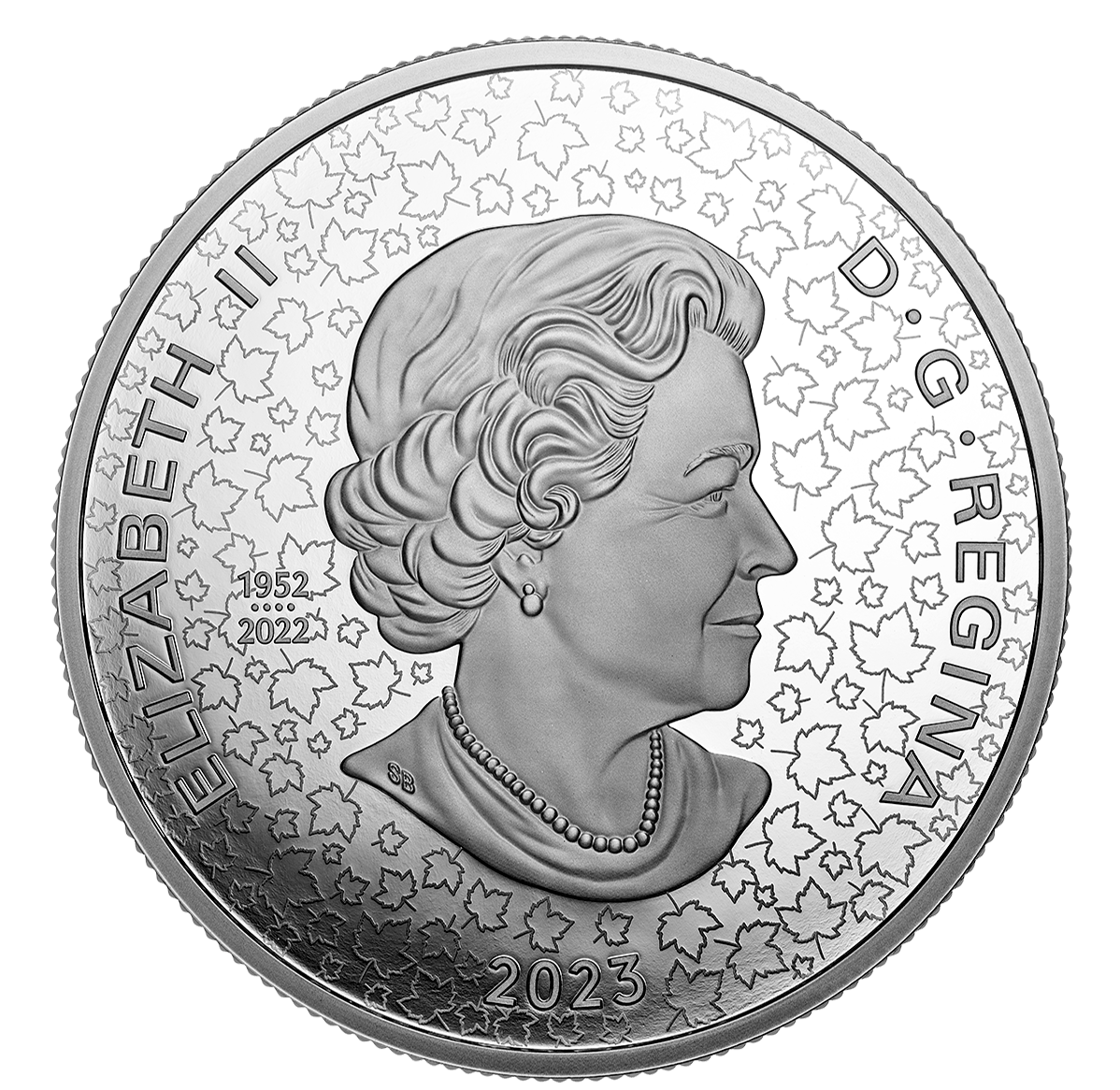 Struck in Ultra High Relief, the reverse design is a compilation of Royal Canadian Mounted Police (RCMP)-themed "horse and rider" designs from previous coins (clockwise from top left): the 1973 commemorative silver dollar; 2013's $10 O Canada: Royal Canadian Mounted Police; 1998's 125ᵗʰ Anniversary of the Royal Canadian Mounted Police silver proof dollar; 2020's $5 Moments to Hold: Celebrating 100 Years of the RCMP as Canada's National Police Force (when legislation came into effect in 1920 that changed the Royal North-West Mounted Police (RNWMP) name to the Royal Canadian Mounted Police); 2010's pure gold 50-cent (1/25 oz.) RCMP coin; and at the centre, the 1973 100ᵗʰ Anniversary of the RCMP 25-cent circulation coin. Backed by a textured field, the designs are flanked by maple leaves and accompanied by the word "CANADA", a face value of "50 DOLLARS", and the words "150 YEARS / ANS" to mark the RCMP's 150ᵗʰ anniversary in 2023. The obverse features a maple leaf pattern and the effigy of Queen Elizabeth II by Susanna Blunt. The obverse also bears a special marking that includes four pearls symbolizing the four effigies that have graced Canadian coins and the double date of her reign.
What do you want to know about this product?
Your product was successfully added to your collection.
The product could not be added