Pure Gold EHR Coin – Petit hibou by Jean Paul Riopelle
Pure Gold EHR Coin – Petit hibou by Jean Paul Riopelle
$7,499.95 CAD
Pay up to 6 monthlyinstallments of $1,249.99 CAD.
Masters Club:
75,000
Status:

CAN & US shipping only
Availability:

Out of stock in stores
A sculpted tribute crafted in Quebec gold.
Jean Paul Riopelle (1923-2002) drew wide acclaim for the abstract paintings that placed him at the cutting edge of several mid-20th-century modern art movements. Riopelle's creative genius wasn't limited to a single medium: in the 1960s, the Montréal-born artist dedicated himself to sculpture, creating works of art that underscored his connection to nature, which served as both a grounding force and muse.
One of those bronze-cast sculptures, Riopelle's Petit hibou, is rendered in Extraordinarily High Relief (EHR) on this coin crafted in gold sourced exclusively from Quebec mines. On the coin's reverse, Riopelle's sculpted work reaches an incredible relief height of over 6 mm, which further accentuates all the dimpled details that are attributed to the artist's hand and creative vision.
A work of art on a (numismatic) work of art.
Special features
Painter, engraver and sculptor. Celebrate the life and legacy of Montréal-born visual artist Jean Paul Riopelle (1923-2002), one of the most globally revered Canadian artists of the 20th century.
Quebec-sourced gold. Your limited collectible is crafted in 99.99% pure gold, which was sourced exclusively from Quebec mines, making it a fitting tribute to an artist who brought global attention to Quebec art.
A Riopelle original that fits in the palm of your hand. This is a coin that rewards repeat viewings, and it represents a unique opportunity to add Riopelle's art to your collection.
A highly desirable collectible. Just 250 coins are available to collectors worldwide.
Includes a special insert. Along with a serialized certificate of authenticity, your coin comes with a 74 mm x 74 mm card featuring an image of the sculpture and detailed information about the original artwork.
Includes serialized certificate. The Royal Canadian Mint certifies all of its collector coins.
No GST/HST.
Packaging
Accompanied by a special insert and a certificate of authenticity, your encapsulated coin is presented in a Royal Canadian Mint-branded wood case with a black beauty box.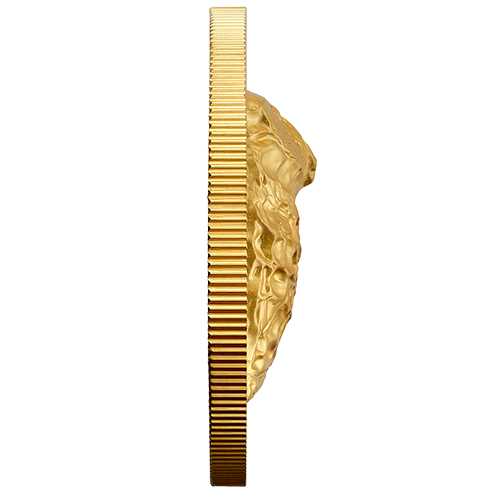 Extraordinary High Relief (EHR)
You'll be endlessly captivated by this EHR representation of Riopelle's Petit hibou On the coin's reverse, the relief soars to a height of over 6 mm — more than four times higher than an Ultra High Relief (UHR) coin of the same diameter.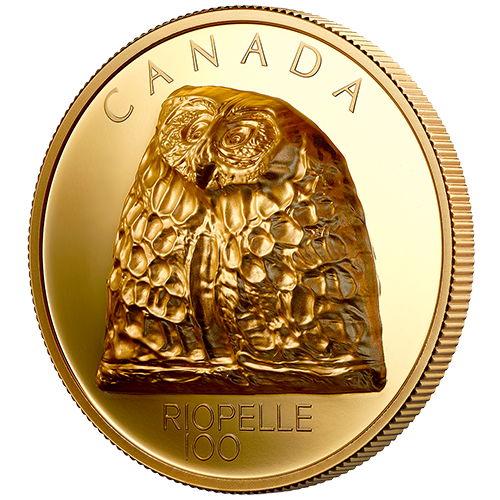 Pristine proof finish
Polished to a mirror-like finish, the brilliant field reflects light onto the multitude of sculpted textures and raised details that cast shadows and play with light.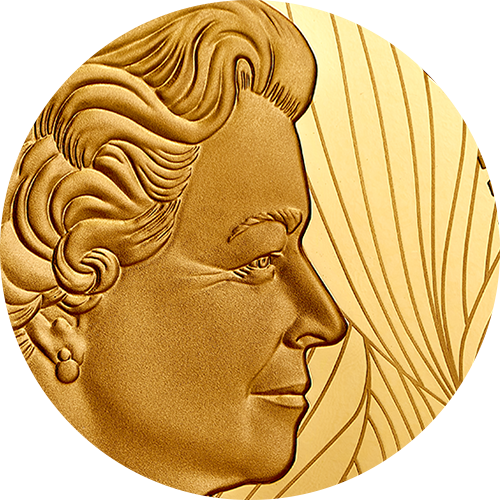 Field pattern
The nature theme on the coin's reverse extends to the obverse, where the field pattern represents movement in nature.
Composition
99.99% pure gold
Packaging
Wood case with black beauty box and special insert
Artist
Jean Paul Riopelle (reverse), Susanna Blunt (obverse)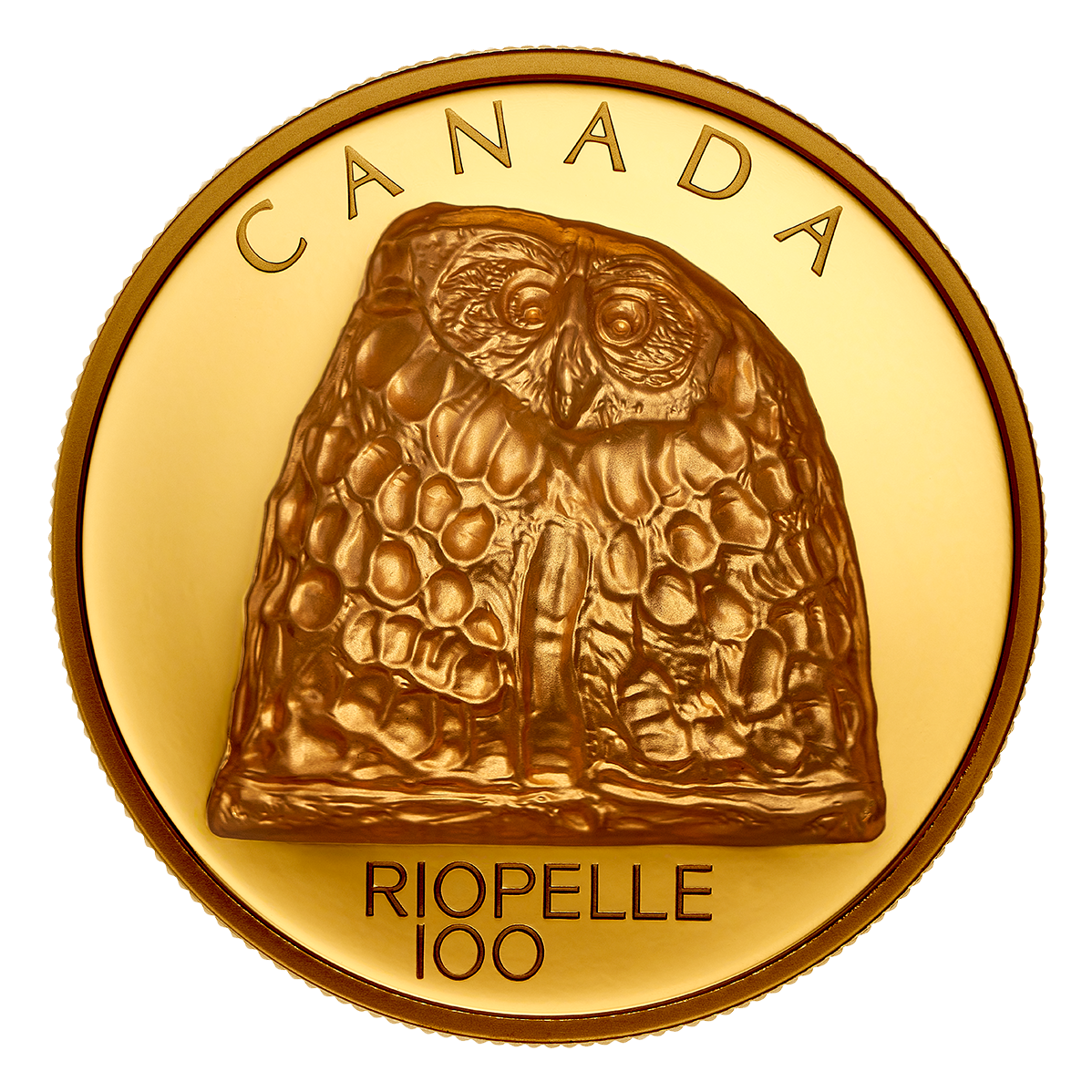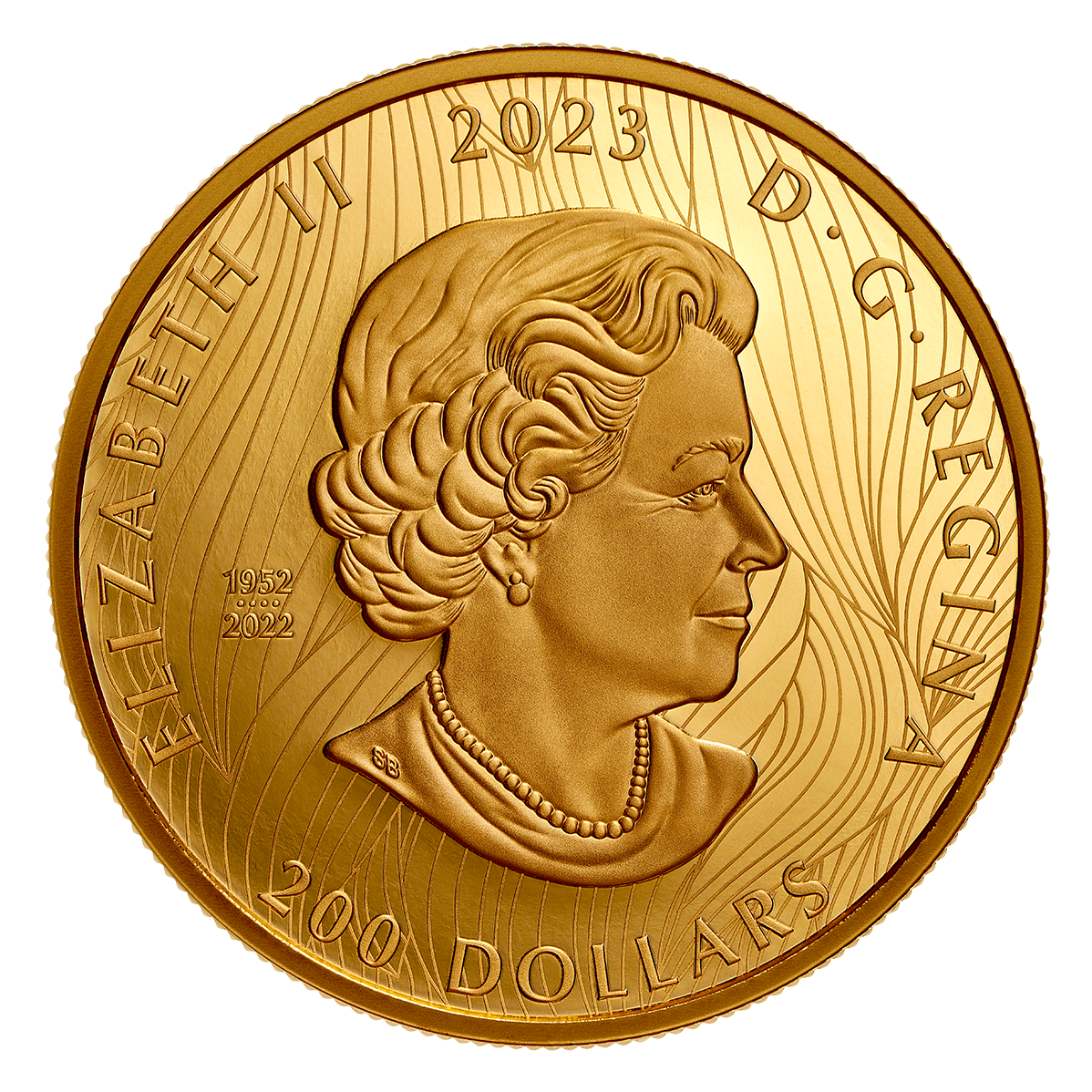 Your coin's reverse design is a representation of Petit hibou, a clay sculpture created circa 1970 by Jean Paul Riopelle. Beneath the sculpted form of an owl, which is rendered in Extraordinarily High Relief (EHR), the "Riopelle100" centenary mark (created by the Riopelle Foundation) commemorates the 100ᵗʰ anniversary of the artist's birth (1923-2023). The obverse features a field pattern representing movement in nature behind the effigy of Queen Elizabeth II by Susanna Blunt. The obverse also bears a special marking that includes four pearls symbolizing the four effigies that have graced Canadian coins and the double date of her reign.
The 'Riopelle100' mark, created by Raphaël Melançon, appears on the coin courtesy of the Riopelle Foundation, in collaboration with which the coin was created.
Petit hibou, circa 1970, cast iron 1989 and 2010. Original terracotta sculpture. Bronze, lost wax casting. 12.4 x 12.4 x 4 cm. © Estate of Jean Paul Riopelle / Copyright Visual Arts - CARCC (2023).
What do you want to know about this product?
Your product was successfully added to your collection.
The product could not be added