$6,999.95 CAD
Pay up to 6 monthlyinstallments of $1,166.66 CAD.
Masters Club:
70,000
Status:

CAN & US shipping only
Availability:

Out of stock in stores
Celebrate the sun's return and the season of renewal with this 99.99% pure gold Ukrainian Easter egg.
Gold, like the sunflower, is associated with the sun, eternity and the powers of life, which makes it especially fitting that the pairing is featured on this pysanka-themed coin.
The sunflower's sunny charm and shape make it the perfect representation of the sun's powerful energy, while its golden colour naturally evokes feelings of warmth and familiarity. And on this 99.99% pure gold pysanka coin, the beloved floral emblem of the Ukrainian people is surrounded by symbols that celebrate the sun's return, and with it, the arrival of spring.
Celebrate the season of renewal and add this exquisite pysanka art masterpiece to your collection.
This year, all net proceeds from the sale of our gold and silver pysanka coins will be donated to the Ukraine Humanitarian Appeal.
Special features
The art of pysanky.

The 2023 pure gold pysanka coin marks the continuation of a proud springtime tradition of paying tribute to Ukrainian culture and artistry in Canada.

Coveted and cherished. Only 275 are available worldwide, and all previous pysanka coins sold out quickly.
Includes serialized certificate. The Royal Canadian Mint certifies all of its collector coins.
No GST/HST.
Packaging
Your coin is encapsulated and presented in a Royal Canadian Mint-branded clamshell with a black beauty box.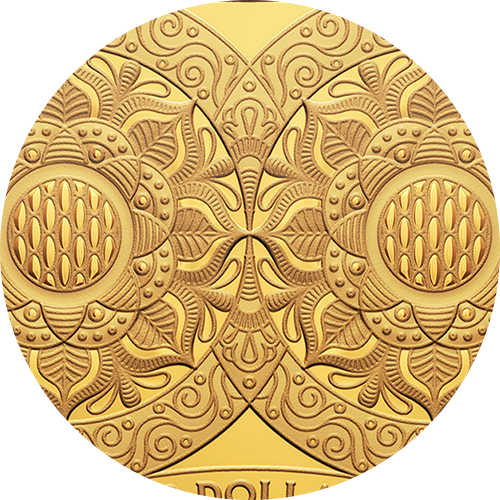 A sunny floral motif
The beloved floral emblem of Ukrainians, the sunflower evokes feelings of warmth and luminosity. On this gold tribute, the uplifting flower is accompanied by other symbols that, together, celebrate the cyclical aspects of life and the sun's return each spring.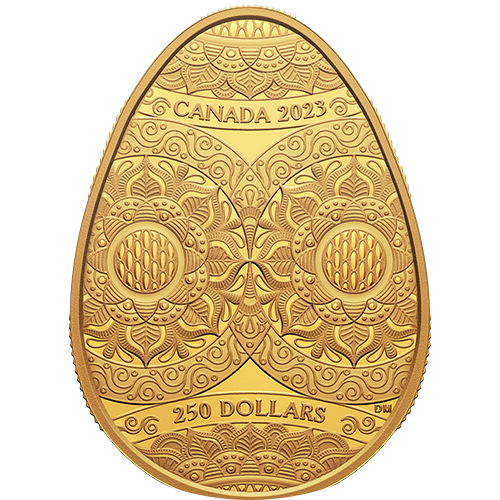 Incomparable gleam
Your all-gold pysanka is crafted in 99.99% pure gold with a luminous proof finish that casts its glow over all the richly symbolic and meaningful details.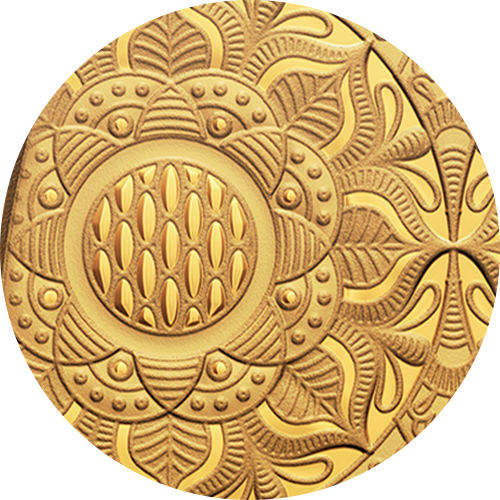 Created with love and care
The engraved-only floral motif combines highly intricate detailing and polishes that reflect the highest caliber of minting and exemplify world-class craftsmanship.
Composition
99.99% pure gold
Edge
Interrupted serrations
Packaging
Black clamshell with black beauty box
Artist
Dave Melnychuk (reverse), Susanna Blunt (obverse)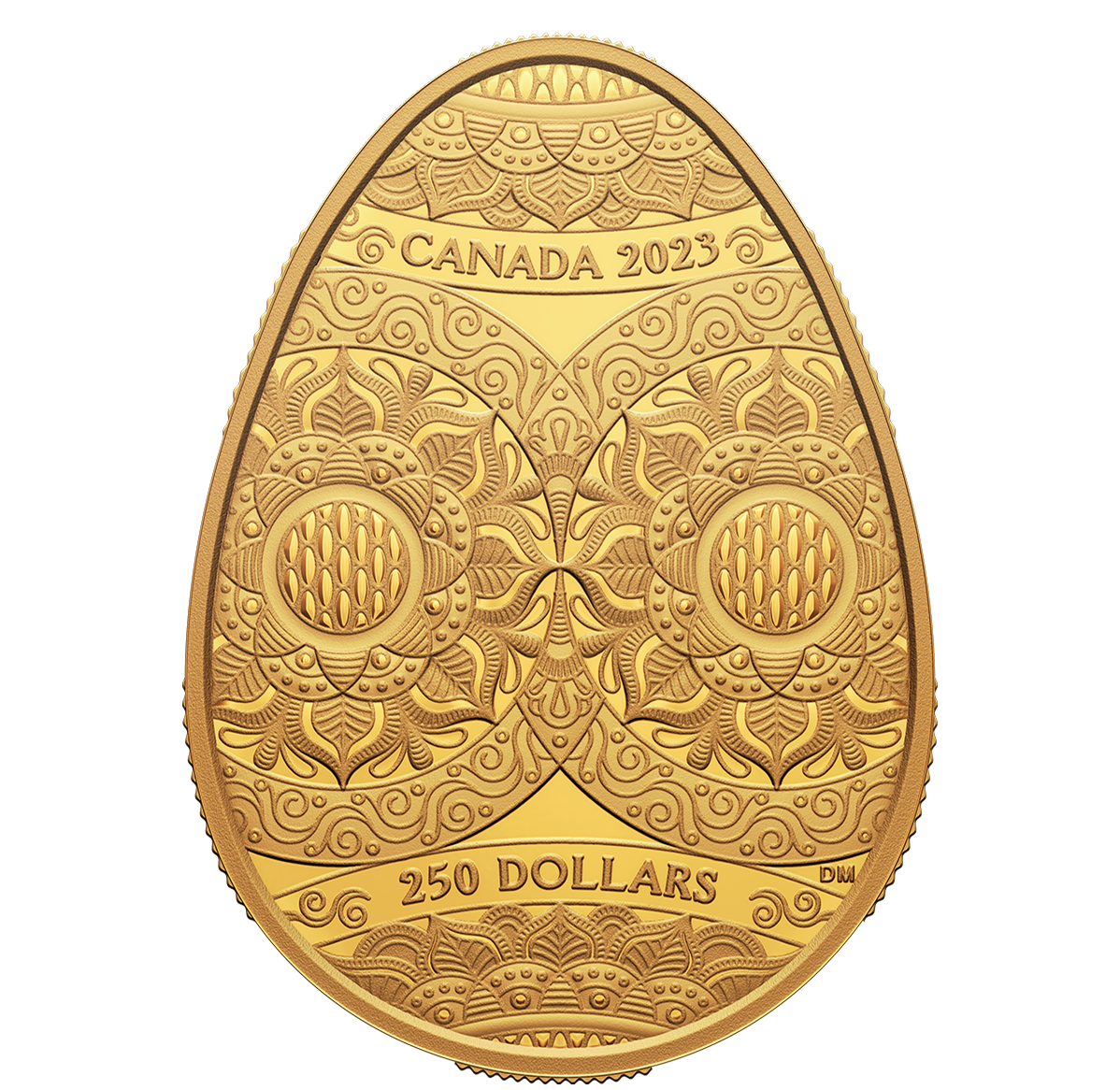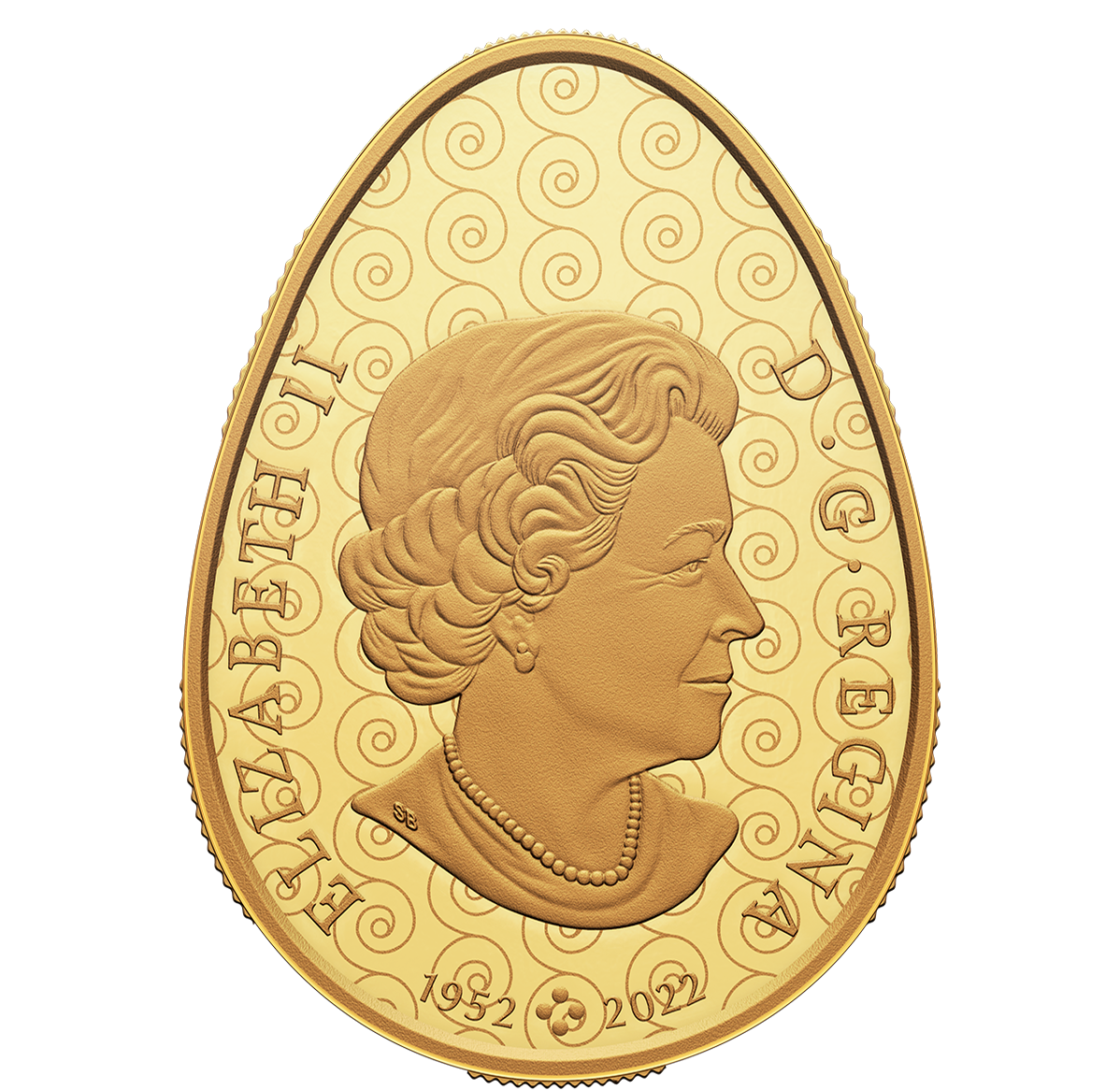 Designed by Canadian artist Dave Melnychuk, your pysanka coin features a festive motif of sunflowers and other solar symbols that celebrate the sun's return. Each sunflower's petals are arranged in a pattern similar to the traditional eight-pointed star that symbolizes wholeness and luminosity. They are encircled by vines associated with wisdom and the vine of life, and whose spiralling form mirrors the cyclical and eternal aspects of life and time. These combined motifs form one of the most common symbols for the sun, a circle with a dot in the centre, which is also an alchemical symbol for gold. The obverse features the effigy of Queen Elizabeth II by Susanna Blunt. The obverse also bears a special marking that includes four pearls symbolizing the four effigies that have graced Canadian coins and the double date of her reign.
What do you want to know about this product?
Your product was successfully added to your collection.
The product could not be added