Pure Silver Coin – Commemorating Black History: No. 2 Construction Battalion
Pure Silver Coin – Commemorating Black History: No. 2 Construction Battalion
Masters Club:
1,000
Status:

CAN & US shipping only
Shipping:

Expected to be shipped on Dec 14
Brought to light: No. 2 Construction Battalion and its contributions to Canada's efforts in the First World War.
They served with distinction, and they were willing to risk their lives to preserve the very rights and freedoms that weren't always afforded to them before, during and after the First World War. From the unit's formation in 1916 until its disbandment in 1920, the members of No. 2 Construction Battalion—the largest all-Black battalion-sized unit in Canadian military history—persevered in the face of anti-Black racism to provide vital support to Canada's war effort, by assisting Canadian Forestry Corps (CFC) lumber operations in France.
This 99.99% pure silver coin honours the brave men who served in No. 2 Construction Battalion and brings to light their often-overlooked contribution in the First World War. Despite racial prejudice, the members of No. 2 Construction Battalion persevered in their determination to serve, and a century later, their legacy remains an inspiration.
Join us in paying homage to No. 2 Construction Battalion.
Special features
Celebrate black history. Coin #5 in our annual Commemorating Black History series, which celebrates the achievements of Black Canadians and highlights the struggles that are an important part of Canada's story.
A military theme. This is the first coin to highlight Black military history in Canada and the experiences of Black Canadian soldiers. It's a timely theme: in July 2022, the Government of Canada issued an apology for the historic racism endured by members of No. 2 Construction Battalion.
Pure silver. Crafted in 99.99% pure silver.
Includes serialized certificate. The Royal Canadian Mint certifies all of its collector coins, including this one, which has a limited mintage of just 5,500 coins worldwide.
No GST/HST.
Packaging
Your coin is encapsulated and presented in a black Royal Canadian Mint-branded clamshell with a black beauty box.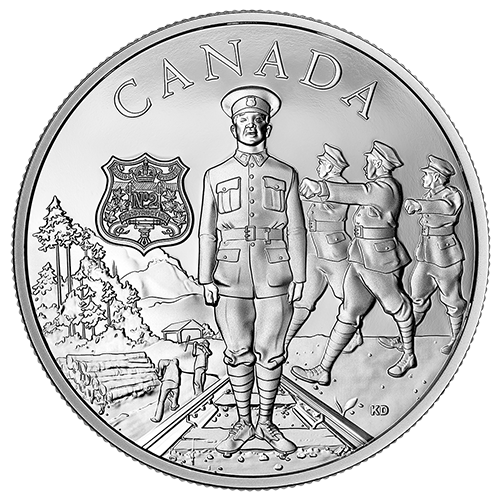 Pride and Perseverance
The 2023 instalment brings to light the often-overlooked story of No. 2 Construction Battalion and its contributions to Canada's war efforts in the First World War.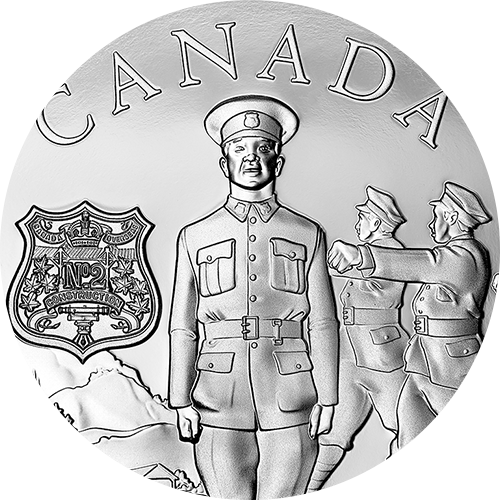 The focus is on the history
To keep the focus on those who persevered in their efforts to serve, and as an expression of a nation's gratitude for their service and sacrifices, the only word engraved on the coin's reverse is "CANADA".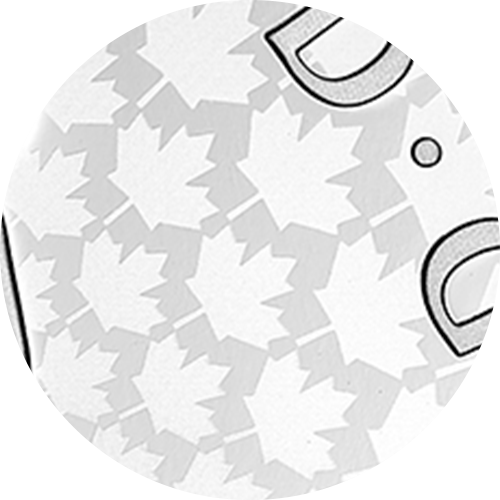 Maple leaf pattern
Like the 2021 The Black Loyalist coin and 2022's The Underground Railroad, your 2023 coin features a symbol of Canada on its obverse, where the repeating maple leaf fills the field.
Composition
99.99% pure silver
Packaging
Black clamshell with black beauty box
Artist
Kwame Delfish (reverse), Susanna Blunt (obverse)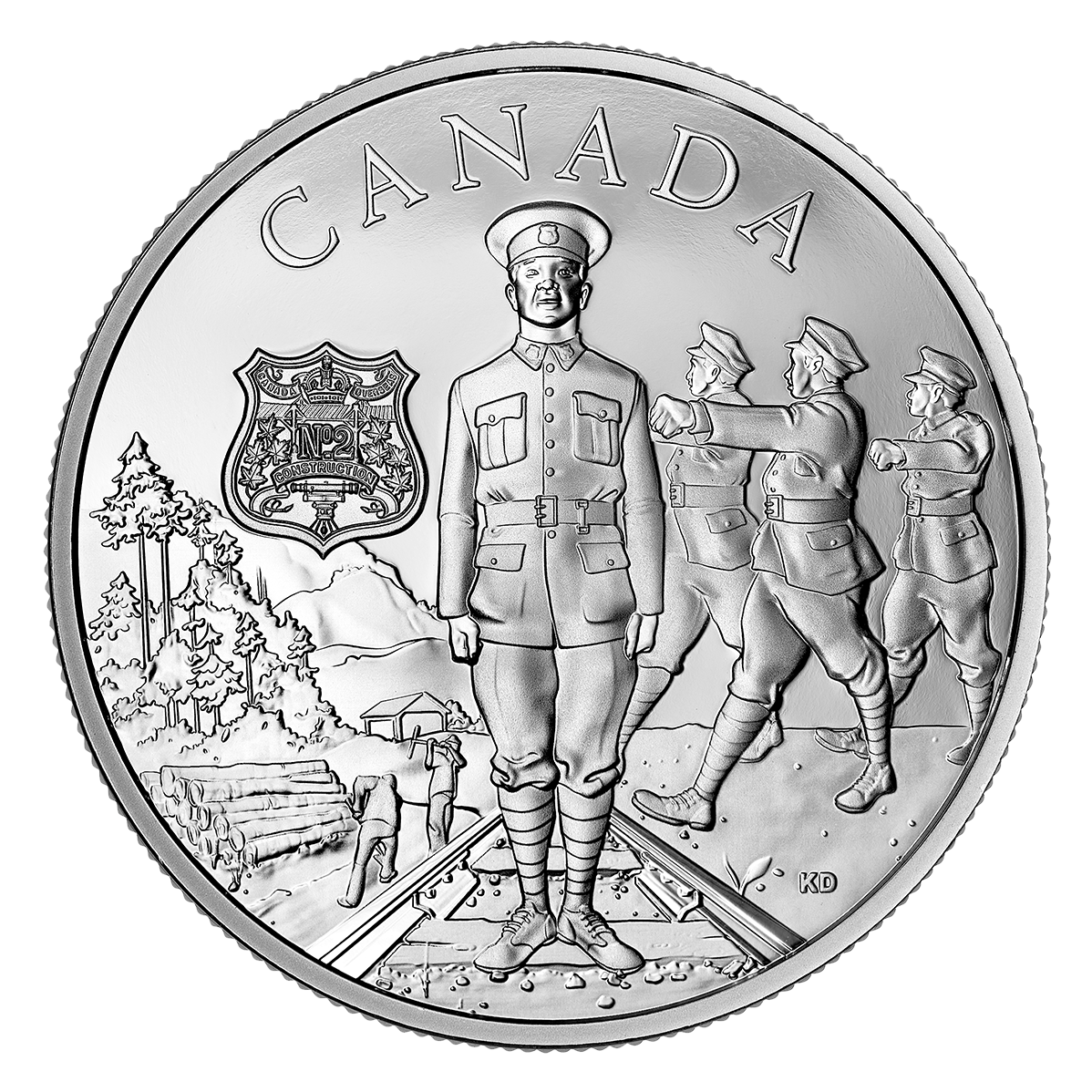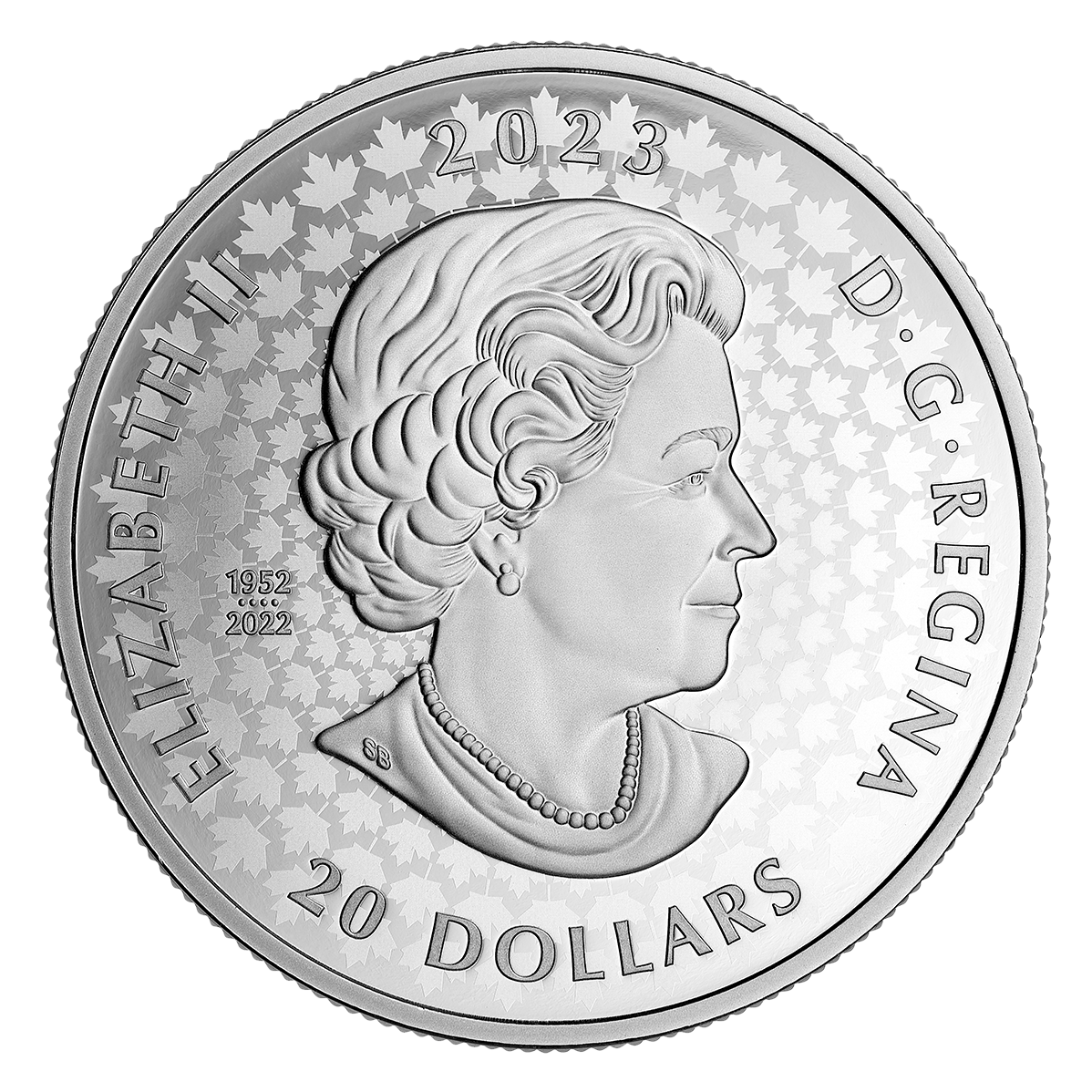 Designed by Canadian artist Kwame Delfish, your coin's reverse honours the legacy of No. 2 Construction Battalion, Canadian Expeditionary Force (CEF), and its contributions to Canada's war efforts during the First World War. At the centre of the design is a member of Canada's largest all-Black battalion-sized military unit, and an enlarged view of No. 2 Construction Battalion cap badge appears to the left of him. Behind the Black soldier and to the right, members of the battalion are shown marching in a parade prior to deployment in March 1917. On the other side, the landscape represents the Jura region of France, where the battalion assisted with logging and lumber operations, and with building a railroad that, on this coin, symbolizes the journey and hardships endured by Black Canadian soldiers more than a century ago. The obverse features a maple leaf pattern and the effigy of Queen Elizabeth II by Susanna Blunt. The obverse also bears a special marking that includes four pearls symbolizing the four effigies that have graced Canadian coins and the double date of her reign.
Resilience and the determination to serve: Canada's No. 2 Construction Battalion
During the first two years of the First World War, hundreds of Black Canadians eagerly attempted to enlist with the Canadian Expeditionary Force, but most were turned away because they were Black. Still, Black Canadians and white supporters pressed officials to allow Black enlistment. When Britain requested more labour units from Canada in 1916, the decision was made to establish a segregated labour battalion.
No. 2 Construction Battalion was formed on July 5, 1916, and was initially headquartered in Pictou, N.S. before moving to Truro, N.S. On March 28, 1917, the battalion sailed from Halifax aboard the SS Southland bound for Liverpool, England. No. 2 Construction Battalion arrived on April 7, 1917. At this time, the unit was reorganized as a labour company and renamed No. 2 Canadian Construction Company because it did not have enough men to be considered a battalion. On May 17, the unit was deployed to France's mountainous Jura Department, where the men assisted the Canadian Forestry Corps with lumber and logging operations, transportation and railroad construction, water and power supply, and road maintenance.
While a small number of the soldiers of the battalion saw combat while serving in other units, the unit as a whole did not. Nevertheless, the battalion's contributions to combat operations—and to the proud tradition of military service by Black Canadians—cannot be understated. In January 1919, most of the men of No. 2 Construction Battalion returned to Canada, and the battalion was officially disbanded in September 1920.
What do you want to know about this product?
Your product was successfully added to your collection.
The product could not be added