Pure Silver 3-Coin Set - Wings of Hope - Mintage: 1,000 (2019)
Pure Silver 3-Coin Set - Wings of Hope - Mintage: 1,000 (2019)
Masters Club:
3,900
Status:

CAN & US shipping only
Availability:

Out of stock in stores
STUNNING! A three-part message of hope for Canada's at-risk species! Order today!
More than 50 years ago, Canada's peregrine falcon population went into a tailspin. All three subspecies were in decline due to the effects of DDT, but the anatum peregrine was hardest hit and it almost vanished from our wilderness. Thanks to decades of captive breeding and recoveryefforts, the once-endangered raptor is staging a surprising comeback that is at the heart of this pure silver set, whose pieces form Canada's flag. On the maple leaf-shaped coin, Falco peregrinus carries a message of hope on wings that extend onto the rectangular coins. It is a tribute to both the falcon and all who helped bring it back from the brink—back to our treetops and cliffs, and even our cities, where some nesting pairs have adapted to our changing world.
A stunning 3-coin set that makes an ideal gift for someone who loves birds! Order today!
Special features:
A SCULPTED TRIBUTE! Your 3-coin set celebrates one of Canada's fastest-moving species, whose rebounding population is proof that conservation efforts can make a difference.
THREE COINS AND NOT ONE OF THEM IS ROUND! Your three-coin set brings together two-rectangular coins and a maple leaf-shaped coin, meaning none of your coins are the traditional round shape!
BREAKING NEW GROUND! A first-time collaboration with artist David Caesar. The reverse of all three coins features asingle, highly detailed image that celebrates the positive outlook for a once-endangered species.
EXCEPTIONAL FINISHES! Each reverse has been traditionally struck and enhanced with exceptional finishes, using different frostings to highlight an incredible depth of engraved details.
FORMS THE FLAG OF CANADA! Similar to our 2018 Beneath Thy Shining Skies coin set, your three-coin set consists of two rectangular wafers and a maple leaf-shaped coin that come together to form Canada's flag.
INCLUDES SERIALIZED CERTIFICATE! The Royal Canadian Mint certifies all of its collector coins.
LOW MINTAGE! Limited to 1,000 coin sets worldwide.
PURE SILVER! Your coins are crafted from 99.99% pure silver, and your 3-coin set has no GST/HST.
Design:
The reverse image by artist David Caesar stretches across the threecoins that are shaped to form Canada's flag. The maple leaf-shaped coin is the main focal point: an engraved depiction of Falco peregrinus in flight, and whose outline mimics the shape of Canada's most famous icon. Thefalcon's wings extend onto the two rectangular-shaped bars that flank the maple leaf. The wafer on the left features a cliff-side setting that highlights the falcon population's recovery in the wild, while the wafer on the right alludes torecent sightings in Canada's major cities, where some breeding pairs have raised their young on the ledges of tall buildings. The reverse of the maple-leaf shaped coin features the year "2019" and the face value, "10 DOLLARS".
The obverse of each rectangular coin features the year "2019" and the face value "25 DOLLARS". All three obverses feature the word"CANADA" and the effigy of Her Majesty Queen Elizabeth II by Susanna Blunt.
All three coins are 99.99% pure silver. Both rectangular $25 coinsmeasure 49.80 millimetres by 28.60 millimetres, with a nominal metal weight of 47.35 grams. The maple leaf-shaped $10 coin measures 39.6 millimetres by 38 millimetres and weighs 15.67 grams.
Did you know…
In the 1950s and '60s, the use of DDT (a pesticide) played a large role in the decline of Canada's falcon population, which counted just 35 nesting pairs in 1975. In 1978, the anatum peregrine falcon was among the first species to appear on Canada's Endangered Species list; thanks to captive breeding and release programs, the falcon's status was downgraded to Threatenedin 1999 and Not at Risk in 2017.
Sitting at the top of the food chain seems like a safe spot to be in, but that exposes the peregrinefalcon to an accumulation of environmental toxins. For example, the level of DDT becomes increasingly concentrated as it moves from plant to insect to the small birds that are preyed upon by falcons.
Canada is now home to an estimated 800 nesting pairs, but the falcon still faces a number of challenges that include habitat loss.
Packaging:
Your coins are encapsulated and presented in a Royal Canadian Mint-branded black clamshell with a black beautybox.
Order today!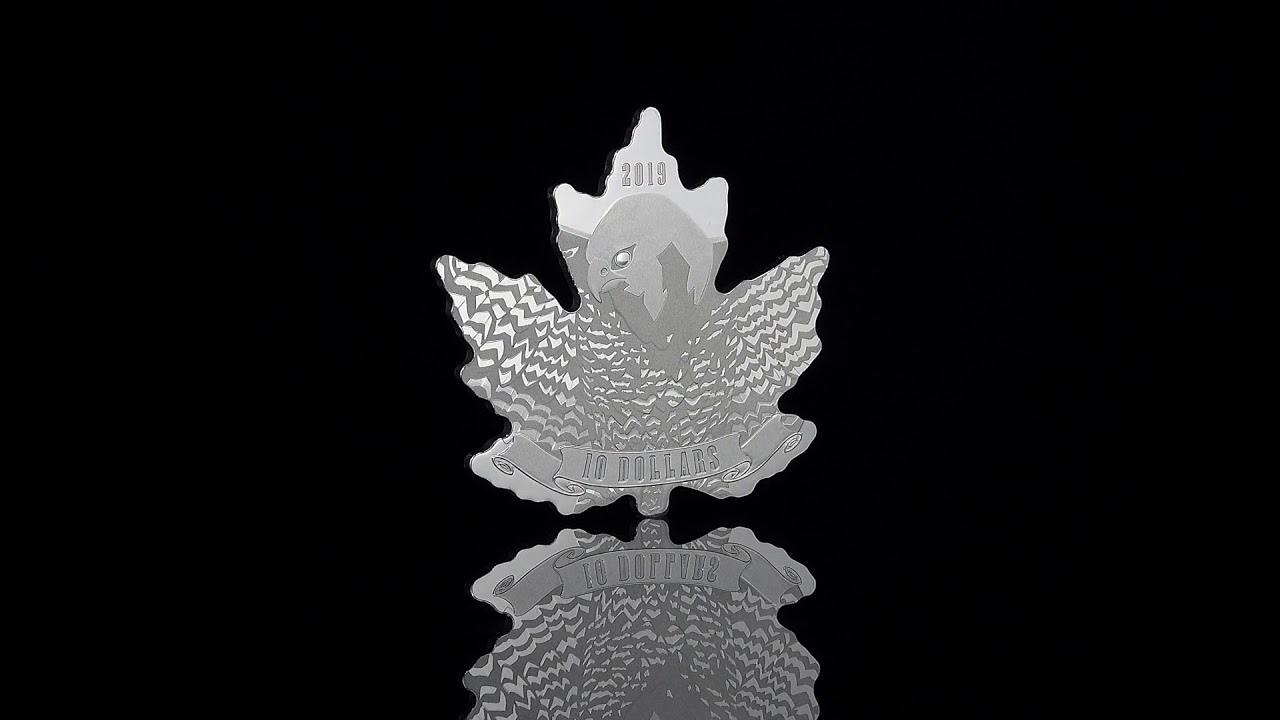 Artist
David Caesar (reverse), Susanna Blunt (obverse)
What do you want to know about this product?
Your product was successfully added to your collection.
The product could not be added