Pure Silver Proof Set – 100th Anniversary of Bluenose (2021)
Pure Silver Proof Set – 100th Anniversary of Bluenose (2021)
Masters Club:
2,350
Status:

CAN & US shipping only
Availability:

Out of stock in stores
A legacy beyond the shore - 2021 Bluenose pure silver proof set. Get two 2021 pure silver exclusives in one set! Order today!
This year's seven-piece proof set features a selectively gold-plated version of the 2021 BluenoseProof Dollar, and it's only available as part of the set.Gold plating adds a beautiful gleam to the legendaryschooner and the effigy of King George V. This effigy appeared on all Canadian coins issued in 1921, the year Bluenose was launched and captured the International Fishermen's Trophy. Bluenose centennial anniversary extends to the set's 10-cent coin, which is double dated and features the effigy of King George VI — just like the first Bluenose dime issued in 1937.
This year's proof set celebrates biganniversaries in 2021. Order today!
Special features:
AN EXCLUSIVE VERSION OF THE PROOF DOLLAR: This set's featuredstar is the selectively gold-plated version of the 2021 Proof Dollar. It is exclusive to this set and is not available on its own.

TWO BLUENOSE COINS IN ONE SET: The 100th anniversary of Bluenose is also celebrated on the double-dated 10-cent coin.

PART OF THE BLUENOSE ANNIVERSARY COLLECTION: The 2021 Fine Silver Proof Set is part of a year-long celebration of the 100th anniversary of Bluenose, the world-famous schooner whose racing success made it a beloved Canadian icon.

THREE DIFFERENT EFFIGIES: Three of the seven coins in this set feature obverse designs from the past. The proof dollar features the effigy of King George V from 1921, the year Bluenose was launched, while the 10-cent coin features the effigy ofKing George VI from 1937.
READY FOR REPEAT VIEWINGS: Your set's book-style packaging is made of genuine leather and allows you to showcase thesecoins with pride.

LIMITED MINTAGE: Only 20,000 sets are available worldwide.

99.99% PURE SILVER: Every coin in this set has been expertly crafted in 99.99% pure silver with a proof finish that emphasizes the finely engraved details.
About the proof dollar:
Designed by Canadian marine artist Yves Bérubé, your coin's reverse travels back in time to see naval architect William James Roué (1879-1970) completing his design for the legendary Bluenose schooner. The first-person perspective is flat frosted to distinguish between Roué's vision and the inspiring sight of a selectively gold-plated Bluenose under full sail.As an added tribute, W.J. Roué's signature is included, as it  appeared on the original Bluenose sail plan. The obverse features the effigy of King George V by Sir E. B. MacKennal. Learn more about Canada's best-known naval architect and designer of our national icon.
"It doesn't matter which part of Canada you were from, it represented us all—and still does. I can't imagine a Canada without Bluenose. I spent a good partof my life at sea, and so did my family. For me, Bluenose is more than just a ship, it is a proud, beautiful symbol of history and tradition on the East Coast, where it represents every sailor, fisherman and shipbuilder." Yves Bérubé, artist
The Builders: Smith and Rhuland
Shipbuilding is one of Canada's oldest industries and a proud fixture of Atlantic Canada's seafaring traditions – especially in Lunenburg, Nova Scotia, home of Bluenose and a UNESCO World Heritage Site. The South Shore community was already a busy shipbuilding centre when Smith and Rhuland Shipyardsopened in 1900. Known for its versatility and finecraftsmanship, the firm was awarded the contract for Bluenose in 1920. Its yards became a hub of activity and excitement as the finest shipwrights set to work using lumber from Nova Scotia, while local craftsmen stitched the sails and forged the hardware. In addition to Bluenose, Smith and Rhuland Shipyards built, launched, repaired and restored hundreds of vessels – tugs, trawlers, freighters, yachts and Grand Banks schooners, and even a famous replica of HMS Bounty. Its facilities on the Lunenburg waterfront, including the Big Boat Shed came undernew ownership in the mid 1970s, but the Smith and Rhuland name remains synonymous with "the prideof Lunenburg."
Order today!
'Bluenose' is an official mark adopted and used by the Nova Scotia Department of Communities, Culture and Heritage pursuant to theTrade-marks Act (Canada). It is used by the Royal Canadian Mint with the Department's permission.
William James Roué Signature © jeroué. Used with permission.
Blueprints of 1921 BLUENOSE © jeroué. Used with permission.
bluenose.novascotia.ca
wjroue.ca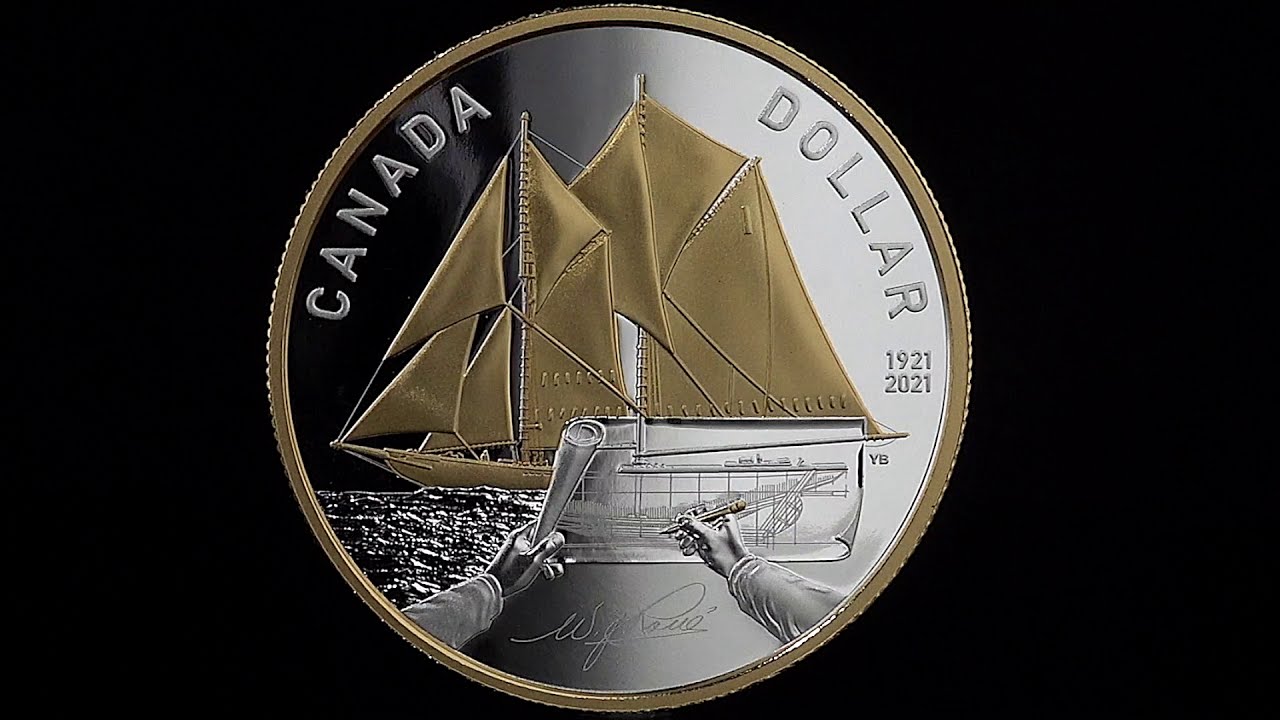 What do you want to know about this product?
Your product was successfully added to your collection.
The product could not be added