1 oz. Pure Gold Coin - 100th Anniversary of the Discovery of Insulin
1 oz. Pure Gold Coin - 100th Anniversary of the Discovery of Insulin
$2,917.16 USD
Pay up to 4 monthlyinstallments of $729.29 USD.
Masters Club:
40,000
Status:

CAN & US shipping only
Exquisite and exclusive: Own this pure gold centennial celebration of a Canadian breakthrough!
An ultra-luxe version of the 2021 $2 Discovery of Insulin circulation coin! Gleaming in 1 oz. of 99.99% pure gold, your coin's reverse design commemorates the 100th anniversary of a Canadian medical innovation that has had a global impact. Since its discovery in 1921, insulin has saved millions of lives worldwide; even those who are not personally afflicted with diabetes may have a connection to the health innovation represented on this coin, which offers an unobstructed view of Jesse Koreck's dynamic design.
Celebrate a scientific breakthrough made by Canadians who, through their ingenuity and perseverance, helped save hundreds of millions of lives.
Special features:
A pure gold gleam! Your coin has been precision-crafted from 1 oz.of 99.99% pure gold.
Limited availability! Only 450 of these coins are available to collectors worldwide.
Includes serialized certificate! The Royal Canadian Mint certifies all of its collector coins.
No GST/HST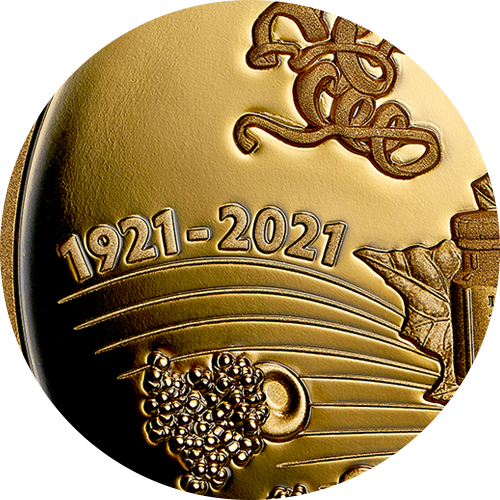 A scientific centennial
The perfect complement to the 2021 special edition $2 circulation coin, this pure gold coin continues the centennial celebration of one of Canada's greatest contributions to medical research: the discovery of insulin in 1921.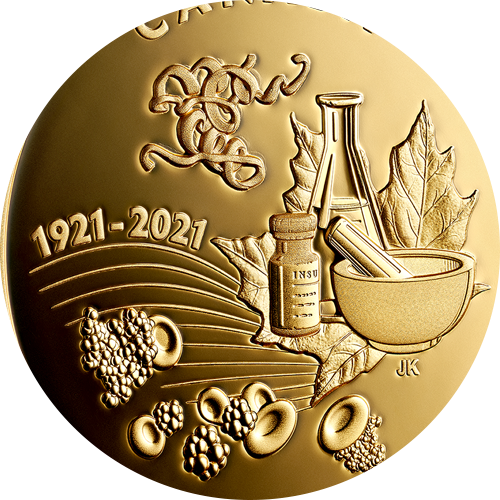 Perfectly sculpted
A premium version of the $2 commemorative circulation coin. Both coins share the same design, but this exclusive collectible offers you an unobstructed view of the finely engraved art and all of its microscopic details.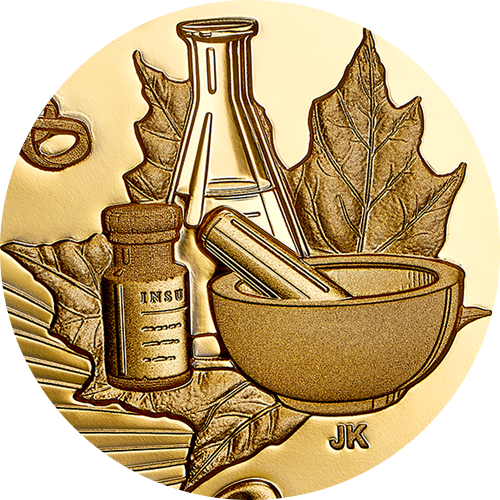 Proudly Canadian
On the reverse, the maple leaf behind the laboratory equipment proudly identifies this discovery as a Canadian medical breakthrough and a monumental scientific achievement.
Composition
99.99% pure gold
Packaging
Your pure gold coin is encapsulated and beautifully presented in a Royal Canadian Mint-branded clamshell with a black beauty box.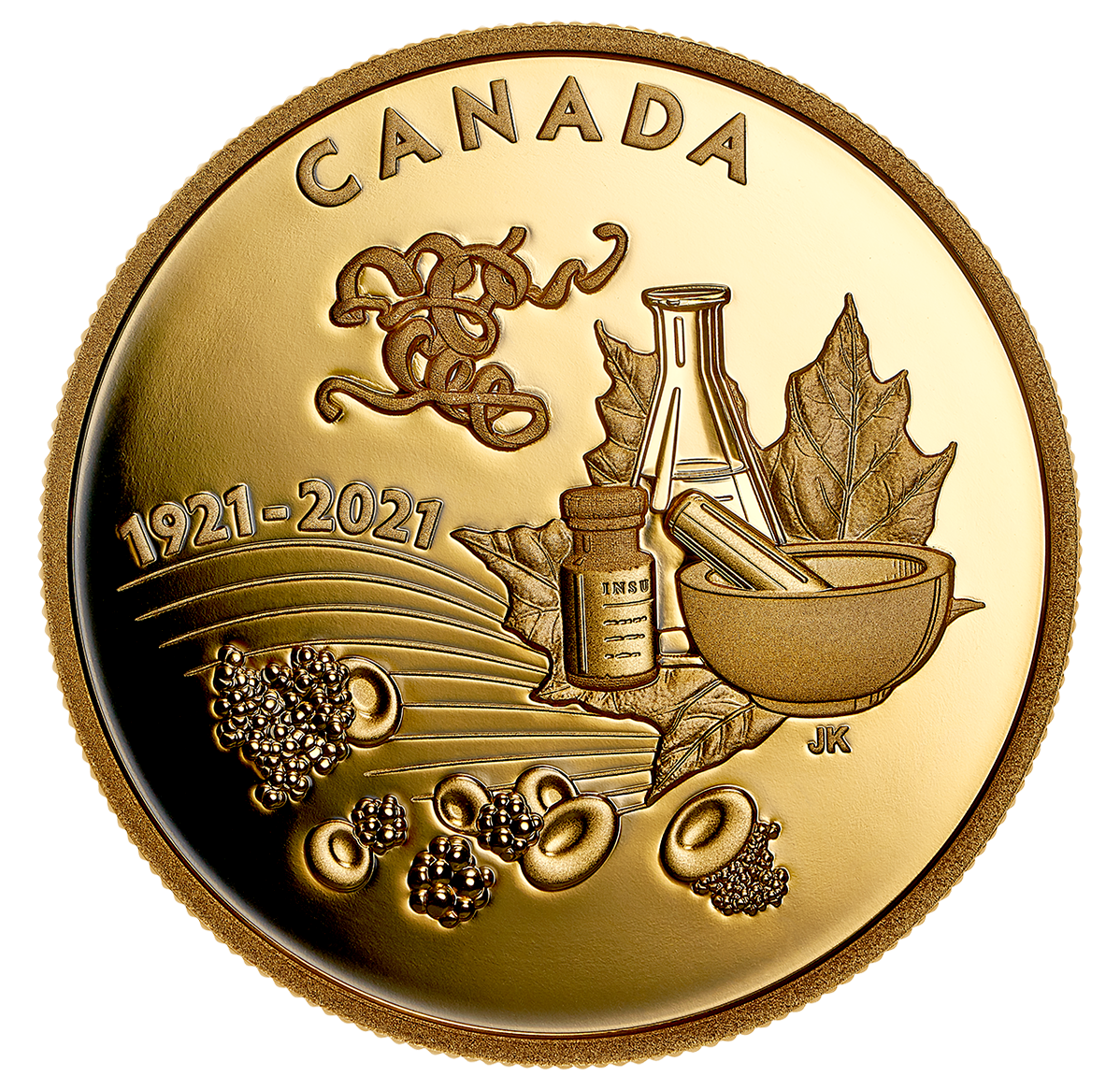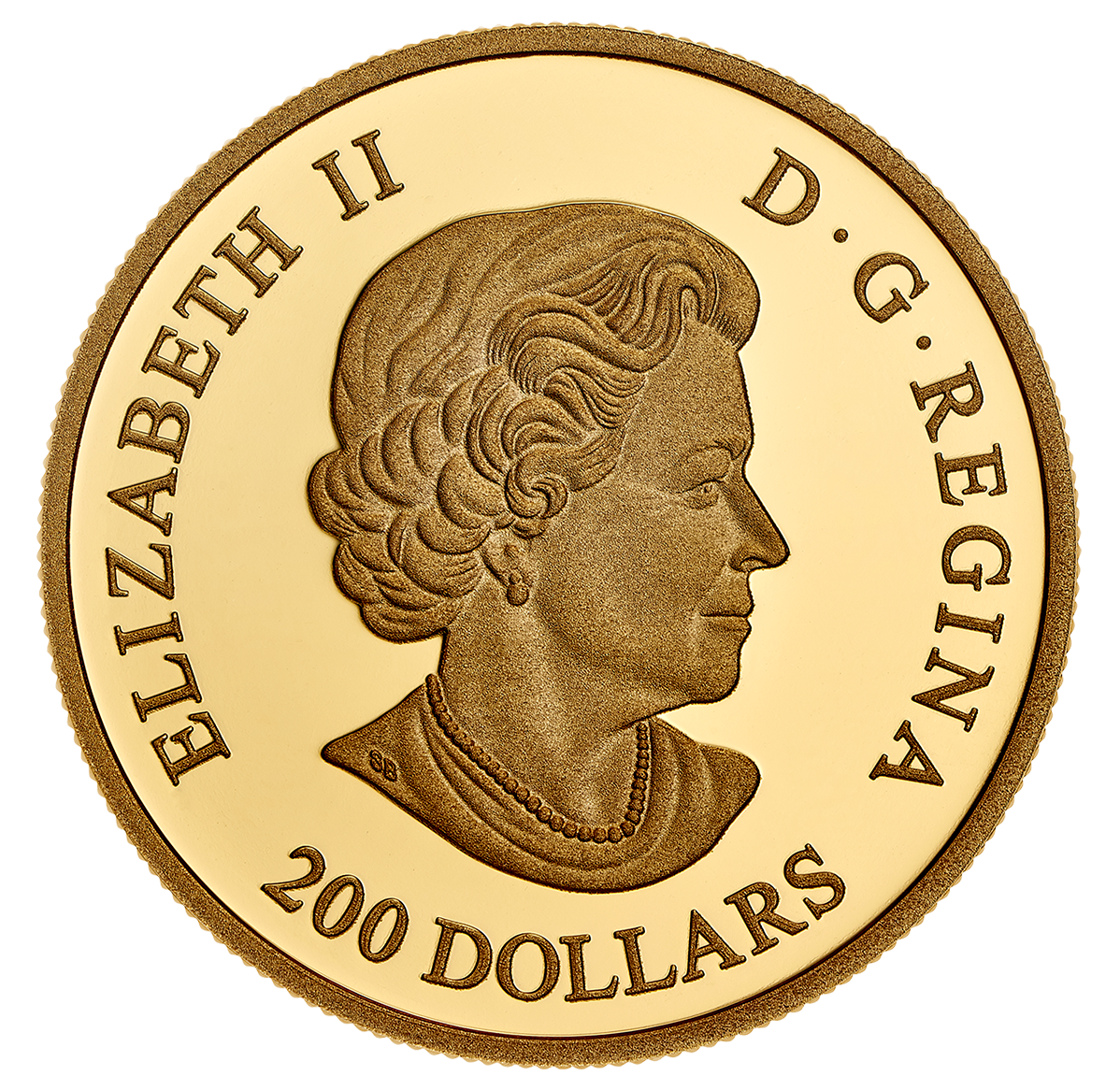 Designed by Canadian artist Jesse Koreck, your coin's reverse is double dated ("1921 - 2021") to commemorate the 100th anniversary of a Canadian medical innovation. The discovery of insulin at a University of Toronto laboratory is represented by a maple leaf and traditional symbols: an early insulin vial, an Erlenmeyer flask, a mortar and pestle. Insulin is depicted both in the bloodstream and in monomeric form. The obverse features the effigy of Her Majesty Queen Elizabeth II by Susanna Blunt.
What do you want to know about this product?
Your product was successfully added to your collection.
The product could not be added